Welcome to 2012 everyone. I'm sure everyone has come up with resolutions by now. Most resolutions I've found are very personal. After doing some quick research online it seems that most resolutions involve  quitting something or getting something. This is certainly true of those of us who want to improve our health. We want to quit smoking or alcohol or eat less. Others want to be better at a physical activity like running or cycling.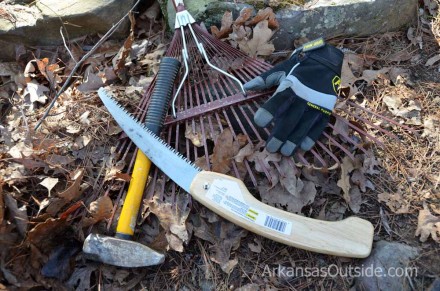 This year, why not try something different: Resolve to get involved in outdoor issues in your community. I'm not talking about becoming a political or environmental activist. I'm talking about joining a group of people who are working  toward a common goal that improves the outdoor experience in Arkansas. Basically, resolve to get your hands dirty.
There are lots of ways you can do this in Arkansas. We have hundreds of miles of trails and it takes work to keep them in good shape. If you've never done trail work, try some of these ideas:
One of  Arkansas Outside's  resolutions for this year is to bring you more opportunities to get outside. Besides the normal athletic events, we will be encouraging groups to post meetings, training and volunteer days on our calendar.
So this year instead of just resolving to put the hammer down at the next race, resolve to pick the hammer up and be a part of the great outdoor places we have in Arkansas!