You never know what to expect during early February in Arkansas. We could have cold, wind, snow, ice or a sunny cool morning, perfect for a run. Punxsutawney Phil got it right this Ground Hog day although it would have been hard not to see your shadow in the sunny morning we had for the River Trail 15K. The perfect running conditions brought out almost 500 runners to Burns Park for the race Saturday morning. The River Trail 15K was started 10 years ago but a couple of years were skipped due to unavailability of course facilities and a changeover in management from the Arkansas Running Klub to Arkansas RRCA. Funds from early races were used to purchase water fountains on the Arkansas River Trail. This is the second race of the Arkansas RRCA Grand Prix Series.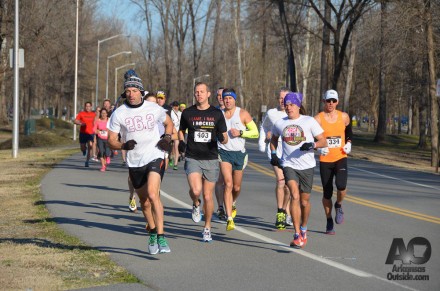 The run starts with one and a half laps around the soccer fields at Burns Park and then heads east past Victory Lake and stays on the river trail past Emerald Park and the North Little Rock Skate Park before heading back to the soccer fields and the finish. Mac's Timing supplied chip timing and music plus a bonus this year. Mac's Timing owner Ken McSpadden, tested out a new system which allowed runners to get their times immediately online using smartphones.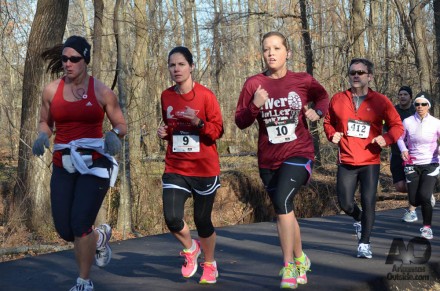 It was a great race to watch as Woiciech Kopec of Biggers, AR  and Maxwell Sawyer from Conway, AR, fought for the lead throughout the race with a sprint finish at the end. Kopec took the win at 49:56.96 with Sawyer just behind him at 49:58.40. Mark Ferguson of Little Rock rounded out the top three with 52:25.41. Aimee Larkin and Leah Thorvilson, both of Little Rock took first and second with times of 57:46.73 and 59:11.19, respectively. Tracy Tungac of Bryant took third at 59:40.93.
Race Director Erik Heller had everything under control, no lost racers along the course, plenty of food and water at the finish and a great post race atmosphere. We had several groups come try out the photo booth to get fun photos at the finish.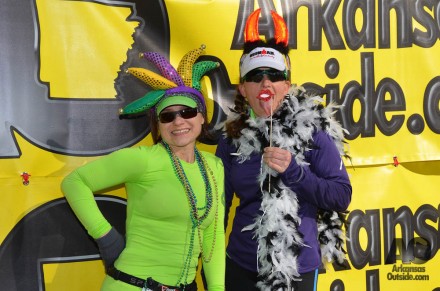 Searchable results are available at Mac's Timing Service.
Over 600 photos from the race are available on our Facebook Page.
Check out the YouTube video from the race!