Injury is what you make of it.  It can be an opportunity to take stock and plan your comeback or a prolonged period of sour grapes. This time around, I felt a bit of both. After a hard winter season of completing three marathons in the space of 64 days, I found myself lame and unable to run without pain. It was the same injury that fell a cocky new half marathoner five years ago when he thought he could leap tall buildings in a single bound. Last time it took months, this time much the same.
I started to reflect on why I began running in the first place. The simple answer is that it is fun (well, most of the time) and it gives me a real sense of accomplishment. I also began to question all the crazy distances and marathons I had completed in the succeeding two years. I made a decision and resolved to be happy with less for a time. Bring back "Running 101" was to be my mantra; I was going to start liking short distances again whether it was 5k, 10k or an odd distance called an 8k.
The Rock Run 8k occurred amidst generational flooding of the Arkansas River which deluged much of our happy running grounds on the north side and at Two Rivers Park. The mostly out and back course which stretches along Little Rock's Rebsamen Park Road and the Arkansas River Trail was clear, but it was apparent that the river flooding was encroaching on our Murray Park start and finish area. Race organizers were assured by Little Rock's Parks and Recreation Department, that Murray will remain dry.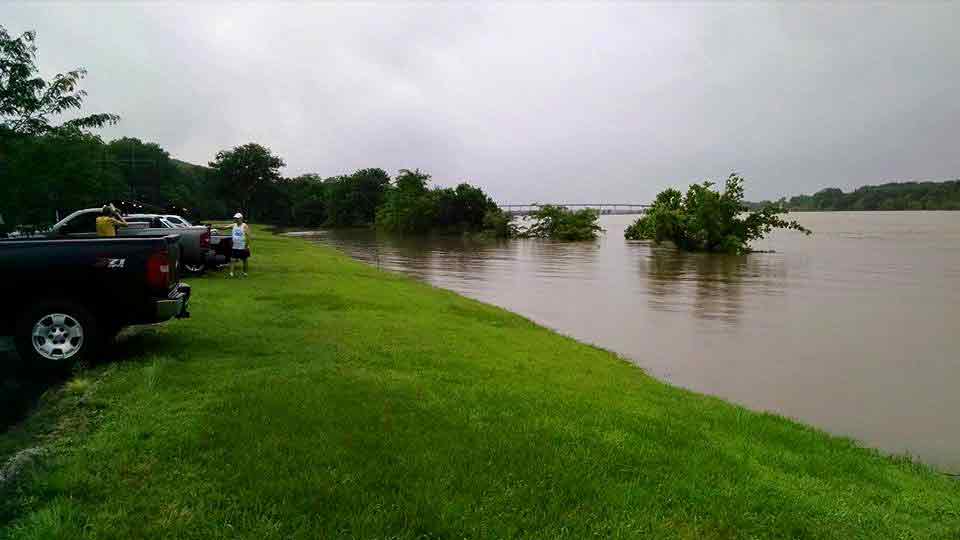 The race which is sponsored by the Local Easter Seals chapter is also a Road Runners Club of America Grand Prix event where many of the affiliated Arkansas clubs participate and volunteer. Runners entered in the Grand Prix compete for yearly awards and recognition by the running community. The start was at 7:30 a.m. and began with the singing of the national anthem and a presentation of the American flag carried by Marvin Fisher whom you will see volunteering at multiple street and trail races with his ever present Old Glory flying high.  The rain which pelted us stopped and the clouds opened to reveal streaks of blue which bode well for the start.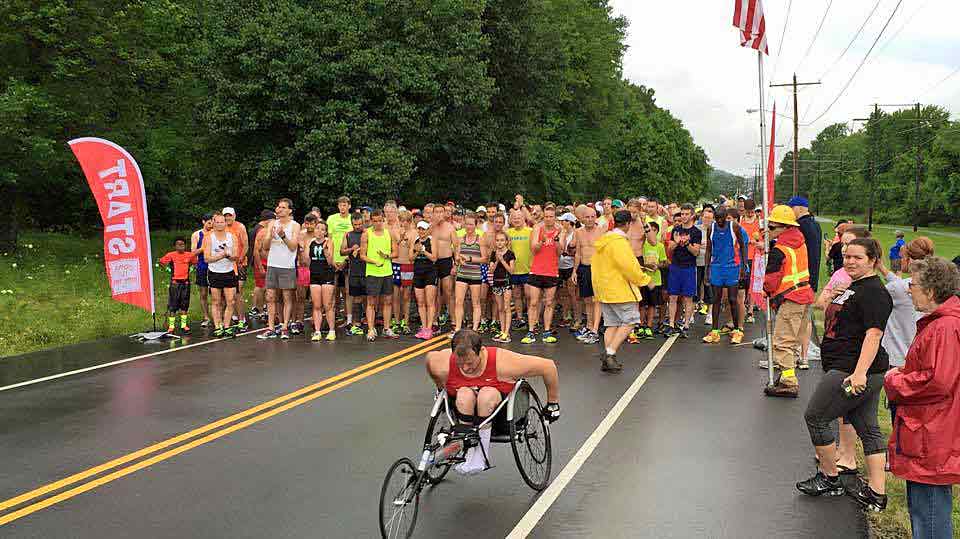 The runners were off on the first stretch going due east on Rebsamen. After the first half mile, runners turned left onto the River Trail and back into Murray to cruise in the opposite direction toward the Big Dam Bridge.  This was my first road race back from injury and I decided to adopt an interval approach. I ran the first mile out clocking in at 11:00 before walking and then running half mile intervals. As we passed the imposing uphill ramp of the BDB, the first fast runners were coming through from the halfway turnaround. On the very bouncy Jimerson Creek Bridge, I saw many of my friends pass including Jeffrey Grove flying by in his signature pink shorts, Nicole Hobbs who just seems to get faster with every race, and Sandy Carlton, new to my running group and taking on her longest distance yet. Of course, it's not a Grand Prix race without a shirtless Kim Howard making it look easy. One can always find Kim post-race at the local Hooters.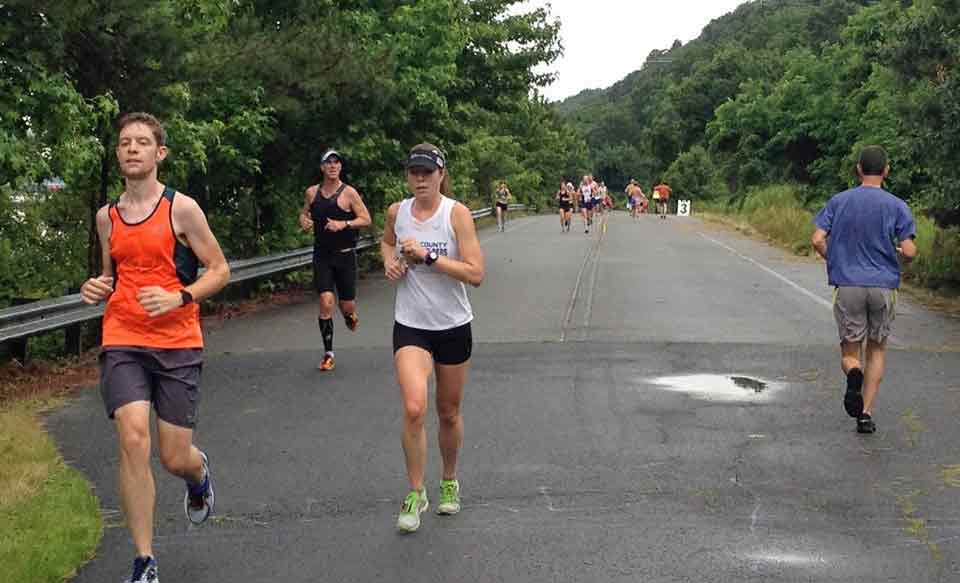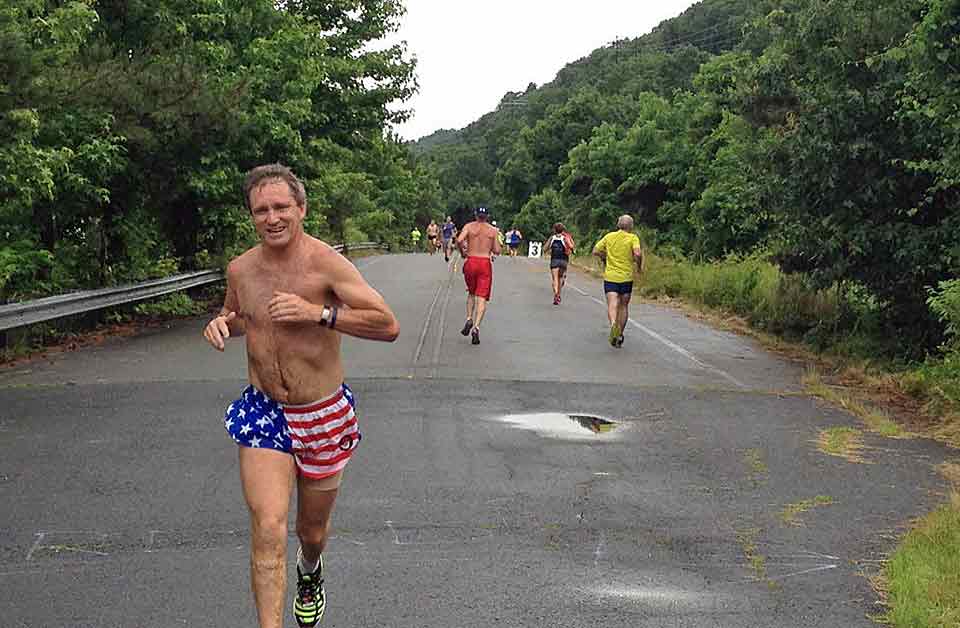 At the turn around, another friendly face:  RRCA State Representative David Meroney snapping photos of all the runners as we made a semi-circle of the roundabout not far from the Two Rivers parking lot. I continued my intervals.  The injury as in the three previous runs was not troubling me. I was running and walking pain free and started to think about other races to sign up for. The last half mile was a running interval.  Being flat and straight, it afforded me a view of the finish line gate and the clock. I continued to power forward increasing speed just as I would in any of the races before the injury.  As I wrapped up the race, I got a high five from Marvin who took finish photos of all of us. The adrenaline was back, the sense of accomplishment was real and I came in hot. My time was a respectable 1:05:48. My friend Sandy Carlton managed to get third in her age group. It was a great morning and I look forward to many more all the while thinking Bring back Running 101 over and over again.