2014 marked the fourth year of the Star-Spangled Classic Criterium,  the last hurrah of local road bike racing in Little Rock before it slips silently away for the summer until it is reborn like a phoenix in the spring.  The course is a flat, 1-mile circuit mostly along Riverfront Drive in North Little Rock, Arkansas.  For those unfamiliar with criterium racing, cyclists race for a fixed amount of time (which varies between different categories) around a short circuit course and once time is up, they race an additional 3 laps to determine the winner.  Unlike most of the other criteriums in the Little Rock area (Ronde von Burns and Rock City Crits) which consisted of a single loop, the Star-Spangled Classic course incorporated a 180-degree turn.  This allowed spectators to see the cyclists twice per lap as part of the course loops back on itself.  Most spectators sat along the finishing stretch, and that allowed them to see the pack incoming and outgoing.  The criterium was put on by Central Arkansas Velo (CARVE) and sponsored by The Pantry.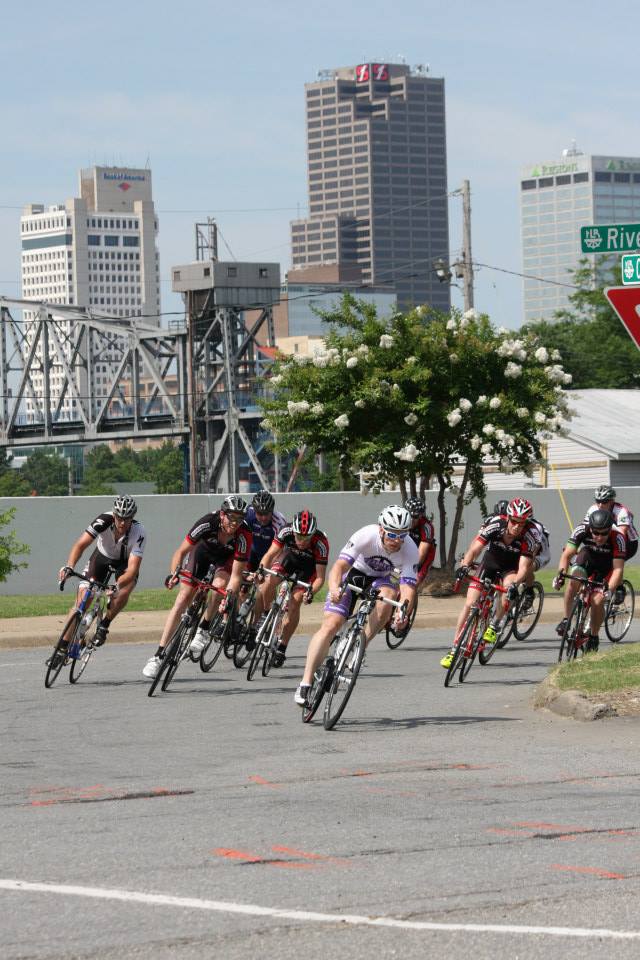 I consider criterium racing the most spectator-friendly of all the different types of road bike racing.  I think of it as a condensed version of a stage road race.  Instead of having to wait several hours to see how the race develops and finishes, you can have your cake and eat it too in under an hour's time.  In addition, unlike the one and done view of cyclists during a stage race, you can watch the race develop before your very eyes as they repeat lap after lap.  You can watch breakaways trying to be established, you can watch cyclists trying to bridge up to the breakaway.  You can see the breakaways being caught, you can watch intermediate sprints for primes (i.e. prizes), and of course you are front and center for the sprint finish, all from the comfort of your lawn/camp chair and/or blanket.
The citizen's (CAT5) race started off the day's festivities, being geared towards complete beginners and those who have never competed in a road race.  They would be racing for 20 minutes + 3 laps, while the expert classes would be racing as much as 60 minutes + 3 laps.  Shortly after the expert field (CAT 1/2/3) raced later in the morning, there was a kids' race, and the day was capped off with the Masters Men 40 years old and up.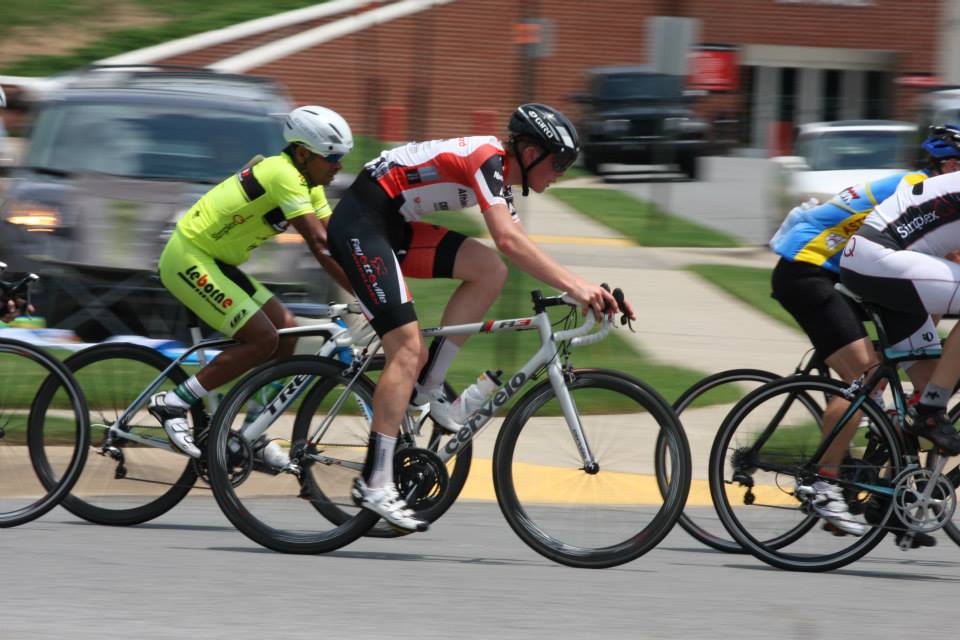 I had every intention of racing in a crit this year, even after attending a couple of the crit training sessions, but my schedule never worked out for the Ronde von Burns crits, and after USA Cycling combined road and mtb licenses this year, it meant I wasn't eligible to race in the citizen's race.  I could have raced in the CAT 4/5 race but my excuse was that I was still recovering from the grueling Dawg Days mountain bike race at Iron Mountain the day before.  Truth be told, I was still a little anxious and apprehensive to mix it up in a criterium, especially with much faster CAT4 racers in the field.  Next year, perhaps.
I watched the end of the CAT 4/5 race which turned out to be an exciting pack sprint finish.  The CAT 1/2/3 race had a couple of breakaways form which were eventually reeled back, and finished with Kris French and Jason Reed dueling it out for 1st and 2nd, respectively, barely ahead of the pack, while my good friend Andrew Moffitt won the bunch sprint for 3rd, after already having taken first place in the CAT 3/4 race earlier that morning.  Man, those guys are FAST!!
Following the CAT 1/2/3 race was the kid's races and then the Masters Men would finish off the day.  John Barton (JBarCycling) has a good write-up of what transpired in each of those races.
The Star-Spangled Classic race results.
Other great photos by Candis Massingill can be found here on her Facebook Page.

And yours truly, Cliff's, photos.
And that's a wrap of the local road racing scene for 2014.  We hope to see you out spectating in 2015 or even better, giving criterium racing a try!