In preparation for participating in a duathlon, most people train by following a strict training regimen like the one prescribed by Beginner Triathlete. For some athletes running and cycling are already a big part of their normal workout sessions so for an event like the Riverside Classic Sprint Duathlon, it's just another tough morning workout. Or if you're this guy, you might still be wearing your Saturday night date clothes.
With a 2.5 mile flat course run flanking each end of an 11 mile bike on rolling hills, the top finishing time would be under an hour. In fact the top overall individual finisher, Alex Goff, would cross the line in 51 minutes and 46 seconds. Runner Leah Thorvilson crossed the line just ahead of him at 51 minutes and 15 seconds as part of relay Team Dueces with cyclist Kris French. Overall Female winner Lindsay Herron crossed at 1 hour 4 minutes and 47 seconds.  Nineteen years would separate the Overall Male Winner from the 3rd Place finisher but there would be less than six minutes difference in the time.
The out and back run course headed south from the parking area to the paved trail that parallels Catfish Road, North along Goalie Road and wrapping around to the bottom of the hill at Tournament Drive where runners would turn around and run the same course in reverse. Most of the run was blessed with at least partial shade along the treelined paths. Runners who appreciate a little roll in their run, who can handle the work of a hill for the reward of the downhill, would have been disappointed. The course was flat. Pancake flat. So those runners who are great sprinters were right at home. There were several runners with a sub 6 min/mile pace and many more falling into the sub 7 minute category.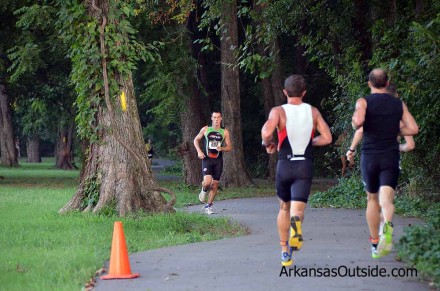 The bike course would take riders on a counterclockwise loop of Tournament, Championship and Arlene Layman Drives taking the rolling hills for three laps totalling 11 miles of riding. The top competitors would be in the 22-26 MPH range on the bike. There was every kind of bike and gear imaginable, nice road bikes, older beat up road bikes, a few triathlon bikes and even a couple of mountain bikes.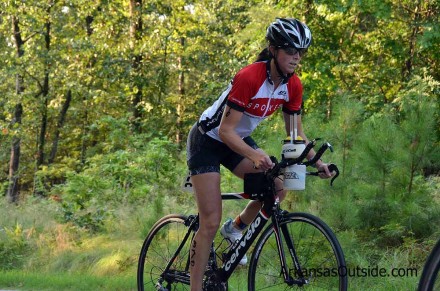 The temperature was already in the upper 80s despite the 7:00 a.m. start. By the time most of the pack had finished, many were taking advantage of the cooling tent set up just past the finish line.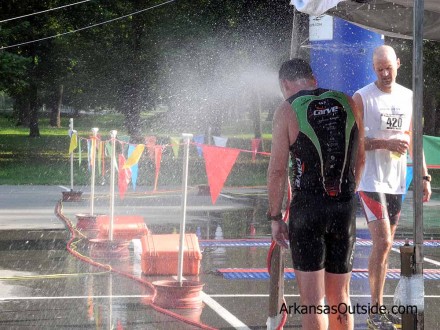 The duathlon was preceded by the Riverside Classic Mountain bike race on Saturday. There were a few racers who chose to make a weekend of it and do both races.  Maria Hernandez podiumed in her age group at both races. At the finish line, some athletes were finishing wearing the exhaustion on their faces while some were smiling ear to ear. Some bounded across the line in a sprint and some seemed to barely make it across before collapsing.
Moments of inspiration:
Watching this group of co-workers and Squadron Commander encouraging each other all the way through the event, finishing with hoots, hollers and fist bumps.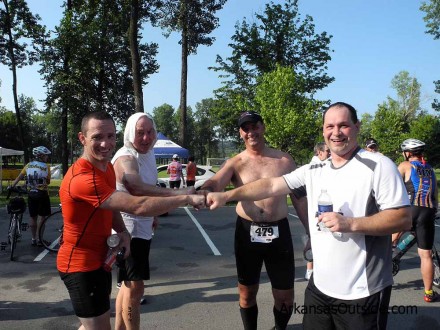 Or the final finisher, 19 year old Marivel who had a smile on her face as she ran in to the finish area to the loudest cheers of the day.
Or this young man, who also smiles a lot and when asked post race if he felt as good as he looked out there, he pointed at the woman with him and said "I'm really proud of her, this was her first duathlon and she was great."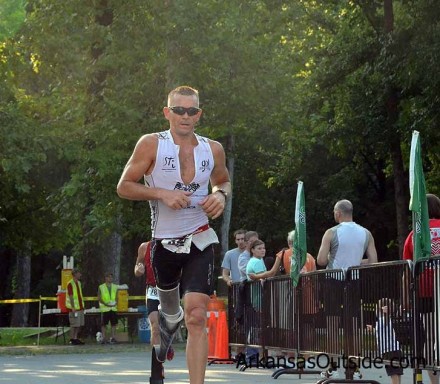 Many racers stuck around despite the heat and humidity to cheer on later finishers or visit with friends as they waited for the transition area to be cleared so they could get in for their gear. Friends were out to support each other, wives for husbands, and husbands for wives, kids were cheering for parents and a few parents were there for their kids too. If this sounds like fun to you, the next chance will be August 18th during the TRI Arkansas Weekend at DeGray Lake Spillway. If you're lucky you might even see this guy there.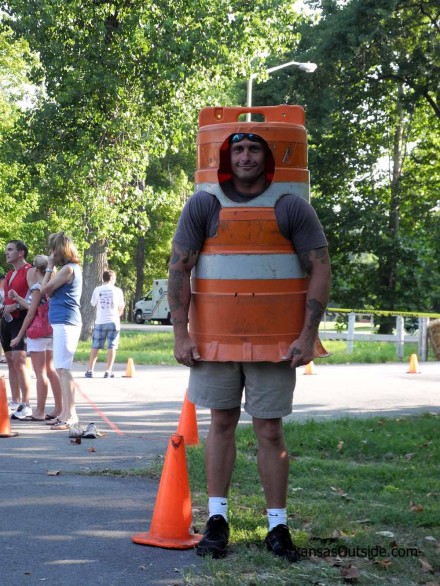 Results for the Riverside Duathlon and a whole lot more photos on our Flickr Page with free downloads.
[smugmug url="http://arkansasoutside.smugmug.com/hack/feed.mg?Type=gallery&Data=24363209_fPGkVP&format=rss200″ title="Riverside%20Sprint%20Duathlon%202012″ imagecount="12″ start="2″ num="100″ thumbsize="Th" link="smugmug" captions="false" sort="true" window="true" smugmug="true" size="L"]