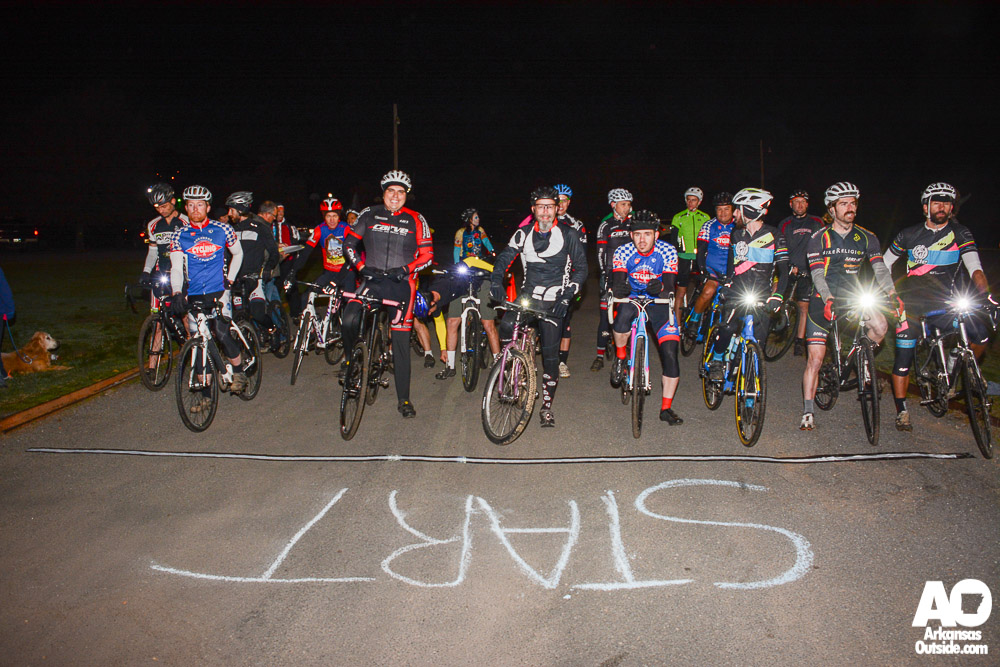 The cold air burning my lungs, the exertion burning my legs, and the sound of cowbells and cheers burning my ears could only mean that I did not chicken out on my commitment to try a cyclocross race. The Arkansas Super-Prestige Series Night Race, the first cyclocross of the season for Central Arkansas, fell on a holiday celebrated by remembering those who have passed from our lives. In honor of the day, I wore my Dia de Los Muertos jersey and painted my face to resemble a traditional candy sugar skull. I was hopeful that the makeup might hide the suffering.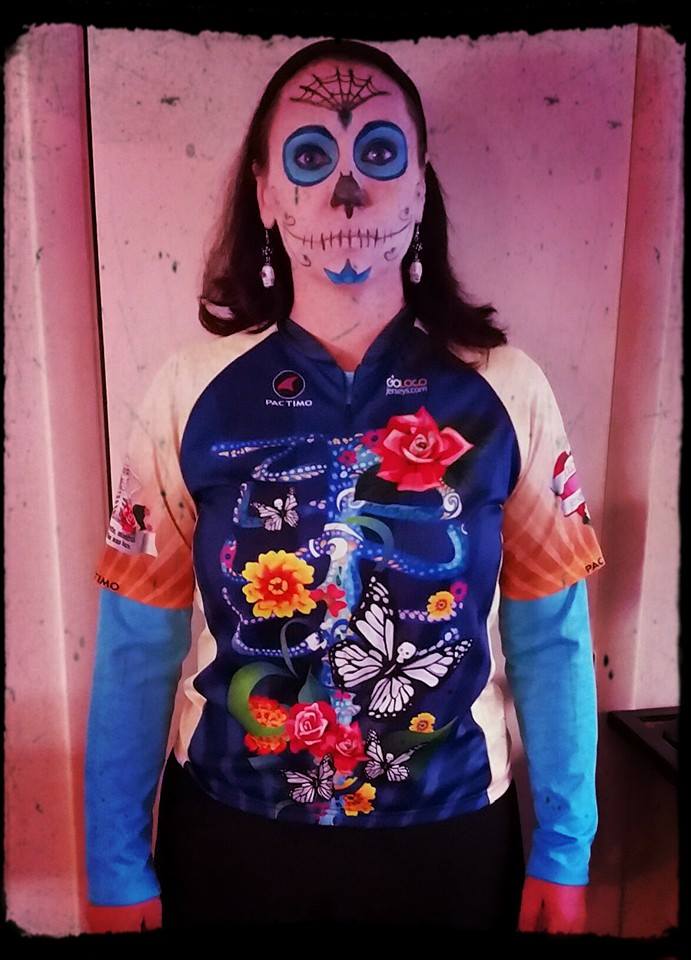 The fact that I spent almost as much time on my makeup as I had practicing for this race didn't deter me. There was plenty of encouragement to go around as I wondered what I had gotten myself into. I lined up, well behind the men of course, with my wall of women most of whom were racing cyclocross for the first time too. One of my concerns was the fact that I would be riding my 30+lb mountain bike with giant knobbies versus lighter, more agile, faster cross bikes. I needn't have worried, I was in good company with mountain bike racers Candis and Victoria on their bulky wheels too.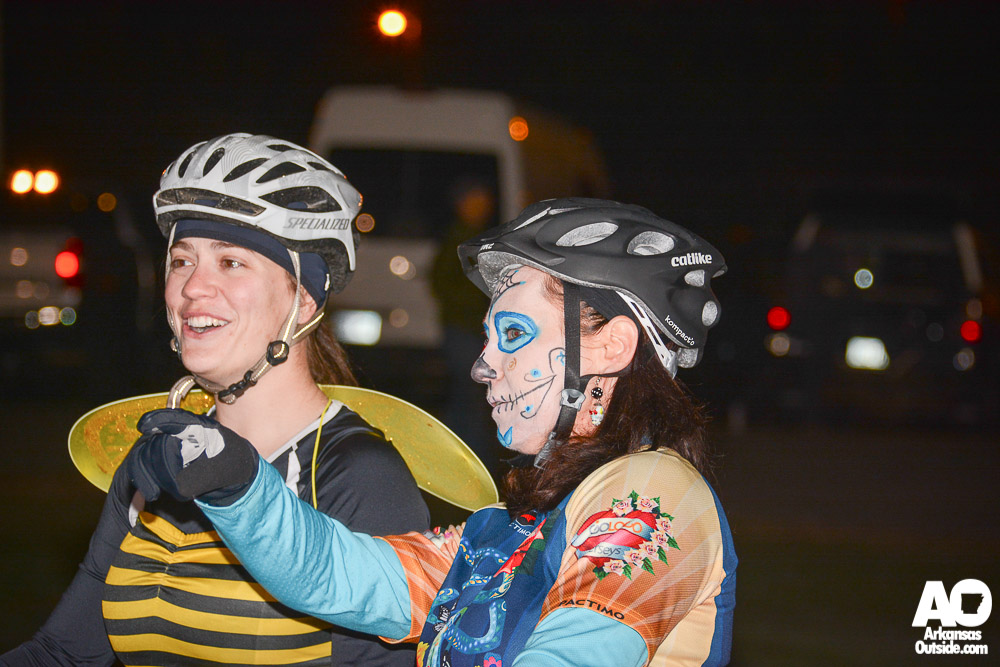 The gun went off and the pack sprinted out. Me? I was like, what the heck? It's a half-hour race, what's the rush? There I was at the back end of the pandemonium trying to remember everything I was supposed to do. Anticipating the turns and slight grade increases around the first of several winding coils, I tried to get my legs to warm up. I came around a corner into a straight sprint to a small dirt mound to find a beer hand-up. If I'm embarrassed by any part of my race, it might be that I never took a hand-up. What I did manage was to snag a few dollar bills off the clothesline that hung above the course just around the corner from the beer. After plucking my reward, the course flattened out and it was time to pump the legs.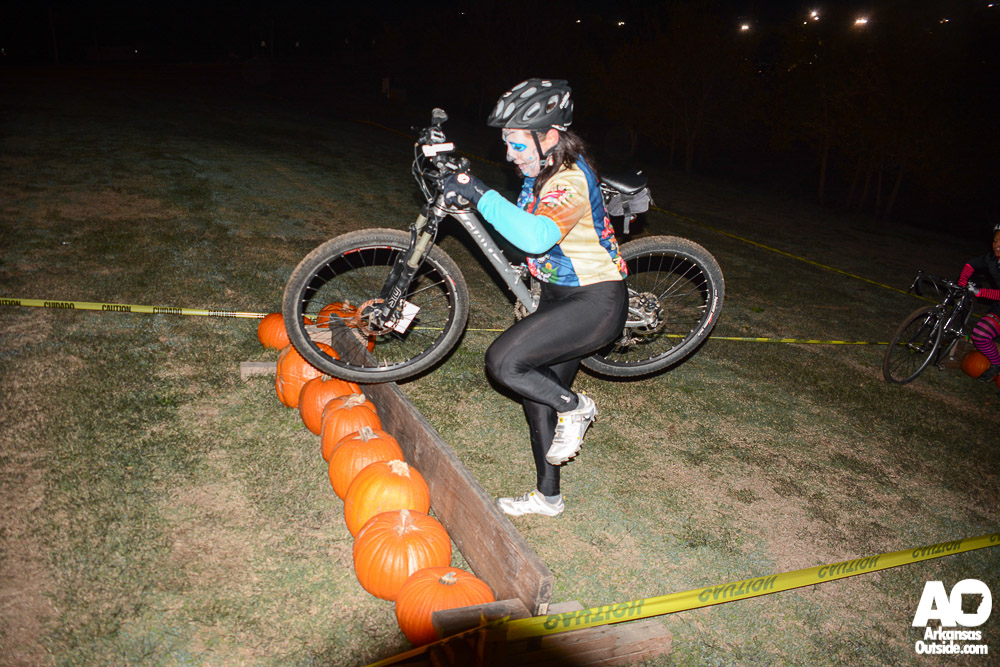 I was slow to get off and over the first set of barriers but felt confident in the running remount. Crossing the road I found myself in a section that snaked up and down the hillside. The second set of barriers was on an uphill and the boards were lined with pumpkins. I slowed down a little too much and promptly fell over because I didn't unclip my left foot. I'm admitting it even though there were only a handful of witnesses because it's important to know that making mistakes is okay-it's okay to fall and laugh it off. I wouldn't make that mistake again though. Topping the hill and jumping back on my bike, I enjoyed the fast downhill that took me past a crowd of cheerleaders screaming my name. My legs were just beginning to feel like they had some juice as I finished the first lap in front of a line of more cheering friends working to keep everyone's spirits up during the suck that is thirty straight minutes of hell. The second lap felt better. I was thinking to myself that this wasn't so bad as I managed the barriers a little more smoothly. Heather Ladd, aka Coach and instigator, was over at the uphill barriers and I did not fall over this time. Not too far into the third lap, I got lapped by Christophe Block. Fine. It's ON now. I expected to get passed at some point by the leaders on such a short course but I wouldn't let it keep happening.
By this point, I had managed to work my way up from the back of the pack to not quite the back of the pack. At some point I remember screaming at Victoria  to "COME ON, This Ain't No Slobberknocker, You CAN DO THIS!" It was supposed to be an encouragement. I don't know if it was. I expected the pain, I expected the fun, and by the fourth lap, I expected to be better because of my affliction – takes-an-hour-to-warm-upitis. Heading into the final laps I finally felt like I knew what I was doing, had my legs under me, and pushed toward the finish.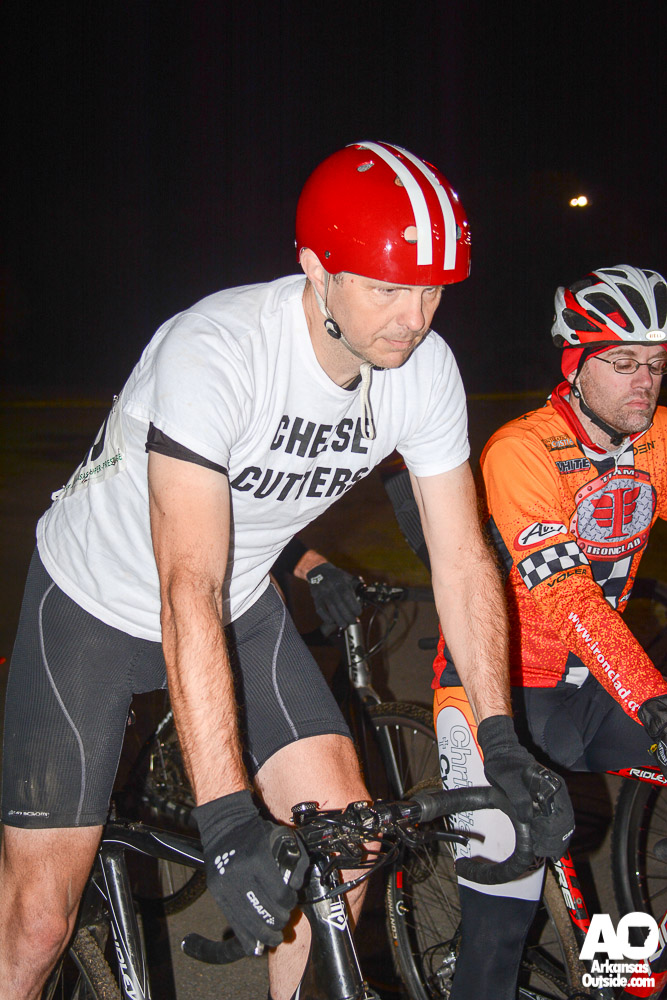 It was hard. It was really hard. It was fun. It wasn't really fun, but fun enough that I could be convinced to do it again. I owe Heather a big thanks for convincing me to Run What I Brung, and not worry about my bike. The best part of the night wasn't the race or even standing up on the podium with Candis to pick up my 2nd Place trophy mug, it was arriving at the venue to find friends dressed in the best costumes ever in the history of costumes. Ryan Johnson and Lauren Bailey were dressed as the indomitable Arkansas Outside Duo. Ryan was the perfect Joe doppelganger with his buffalo hat and big beard. Lauren had me down to the familiar tutu and jumping for the camera pose. They won the costume contest, deservedly so. If imitation truly is the best form of flattery, I feel absolutely worshiped.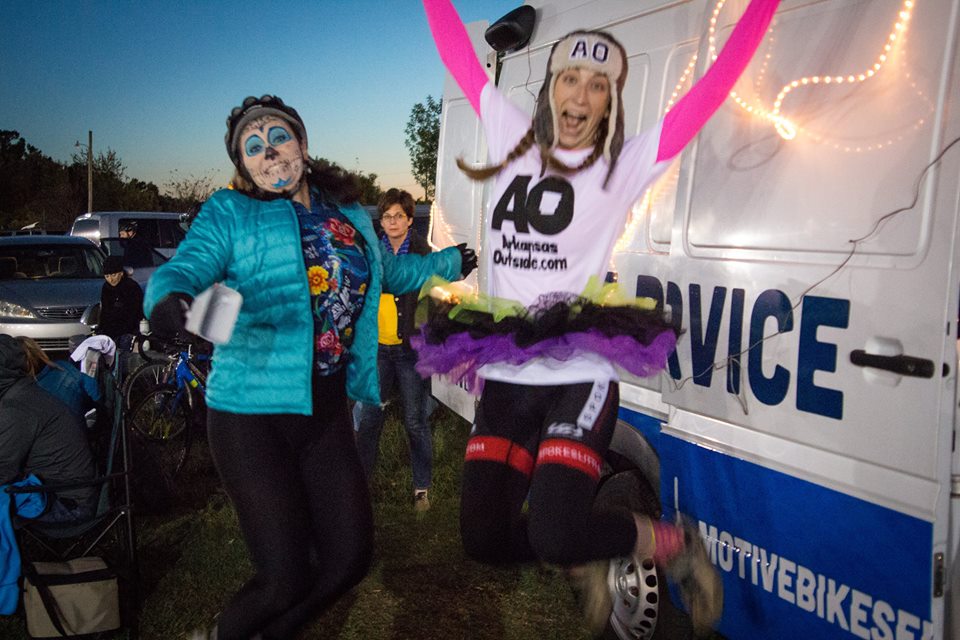 Check out Motive Bike Service Galaxy Gear Works to see where Ryan's real talents are.
More photos are available on our Facebook Page.