There are only a few races that I am willing to run year after year. The Mount Nebo Bench Trail 4 Miler is one of those races. Each year, in the mid-December chill, Race Director Michael Witt welcomes runners to the top of Mount Nebo State Park. The weather is typically cool, sometimes damp, allowing runners to choose clothing options from shirtless to completely bundled up.
Mount Nebo is more than an hours drive from Little Rock, I spoke to people who had driven even longer from NWA. What makes this four-mile trail race so appealing? For me, part of it is my love for this park. Mount Nebo State Park is one of my favorite places to hike. This run is on the Bench Trail, which is also open to mountain bikes, but my favorite trails are the longer, more technical Rim and Summit Park Trails. Most people consider the green of summer the best time to hike. I find that the austere beauty of winter allows the panoramic views from the Rim and Bench Trails. The race offers long sleeve technical shirts and a Christmas ornament with the race date for all runners and walkers. Overall winners receive running journals and age group winners get drinking glasses emblazoned with the race logo. But the biggest appeal of the race is that the Rotary Club of Dardanelle uses the funds raised to purchase dictionaries that are distributed to all third and fourth grade students as part of the Dictionary Project.
The goal of this program is to assist all students in becoming good writers, active readers, creative thinkers, and resourceful learners by providing them with their own personal dictionary. The dictionaries are a gift to each student to use at school and at home for years to come.
This is a worthy cause and something I can willingly put my race fees behind.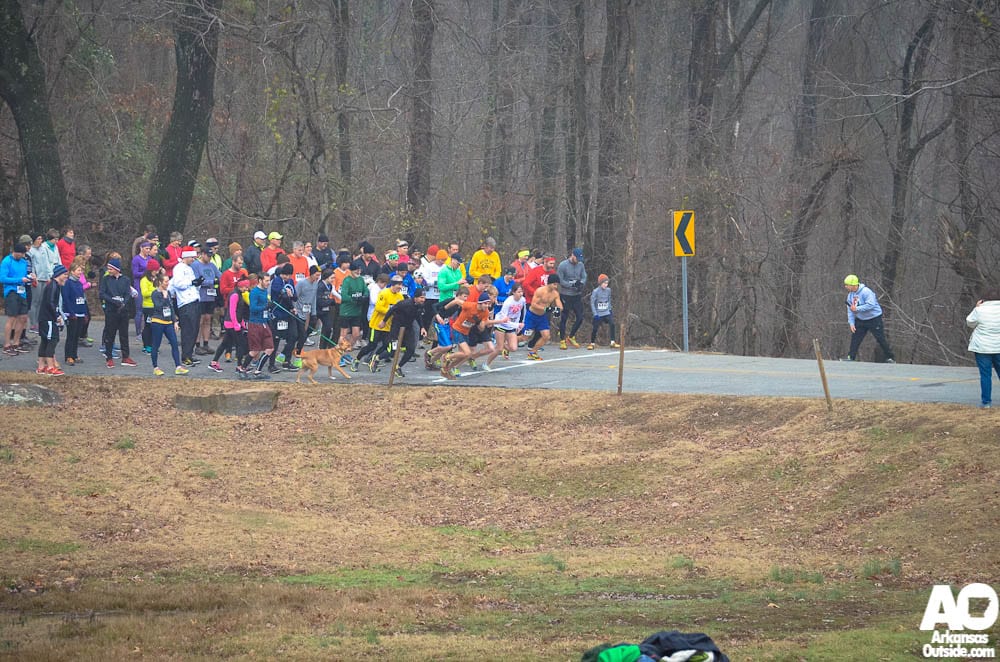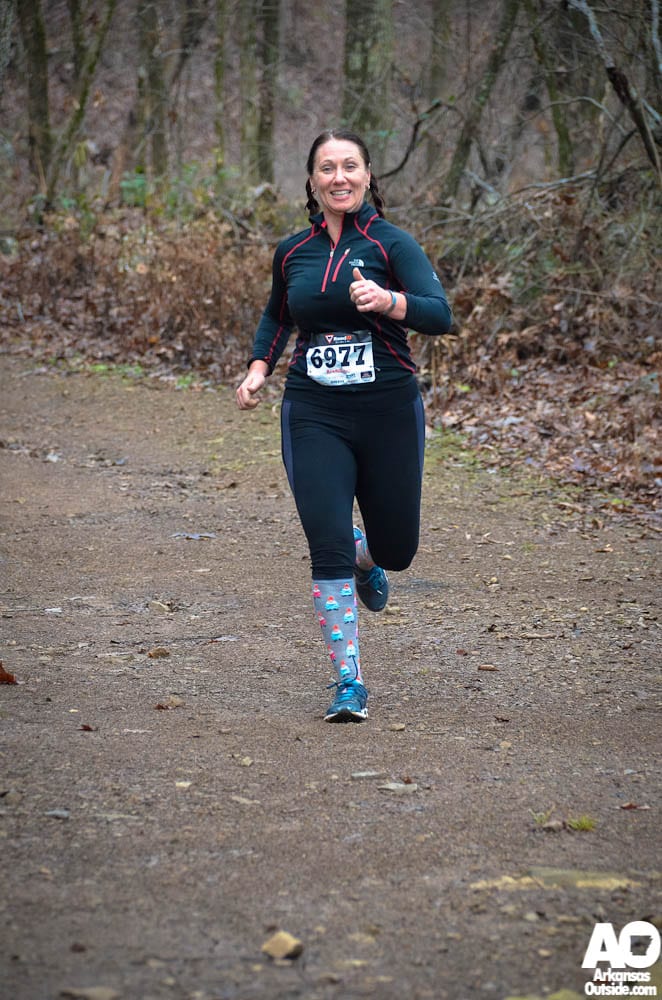 I haven't been running as much as usual and sometimes miss the music of my feet on the dirt and rocks. I enjoyed the solitude running the first miles alone. Sometime after the 3 mile mark, I caught up with Andrew Rohlman who in turn, was catching up with his wife Jessica. Both Andrew and Jessica ran Race the Base so we had a nice chat about trail running and races while the two of us tried (and failed) to keep up with Jessica to the finish line. I always appreciate good company along the trail.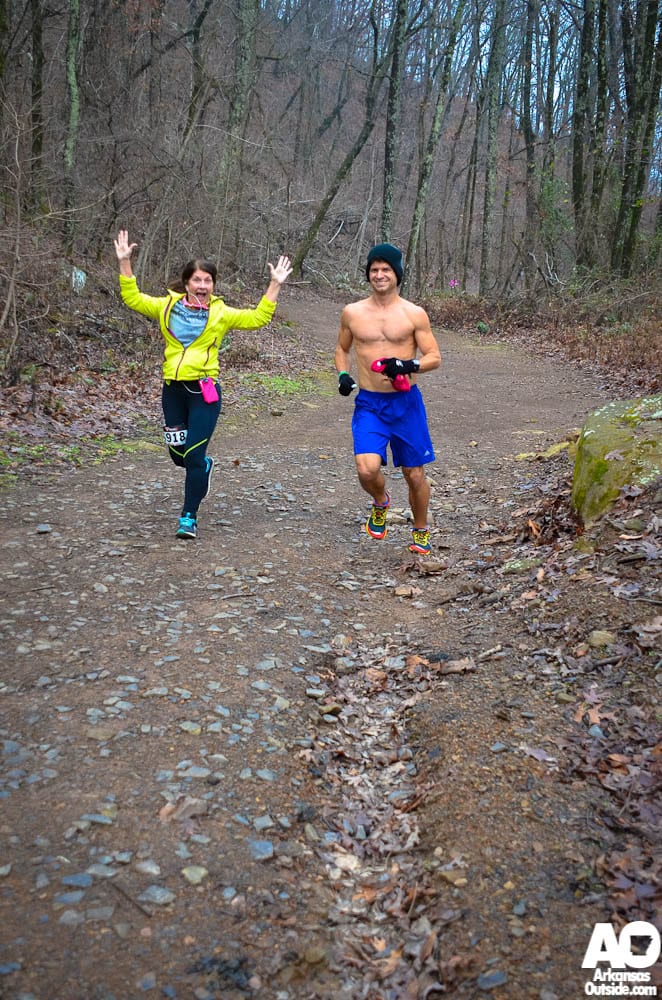 At the finish, Jaymax Race Timing was there with good music. They don't promise you a PR, but they do promise you a "good time". While Braden Li was running the course, his siblings were ringing cowbells and cheering. When the timing officials admired Alison's cowbell and Conner's mad cowbell skills, I scored a cool headband from Jaymax as a trade for an AO cowbell, because everyone needs more cowbell. A  hayride back up the hill took runners back to the top of the mountain where a feast of hot potato soup, chili and all the fixins for frito pie, and cookies were being served up by the ladies from the Rotary Club while finishing times were being tallied and winners were announced.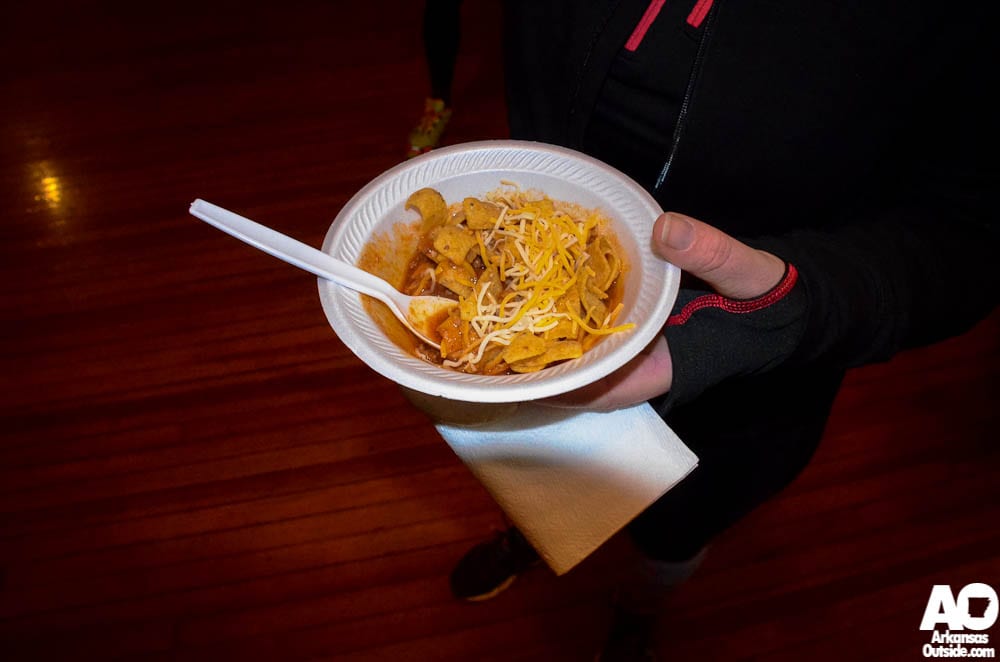 Thanks for another great run Mount Nebo! See you next year. More Photos from the run are available on our Facebook Page. Full results are available here.