"I'm still a racer and I'm still competitive, but the exploration and the journey is far more important to me now and that's how Arkansas ties in. There's not a personal connection there, but I'm going to ride 1100 miles around the state and see towns and places and meet people from my bike that I wouldn't meet if I were racing." ~ Rebecca Rusch
Rebecca Rusch is coming to ride Arkansas's newest adventure trail, the Arkansas High Country Route (ARHCR). The ARHCR is a 1200 mile mixed surface route with three interconnecting loops and a perimeter route. Rebecca will be the first official through-rider on the route, attempting to set the FKT (fastest known time).  Several days into the ride she will screen her Emmy winning documentary at the Bentonville Film Festival. Blood Road won Best of the Festival two years ago. Enduring an expedition length ride, setting the first official through ride time, seeing new places, inspiring people through cycling, the challenges and joys of riding the ARHCR meet Rebecca where her core values lie.
A Passion for it
When asked what attracted her to this route, Rebecca responded that this ride checks several boxes on a list of things about which she is passionate. Her passion is exploration by bike. She says "what I've seen in cycling is that people want adventure." For many people traveling to new places, having a map is a necessity. In this case, Adventure Cycling's map of the ARHCR is like "a little adventure treasure map", providing a tool for exploration.
Exploring Arkansas by bike connects with Rebecca's passion for protecting public lands. According to the Adventure Cycling's website, the route touches seven state parks, three national parks, and the Buffalo National River. It also passes through 13 Forest Service campgrounds and nine Corps of Engineers parks. Rebecca's Be Good Foundation promotes policies that "celebrate public lands initiatives and having open space for people to spend time and recreate."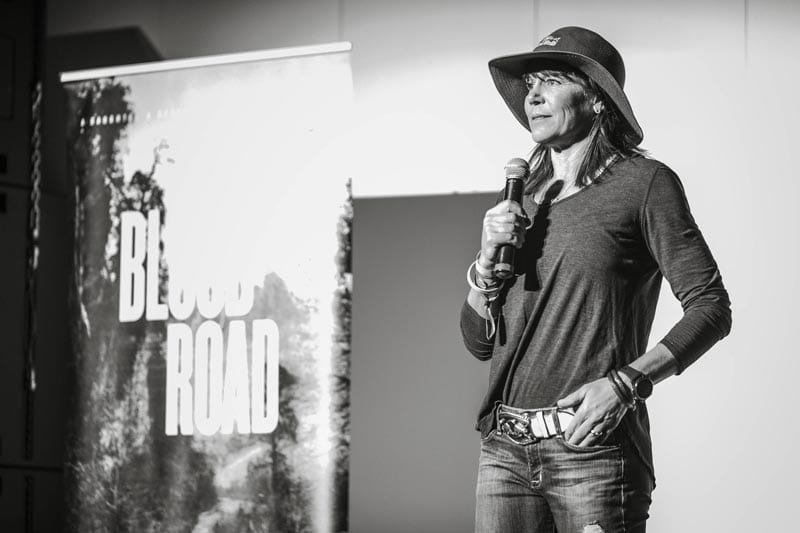 Ride Details
We asked Rebecca what her essential gear list is for this ride. She laughed and said, "I'm still working on that." Comfort and efficiency are the two most important considerations for a multi-day ride. Rebecca's ride is self-supported. She is carrying all the daily necessities like clothing, water, food, lights, and repair kits on the bike. Anything she needs on the road is purchased at publicly available businesses like convenience or grocery stores along the route. Rebecca has all the maps loaded on her Garmin 1030 and is also using a Garmin inReach satellite communication device. The inReach not only provides a layer of safety for Rebecca when she is out of cell service area, but allows us to watch her progress via a live tracker. She has a plan for how far she needs to ride each day, where she can overnight, and where to find food and water, but says that plans can be changed on the fly if needed.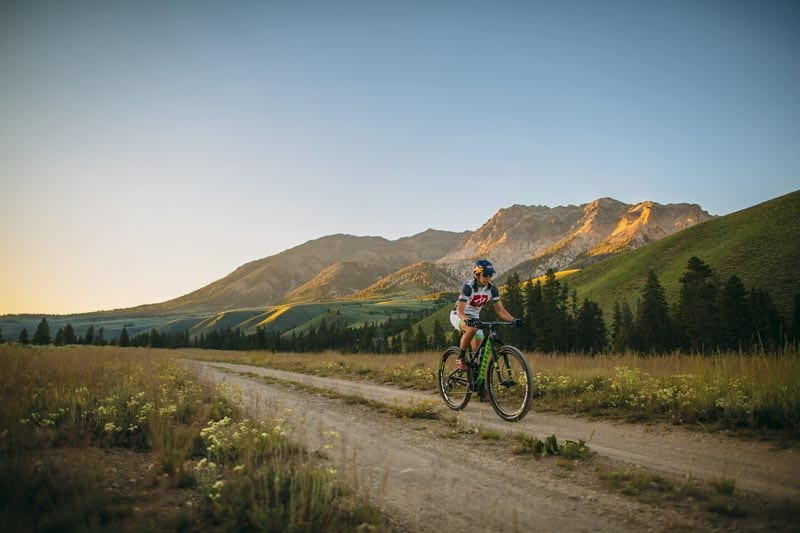 Plans also include having company on some segments of the ride. One of those guests could be Mountain Bike Hall of Famer Nat Ross, who now lives in Bentonville. Another guest could be Chuck Campbell, a Russellville teacher and the man with a vision of finding a cycling route around the entire state. With the support of the Adventure Cycling Association and the Arkansas Parks and Recreation Foundation, Chuck set out to map and organize the route. Since the route passes right by his house, it is an easy jump on to the road for Chuck. He can put down his coffee, jump on his bike, and join the ride.
Where to find Rebecca
Rebecca is riding 1171 miles with 67,110 feet of elevation gain in 9 days, starting on Tuesday May 7th, with a stop for the film screening in the middle. She is known as the Queen of Pain for her ability to tough out the most extreme conditions and she's looking forward to the challenges Arkansas terrain has in store for her. The film screening at the festival is May 11th. If you'd like a chance to meet Rebecca in central Arkansas, she will be having a Meet and Greet tonight at The Meteor Bike & Coffee Shop. For you bike geeks out there, we understand that she will have her bike on display. She hopes to finish on Wednesday May 15th. As soon as the finish line details are announced, we'll be sharing them on social media.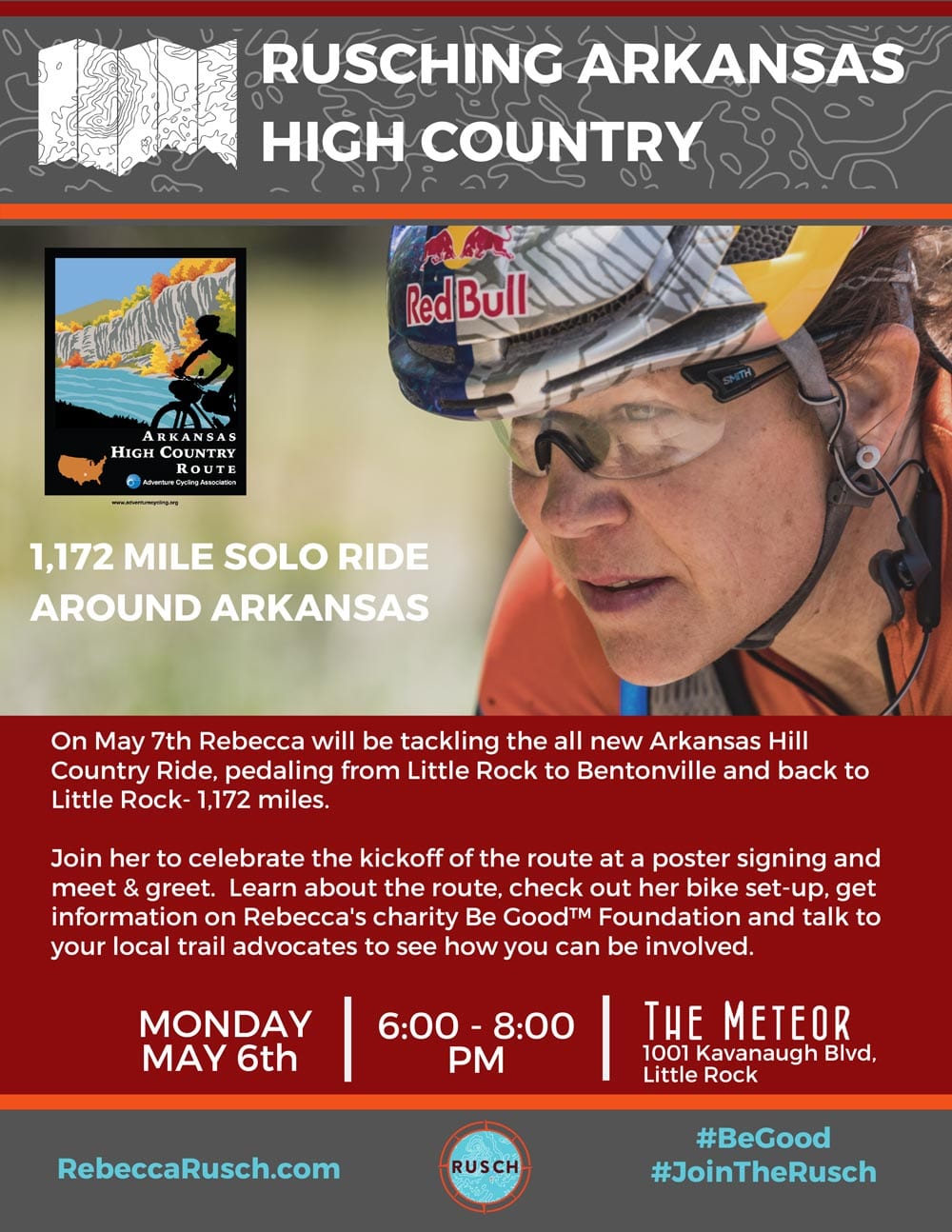 In a follow-up article, we'll discuss the making of Blood Road and how the experience changed Rebecca as a person and as an athlete and why being able to ride by herself on the ARHCR adventure is important.