What makes 60 people get out in 40 degree damp weather on a Saturday morning? The promise of the feel of dirt and rocks under their feet, the promise of competition, the promise of that sense of accomplishment that comes from pressing the limits.
The third race in the Arkansas Trail Run Series was at Burns Park in North Little Rock. It started near the BMX track just across the street from the log cabin and the Heilman Cemetery.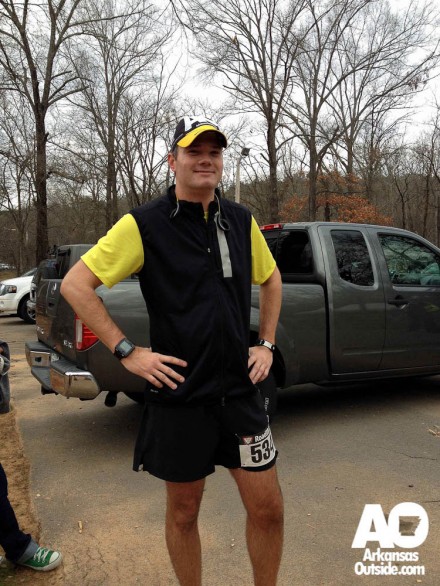 With the morning air being cool and damp, attire ranged from shorts and short sleeve technical shirts to fleece and long tights. At least one runner was representing in his Arkansas Outside running cap.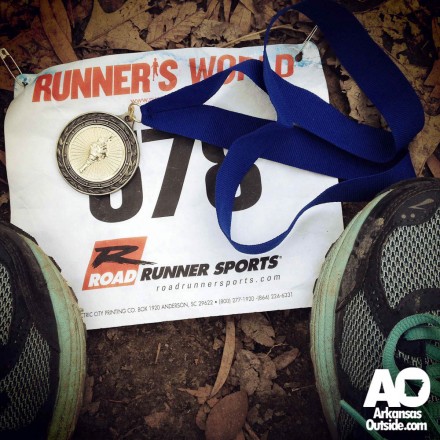 The course would be the green trail, up the road from Arlene Laman Drive to the first green trail entry on the left which takes everyone up a long easy slope and onto a trail rife with rocks, roots and even a few armored stream crossings. Running past the intersections of the white and red trails we would enjoy undulating hills for the first 2 miles or so until the trail popped us back out onto the road at the rear of the RV park where we could enjoy a mostly downhill run on the road and back on to the green trail before crossing under the big finish line beside the BMX parking at mile 3. There was hot chili, cookies and fruit waiting for the runners. Hot chili is always a welcome treat on a cold damp day. Unless you're me, and you have a 13 miler on schedule for the day and the race added in to your pre-race run to make it only 8.5 so you can't afford to have chili on the belly for the last 4.5. I wonder now if the other runners I saw out on the trail after the race getting more mileage in had partaken?
Last year's race (It was a warmer day)
Race One & Two from this year.
Next Race – Cadron Trail, Conway