Foray #2 on the Ozark Highlands Trail
Cherry Bend Mile Marker 35.3 to Arbaugh Mile Marker 70,  4 days/ 3 nights, early March (For Part 1, Visit Section Hiking the Ozark Highlands Trail )
Day 1 Cherry Bend to Herrod's Creek
Let's just say this section was an adventure. Right off the bat, I went (literally) chasing waterfalls and got us off route. Luckily the map app we were using helped us bushwhack our way back to where we needed to be, but it cost us time and a bit of energy to do so. When Tina and I plan these excursions, we include optional camp locations in case we are tired, or the shuttling takes longer than expected, or I get us off route and use up daylight. For this trip, we had camping options at Morgan Field or Herrod's Creek. The hike from Morgan Field Trailhead/ Hare Mountain to Herrod's Creek is mainly downhill so it made sense to press on while we still felt day 1 fresh. We set up camp, foraged for firewood, and enjoyed a crisp clear night with a good fire and hot beverages. In the morning after breaking camp, we enjoyed a hot breakfast and more hot beverages trying to stay warm until we could get moving. The climb from the creek bed was stout and helped us burn off the chill of the morning.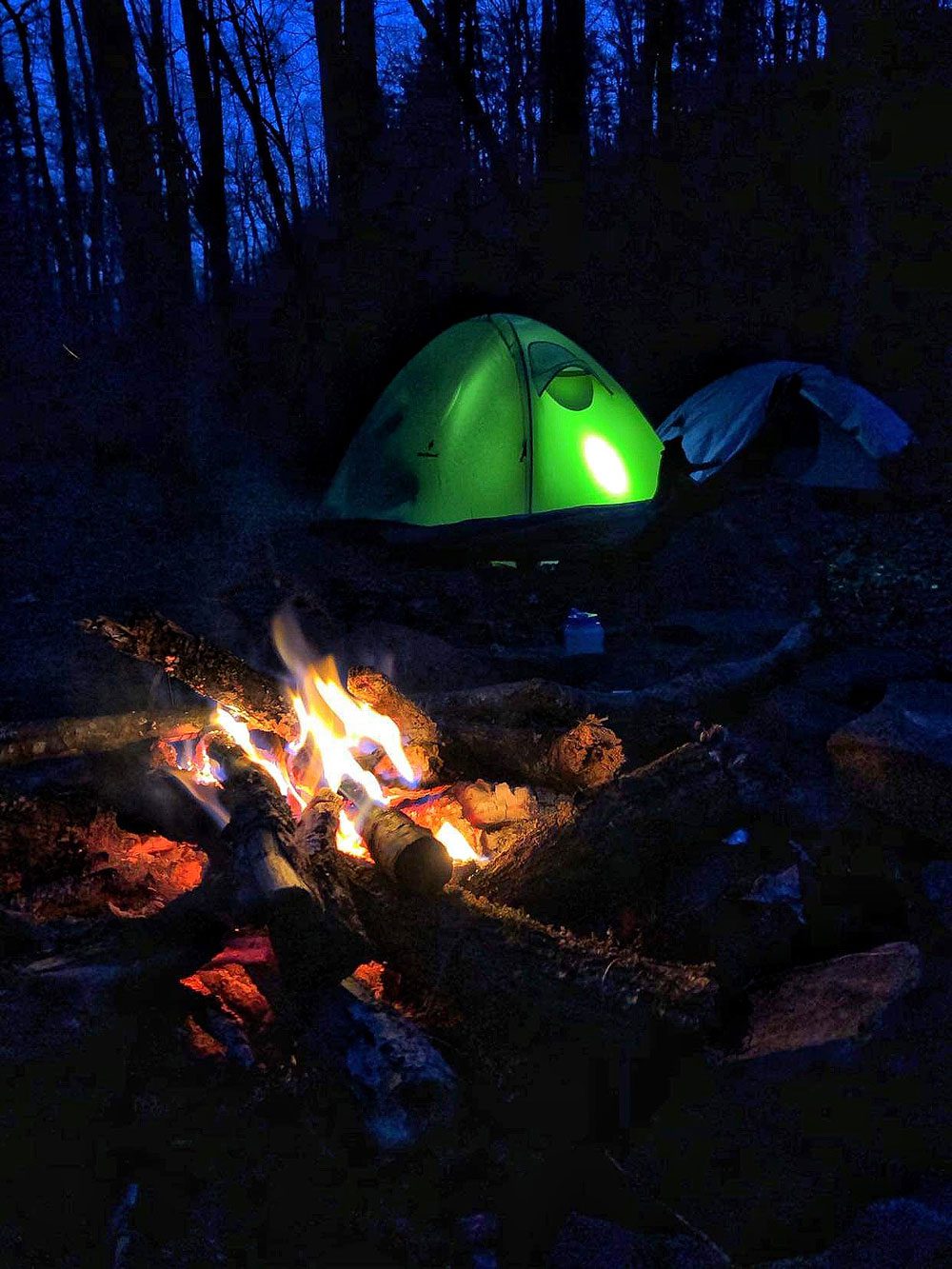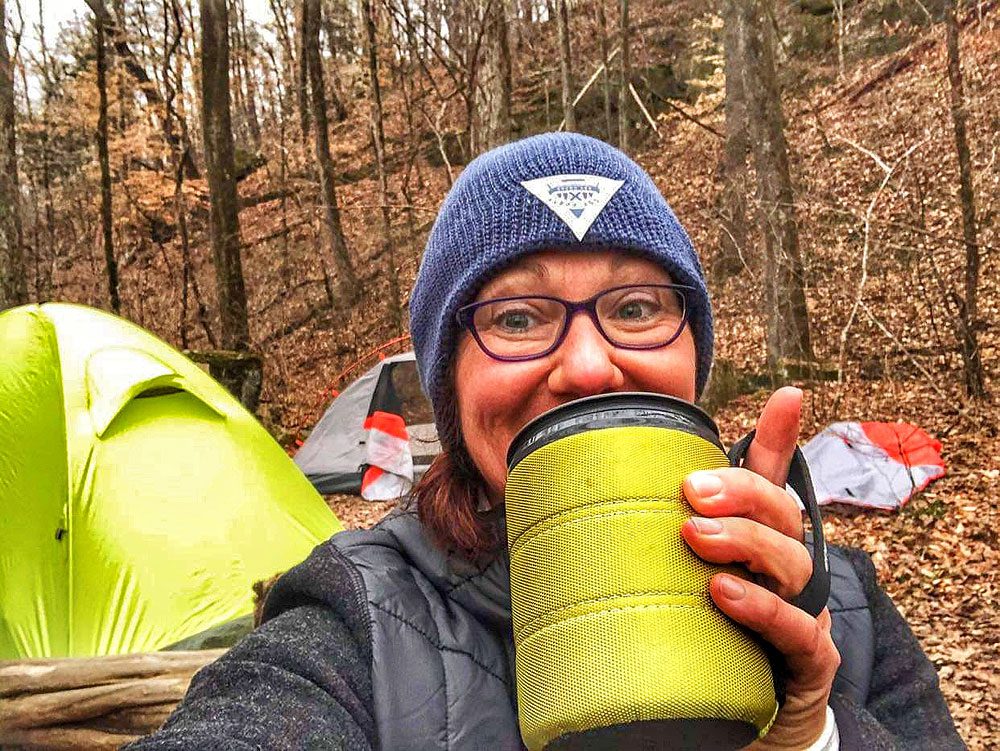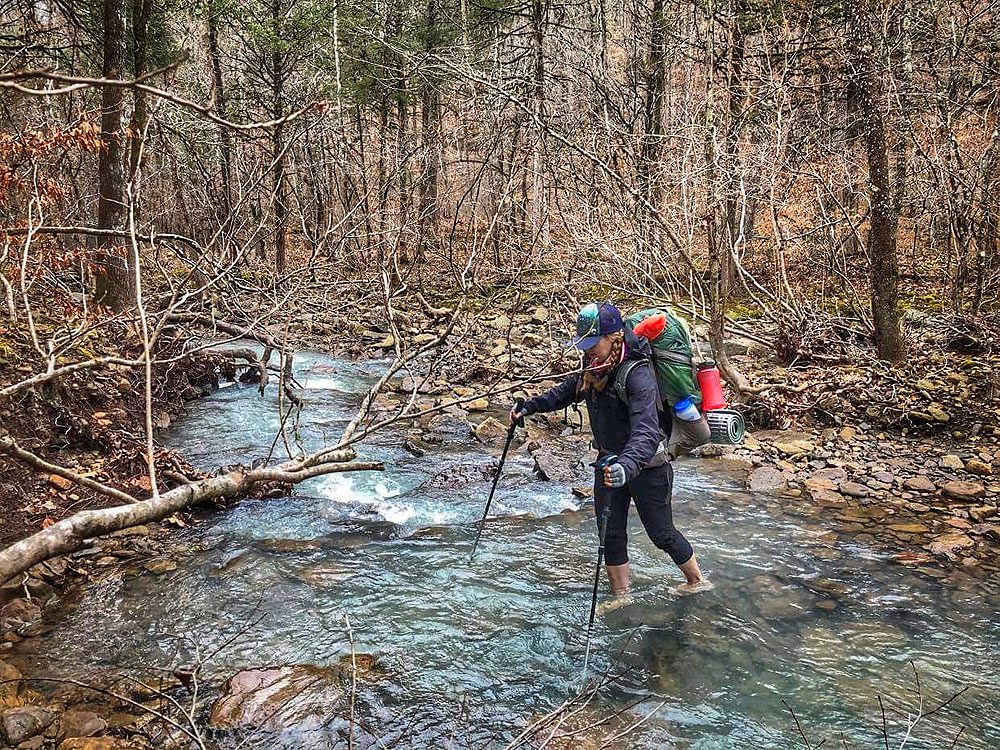 Day 2 Herrod's Creek to Lick Branch
Lick Branch at MM55 is the goal for day two, which takes us through one of my favorite sections of the OHT: The Marinoni Scenic Area. The bluff lines are stunning. With an abundance of waterfalls, the moss and lichen stippled bluffs create a lush landscape, the kind I like to call fairy prairies. I would like to visit in full winter when the bluffs are decorated with icicles and mirror-like sheets of ice. We stopped for a minute at the Paul A. Marinoni Marker to appreciate his volunteer service and stewardship of the forest.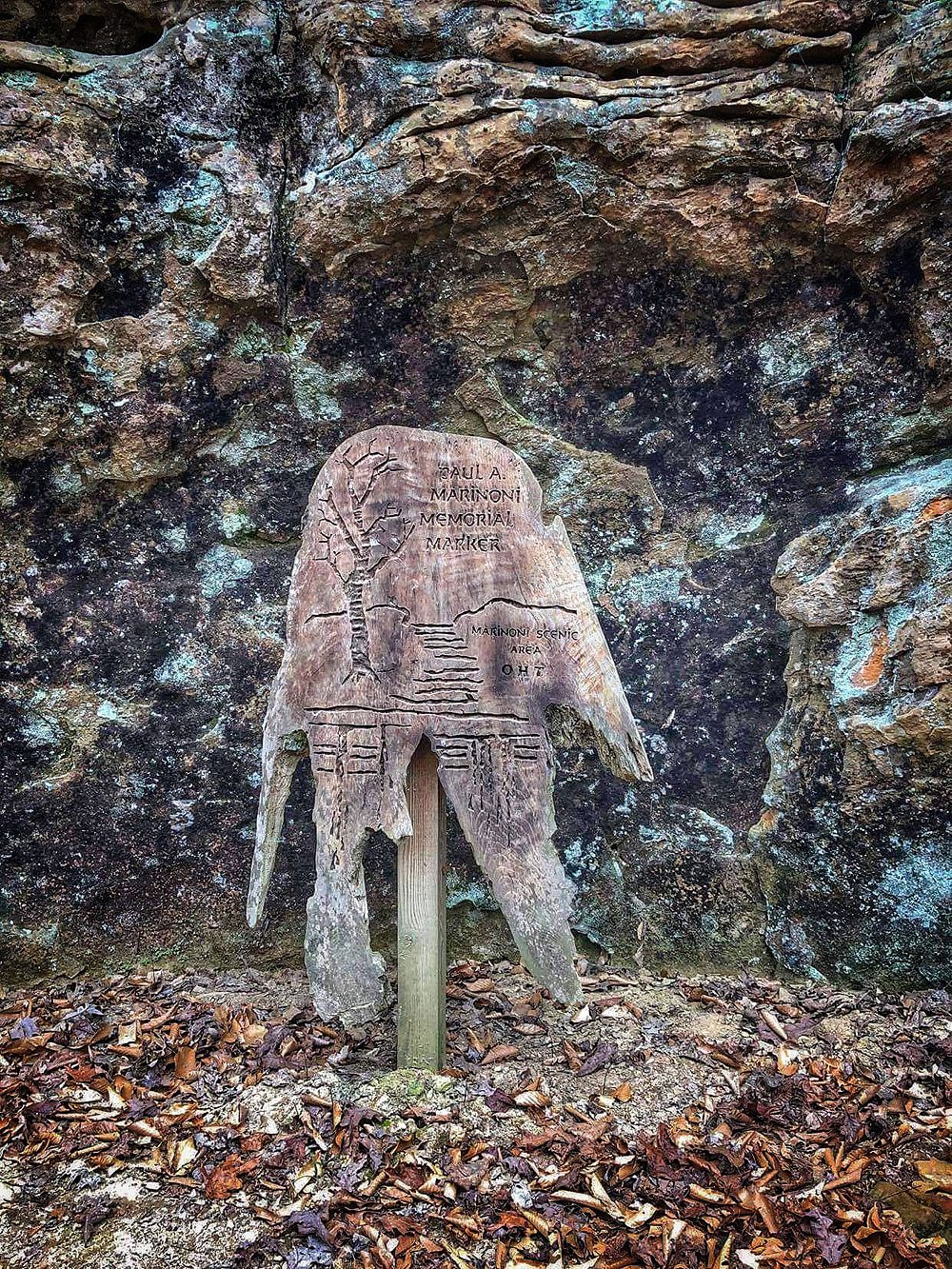 We reached Lick Branch and decided to set up in the campsite that is practically in the trailhead parking lot instead of the site farther down the creek. Another friend was meeting us that evening and without cell service, being within sight of the lot would make connecting with her easier. Just as we finished getting our tents up, it started to sprinkle. Then it began to rain. Tina and I were stuck in our separate tents, we hadn't thought to set them up with doors facing one another. I read a book while waiting for the rain to let up, but after a couple of hours decided to set up my stove in the vestibule to make a hot drink and dinner. It felt like the rain was never going to end, but after about four and half hours it finally let up. The sun had set and the temperature was dropping when we saw car headlights on the road. As the lights slowly passed us by, we made a bet that we'd see those lights come back at us in a couple of minutes. As expected, it was our friend Katie who missed the trailhead sign in the dark mist. Katie has years of outdoor and backcountry experience. She's definitely on my list of who I would want to be stranded with if I'm ever in a "survivor" type situation. Even with my knowledge of all her years of experience, when she said she wanted to try to start a fire, I snorted and told her to have at it.  I was not optimistic. She gave it her all, alas, the long hours of rain smothered anything other than brief flickers of a fire. At some point, we were all so exhausted both physically and emotionally that we decided to hit the hay. Or the hammock in Katie's case. Sometime in the middle of the night, I heard the tinkling of what I thought was probably another light rain. Then I heard a car door opening and shutting. As the dawn light crept in to wake me and I exited my tent, I realized the tinkling I heard was the misty rain turning to sleet. The tents were coated in a thin layer of ice and sleet that chased Katie out of her hammock to the shelter of her car. All the way around the decision to camp next to the parking lot proved to be a good one. We dried out our tents the best we could as the morning sun started to melt the ice, made a hearty hot breakfast, and steeled ourselves for starting our hiking day with a cold creek crossing.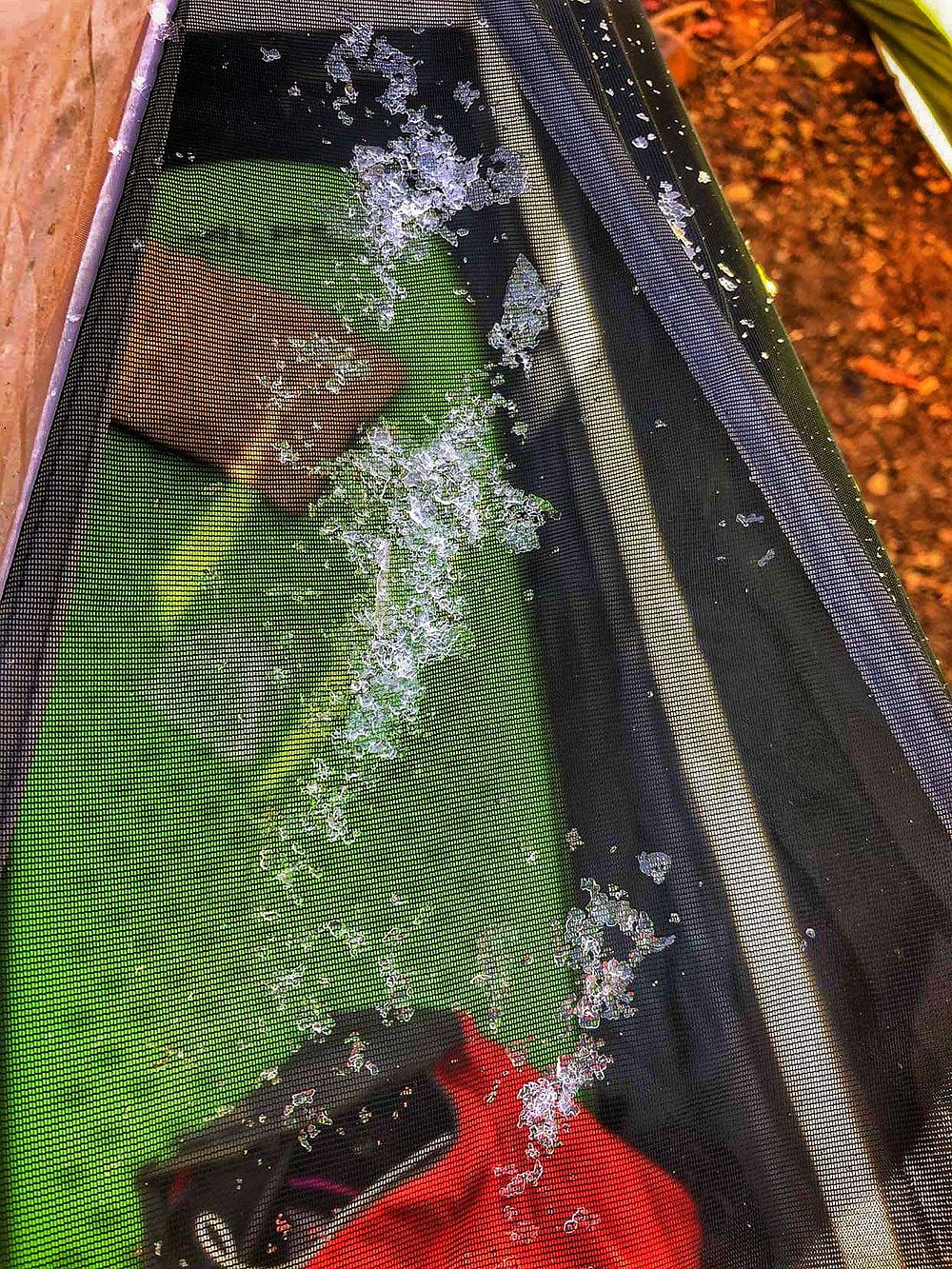 Day 3 Lick Branch to MM65
The goal for day three is MM65. We spent much of the day chasing more waterfalls, taking lots of photos with Katie's new camera, and generally just enjoying the sunny day. We knew there would not be water near our planned campsite and established campsites are limited in the area. We also know from experience that 10 miles is a good day of packing for us and the season would limit our daylight hours. By MM65 we would need to stop since the next creek and established sites that we could be certain of were not until MM72. As we were stopped on a dirt road eating lunch, a couple we leapfrogged throughout the morning passed us by. There was concern in our crew that there might not be enough established camping area for us to share if we all decided to stop for the evening in the same place (not to mention we were still in the early days of the pandemic). The concern turned into reality and even after moving on to reconnoiter possibilities farther up the trail, we realized we were the last group to arrive in the area, all the established sites were taken, and we were going to have to figure something out. Luckily Katie's years of experience and skill at guiding groups in the backcountry kicked in and a plan was set in motion within minutes. Practicing every Leave No Trace tenet we could, we decided to camp where we were, clean it up in the morning, and do our best to ensure no one coming behind us would ever be able to tell that anyone had camped on that spot. Sometimes adversity allows us to use skills and resources we don't have the opportunity to test very often. This was one of those times and I am grateful for Katie's calm leadership at the end of a tiring day when things just weren't going to plan.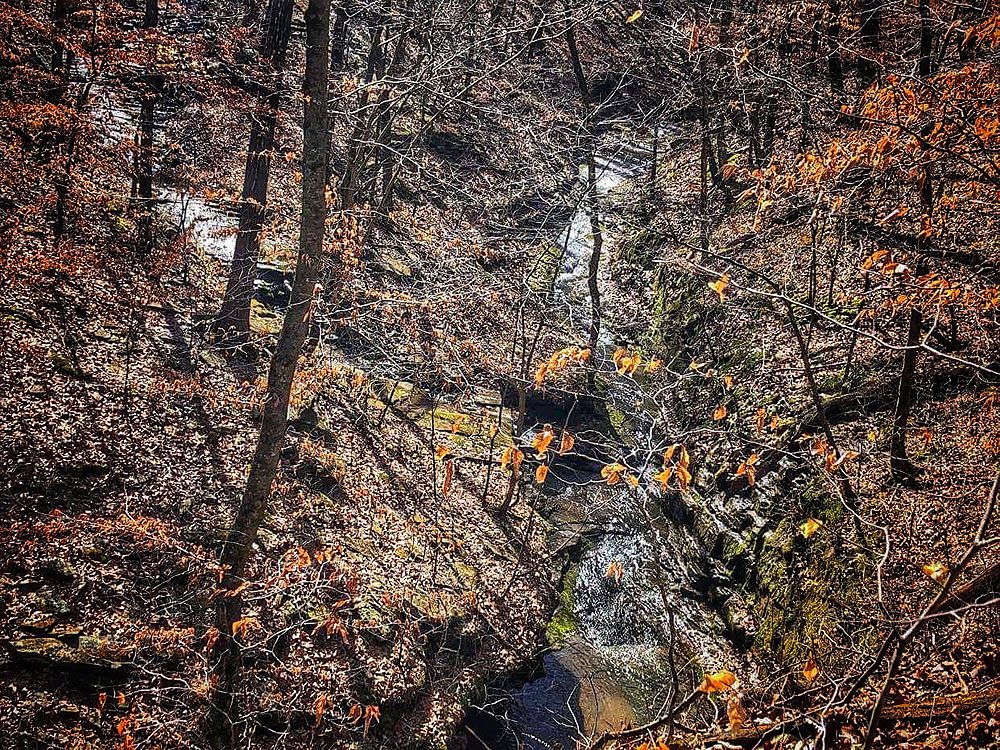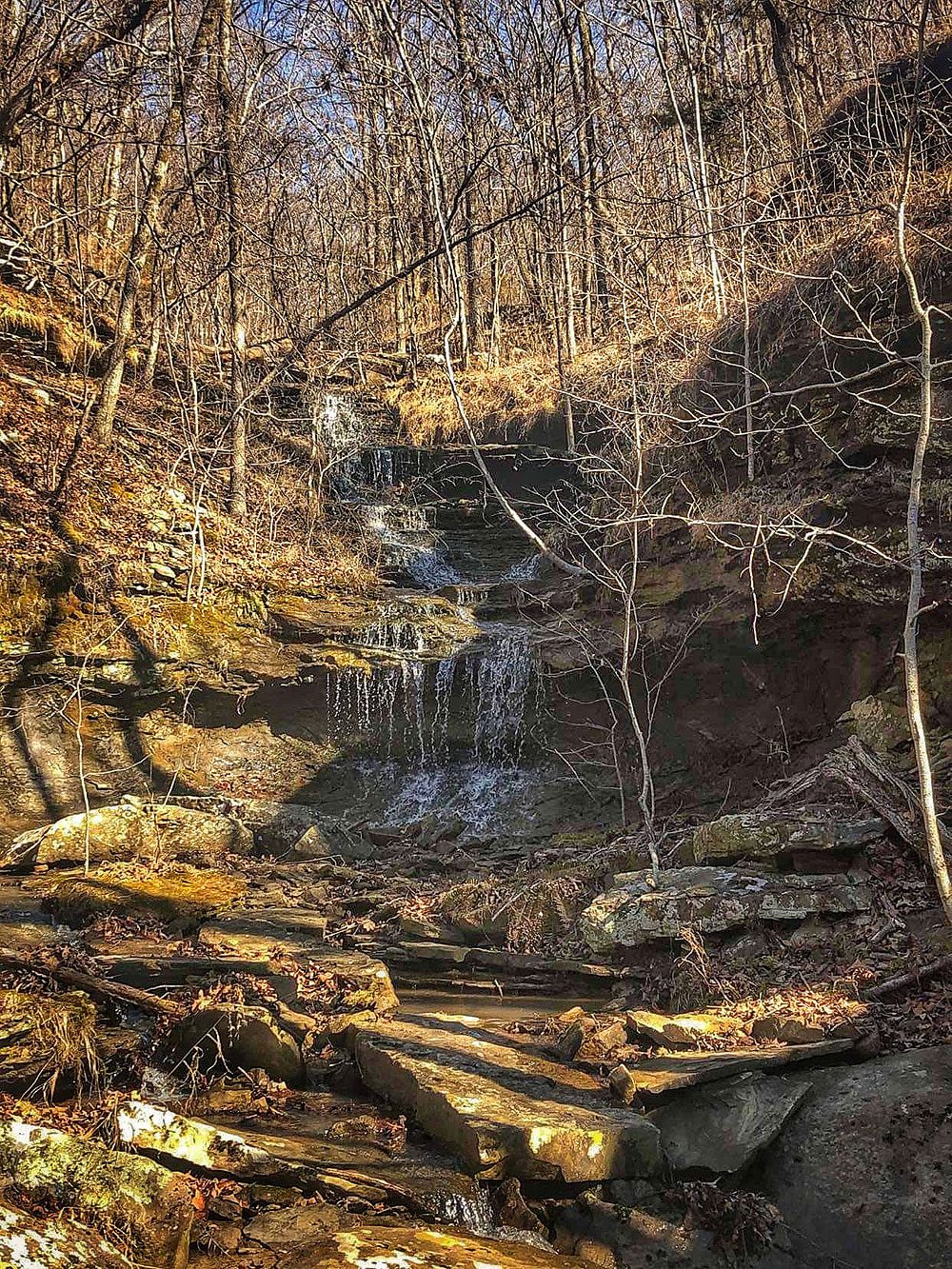 Day 4 MM65 to Arbaugh
We aimed for a short final day of hiking to MM70. We did find more potential camps up the trail, but the night before we felt the uncertainty of moving on was not worth the risk in the dark. The plan for day 4 was short leaving time for a good lunch together at Catawba Cafe in Oark before all the shuttling of vehicles commenced.  We had one car parked at Cherry Bend and one at Lick Branch plus we all had long drives home. With time to spare even after spending a lot of extra time erasing as much of our impact from the night before as possible, we continued our mission to seek out waterfalls, cool bluffs, oddball rock formations, and the telling of tales on trail for the 5 miles to Arbaugh at MM70.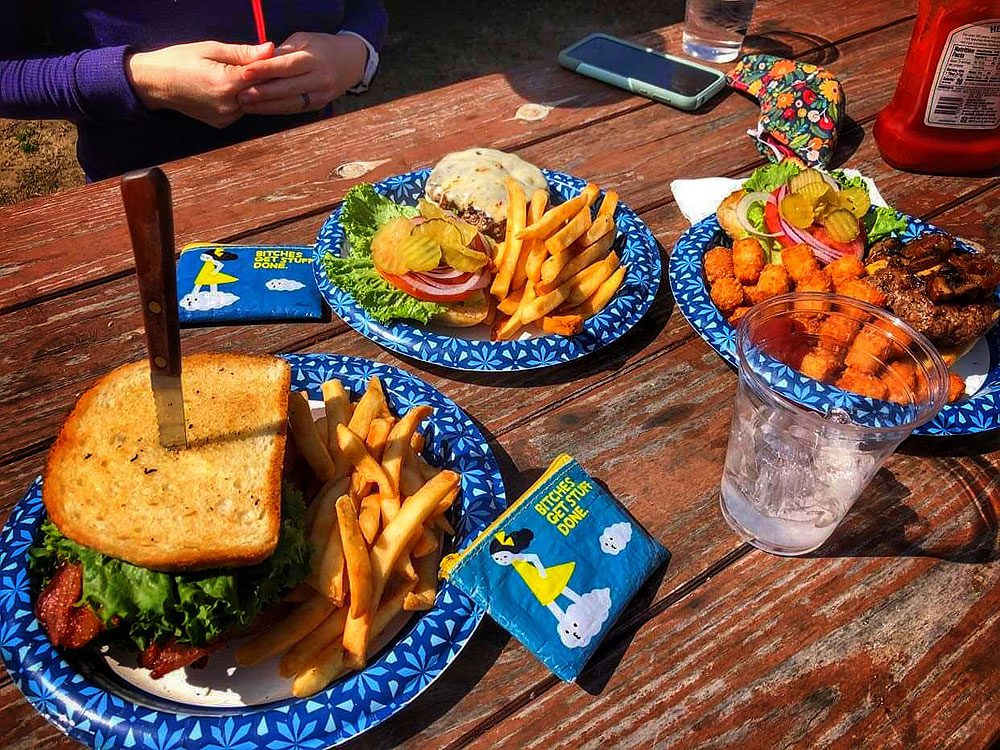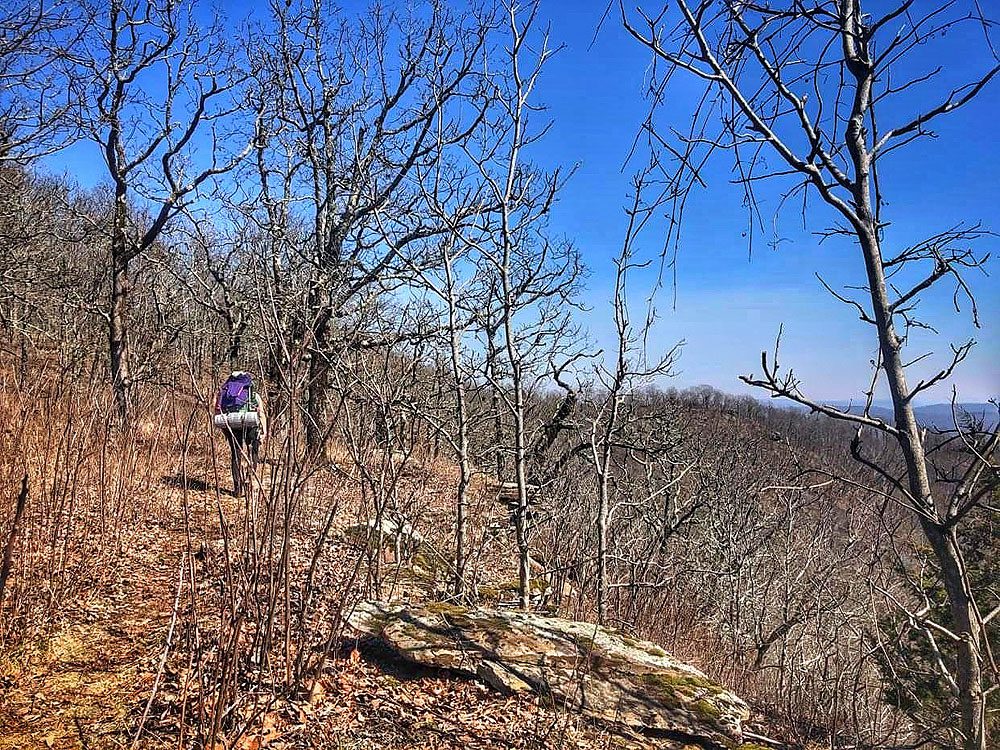 Keep an eye out for the next installment of Section Hiking the Ozark Highlands Trail.