We had another great year at Race the Base Trail Run. We may not have had as many runners as we had in 2013, but we had plenty of spirit. We had a great crew of last minute volunteers from a local running group, while many other members of the group were racing. We certainly appreciate this crew of athletes who have helped Arkansas Outside with a few events recently. Saturday many of them stepped up at the last minute to keep the day moving as smoothly as possible. Thanks to Liz from Keep Arkansas Beautiful, and Daniel who have worked our water station all three years. Kevin, a regular park user, emailed me last week to find out what he could do to help and showed up to do anything and everything we asked of him. Partners for Pinnacle certainly appreciates all the help.
With the long weeks of preparation behind, I arrived to the park on race day morning to a locked gate and a finish line that had to be re-positioned from the previous year's location. We got the gate unlocked and the work began. The boxes of t-shirts and pre-registered packets were unloaded, registration sheets were out for walk ups, instructions were given to our two dauntless volunteers manning the tables. I headed off to cut down the netting that had mistakenly been run across the race course. I still needed to put up the ribbons blocking the Kingfisher Trail to lead the runners on the right path. Joe was busy putting up all the ribbon for the finish area and was scrambling to help get the volunteers we had out to the right places on the trail. We knew very early in the morning that we would be missing at least three of our volunteers. Then just before race time we found that an entire group that had volunteered, was not going to make it. Luckily we had a few friends around who had come out to cheer for other friends. We put them to work posthaste. While we were still short a few people to help on the course and worrying whether we had our bases covered, the runners were at the starting line and ready to go, we could wait no longer. As they started off on their lap around Stuckey Field, I headed to the sidewalk they would use to get under the road and over to the Kingfisher Trail. There I performed cheerleading moves that I'm not sure I've ever actually used before. I jumped, I yelled, I herkied. As soon as the last runner was across the sidewalk, I had some help from volunteers Cassandra and Harrison to carry stuff over to the finish line and to help me pull down or reposition ribbon for the Kingfisher Kids Race.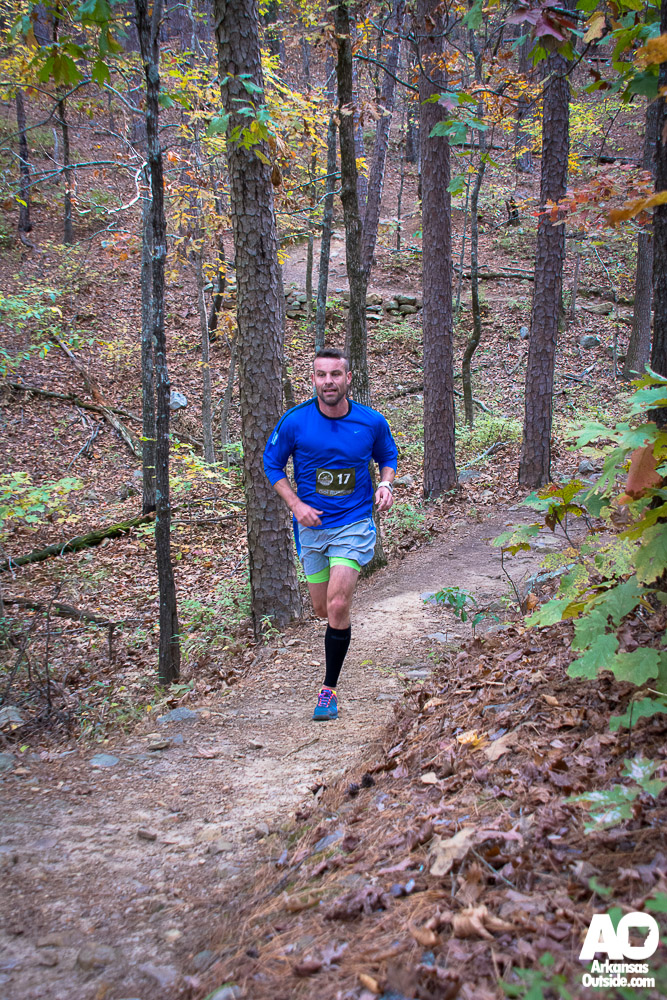 Within just a few minutes of reaching the finish line myself, Chris Block came running down the chute with Marc Gill close on his heels and Mat Pickard just behind Marc. I have a feeling these three very fast guys pushed each other for every single step. About that time I was informed that we were missing a timing chip so I had to walk back up the finish line chute, stopping to cheer and encourage as many runners as I could on my way back to the start to see if I could find the chip. I had good company in 4th place overall and age group winner Jeff Grove on my way to the parking lot. Finding the chip right where I was told it would be, breathing a sigh of relief for a moment, I started panicking because I realized with every single warm body we had already working on other duties, we didn't have enough volunteers to supervise the kids run on the Kingfisher. I love being the one at the kids run because watching their little faces run with such joy makes me happy too.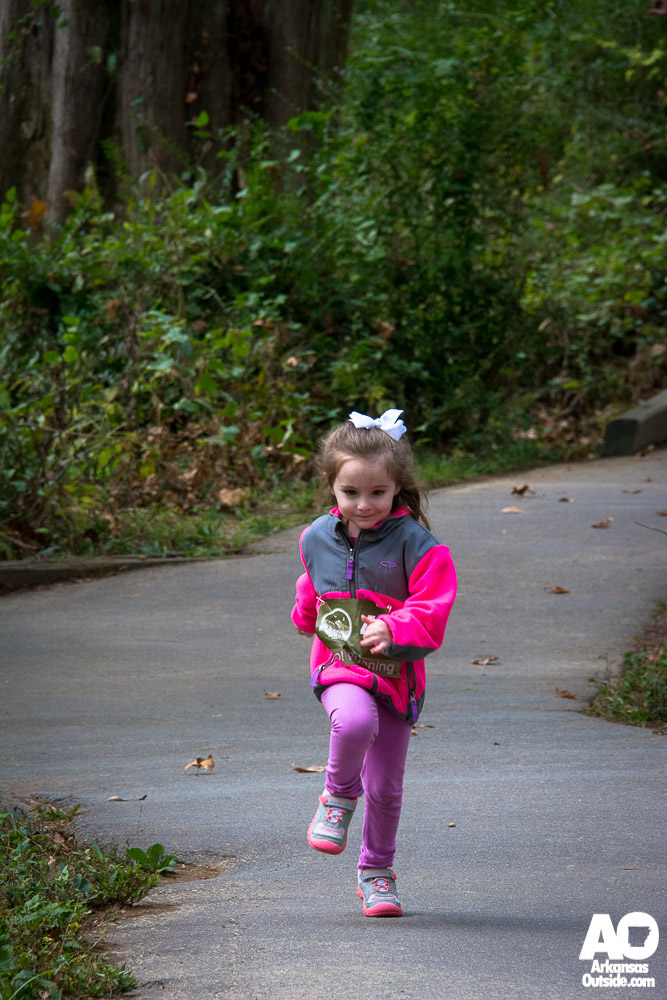 Snagging our Partners for Pinnacle guy, Dan, I handed him a huge box of treats for the kids and said "GO!, deal with this for me pretty please!" Which left me to deliver our beautiful hand painted trophies to the winners. Weeks ago I dug up a bunch of rocks from our very rocky yard, washed them off and took them over to Parkview High School. In exchange for pizza and coke, the art students painted each trophy. I am beyond grateful for their hard work and I know the runners appreciate having such a unique memento from the race.
By the time it was all said and done, the site was cleaned up, we finished pulling all the ribbon down, the arch was down, and all the extra stuff was packed up, all I could think about was a nap. The nap never happened by the way, but that's a different story. Thank you all for coming out to enjoy a beautiful day at Pinnacle Mountain State Park. Y'all come back now, ya hear? Watch the park calendar for upcoming events.
We'd also like to thank the Central Arkansas Master Naturalists, in particular, Bill Toland, for blowing off the trail the day before making it a much safer run over the rocks and roots. Weather conditions for the run were perfect and the leaves seemed to be in peak color giving us a beautiful day in the park. As always, the runners enjoyed going from the low wetlands with the giant bald cyprus trees to the rocky slopes of Pinnacle Mountain. As for the short trip up the mountain on the gravel road, well, if it were easy, everyone would do it.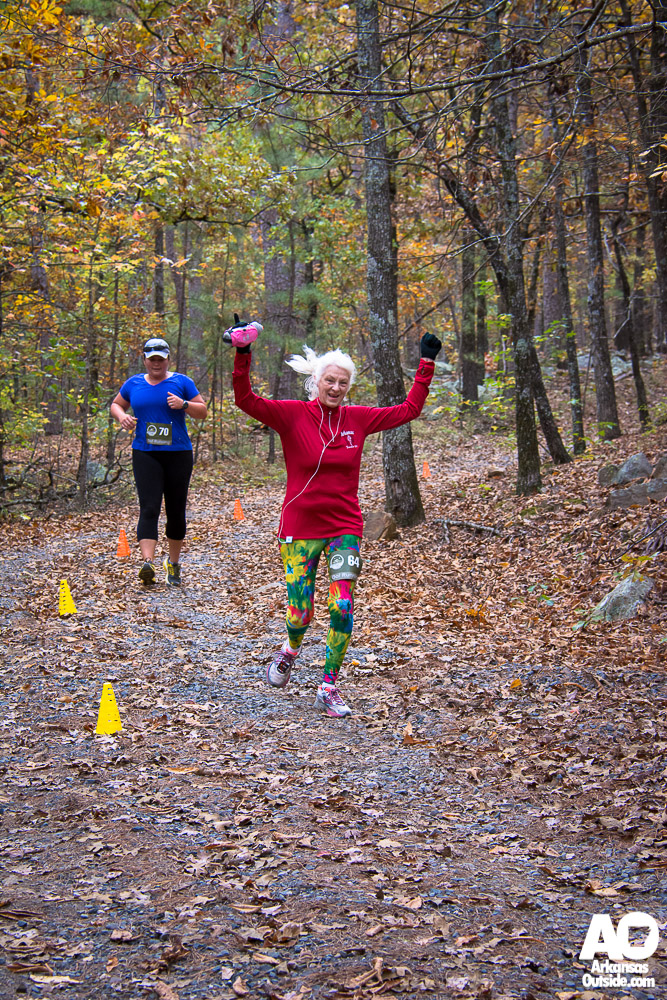 Racers were able to enjoy some post race goodies from Tie Dyed Trail Grub and Race Catering. If you enjoyed your wraps, nuts, or granola, please remember to give Bill a shout the next time you need to fuel a run or ride. Our other sponsor, Go! Running helped us out with custom number bibs and gift cards for our 1st place age group winners as well as providing our finish line arch. Another big thanks goes to Ken McSpadden of Macs Race Timing Service. Ken has also been with us from the beginning bringing the party to the finish line and keeping all the finishes straight. You can find all the race results on the Macs Race Timing Website. Thanks racers, for once again telling us how much you love Pinnacle Mountain State Park and Race the Base.
Thank you to the Little Rock Hash House Harriers for saving the day with a huge turnout of both runners and volunteers. On-On.
We will be posting lots of photos from the races on our facebook page later today. Please feel free to share, tag and download to your hearts content.