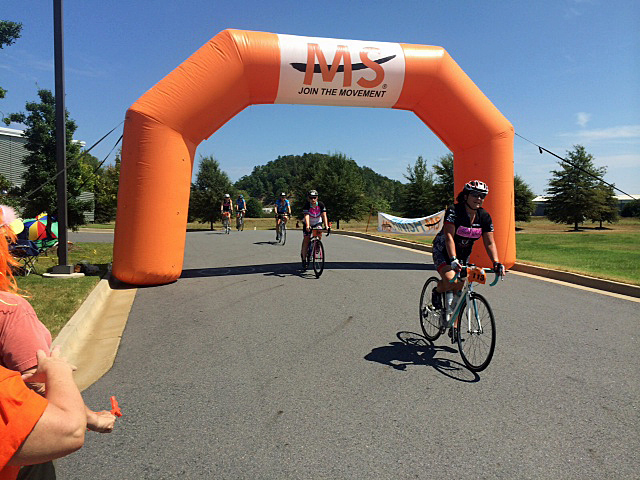 The morning was relatively cool for an early September day as my husband dropped me off at the starting line for the MS-150 Rockin' Hot Ride. The atmosphere was celebratory as the ladies on my team arrived one by one and dropped off their luggage for transport to our destination. We readied our bikes and donned all our gear as we filled water bottles and ate the last of our mornings carbs. I was very excited to get rolling! This was a very special ride for me because although I ride in many charity rides to bring awareness to certain diseases, in this particular event, I rode for my Dad. He has a very rare disease called CIDP that is similar to MS. The money raised in this ride could fund research that might affect his quality of life someday. I was really stoked to have the opportunity to participate in such a personal and worthy event. Our route began in Maumelle, Ar. and took us some 70 odd miles down some very hilly terrain to Hot Springs Village, Ar. We would cycle almost 150 miles in two days and suffer through 8900 ft of climb. I knew from studying the elevation map of the route that we would begin in hills that I regularly climb, hit a long distance of rollers, and end with about 18 miles of gut checking climbs in the heat of the day. Throughout the ride we would be gaining an overall elevation of around 1000 ft. That kind of practical knowledge managed to lull me into a false sense of security that while I did not expect the route to be a walk in the park, it would be totally doable and not overly challenging. After all, I regularly ride west of town through hills and rollers all the time, right?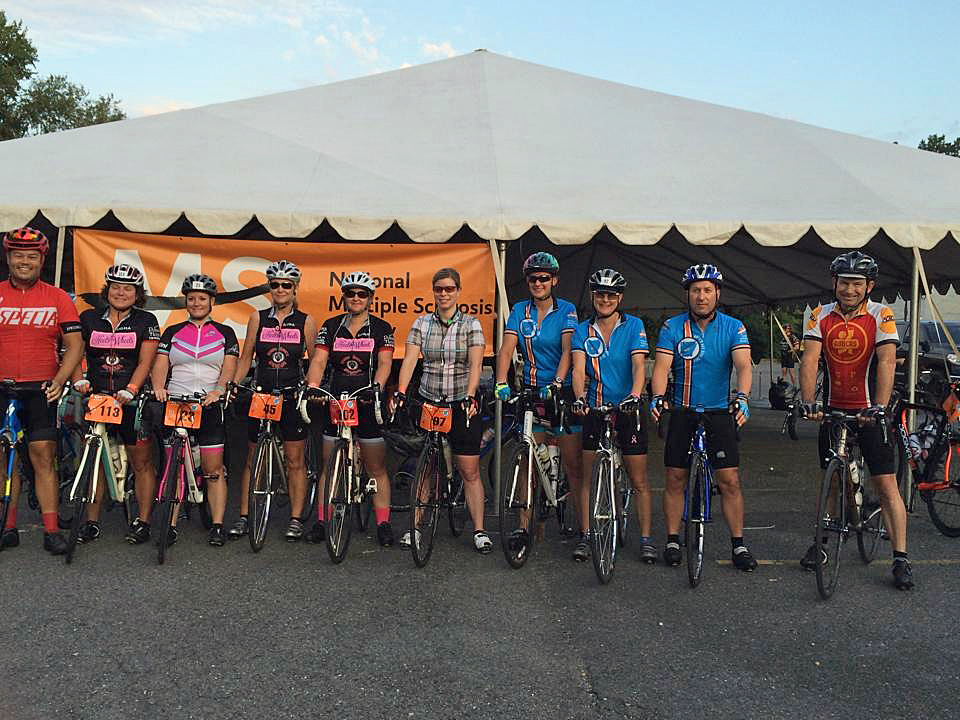 I was woefully mentally underprepared for what would ensue as we got underway. The ladies I rode with are strong athletes. I have at least 10 years on half of them and carry 25 lbs more weight than any of them. But, I hung tough for about 35 miles and kept up with their pace. As the base elevation climbed, I began to slow some and there began to be some distance between the three fastest ladies (Stacy, Bree, and Diane) and myself and my friend Laurie. We still kept a decent pace and kept the other girls in our sight. The day began to heat up, and the real climbing had not begun. Laurie and I pulled into the 50 mile stop that was being hosted by a local cycling club, the Mello Velos and rejoined the other three ladies. I think that a couple of my Mello friends could read the suffering in my face and they quickly took my bike, got me an icy cold rag and sat me in a lawn chair with a fan blowing directly on me as I drank ice water, popped electrolyte capsules like chiclets, and shot GU packets like tequila. After about 10 minutes, my core temperature began to drop and I felt ready to pedal on. The Mellos shared the news that there were a "couple" pretty big climbs left, but we were getting closer to the finish line. I felt confident that with my cold rag that I could wet with my water bottles and plenty to drink and eat that I was ready to tackle the remaining hills. From that point on, we remained in a loose pace line and began to tackle one climb after another. Honestly, I have very vague recollections of the next 18 miles. I can only tell you that I was deep in the pain cave. I knew beyond a shadow of a doubt that I was developing heat exhaustion and that it was advancing quickly. I focused on the next 5 feet in front of my front wheel. I remember an adrenaline rush as we turned into the front gate of Hot Springs Village, only to find that we had 6 or 7 more miles of climb left. My GPS battery had died so I had lost my crutch for a frame of reference. I had no idea what my heart rate actually was, but it felt like a hummingbirds wings beating in my chest. I pushed on. I knew we had to be closing in on the finish line. I expected it around every bend in the road only to face another hill. I kept my head down, tried to keep my shoulders loose and simply ground out the last three miles of an epic suffer-fest. I didn't hold anything back. I refused to SAG although it was a constant thought in my head for 20 miles. I was nauseated and had a horrible headache from dehydration, but we had made it! All five of us crossed the finish line together and our other two ladies (Carrie and Sandy) came in about an hour later.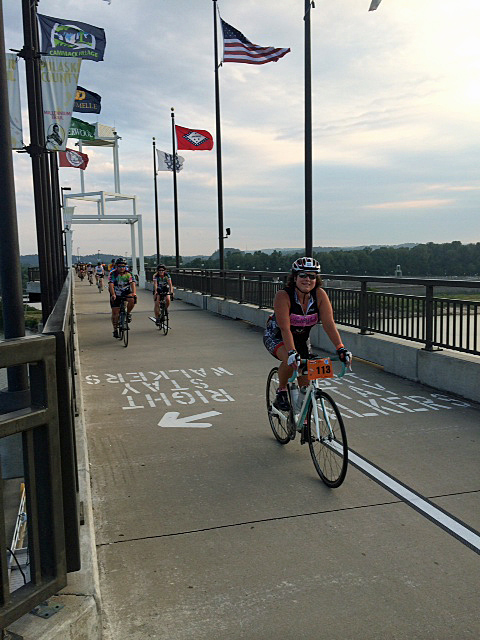 We got drinks, snacks, and massages and as soon as my husband and our friend Steven arrived, we loaded up and went to our condo to shower and get dressed for dinner. I simply could not face going back out into the heat for a picnic supper. Thankfully, Tommy and Steven were willing to pamper us a little and grabbed pizzas, sodas and desserts so we could rest and not get back out in the heat. After dinner, we all hit the sheets. I laid awake most of the night strategizing one particular monster hill. I could not, for the life of me, imagine climbing an 18-25% grade. My legs ached and twitched through the night. I was the first one awake and moving the next morning. I was having a hard time imagining pulling all those hills again in reverse. We arrived at the day 2 start line. My enthusiasm was not up to par with the previous days beginning. The day 1, 5000 ft of climb had really taken a toll on me mentally as much as it had physically. I had to have a mental conversation with myself. It went something like this: "you don't even know what suffering is compared to these people living with MS", "suck it up buttercup", "physical pain is temporary – quitting hurts forever", "winners never quit and quitters never win", "you GOT this!", "you did not pedal 70 miles to give up now", "shut up legs!".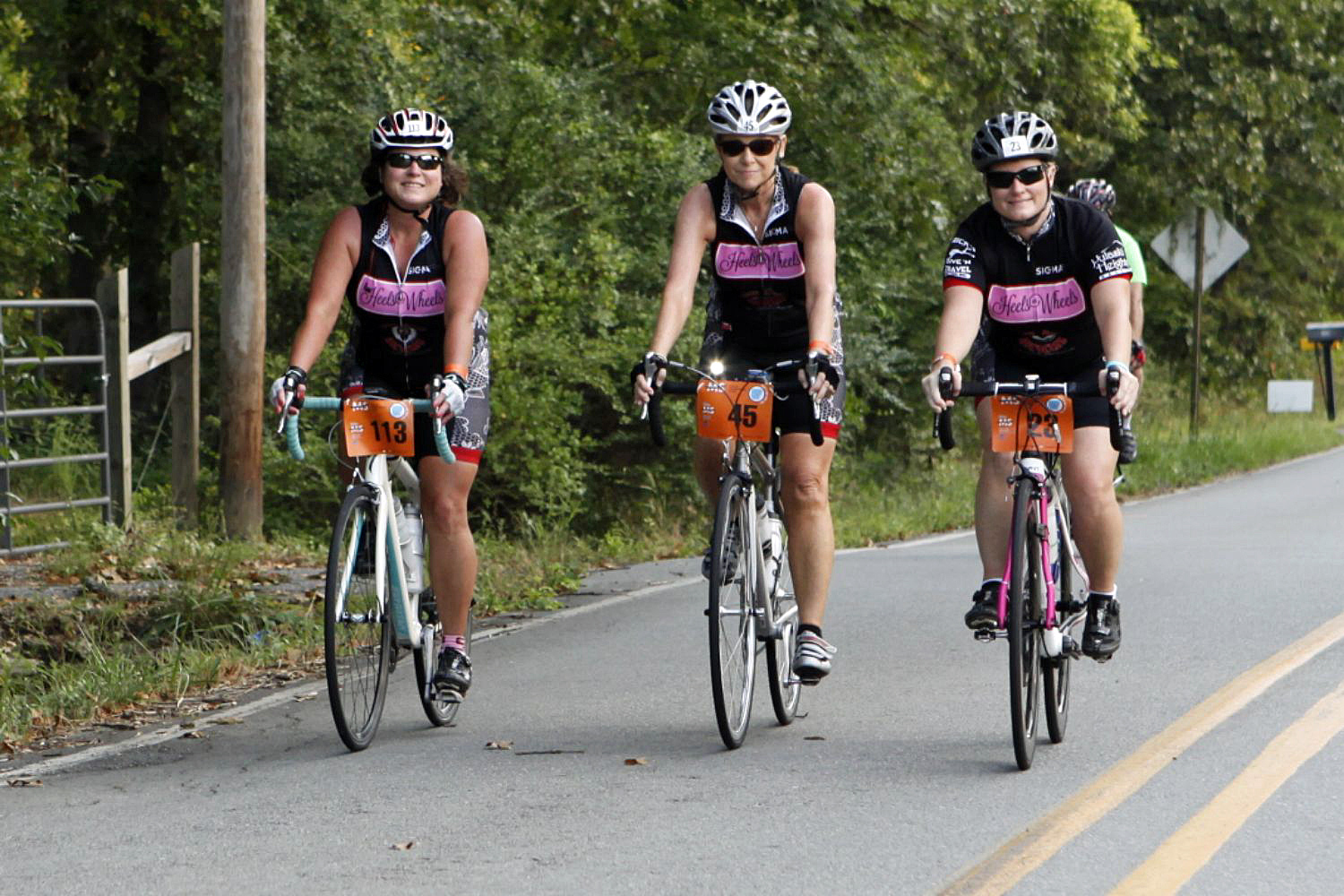 As we got rolling, I struggled to warm up. It was straight into the hills that we finished in the day before. But, as we rolled out of Hot Springs Village, I realized that aside from lingering heat exhaustion, I actually felt pretty darn good. I was able to actually take in the scenery and I was amazed as we blew down some big descents that we actually climbed that the day before! I had moments of struggle, but nothing like the epic struggle of the previous day. We meshed as a team, taking turns pulling the pace line against the wind. We blew past a couple rest stops and really began to enjoy the journey. As we got closer to the finish line, Steven rode out to escort us in and cheer us on, lending moral support. I felt like a race horse straining toward the finish line. I couldn't hold anything back.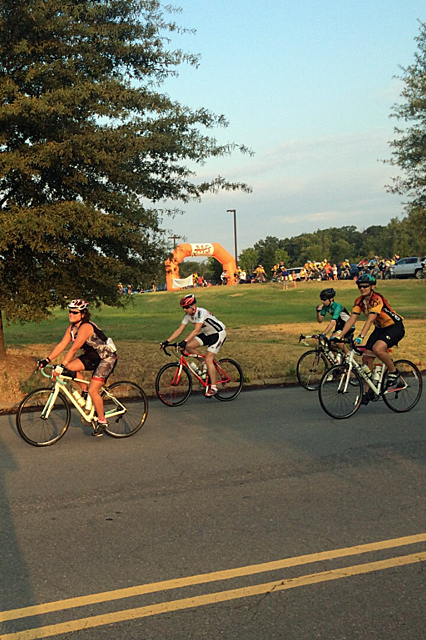 It was an amazing finish! We crossed the finish line strong. My husband and kids were there and so many friends and supporters from different cycling clubs. We shaved an hour off the previous days finish time and STILL climbed 4000 ft! That's no small accomplishment! We celebrated with the other participants and received "finisher" medals. I am so proud of all our ladies that rode. We all finished the brutal two day ride with 8900 ft. of climbing. Sandy had never ridden more than 38 miles in one ride before that weekend! I know at least 5 personal records were set. Laurie hasn't been riding a full year yet and completed the ride like a champ! And Stacy continually amazes me by looking as fresh at the end as she did at the beginning. Carrie was a serious trooper and relatively new rider, grinding out her PR side by side with Sandy. These women continually inspire me and I am honored to be able to witness their journey.
As we made our way to the food tent, I was relieved to realize that I felt much better than I had the day before. The day had provided much cooler temperatures than the previous day and I was not suffering from the heat as I had on Saturday. Even though I finished stronger than on day 1, I was more than ready to eat and then go sleep the exertion off. (That didn't happen however, because I was scheduled to sing at church in just a few hours!) In fact, it took about a week off of the bike to recover fully from the physical stress of riding almost 150 miles in two days.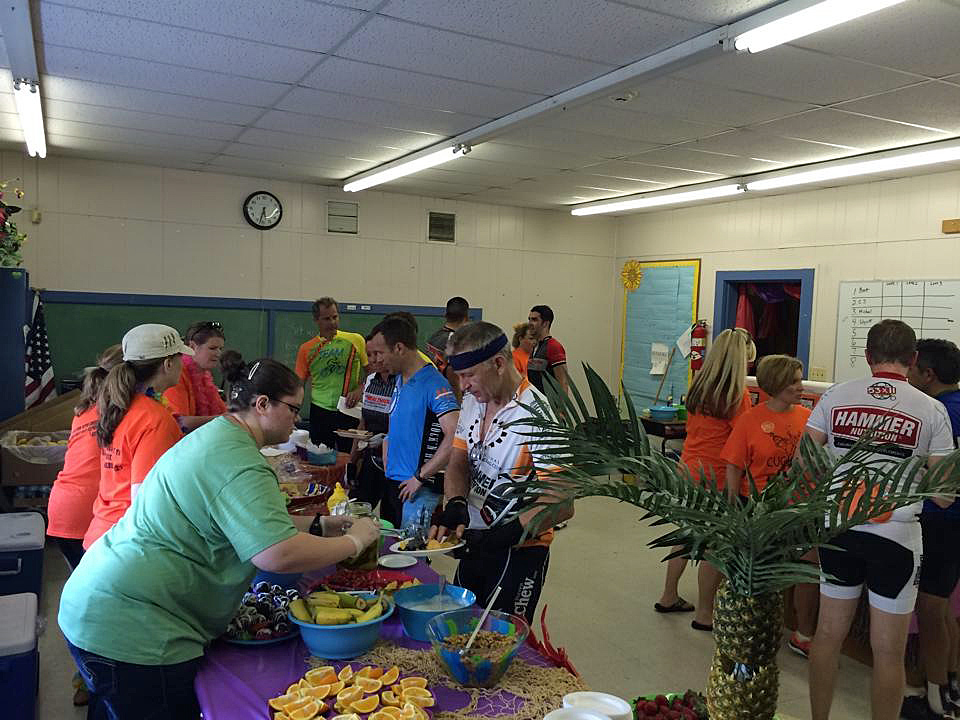 It's taken a week or more to process my performance in the MS-150. I realize now that it really took me to the wall. On day one I had pushed to the edge of my athletic abilities. I am not a trained professional athlete. I'm a wife, mother, and pharmacist. I don't have a coach to help me learn about how to wring every ounce of performance out of my body. I carry more weight than I should to ride competitively. But what I do have is tenacity. I do not give up. I may ride ugly at times, but I will hang in there. I have the ability to turn inward and become at peace with my suffering. I am able to embrace the pain and keep pushing. My focus can narrow to the most urgent need in the moment….food, water, electrolytes….the very basics. I can fall deep into the pain cave and wait for the next rush of adrenaline to hoist me out. This is the impact that cycling has had on me. I have developed more mental toughness than athletic prowess in this journey, and in doing so, now have the attitude that there is nothing that I cannot conquer with proper training and preparation. My goal is now to come back to this event next year lighter and faster. With hard work, I can achieve whatever goal I set for myself. There are no boundaries.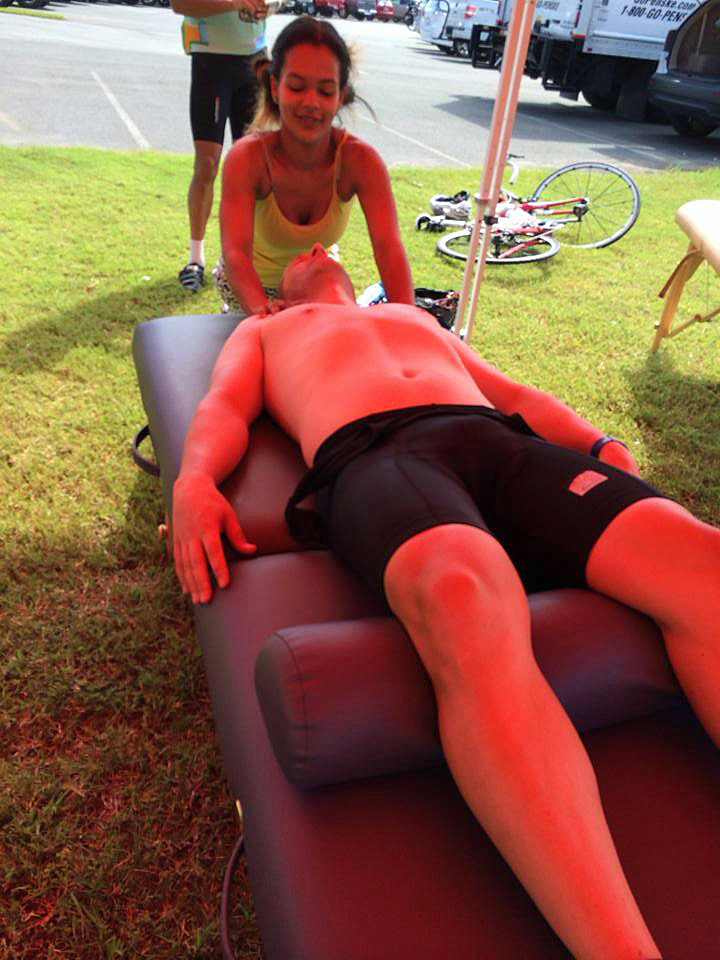 My new hero is Rebecca Rusch. She entered the sport of women's endurance mountain bike racing at the age of 38. I've been reading her new book, "Rusch to Glory", and I highly recommend it. This is what she has to say about finding new challenges that push both the body and mind to new limits; "every moment is an opportunity to outlast and overcome the odds that threaten to either paralyze us or tether us to fear and doubt. The moments when we endure define us and mold us into the people we want to be, as athletes, leaders, or partners. In these agonizing spaces we learn who we are, and I'm grateful for every last one of them."
I am very grateful for the experience of the 2014 MS-150 Rockin' Hot Ride. I am honored to have completed the event with such amazing ladies and athletes. I am thankful for the support of my family, so many special people, and the volunteers. I am proud of our accomplishment. I am incredibly humbled by the gift of cycling in my life. And however my performance stacked up, I'm still lapping everyone sitting on their couch! I can't wait to see what's next!
Who's up for double centuries??
This story was re-posted with the kind permission of Missy Vail, read more of Missy's adventures on her blog, GirlsCanBike.