Cyclocross races are always worth the trip, whether just across town or halfway across the state, I'm never disappointed by the action of one of my favorite spectator sports on two wheels. We began writing about cyclocross two years ago but of course, the history of the sport goes back a little farther.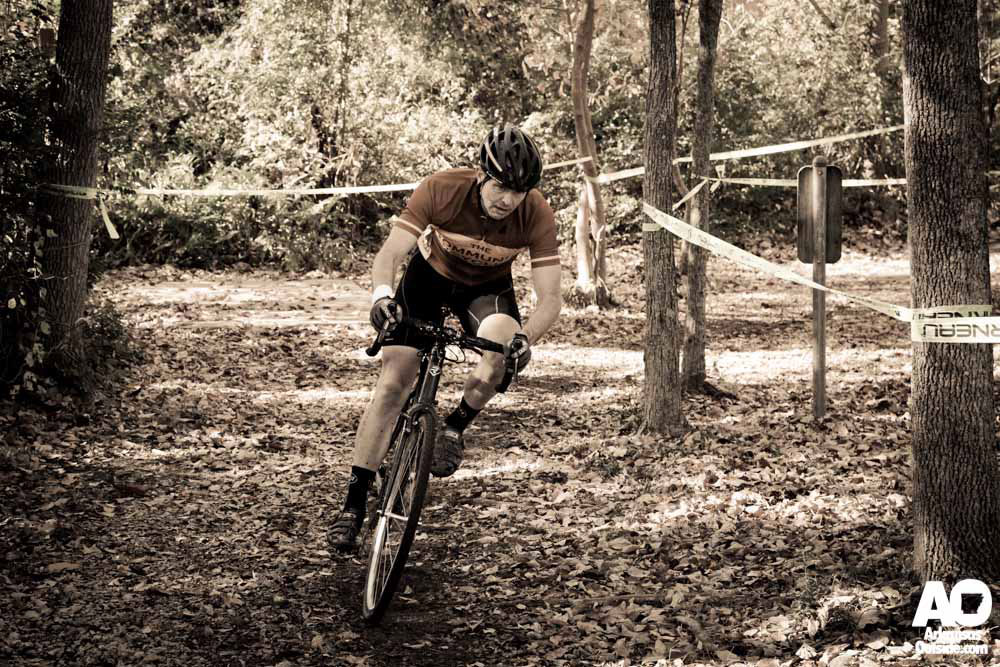 Historical accounts say cyclocross or cyclo-cross or cx started back in 1901, the alleged foundation of the sport laid down by a French soldier named Daniel Gousseau who used bikes and French fields to keep his fitness up during the winter. Of course, since bikes predate roads in most places, I would suspect that there were others before Gousseau who wandered down trails and through rough conditions by bike but as the story goes, Gousseau was seen by French Generals who saw this as a way to keep the troops in shape and thus the first organized cyclocross competitions ensued.
I have to deviate from the European history here a bit and mention that at this time American soldiers were already crossing vast parts of the American west by bicycle, unfortunately this never developed into organized racing.
By 1910 the sport was becoming well developed in Europe and when Tour de France winner, Frenchman Octave Lapize, first hoisted his bike on his shoulder and ran through a rough section during a cyclocross race, a defining feature was born. Now, every cylcocross course requires a bike hoist. Over the years cyclocross gradually became more popular and race organizers moved the venues to shorter courses which facilitated greater spectator interest. Courses were moved to city parks and challenges were added including long sections of stairs, paved streets and small fences (or barriers) similar to the courses of today.
Although cyclocross started out as a way for road cyclists to stay in shape and improve their handling skills during the winter, by the 1970's cyclocross specialists began to emerge from the ranks. The UCI (cycling's governing body) standardized much of the sport and today it's a worldwide phenomenon. The international fields are dominated by the Belgians and other northern European countries but just last year the World Cyclocross Championships were held in Louisville, Kentucky in a muddy, cold, wet mess, just like it's suppose to be.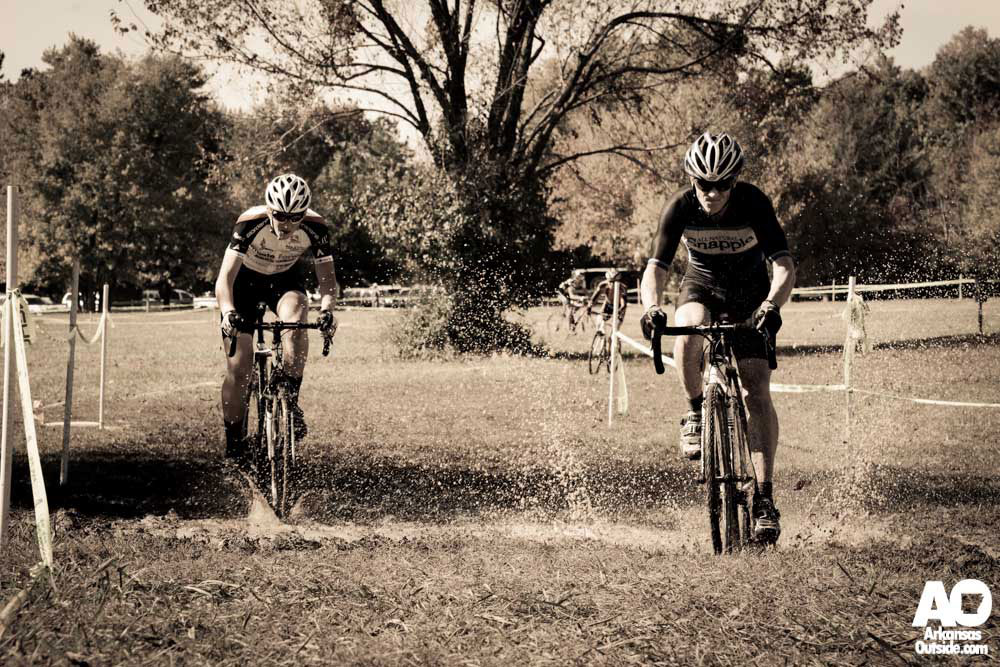 That brings us to the weekend's races at Lake Fayetteville in northwest Arkansas. The annual Smoke-n-Suds Cyclocross Race Weekend is now in it's second year. Two days of racing with a full slate each day greets racers and spectators at the very crowd friendly course on the north shore of Lake Fayetteville. The course is relatively flat but don't let that fool you into thinking it's easy. Crossing fields of clumped grass gives the racers a very bumpy ride on their rigid bikes, wearing them out and with no discernible downhill sections it's a race of constant pedaling, no rest for the riders.
The course started on the flat area near the pavilion/bathrooms and soon dropped slightly into a ditch where a little off-camber riding and quick short turns spread the field out before they entered the woods near the lake. Muddy, rooty turns caused a few problems as the cyclists worked to remain upright while a few last hidden roots caused some surprises as they exited the woods and headed to the mud pit.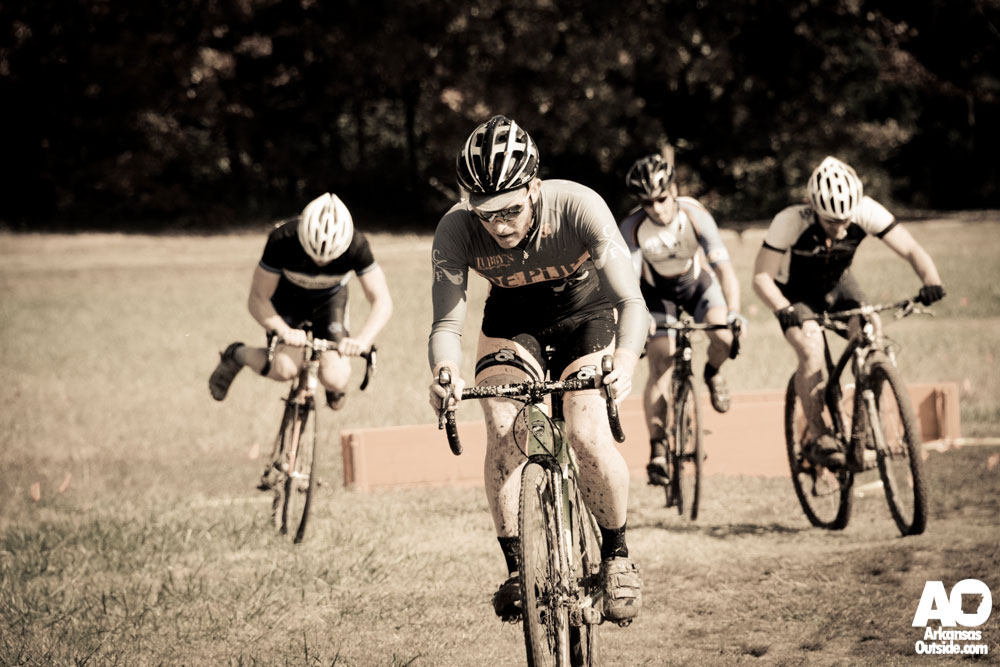 The mud pit was a tough but ride-able section that could easily bog down the tires and kill any momentum racers may have built up in the preceding grassy section. Some quick turns and a few dips later and the racers were back in the woods before heading across a long straightaway with two tall barriers that would cause the only obligatory dismount of the course, there was no hopping these. The course then brought the cyclists by the park's playground where plenty of spectators screamed, rang cowbells and cheered for all the riders. A 180 degree turn sent the race past the starting line again, then it would be off for another lap.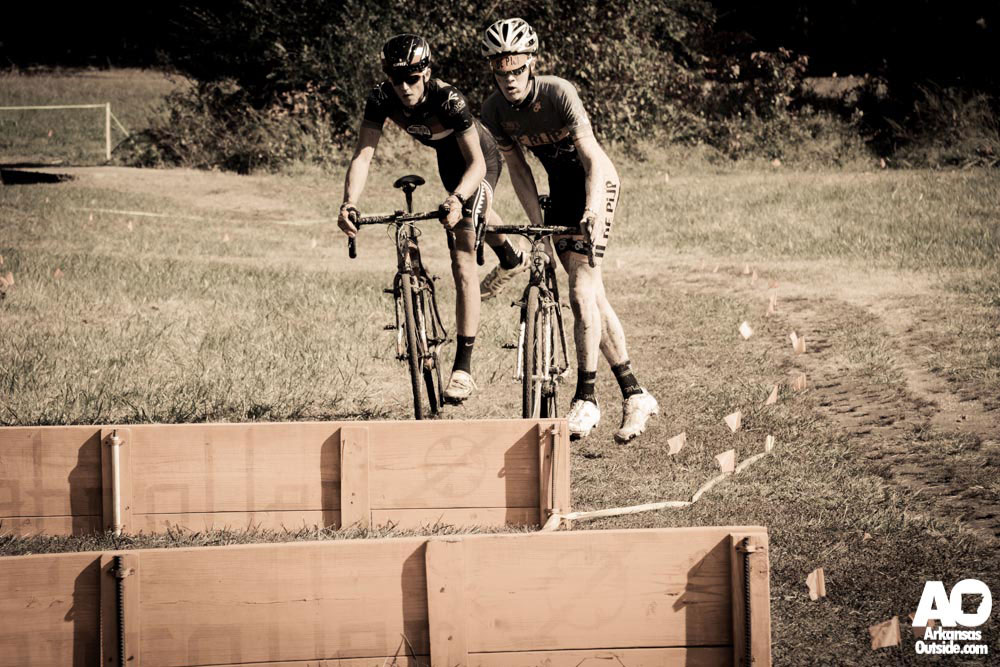 Each day consisted of four races, the 45 minute race for Category 4 Men, Masters and Women's Category 1/2/3, the 35 minute race for Category 5 Men, Juniors and Women's Category 4, the kids race (shortened course), and the Open Race which includes Men's Category 1/2/3 and anyone else willing to ride for 55 minutes. Each race runs the designated time plus 3 laps.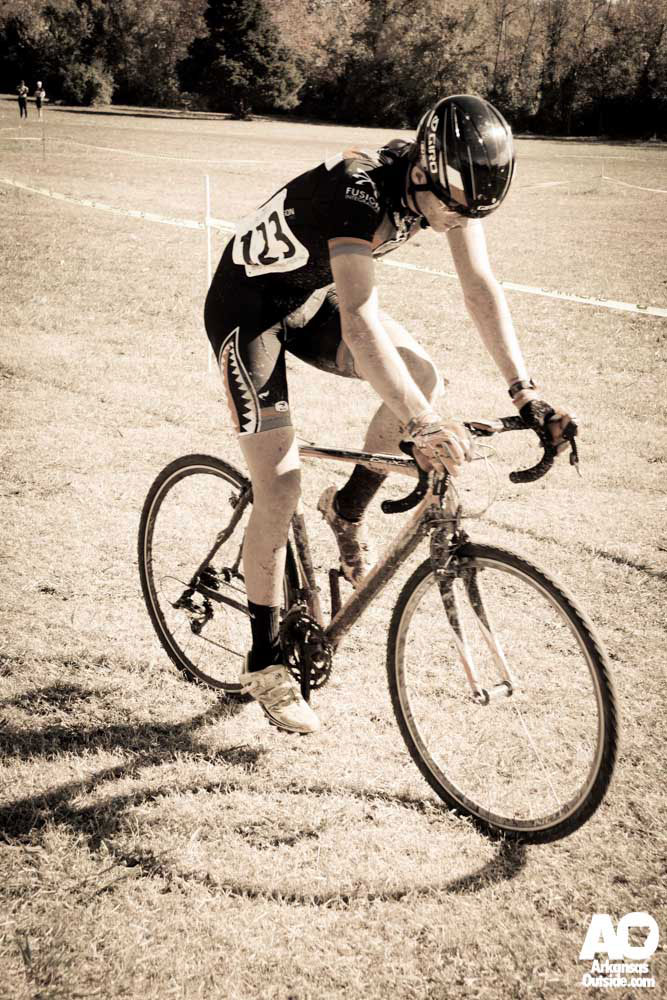 I wasn't able to make it for the Saturday races but was glad I made the Sunday races. The open class included an incredible duel for first place between Gerald Drummond and Dylan Potier. Dylan was able to pull away during the final 3 laps for the win giving us a taste of what to expect at next weekend's Rut's-n-Guts Cyclocross Race in Oklahoma. Gerald was the overall Open winner for the weekend having won the day before.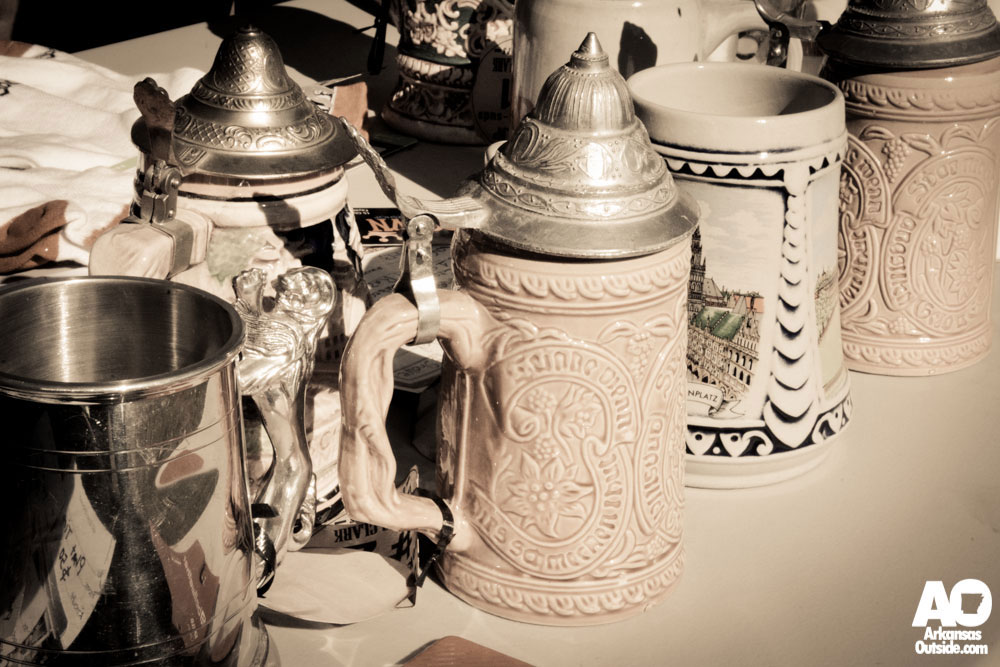 Smoke-N-Suds is organized by the De Pijp Cyclocross Federation and sponsored by Phat Tire Bikes, Highroller Cyclery,  The Bike Route, Lewis and Clark Outfitters, Clif Bar and Natural Valley. The folks at De Pijp were grilling up Johnsonville Brats for all and there was plenty of coffee on hand. Another great Arkansas Super-Prestige Cyclocross event happens at Old Post Park in Russellville, AR on Sunday, November 17. We hope to see you at the race as there is talk that yours truly will be trying his hand (legs) at a little Category 5 racing.
We have more photos available on our Facebook Page, a lot more photos, enjoy.