Earlier in the week, the weather forecast was for rain all weekend. International Mountain Bike Champion, Tinker Juarez was in Arkansas for the race but had to cancel some meet-and-greets due to stomach problems. The Spa City 6 Hour Mountain Bike Race, scheduled for Saturday, March 10, was looking like a bust. But by Friday we got word that the weather would be perfect on raceday, Tinker was out pre-riding and CARVE rider, Scott Penrod said that the course was in great shape. Race On!
The Spa City 6 Hour is the first race of the season for the Arkansas Marathon Mountain Bike Series. The upcoming races include the Ouachita Challenge, Slobberknocker and Syllamo's Revenge. If this race was any indication, this will be an epic series.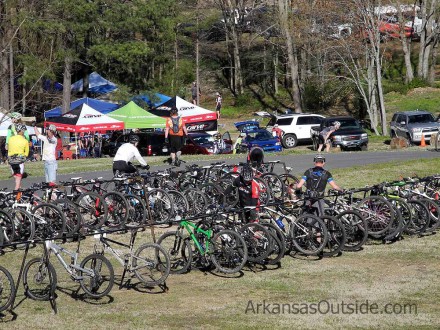 Cedar Glades Park near Hot Springs, Arkansas is the home of this event. The trail here is one of the hidden gems throughout Arkansas and home of many races including the Attila the Hun mountain bike race and Du-it-in-the-Dirt Duathlon. It's also great for training. A lot of flowy sections with short intense climbs punctuated by tight switchback turns. Riders can still find plenty of technical riding on this course that improves every year. Although recent rains left some wet spots on the trails it was really only enough to remind riders that this was not desert riding. After the race I asked Tinker what he thought of the course and he said he appreciated the fact that we hadn't had more rain. I'm guessing that things seem to be a little drier out west.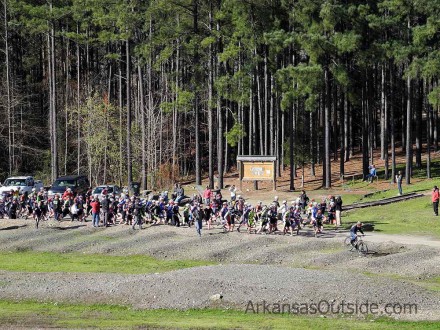 Race organizer, Fred Phillips of DLT Multisport, stretched everyone out before hitting the singletrack by having a Le Mans-style start to the bikes followed by a road section. This led to some interesting spectator fun as we had the opportunity to watch racers in bike shoes negotiate the gravel road, grass and then finding their bike among the almost three hundred bikes lined up at the top of a small hill. This is a big race with a lot to show. Let's start with this little video of the race start.
Check out Part 2 – Dirty Tires!