The riders did finally get started and into the woods. Some locals and young riders held on for as long as they could but eventually 51-year old, Tinker Juarez, would win the race with 7 laps in. I'll get more specifics up once DLT Multisport gets them posted. They are having a busy weekend with the Du-It-In-The-Dirt Duathlon following on Sunday. Of course mechanicals plagued much of the pack during this classic endurance race. I did get to ride most of the course after the race with Lisa, I'll try to give a quick description:
The course is just over 10 miles long. From a gravel road, riders are quickly negotiating an open field and falling into a "Rabbit Hole" (check the video). They then drop into the woods for good with a sweet downhill, a stream crossing and then a quick turn up what some of us call "heart attack hill". That's followed by a swooping downhill with a couple of short climbs and a bridge crossing into a small, stone chip trail section. After a rooty section with another stream crossing, road crossing and riding on the edge of a pond riders enter a long flowy section through the pine trees eventually coming to a switchback climb to the top of a ridge. Riders are quickly riding down the ridge section (I topped out at about 20mph) and then back into swooping downhills and finally jumping into a rocky, fairly new section of  trail and then on to some older rock hazards, tight turns and finally off on a flat fast section punctuated with a little mud. A quick ride along a barbed-wire fence line and then back at the flowy stuff. Riders then drop into a low section only to find a tough, short climb and sweet drop back to another bridge. A short twisty up and down then a long slow pull and back into a long fast section that riders can just cruise on. After crossing the park entrance road twice, racers ride past the parking lot, drop down to another bridge and stream crossing before heading on a nice wide straight away into the pit-stop area and lap finish. Repeat….as many times as you can.
Here is some video that was taken from a helmet cam that I talked James Gaston into wearing:
It's a great ride and I recommend it to riders of all levels. Cedar Glades also has a top-notch Disc Golf course, a climbing wall, playground for the kids, a pump track, a mountain bike skills area and bike wash station. Plus a pavilion, amphitheater and picnic area.
Here are a few photos from the race.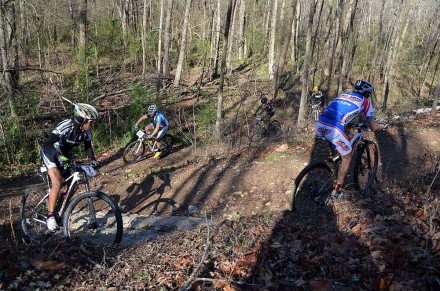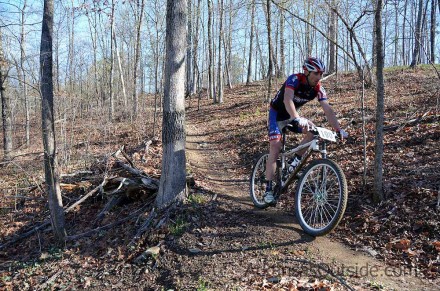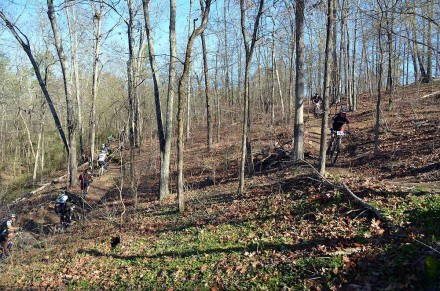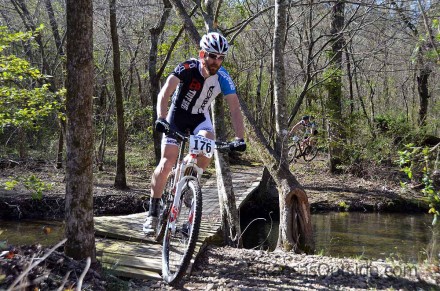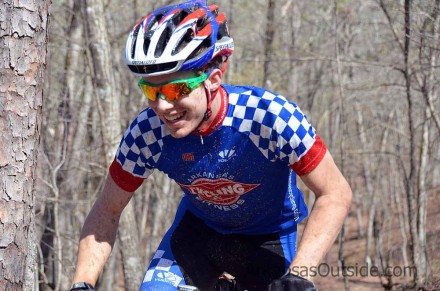 And we have about 1500 more photos from the race on our Flickr Site. Kill some time looking for yourself, and please hit the favorite button on the ones you like. Feel free to download them. Also, if you missed the start of the race article, check it out here.