The chance of rain on Saturday became a guarantee of it as we made our way toward Hot Springs and Cedar Glades Park for the 2nd run in the Arkansas Trail Running Series. Luckily, the pouring rain turned to a sprinkle by the time we arrived at the park and had stopped altogether by the time I retrieved my race packet. What the rain left behind was a blanket of steamy humidity and nice tacky wet trail.
During the pre race meeting, race director Fred Phillips of DLT Multisport, put a question to the small crowd of runners and spectators, "who's going to win this thing today?". A few boys sitting close to me pointed at one of their comrades. Eventually, with a bit of prodding, he finally acknowledged that yes, he might just be the front runner today which inspired Fred to add "You know what that means? You now have a target on your back." Target or not, they were correct, he was first out and first back in.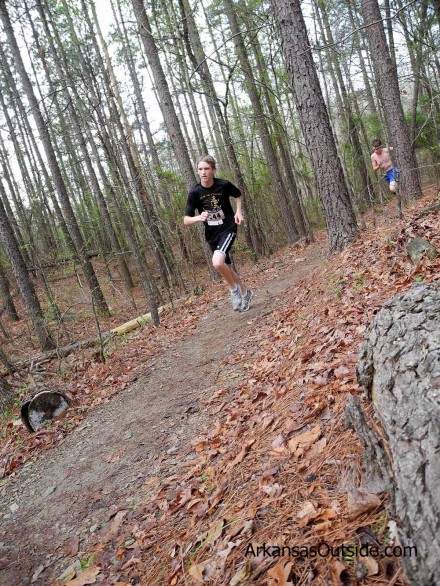 Not without competition though, check out the effort on the face of one of his cohorts as he put it all out for the finish.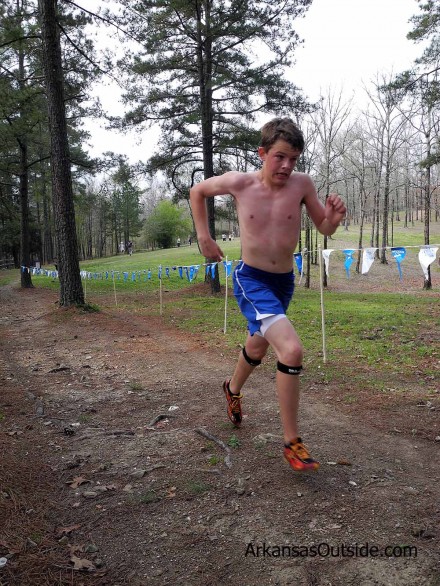 I was having a bit of deja vu from having spent the previous Saturday in the same park for the Spa City 6 hour Mountain Bike Race. The start of this trail run would begin from atop a hump of gravel in  the parking lot. The route went in to the same area that was used as the "pit stop" for the previous week's race, a wide area allowing the pack to spread out. After passing under the treehouse bridge, the trail quickly turned into single track and headed back toward the parking lot area where we would cross the finish line and head across part of the disc golf course before making a turn down to the blue trail.  This section of trail is just plain beautiful, rolling hills and knolls, singletrack along ridges, short climbs, nice flowing descents, this is one of my favorite sections of the more than 10 miles of trail in the park to ride, and running it was almost as fun. A few times I wanted to put my arms out and run like I do when we're building trail and want to visualize what it might feel like to ride it. And there were moments when I just wished I had my bike. Period. Somewhere around halfway in I had a quick discussion with a guy behind me about what a bad idea the beer was the night before. And then, he passed me of course. And there was some wearing of the green for St. Patrick's Day. After passing me pretty early in the run, I chased this green jacket wearing, long legged lady through the rest of the route.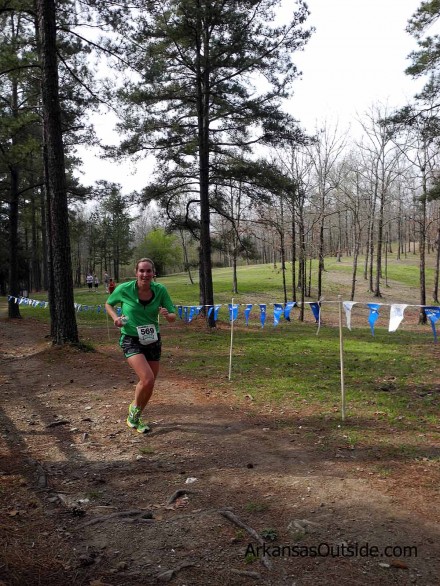 It was great to see a lot of the same faces that were at Race #1 in Conway last month as well as a few new ones. Dear, the high school exchange student who ran most of race 1 with me was there. I passed her less than a mile in. I think the humidity and high pollen were really making her struggle but I watched her finish strong at the end.  Fred  was at the finish calling out names, home cities and other tidbits of information as people raced the final yards up the slight incline out of the woods and up to the  line. I could hear him long before I could see him. I heard him call out kudos and thanks to a Marine ahead of me, I heard him call out when the first female finisher came across the line. I arrived to jokes about my fluorescent shorts. There was the "trail running legend" that Fred announced across the line, the guy that was running his very first race who really turned it on for those last few steps, the beautiful woman who came across the line later who had the grace and the chutzpa to tell me not to listen to Fred's jokes about my battery powered shorts, because she liked them. I appreciate that.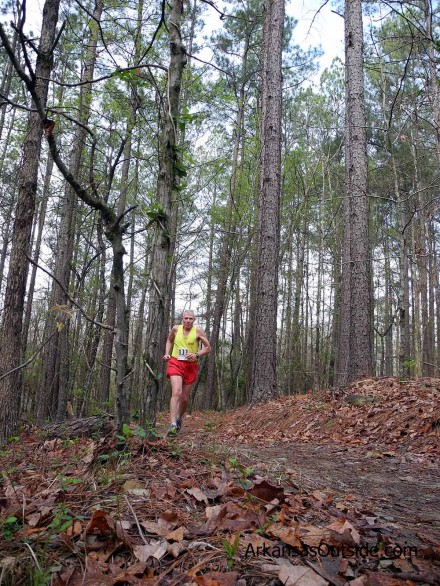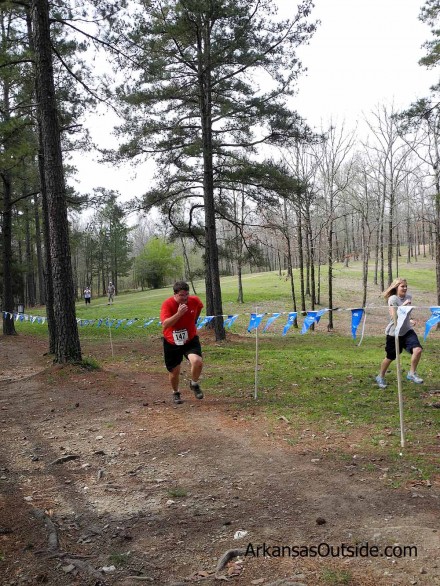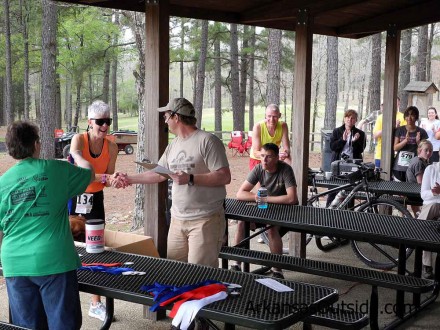 Post race party music was going, the Teen-Challenge guys were doing a great job (as usual) helping out, and making racers PB&J sandwiches. Many of the early finishers had changed out of their sweaty gear and looked refreshed. And there was no shortage of smiles, high fives and congratulatory hugs from friends and family.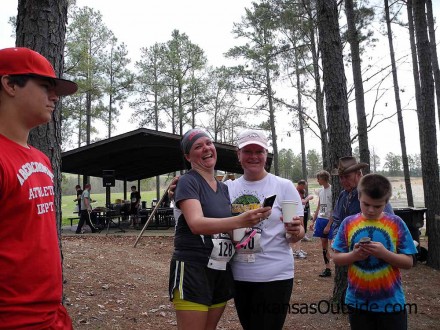 Since I was running and Joe was at another race, our junior photographer McKenna took over duties and did a great job getting shots during the race and at the finish. I was so thankful that she was willing to get up early on a Saturday morning and hang out in the dank woods taking pictures of sweaty people, I bought her a cupcake a Fat Bottomed Girls Cupcake Store on our way out of Hot Springs.
Next race in the Arkansas Trail Running Series is at Burns Park in North Little Rock. More free photos available on our Flickr Page.