Back in the late 1800's bicycles were the rage in Central Arkansas and throughout the country. I've even found newspaper reports of bike races in downtown Little Rock during that time. On Spring evenings, bicyclists would line up down around La Harpe and race through the streets in what is now the River Market area. Imagine the wonder of standing on a street corner watching as the single speed, steel frame bikes cut the turns on hard rubber tires: no helmets, few rules, just a lot of muscle, sweat and nerve.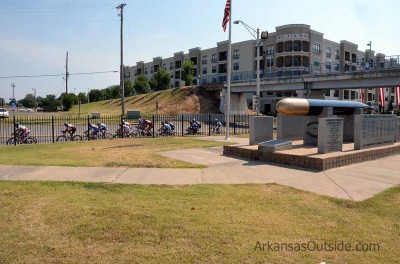 The cyclists of Team CARVE (Central Arkansas VElo) are bringing the racing style of those days back. Throughout the Spring, local cycling fans have been able to enjoy criterium (crit) races every Wednesday night at Burns Park. Now it's time for these racers to test their end of the series skills against each other. This Sunday brings the Star Spangled Classic Criterium back to North Little Rock for the third year.
So what is a criterium?
USA Cycling – Not an internationally-recognized discipline, criterium racing is purely American and one of the most common forms of competitive cycling in the United States. Designed for involving spectators in the action, criteriums are races held on short circuits, typically in an urban setting.

These fast-paced events are usually 25-60 miles in length and last between one and two hours. The relatively short, closed course features several corners and gives spectators the opportunity to view most of the race. In criteriums, the pace is fast from the gun as riders can average up to 30 miles per hour for the duration of the race. Quick acceleration and keen bike handling skills are paramount to success. (At the end of the designated time period for the race, a bell is rung and racers have three laps to go. Watch closely during this time as the competitors start making plays for the front bringing on a possible sprint finish.)

These races often end in field sprints, and typically a sprinter with the fastest finishing kick will win.
In a criterium, if a rider crashes, suffers a flat tire or other mechanical failure, he or she can enter the pit area where a team mechanic has one lap to make a quick repair. After the fix, the rider is reinserted into the same position he or she was before the mishap.

It is important for a rider to remain near the front of the peloton as the first few riders can take a corner with little or no braking. Those further back jockey for position into the turn, brake and then sprint to catch back up. The resulting "accordion" effect takes its toll on riders who navigate hundreds of turns throughout the course of a race.
The video below was shot during the last criterium races of the season at Burns Park and will give you an idea of the type of riding that takes place during a race.

The first documented criteriums showed up in the 1920's and have been gaining popularity ever since. I've referred to the events as the NASCAR of bicycle racing though there are some differences from the popular car races. Team dynamics become very important as teammates work to help each other by making "attacks" on the group or blocking the group. Also, it's not just about going left.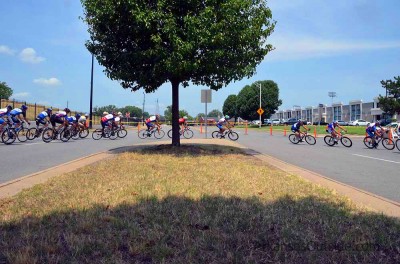 The Star Spangled Classic Criterium is being held on Sunday, June 23rd on Riverfront Drive in North Little Rock.  The flat, closed, 1.0 mile course includes one 180° turn, one left, and three right turns.
The turns make for interesting spectating as bike handling skills become very important but much of the fun can be had along the stretch near the start/finish line as raucous crowds gather to shout encouragement to their favorite rider or team.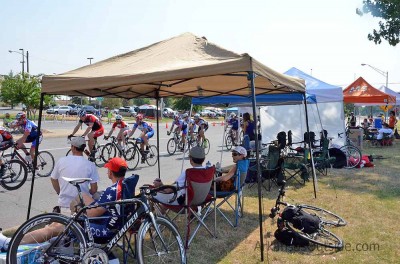 Another fun thing to watch for are primes (pronounced preems) which are intermediate sprints within a race, usually offering a prize and/or points. Primes are a way to encourage more competitive riding, and also an opportunity for companies to gain publicity by sponsoring a prime. In a criterium, a bell is sounded on the lap preceding the prime sprint at the appropriate line for that prime sprint. The line used for prime sprints need not be the same as the start or finish line. Primes may be either predetermined for certain laps or spontaneously designated under the supervision of the Chief Referee. Prime prizes range from tires or other gear, cash or sometimes beer.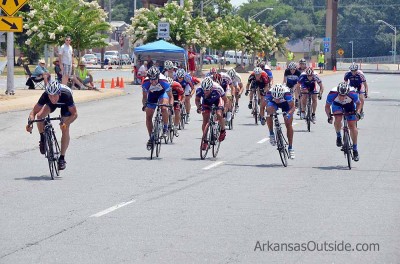 This year the event is not just about the races, local purveyor of all things weiner, Hot Dog Mike, will be there. Riverside Subaru, one of the main sponsors will have some nice vehicles on hand to drool over. The Star Spangled Classic is also a fundraising event for Teen Challenge of Arkansas and CARTI (Central Arkansas Radiation Therapy Institute).
John Allgood will be proving his colorful commentary and DJ skills throughout the event. There are even  podium girls at this event.
What should you bring to watch?
You don't need binoculars as the action happens right in front of you. It's a hot time of year so a cold beverage (cooler) is recommended along with a good water gun which can be used to cool down riders as they pass. Noisemakers like cowbells and horns are highly recommended to help keep the riders motivated. You don't have to wear a crazy costume but why not? Some sunscreen, a hat and a chair are some other recommendations.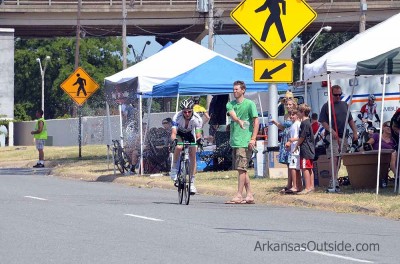 Some other things to remember.
The course is closed to vehicular traffic, parking is available behind the wall near the river and within easy walking distance. When walking around the course please always be conscience of the race. The riders are moving fast and anything unexpected on the course (like you) could be disastrous.
Race Times
8:00 am
Citizen Race
Mixed
1 Day License Only
20 Min
$15
8:30 am
Criterium
Men
Cat 3/4
50 Min
$30
8:30 am
Criterium
Women
Cat 1/2/3
50 Min
$30
9:35 am
Criterium
Men
Cat 4/5
40 Min
$30
9:35 am
Criterium
Women
Cat 4
40 Min
$30
10:30 am
Criterium
Men
Cat 1/2/3
60 Min
$30
11:45 am
Kid Race
Mixed
30 Min
FREE
12:15 pm
Criterium
Men
40-49 Masters
50 Min
$30
12:15 pm
Criterium
Men
50+ Masters
50 Min
$30
You may notice that the first race is a "Citizen Race". This is your chance to see what it's like out there. 20 minutes of traveling the one mile course as many times as you can.  Also the kid's race is at 11:45, so have your cameras ready.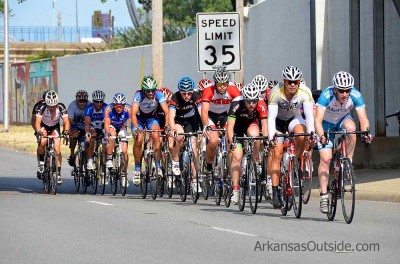 If you are planning on going, telling other people about it or sharing pictures with your phone during the races use hashtag #SSC13 on Facebook, Twitter, Instagram or Pinterest so you can share the buzz. Also stop by the Arkansas Outside tent and say hello. We look forward to seeing everyone out there Sunday.