What's better than mountain biking on one of the International Mountain Bike Association (IMBA) designated Epic trails? Mountain biking on one of those trails in good company, with knowledgeable guides and the promise of a great post-ride party! I've always said, "it's awesome to ride on some of the best trails in the world. But it's even better to share the experience with others." On Saturday, February 23rd, 2013, I had the opportunity to do just that.
With the Ouachita Challenge (OC) marathon mountain bike race coming up in a few short months, Spokes Little Rock decided to host a training ride on the Womble and Ouachita Trails. The Womble has been designated by the IMBA as an epic, making it one of the best in the world. Todd and Suzanne Henne, members of the Spokes mountain bike team, graciously allowed the use of their property (Womble Getaway) as a staging and meet up area. Some of us even elected to camp overnight the night before, which provided a great opportunity to get to know each other better.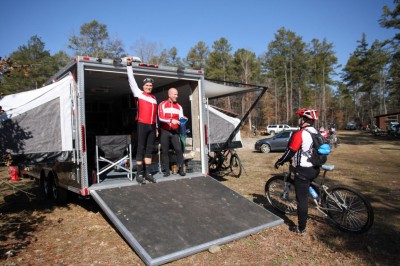 One of the goals of the ride was to grow the sport, so all skill levels were encouraged to come out. There would be several groups of different levels so no one would be left behind. The weather was perfect, and the trail was in great condition. Even though the ride wouldn't be on any of the OC race course, we were told that the terrain was very similar and it would give us a great idea of what to expect during the actual race.
As people arrived and started to get ready, some took advantage of the pump track that Todd built on his property. Denny Hess and David Bowen showed their pump track expertise while others tried it for the first time. In all total, we had 30 riders with varying levels of experience and representing several different teams/groups. That's one thing I really like about the mountain bike community – we can be competitive while racing, but off the race course, we're all friends and content to hang and just chill with each other.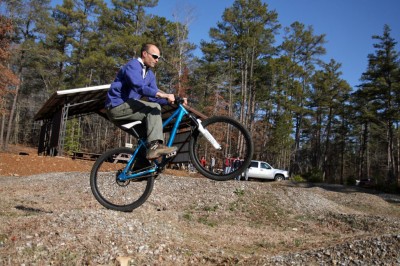 Just before 10am, everyone was ready, and we gathered together for a group photo before everyone set off on their own adventure for the day. There was a fast 'A' group which took off like a bat out of hell. There was a 'B' group led by Micah Patterson which made up of the bulk of the riders. There was a 'C' group led by Suzanne for those who were there more for a social ride pace. And then there ended up being smaller groups which formed during the ride which were strung out in between the various groups.
The A and B groups ended up doing a 40-mile loop that included the Womble and Ouachita Trails. The rest of us ended up doing a 32-mile out and back along just the Womble. Returning to the Womble Getaway, we were greeted by Blake Martin grilling up a storm, and a table spread full of snacks and goodies. The ride was challenging for most, but I think everyone still enjoyed the ride, despite their own personal challenges. As we sat around the campfire chowing down on the delicious food, we shared our own personal stories and adventures during our rides, and commiserated with everyone's pain.
More Fun:
Huge thanks go out to Mat and Regina Seelinger from Spokes for making this all possible, Todd & Suzanne Henne for playing the gracious hosts, Micah and Sarah Patterson for doing the bulk of the organization, and Blake and Mischa Martin for taking care of the food and cooking! Look for more rides like this in the future – you won't want to miss out on the next one!
(photos by Cliff Li)