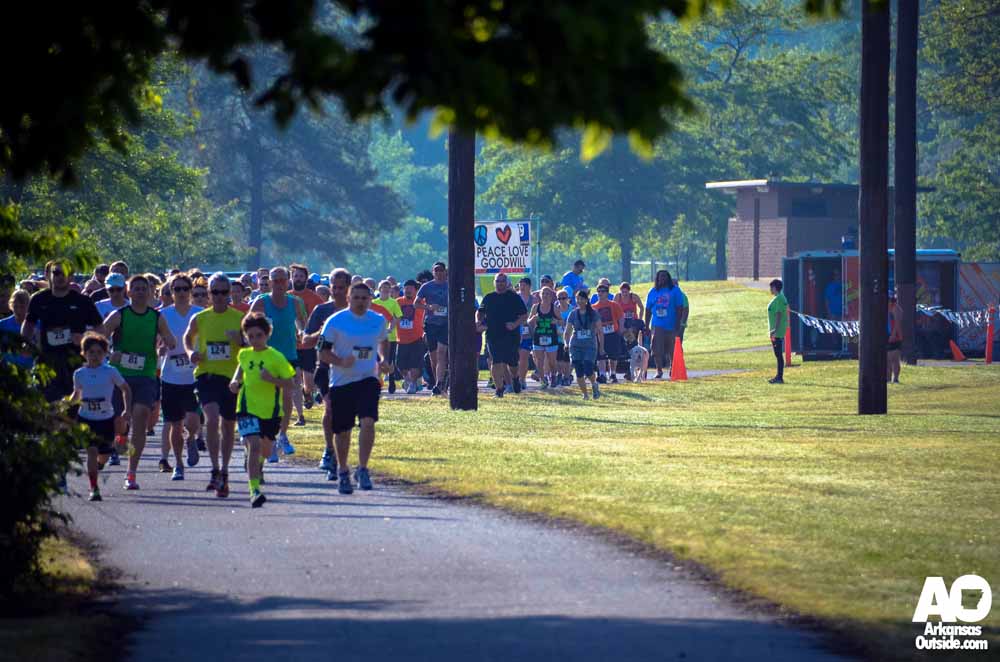 On Saturday May 10th, runners gathered to spread the peace, love, and goodwill of the sport that gives them wings and to support the inaugural Peace, Love, and Goodwill 5K for Goodwill Industries of Arkansas. Runners were promised a good time and a good run that would help Goodwill Industries accomplish the objective of giving the community a hand up.
Goodwill Industries of Arkansas helps people with disabilities and other disadvantages reach their highest potential through training, education and employment services. Participating in the Peace Love Goodwill 5k is a fun and unique way to support our mission. When you support Goodwill you help make a lasting impact in your community by changing lives. So, lace up your sneakers and start training for a run that will help empower Arkansans! Donate, Shop and Change a Life!
According to Goodwill's Public Relations and Community Engagement Manager, Rebecca Brockman, "the inaugural Peace Love & Goodwill 5k was added to the Goodwill Week lineup this year to encourage fun and fitness for families. Goodwill Week (always the first full week of May) is dedicated to raising awareness about Goodwill's life-changing mission and educating the public about our programs and services. We had 144 registered participants in our inaugural 5k. Based on the success of this first year, we are planning on adding a 10k next year. Participating in the Peace Love & Goodwill 5k was a fun and unique way to support Goodwill's mission. Competitors were encouraged to find a fun 60s or 70s costume at their local Goodwill and wear it in the race. There was a lot of tie-dye and funky colors the day of the race"
Proceeds from the race benefit programs such as career counseling, GED prep, resume building, and job training for adults with disabilities. Shopping at Goodwill provides consumers with unusual and unique items that aren't found in many other stores. Go green and reuse clothing and household goods, giving them a second life while saving money.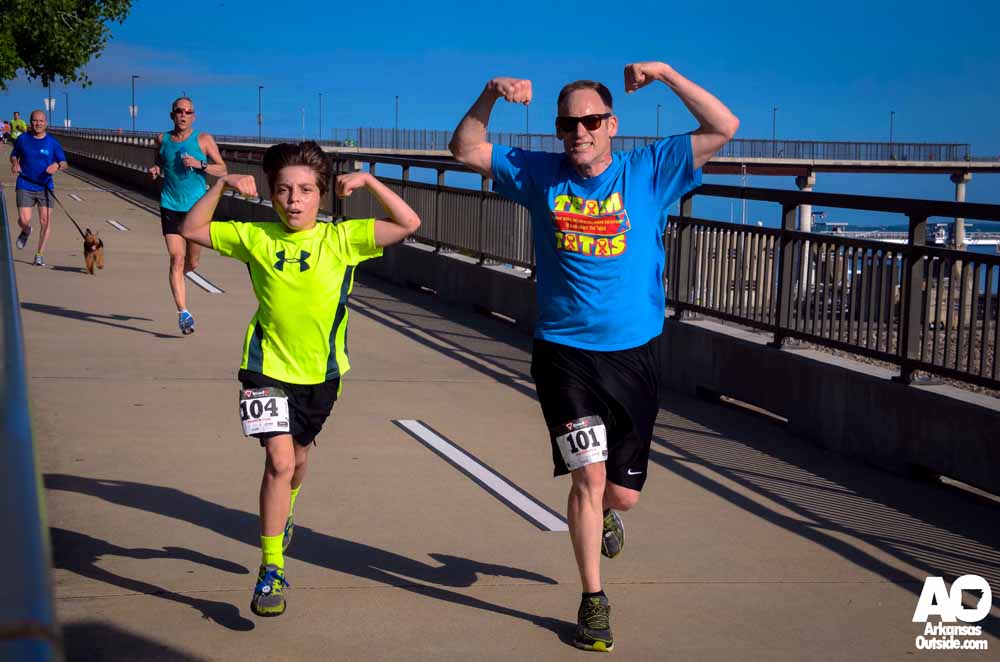 The race directors may have been sweating, wondering if the first Peace, Love and Goodwill 5K would be a success; but, the runners were sweating too. The humid morning extracted the moisture out of running bodies like squeezing ripe lemons.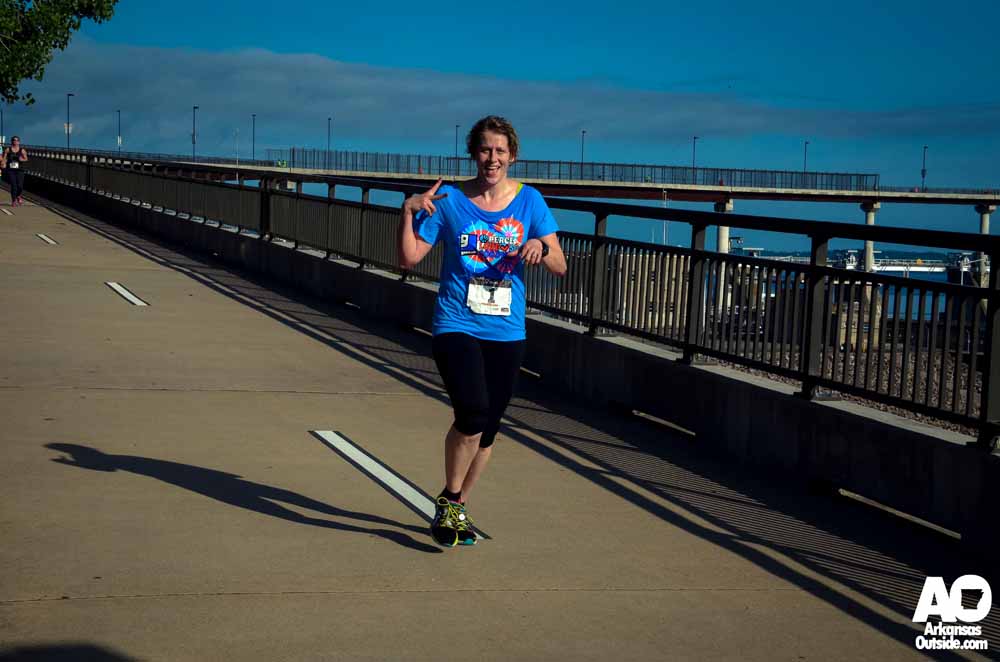 Racers made their way from in front of Pavilions #1 and #2 in Murray Park to the Big Dam Bridge where volunteers were waiting at the top with water and cheers. The course continued across the bridge and around the helipad to make the return trip back across the bridge to the finish line where the cheers of spectators squelched the booming party music  and volunteers waited to endow each finisher with the official Peace Love and Goodwill bling.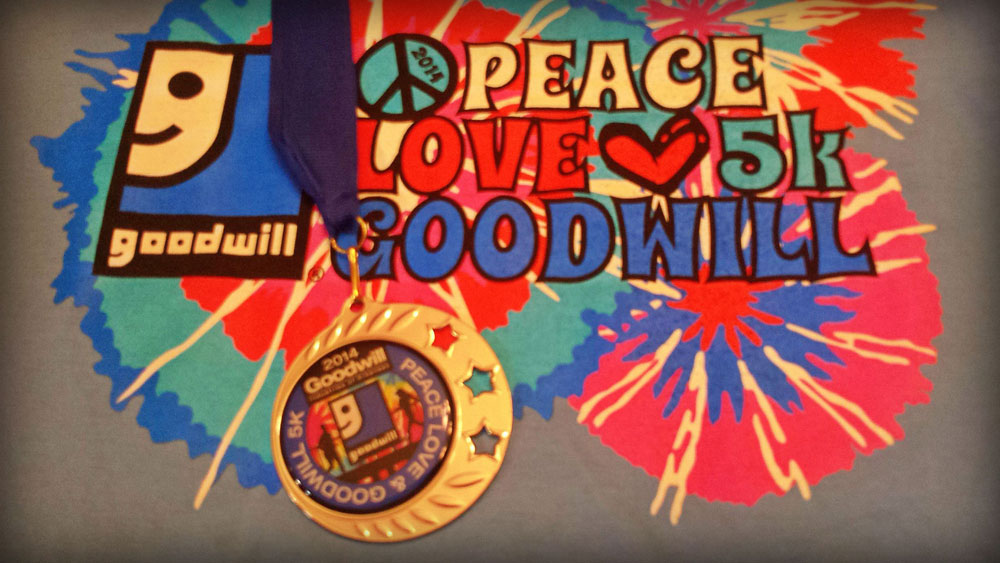 Sponsors of the race include:
Presenting sponsor – Windstream
Start/finish line sponsor – United Healthcare
Go Green Sponsor – Goldman Recycling
Community sponsors – Penske, Chambers Sign Company and Wilberforce Construction
Aid Station sponsors: The Point 94.1 FM, Waste Management and 103.7 The BUZZ

Keep up with events by following Goodwill Arkansas on Facebook
More photos from this fun event later today on our Facebook Page.