The full name of the event was the Dr. Feelgood Star-Spangled Classic Criterium. It's a long name to go along with a long, hot day of road bike racing. Starting at 8 am Sunday morning with racing events lasting until almost 6 pm, this was the ultimate in criterium events.
Most criterium events in central Arkansas are held under the shade of the Cottonwood trees in Burns Park during the late afternoon and early evening. Gentle breezes and thick, green grass welcome folks after work to enjoy watching cyclists ride a short course really fast. These events are kept to only three heats with multiple age groups in each heat. The state championships were different.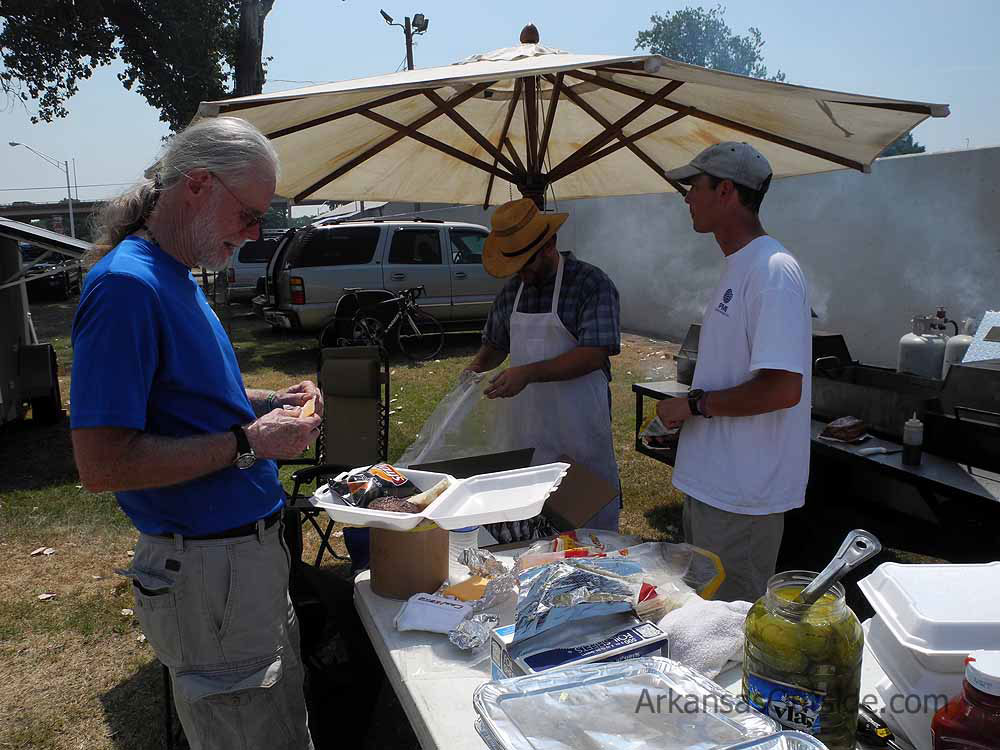 Eleven heats made for some different racing. Temperatures quickly soared and out on Riverfront Drive in North Little Rock you had to bring your own shade. Canopies of various shapes, sizes and colors lined the race route directly to the east of the start finish line. Behind them were wading pools, a mist hose, an Arkansas Renewable Energy trailer complete with solar power to run a large fan. A grill sponsored by PCI was also set up along the levee wall cooking up hot dogs and hamburgers for donations to CARTI (Central Arkansas Radiation Therapy Institute). Water was being shared by spectators and racers alike. We take care of each other in Arkansas.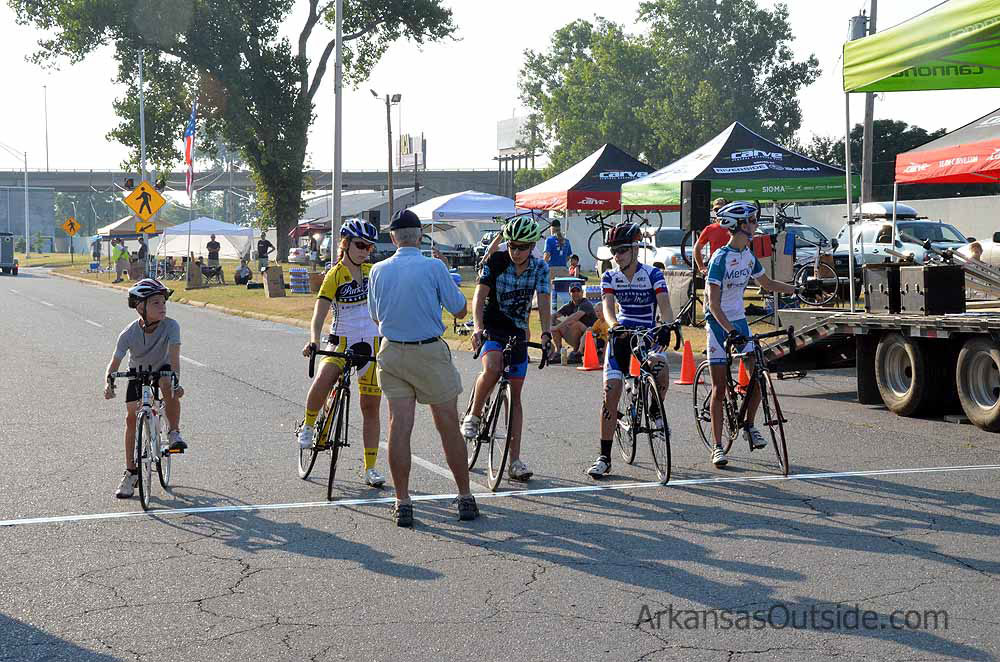 The races started out with the junior men 10-14 and women 10-18 race. 20 minutes in the early morning sun. The pack was small but watching these young kids work their way through the course was really fun. One of the young men was racing in his first crit, someone told me he was 10 years old.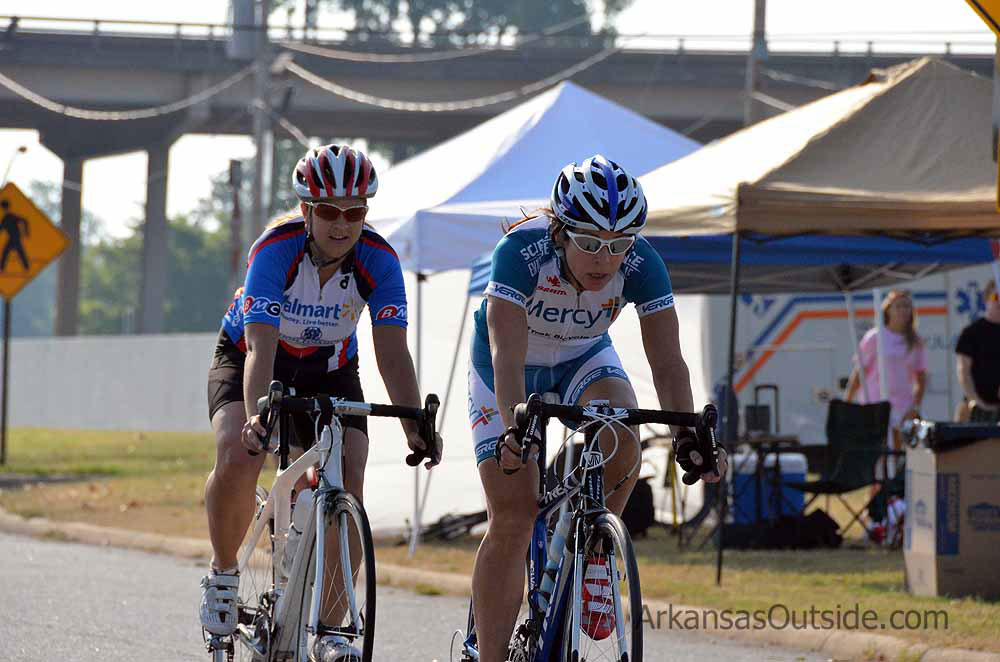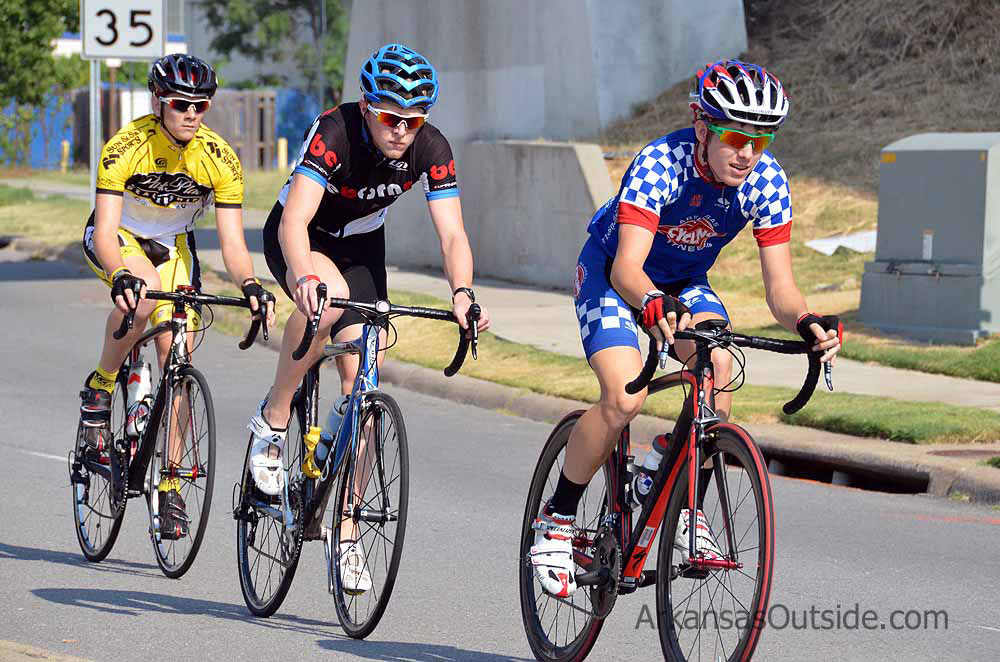 As the day progressed through the cat 4 women and then the junior men 15-18 the packs stayed small without a lot of breakaways, everyone worked together throughout the races keeping a good pace until the final half lap when it was everyone for themselves.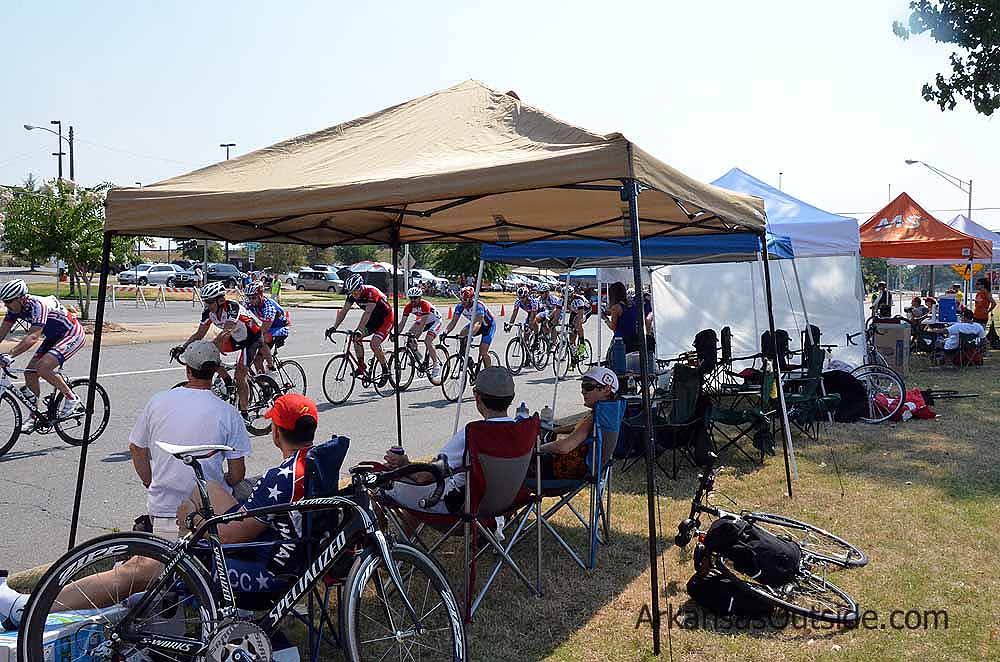 Pack size started increasing around 10 am when the Cat 5 men started and most of the races after that were of a fair size. The larger races are great for spectators as bike handling comes more into play and more breakaways occur. Watching a couple of racers jump off the front of the group gaining up to 30 or 45 seconds on the pack only to be pulled back in is as enjoyable as figuring out the team strategies.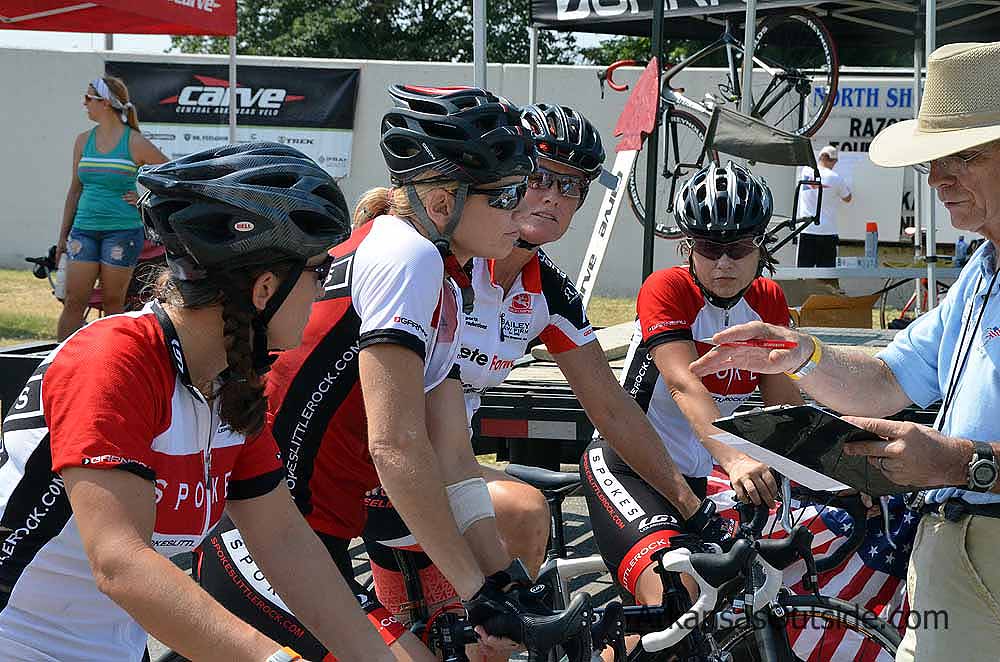 By mid-afternoon the temperatures had reached over 100 and with sun directly overhead there was little shade on the course. Spectators started throwing water at the racers as they passed by, trying to cool them off. Some of the longer races of up to 60 minutes were looking pretty brutal but I never saw any heat related problems. Some racers even took advantage of open classes to race again. These are some tough folks. I only know of a couple of wrecks during the race and didn't even see a lot of mechanical problems. Everyone walked away under their own power.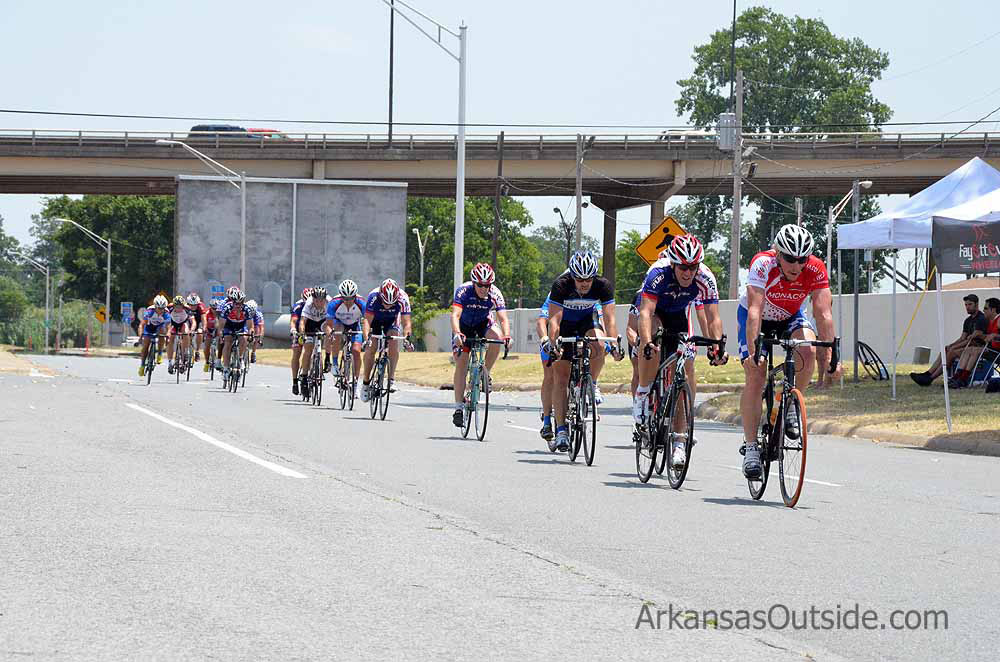 The final race started at 4:45 and was 40 minutes long. The Cat 4 men was one of the largest races of the day and a fitting way to go out. A tough race that came down to the final stretch. It was great to see other teams from around Arkansas and some out of state teams in the packs.
Central Arkansas Velo (CARVE) put on an excellent event with help from their sponsors. Music played throughout the day, Riverside Subaru brought some cars to show off along with supplying the podium girls to give the event a more European feel. The folks from Teen Challenge were out there helping with set up, take down and other heavy lifting. Chainwheel and Arkansas Cycling and Fitness, among others, supplied primes. Officiating was done by the folks from USA Cycling so everything stayed consistent with other races. Thanks to the announcers, Scott Penrod and John Allgood (AKA, Johnny5)  for mentioning ArkansasOutside.com and for not singing along with the music….too much. Also, if you'd like a little different view of the race check out JBarCycling's article.
These folks will be back at it next year but if you can't wait that long you can see many of them in the Arkansas Mountain Bike Championship Series races going on through late Fall or watch for them in the Arkansas Cyclocross Series starting again this Fall.
We had a great time at the event but it was hot so make it worth it for us, we have 2000 photos of the race and over 100 more podium shots. Find your favorites and share them all over the place. We will post a link to the results as soon as they are available.