As I stood on the starting line of the Devil's Den "Styx N' Stones" 30k Trail Race, I realized it had been just over five months since I had an x-ray taken of my left fibula that revealed a complete and total fracture.  This fracture didn't happen in a car wreck or a fall from great heights, I had to work long and hard to break this bad boy over the course of many miles and thousands of foot falls executed with poor form on minimalist shoes.  Unbeknownst to me, I had been running on a stress fracture for months.  I mistakenly thought the pain was from a torn or strained muscle.  I was determined to stick to my training program and accomplish my first sub four hour marathon at the St. Jude's Marathon.  So I had been foolishly ignoring my body's screams for cessation and ran through the shooting pain I felt in my leg.  Big mistake.  The stress fracture slowly worked it's way all the way across my fibula until the bone finally broke in two during a hard interval run.  I felt a pop that brought me to my knees.  I could no longer ignore the pain or put any weight on the leg.  The pain was now excruciating, taking my breath away each time I attempted to put the slightest amount of weight on the leg.  I gingerly limped back to my house knowing something was very very wrong.  I was sidelined for three months.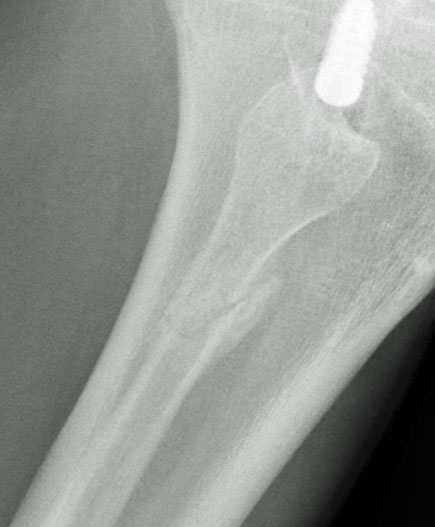 My slow and deliberate comeback began in January with a very easy two mile jog.  I was so sore the next day it felt like I had completed a speed workout.  I was now determined to learn from my mistakes, to listen to my body and come back slowly, smartly, by the book, no more than a 10 % increase in mileage per week.  That lasted about two weeks. But even though I was adding a bit more than 10% mileage per week, I was still very mindful of my weakened condition and I was taking it very easy.  During my time off there was zero cross training and tons of pizza and chocolate.  I had gained 15 pounds and my endurance had left me.  I knew that it was my naive attempt to drastically change my form to become a forefoot runner on minimalist shoes that had caused my injury.  So with my new found wisdom on form, I now ran with what felt natural.  No more forcing any particular foot fall, stride, tempo or form.  The result was a relaxed mid foot strike that clomped along the pavement.  It may not have looked pretty but it sure felt good.  After a month of slow two to four mile jogs around the neighborhood, I was ready to hit the trails.
I started with a few easy runs on the Ben Geren Mountain Bike Trails.  By mid February I graduated to the LOVIT Trails of Lake Ouachita near my parent's lake trailer at Mountain Harbor.  I was now increasing my speed and attacking the hills.  My endurance was returning and I started to think about my next race.  The Little Rock Marathon was a couple weeks away and there were still plenty of spots left in the Half.  But I couldn't risk that distance.  I had not logged a run over five miles since my injury, it would be crazy to run the Half this soon in my comeback . . . but the 10k was open too.  I ran the 10k with the four hour pace group mainly just to be a part of the festivities and hang out with fellow runners.  I took it easy and ran the race without incident.  I then went back to the LOVIT Trail and logged a ten mile run over some serious terrain.  I felt so good after this run that I hurried home and signed up for the OT50k that night.  The OT50 has been a goal of mine since I started running two years ago.  But could I really get ready for the OT50 in just seven weeks without over training and re-injuring myself?  Better check out some 50k training plans online.  Holy crap.  What have I done?  I was way behind in my weekly mileage and my long runs should already be approaching 20 miles not just 10 miles.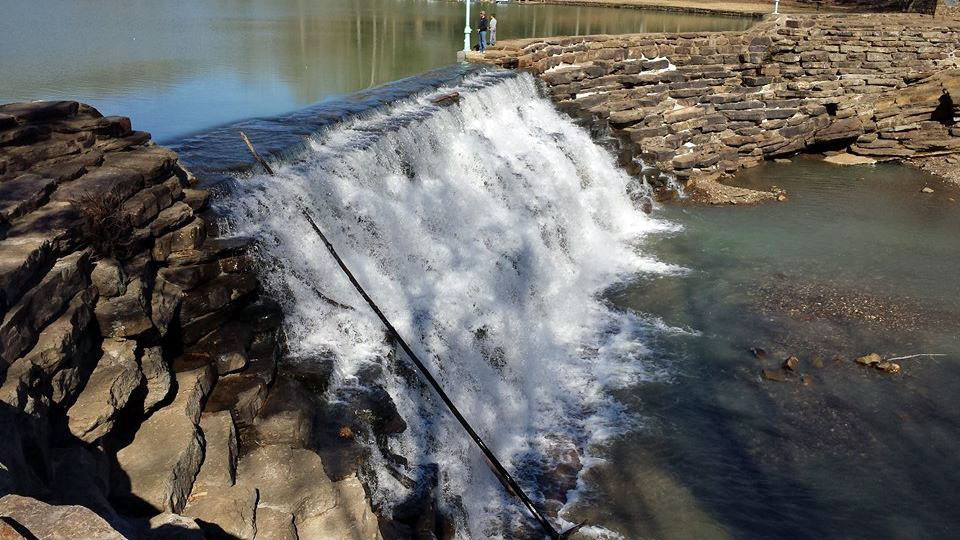 Had I learned nothing?  Have I once again bitten off more than I can chew?  I increased the distance of my mid week runs and added a hill work out.  I was feeling good about my endurance but starting to feel some discomfort in my lower legs with the increase in mileage.  My shins were aching after runs and I feared it was another stress fracture or maybe just shin splints.  Yea, that's the ticket, just shin splints.  I can run through shin splints!  I was fooling no one, including myself.  The pain was all too familiar, stress fractures.  I had changed my form back to a natural mid foot strike but I was still running on the same old shoes.  OMG! The soles of my shoes were down to the threads!!  Another rookie mistake.  New shoes, I need new shoes!  No wonder I am tearing up my legs, I'm practically running barefoot!  I began my hunt for new shoes and noticed a new trend away from the minimalist shoes toward a "maximalist" big time cushion shoe.  Even Altra had come out with the Olympus, a big cushion shoe to compete with Hoka.  Yes, I shall purchase the biggest marshmallow shoe I could find.  I decided on the Hoka Rapa Nui because it was light weight, the design wasn't hideous and it wasn't a zero drop like the Altra Olympus.  My Hoka's arrived and I was off to the trails at Ben Geren like a sailor on shore leave to the brothel.  I couldn't wait to try out my new toy, I was like a kid on Christmas morning.  And these shoes did not disappoint, they were amazing!  I logged an easy five miles on the dirt and paved trails and fell in love.  I was rejuvenated with a burst of confidence and a dash of hope that I could run pain free.  There was literally no discomfort in my lower legs.  Where had these shoes been all my life?
I couldn't wait to do a long trail run in these new magic shoes.  I checked the calender and saw that the Devil's Den "Styx N' Stones" trail race was coming up that weekend.  Awesome, the stars were aligning.  I made plans to run the 15k option with aspirations of doing the 30k if I was feeling good at the half way point.  This would be a perfect training run for the OT50k.  I bought some gels and Cliff bars and I was ready.  My previous longest trail race was the "Kitty Run" at last year's "Catsmacker" which was only 12 miles.  The 15k option felt too short and the 30k option sounded really long until I compared it to the OT50k that was now just five short weeks away.  If I was really going to be ready for a 50k in five weeks, I should be able to do a 30k within five weeks of the race.  I'm going to have to taper for at least a week so that's only four more weeks to train.  It was looking more and more like I was going to tackle the 30k.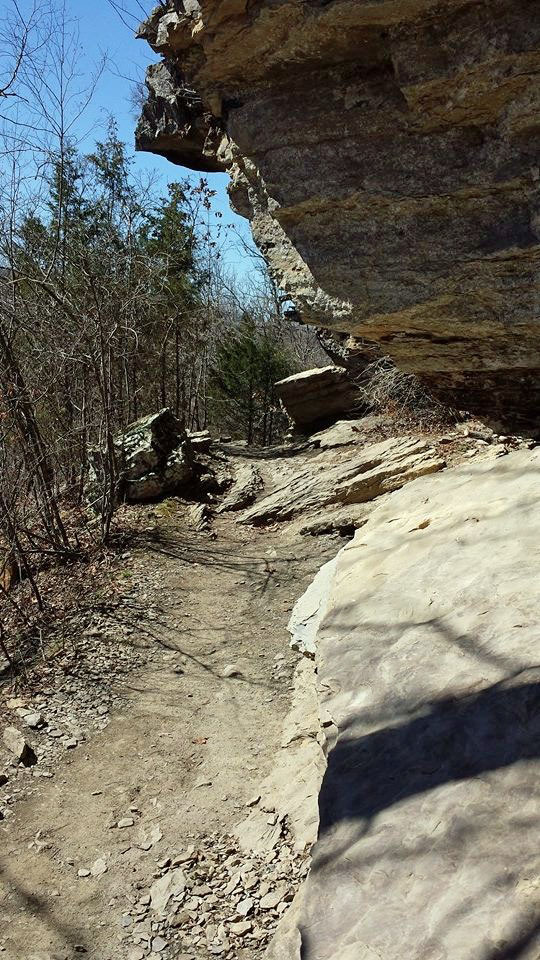 The night before Styx N' Stones I was amped and couldn't sleep.  A common problem for a night owl like myself.  I decided to shave my head and get everything packed up around midnight.  I even made a couple sandwiches, one for breakfast and one for the race.  I then tossed and turned in bed for a couple hours and got maybe an hour of what resembled sleep.  I started my coffee intake and made the one hour drive from Ft. Smith to Devil's Den.  Lot's of people here, close to a hundred participants.  I finished my ham and corned beef sandwich while I was in line to sign up.  The registration table was being manned by one of the RD's, Marquita Harris Den Herder, and a gaggle of the cutest little blond haired girls all wearing glasses.  They reminded me of my daughter who is about their age (seven) and also wears glasses.  They passed out custom tye-dyed "buffs" that they had made the night before for all the participants and I thanked them with a big smile.  This race was advertised as "no frills and no fee" but everything looked very professional to me.  I dropped $10 in the "tip jar."  I then asked if I could sign up for the 30k and drop out at 15k if I'm not feeling it.  Yes, the 15k mark is near the starting line, game on.  The temperature was around 40 degrees and it was still overcast from the rains that swept through the area the night before.  The trails would be sloppy.  I said some hellos to fellow runners and double checked my hydration pak for all my supplies:  70 ounces of ice water, 3 Cliff Bars, 6 gels, 12 salt pills and another ham and corned beef sandwich.  I made a quick stop at the restroom and I was ready to race.
I entered the middle of the pack that was gathered at the starting line and reminded myself this was going to be a long long run, don't go out too fast.  Don't forget you are approaching this as a training run under race conditions so take it easy.  Experiment with your fueling to see what works best.  And whatever you do, don't go out too fast! The other RD, Mark Den Herder, was now making the pre-race announcements:  it's easy to get lost out there so look for the orange markers, trails are very technical at parts, make sure to give your race number to the workers at each aide station, there are two serious hill climbs, one at the two mile mark and another at the 13 mile mark, and you will get wet because you'll cross Lee Creek a few times.  What did he say about getting wet?  My new shoes!
On your mark, get set, go!  We were off.  The elites sprinted out of site within a few seconds and I settled in with the middle of the pack, right where I wanted to be.  Within half a mile we were off the pavement and on to the trails.  A very steep and technical trail with brutal cut backs.  I let a few faster runners pass then tried to keep pace with the group around me.  This first hill climb was tough!  Not so steep that you wanted to walk but a steady climb that got my heart going right out of the gate.  Was the whole race going to be this challenging?  I reminded myself to take it easy and relax, lot's of miles to come.  The trail emerged from the woods onto a cliff overlooking the valley with a spectacular view.  All right, this must be the top of the first hill climb around 2 miles in.  Nope.  The trail cut back into the woods and the climb continued for another mile. I am winded but feeling good.  We finally reached the top and it was time for a gel to refuel after expending serious energy on that climb.  The trail flattened out and I settled into a nice relaxed pace while catching my breath.  I was alone now, the group I was running with took off and that was fine with me.  I'm running my own race and I'm not going to gas out trying to keep up with faster more experienced runners.  So far so good.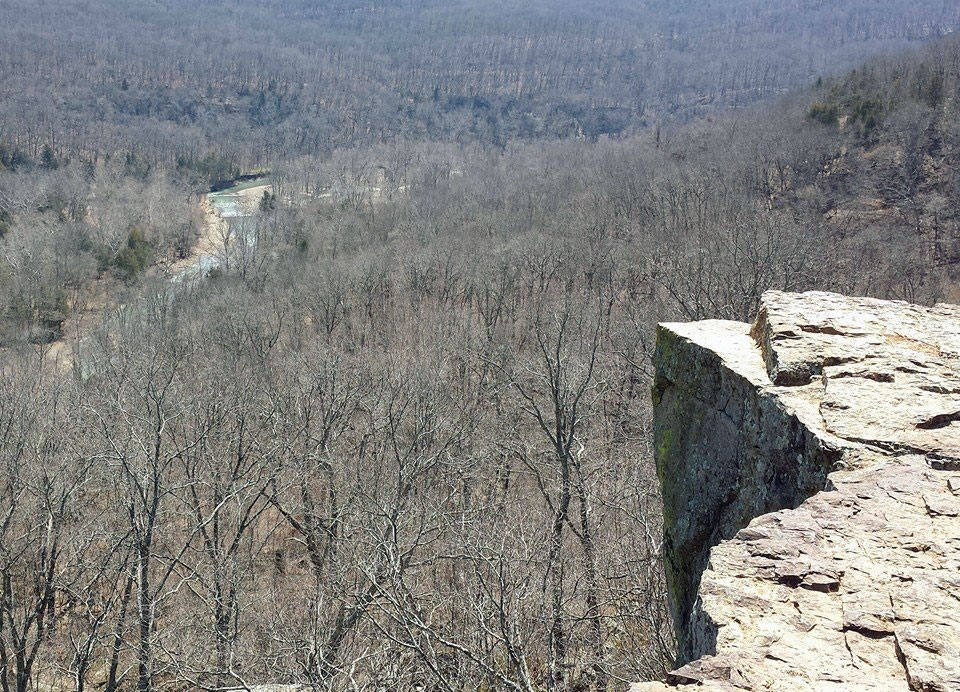 The trail took a left down the mountain and I let my feet fly.  I have always been agile over the rocks and technical trails.  I caught up to a few runners that left me on the climb and flew by them on the down hill.  Yee hah!!  This is awesome and my new shoes are amazing! No pain in my legs and excellent traction over this slippery steep terrain.  Any rock or twig protruding less than half an inch up from the trail was imperceptible under foot.  I reached the first aide station and saw the group of speedsters that left me on the climb drinking and eating.  I yelled out my number without even slowing down and kept on running.  I was about an hour into the race so it was time for more fuel.  I tried a Cliff Bar this time to get some "real food" in my belly.  Big mistake.  Even though I was on a relatively smooth section of downhill trail and not breathing too hard, trying to consume this chunk of sawdust with a dry mouth was impossible!  I took small bites while keeping a steady pace but had to take in water to swallow every bite, almost like a pill.  It took me over ten minutes to get this thing down slowing my pace considerably in the process.  The speedsters from the aide station caught me and passed me.  I vowed never again to bring Cliff bars on a race but was grateful that I discovered the difficulty of ingesting these hockey pucks while on my "training run" and not at the OT50. I was sweating pretty good so I also took in one salt pill and shed my gloves and sleeves.  I hit the second aide station around the 90 minute mark and there were the speedsters having a picnic.  It appeared that they were carrying little to no supplies with them.  I was due for a gel but they had all kinds of goodies on the table so I downed a Gatorade, ate a couple orange wedges and grabbed a couple hand fulls of peanut M&M's.  I must remember to bring peanut M&M's on the OT50.  I love chocolate and it really gave me a boost of energy.
I was about seven miles into the race and pondering what to do at the 15k mark.  I was feeling a bit tired but experiencing no pain of the muscle or bone variety.  I started leaning toward completing the whole race but had not made a final decision.  The trail meandered through a couple of open fields with rich bright green grass.  It was very windy and the sun was now out.  I had a good sweat going and was heating up as the temperature rose.  So it was a welcome site when I reached a creek crossing.  I didn't even hesitate, just ran right into the freezing water that rose almost up to my knees.  My new Hoka's emerged cleaner having the mud washed off but much heavier logged with water.  I sloshed through a camp site toward the next trail head receiving hoops and hollers from the campers.  One kid asked "Did you just cross that creek!?"  "Yep, I sure did!"  I was feeling great, except for one slight problem that was developing as I continued to sweat more and more.  I was experimenting with my gear and wearing compression boxer/briefs under my running shorts for added support.  Even though I had applied a liberal amount of Body Glide to my inner thighs, I was chaffing.  It was going from uncomfortable to painful quickly.  Mental note, do not wear compression boxer/briefs on the OT50.  I needed to get out of these things, especially if I was going to run the whole 30k, but how?  I would have to strip naked for a few seconds to get out of them and then back into my shorts.  And I had just passed a female runner too.  Maybe it will just stop chaffing . . .
I reached the aide station at the 15k mark in about two hours.  Decision time.  Sure would be nice to get to my car and out of these chaffing compression boxer/briefs that now felt like sand paper scraping against my most valuable of jewels and inner most thighs.  Screw it.  My legs feel good, I feel good and I need the experience of a 30k trail run.  I will just find a place off the trail and strip.  These are trail runners I'm running with after all.  They are a hardened bunch of hooligans who have seen much worse than a glimpse at my pale white ass.  I ran the next 30 minutes in severe pain looking for a good spot to strip.  I found a log just off the trail to sit on and began the process of stripping naked.  Just before I freed willy, the female runner I had passed ran past me with a wave and hello.  "Oh, hello!  You're lookin' good!"  Close call.  I quickly shed the tainted compression boxer/briefs and tucked them into a pocket on my hydration pack.  While I'm in my pack I might as well pull out this sandwich.  I'm two and half hours into the race and need some real food.  This little escapade had cost me over 10 minutes so I decided to run and eat.  While the sandwich went down better than the sawdust hockey puck Cliff Bar, it still wasn't easy.  I took in a lot of water and got down almost the whole half before giving up and tossing it aside.  I was still hungry and starting to feel a little queasy.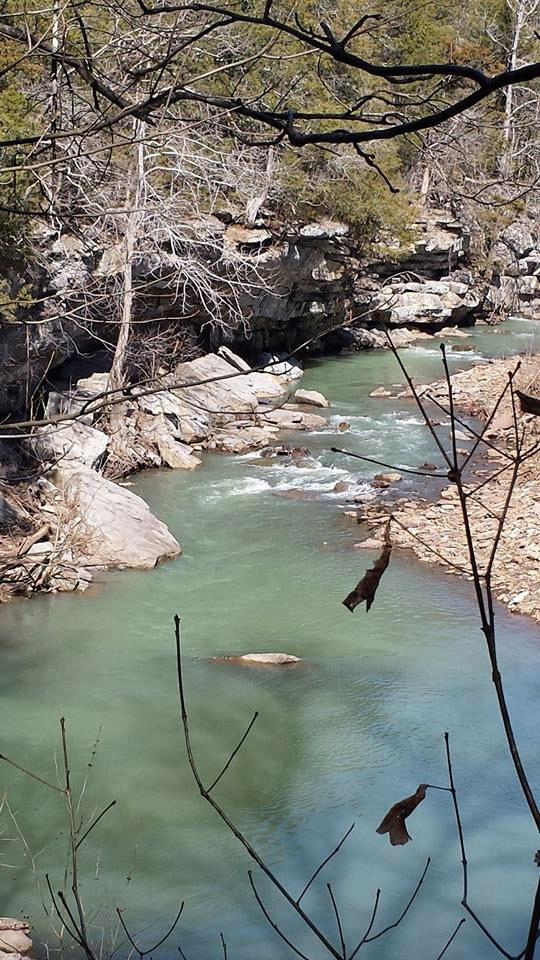 I passed a couple rookie mountain bikers who weren't wearing helmets, idiots, and crossed another creek.  I looked up to see the trail become a steep technical staircase to oblivion.  I had reached mile 13, the second climb.  This climb was way worse than the first.  Not just because I was now fatigued, this trail was much steeper and more technical.  No way I could run up this one, power hiking was my only option.  I kept my head down and for the first time I turned on my audiobook.  I only had about hour left of my book "Half Asleep in Frog Pajamas" by Tom Robbins and I needed the distraction that finishing my book would provide.  I was struggling to keep moving.  It was difficult to take in water in between labored breaths.  Every boulder I passed looked like a puffy recliner beckoning me to have a seat and take a break.  But I refused to stop and persevered with slow steady progress up this monster of a hill that refused to end.  After 50 minutes and almost 3 miles of a grueling thigh burning climb, I reached the summit.  I was exhausted and needed a boost.  I choked down another gel and a salt pill. I began a slow trot down the trail, my feet falling in front of me more than pushing off behind me.  But after a few minutes on the flat trail, I caught my breath and began to recover from the climb.  And what's this?  Dare I say that I was feeling rather good.  It must have been that sandwich!  My body did need some "real food."  Mental note for the OT50, eat real food whenever I get the chance.
The trail eventually took a right back down the mountain and I once again let my legs go.  I wasn't flying down the hill but I knew I was making up some time.  And I was right, I caught up to one of the speedsters who had fallen from his pack.  I said hello as I passed him gaining some confidence that I had not burned myself out.  I reached the final aide station and there was Mark Den Herder manning the table loaded with goodies.  He gave me a few words of encouragement and explained that the last three miles were a "net downhill" with plenty of rollers.  He said to follow the horse trail along the ridge.  I grabbed more peanut M&M's and a Gatorade and took off hoping for a fast finish.  However, this horse trail was anything but fast.  It was a muddy goop of horror.  The horses had done a number on this trail making it a chowder of shoe stealing mud six inches in depth.  My legs were noodles at this point and I had long lost any care about "new shoes" getting muddy.  I splashed and slopped through this sticky mud for over a mile at a snails pace.  Finally, the trail took another right and dried out.  I knew I was headed back toward the start/finish line.  I picked up my pace in a final effort to expend all the energy I had left on the trail.  I turned a corner and there were two more of the speedsters.  They were walking on the flat trail!  They must have bonked.  Feeling another boost of confidence and adrenaline from the realization that I must have done a pretty good job of pacing and fueling, I turned it on.  They both told me "good job" as I ran by them and I thanked them both.  The trail opened into the "day area" of Devil's Den and it was full of people playing Ultimate Frisbee and picnicking.  Each one applauded and yelled words of encouragement as I ran by with a smile from ear to ear.  I had done it!  My longest trail race to date!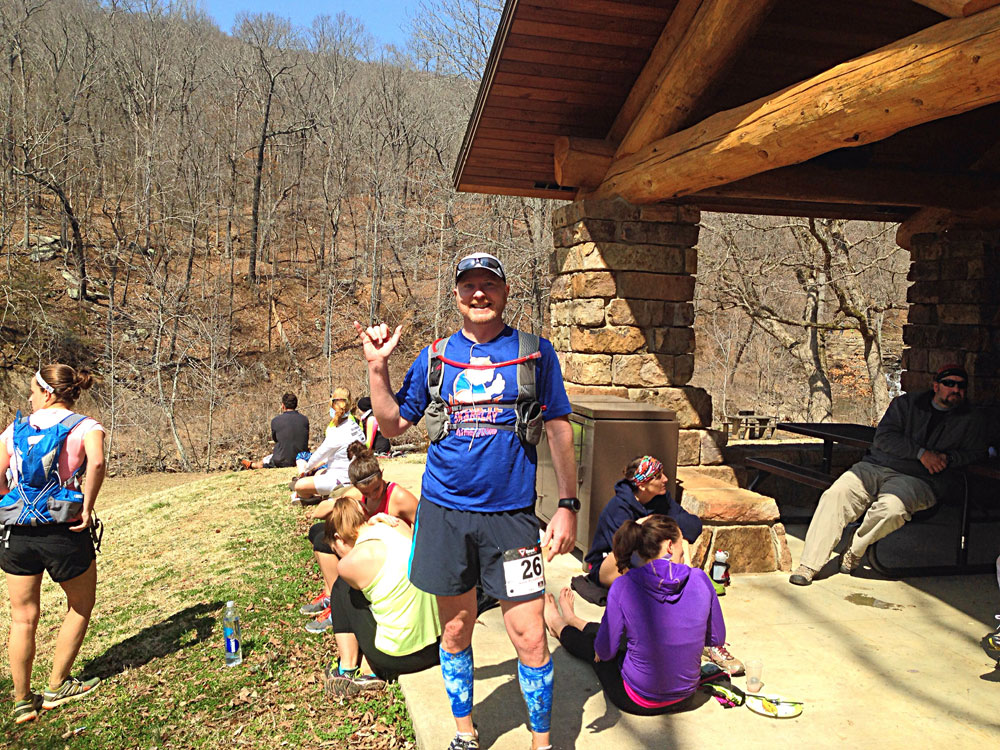 I reached the finish line by the pavilion full of the other runners who had finished ahead of me.  They all clapped and shouted congratulations!  I signed the finish sheet with a time of 4 hours and 21 minutes.  Way ahead of my goal time of five hours.  My legs were sore but not the "bone soreness" of a stress fracture.  My Hokas had worked like magic.  My fueling strategy wasn't perfect but I learned what worked and what didn't.  I will put this knowledge to good use at the OT50.  I did not go out too fast and I didn't bonk.  I'm chalking this race up as a huge success:  beautiful trails with great scenery, friendly and competent race directors, aide stations appropriately spaced throughout the race that were filled with all kinds of goodies, and a myriad of trail surfaces with a range of difficulty to keep you on your toes.  Well done Styx N' Stones, well done.  Now bring on the OT50!!!
(Editor's Note: Special thanks to Susan McCourt for most of the photos. Results available on the RunArkansas website.)