…for Racing in the Streets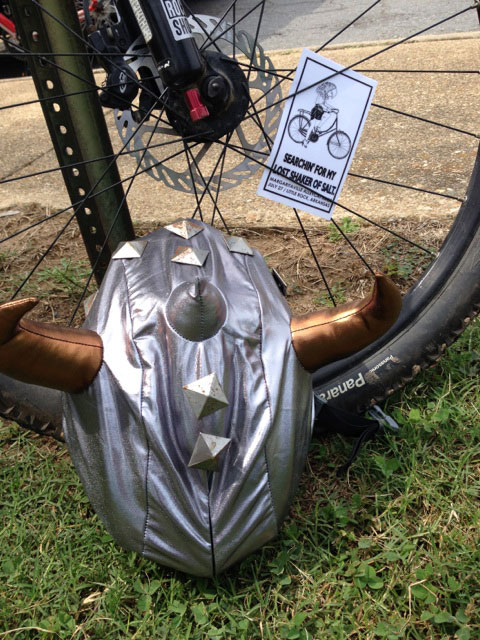 I'm standing on the hot asphalt of an old, unshaded tennis court. A piece of paper in my hand contains a random list of barely decipherable locations in downtown Little Rock. I take a moment to glance around at the twenty or so cyclists jumping around me like Mexican jumping beans on a hot skillet. They are grabbing identical papers off the court. I go back to reading and notice one clue says something about picking up rubbers once we reach the checkpoint. Wondering if I should have packed gloves in my bike bag, I gather myself, grab Lisa, and head toward our bikes laying in the grass about 50 yards away. It's time to ride.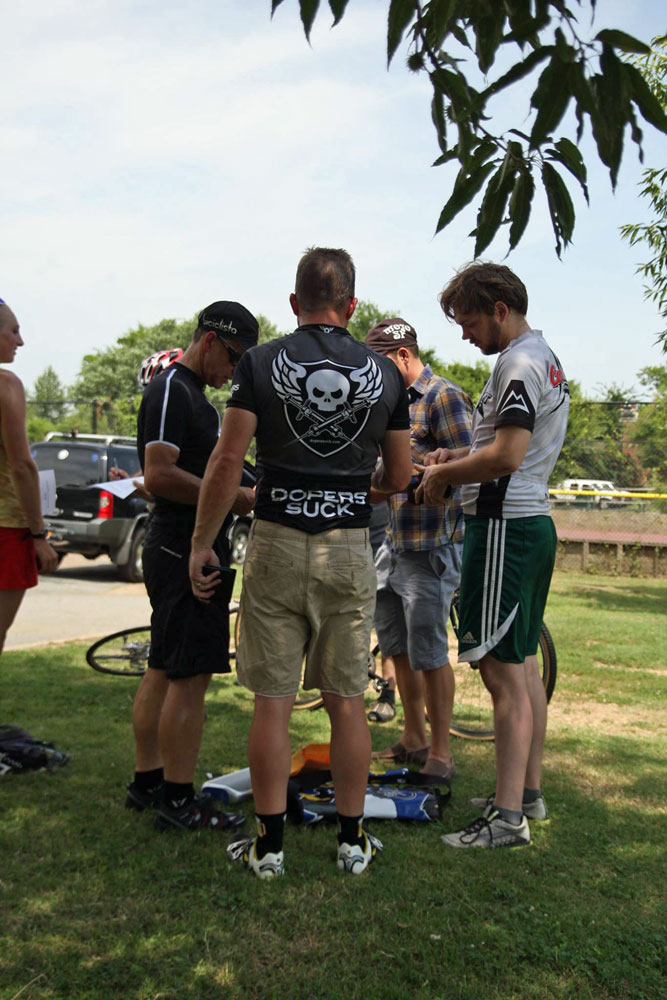 It's one of the hottest days of the Summer this year and after a Saturday that included a 50 mile bike ride and a trip to DeGray Lake Dam to take photos of a night 5K, I  decided to make it a full weekend by competing in my second  Alley Cat race. This race, called the Margarita Alley Cat for some unknown reason (We never saw a Margarita the whole day, much less tasted one), was organized by Vinny, a friend who may actually hate organizing these things but much like women and childbirth, he seems quick to forget the pain and often starts planning a new adventure within days.
Scheduled for 3 pm at MacArthur Park, the race wouldn't actually start until 3:30 or so. We were on Vinny time. Groups congregated in the limited shade of the few trees near the parking lot, bikes were scattered in the grass as we all nervously waited for the race instructions. Once Vinny felt that all those willing to brave the heat were in attendance, he corralled us in the tennis court which now serves as the Little Rock Bike Polo court. The gate was shut and the event took on the feeling of a cage match. A stack of papers was dropped in the middle of the crowd and the scramble was on.
The key for me was confidence. I picked a place on the list of checkpoints that I figured was an easy find and we took off. We picked up some friends who decided that we had some idea of what we were doing. They were wrong. I don't know what Michael, Nick and Virginia were thinking when they decided to go with Lisa and me, but we did appreciate the company. Our group had two racing style road bikes (Virginia and Nick), a single speed (Michael) and two mountain bikes (Lisa and I).
The checkpoints are given in a list but can be done in any order. What would be the best order to get all to all the checkpoints as quickly as possible? This would turn out to be best figured out over a beer, later in the day. For now, it was time to ride.
Thinking that our first checkpoint would be somewhere near the Green Corner Store in the South Main district we headed across the park to the pedestrian bridge across the interstate. A quick right would have gotten us to our destination quickly but figuring that we wanted to get the full experience, I took my group a couple of blocks farther to capture a hill or two before backtracking to the stop. Eventually we came to the first stop, Walgreens, where we were required to get a receipt. Ignoring the instructions, several of us did a little trash can diving before going inside to buy a bottle of water.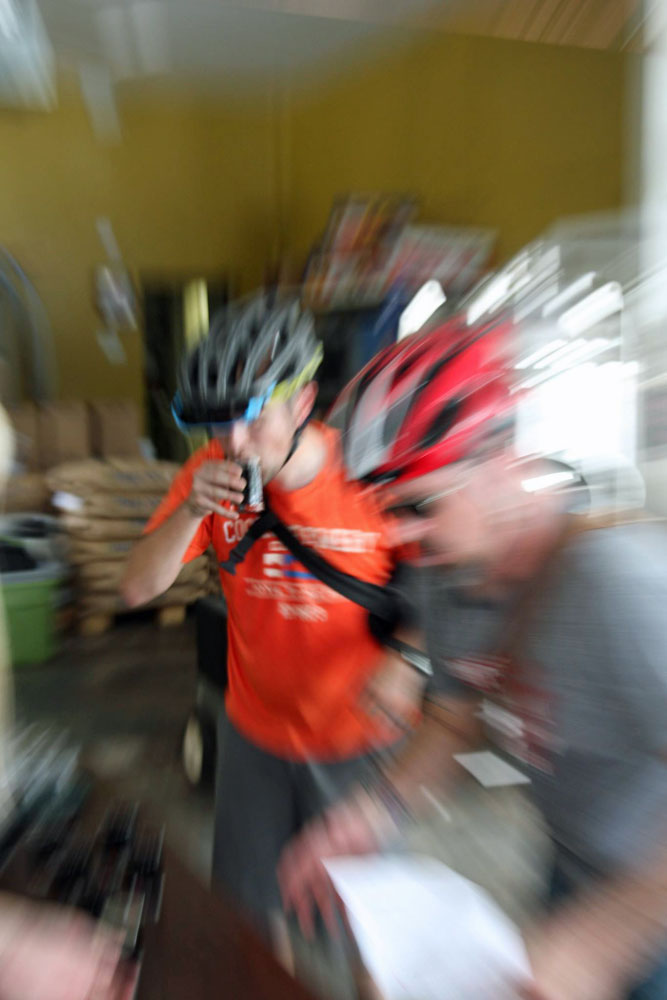 A quick glance at our instructions and we realized our next stop would be just a couple of blocks away. A nice little house with a white picket fence, we would have to run through a sprinkler before getting our checkpoint list verified here. The sprinkler felt great as the temperature hovered in the 90's. Back on the bikes we took the long way around the block and headed east to the other side of I-30. This would be the rubber pick up stop. A deserted warehouse area, we found the proper intersection, reread the instructions and soon figured out that the task was to pick up a couple of pieces of busted tire. Seems the trucks often leave some behind as they move through the area.
Quickly on our way after a little discussion about route, we soon arrived at Recycle Bikes for Kids. Ron King was there waiting for us with a loading area full of freshly rebuilt kids bikes. We were to find one and ride it a couple of blocks west where we would arrive at the next checkpoint. I found the bike I thought would be easiest to use. Our little group came around the corner to find the Loblolly Creamy truck. At this point we had a choice of a winecicle or a shot of Rocktown Lightning Hot from Rocktown Distillery. I chose the latter. We were also given Fed-ex tubes to carry for the remainder of the trip. This is a bike messenger style competition.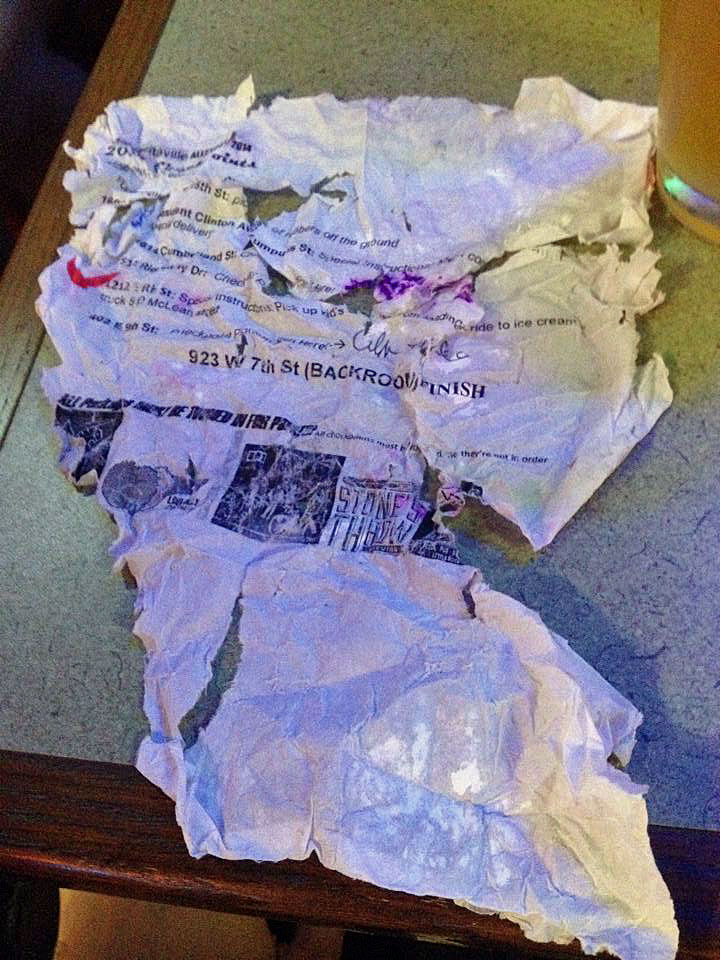 We returned our borrowed bikes to Ron and headed to the next checkpoint. Riders were to meet someone called "Brian" near the Clinton Library. We searched and searched and eventually about a block away we found him. Our task would be to ride some cardboard down the steep grassy hill, I believe some of us went twice. They also had water balloons to throw at each other just in case we were feeling hot or rowdy. We felt nether and headed to the next checkpoint.
Some zig-zagging south eventually brought us to Stone Throw Brewing. This would be a good stop. We walked in past the normal patrons to the vat room where volunteers Nicole and Cliff were waiting to serve us sample size beers that we would chug down and then hold upside down over our heads to prove we had finished. This felt so much like a Hash run, Lisa broke into a bawdy song as we downed our beers.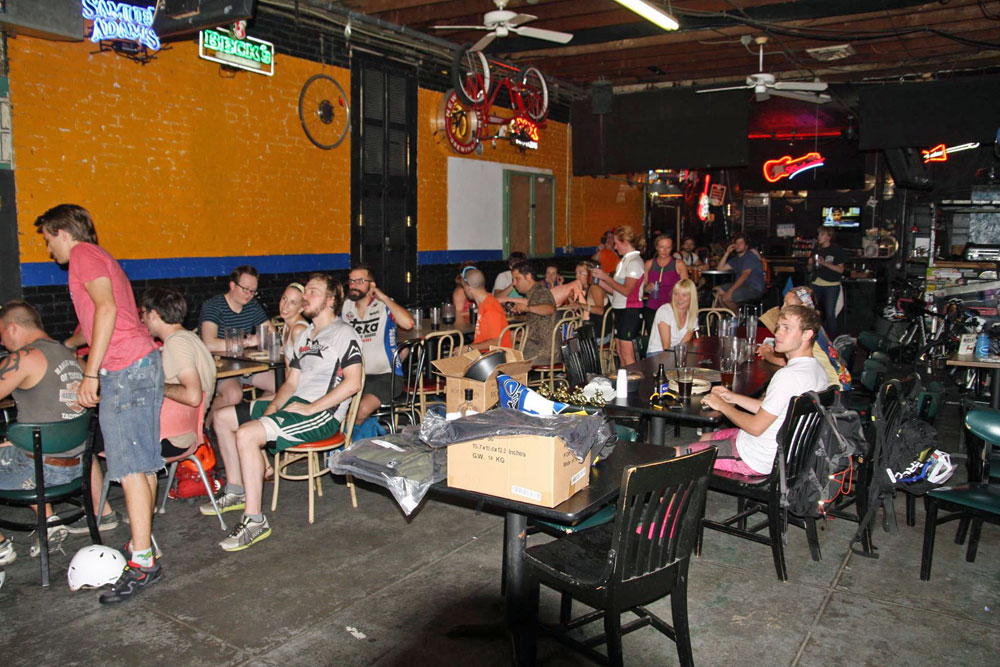 Back outside I was beginning to feel the heat. We had one last checkpoint before the finish and it was the farthest away, way far away. We headed west on 9th, eventually making our way to 7th street. Stopping for a second at Vino's, we debated. We knew we had no chance of actually winning, the next checkpoint was going to be a few miles round trip including a nasty hill, we were hot, inside Vino's was the finish line along with cold beer. Nick, Lisa and I called it and headed in while Michael and Virginia decided to complete the race.
I don't regret going in for the beer at that point, but I do regret not taking a minute longer at the start and deciding to go for the distant checkpoint first. Everything was good though. Several fast finishers were already there, we got our beer and cheered the rest of the finishers as they came in. It was a wonderful race/ride/event and we had a blast.
This video is a compilation of many things, not all, that happened to us and others during the race. You'll have to ask someone else about the anatomically incorrect blow-up doll.
Margaritaville Alley Cat 2014 from ArkansasOutside on Vimeo.
If you'd like to do one of these races sometime, get involved with the Little Rock Bike Polo folks, keep an eye on the various local bicycle groups on Facebook or check ArkansasOutside.com. A word of caution, these races are not as physically demanding as traditional bike races but they do take some experience in moving through open streets with other vehicles. THERE IS NO CLOSED COURSE OR TRAFFIC SUPPORT. Please don't attempt one if you are not familiar with street riding. It also doesn't hurt to know the town.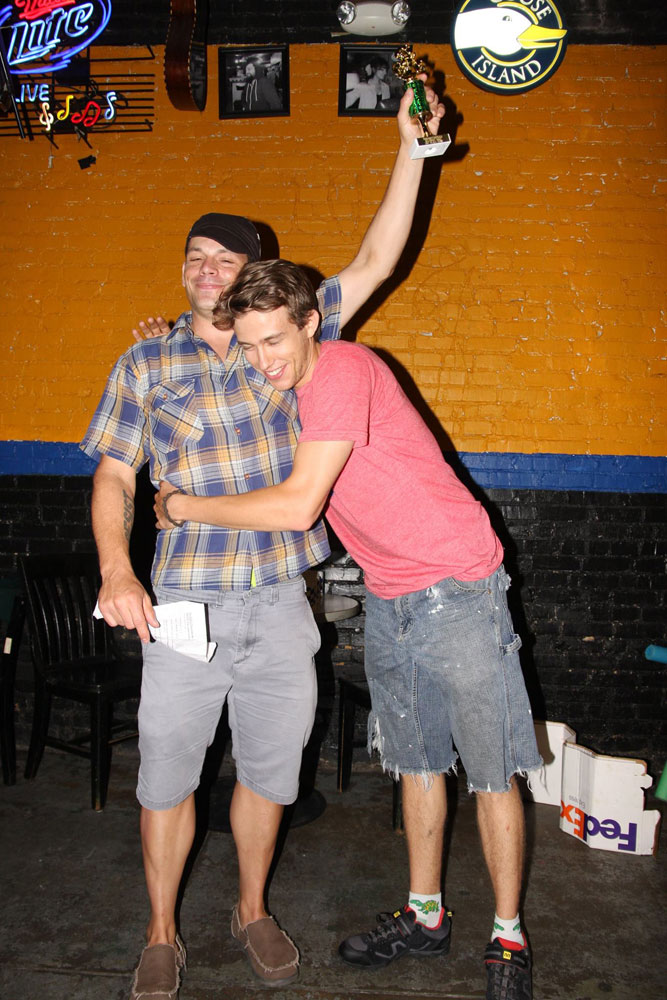 Thanks to Vinny for making this happen, all the volunteers along the way and the sponsors who supported it. Best way to get ready for the next one is to ride your bike in town. We'll see you out there.