How many miles or how long do you want to run?  What if I said instead of running a specified distance you could run until you decided to stop, your mind stopped you, or your body forced you to stop?  That's exactly the type of event the Saline County Striders put on Thanksgiving weekend.  For the second consecutive race in the Ultra Trail Series, runners have found themselves pounding the pavement.  The course was a 1.015 mile paved loop around the triangular-shaped Lake Sunset in Benton.
This year instead of competing with Black Friday, the madness began Friday evening at 7:30 p.m.  Although I wasn't purposely in disguise, one may not have recognized me as a masked man.  No worries, I didn't wear the survival gear to any stores.  It would not have ended well for me.
Thirteen insane determined individuals participated in the 24-hour adventure.  Many of them had goals of running personal longs and others looking to gauge their training for upcoming races.  Four of them are preparing for the Rocky Raccoon 100 in February.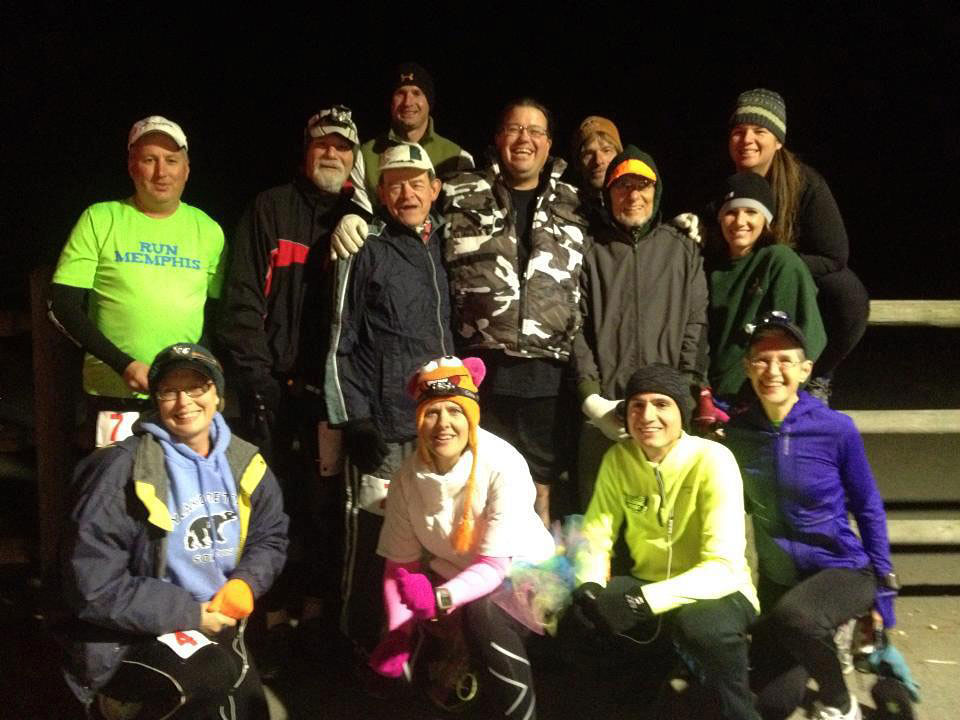 Along with the race director, Pete Ireland, and Greg Davis, I survived the below freezing temperatures as the runners ran circles around us.  The echoes of vehicles on Interstate-30, the hum of the generator, the tunes from 94.1 FM, and the occasional shouting of bib numbers became the soundtrack throughout the night.
Kristen Garret added life to the party when she joined us around 4 a.m.  At that point, I wasn't asleep, but I'm not entirely sure I was awake either.  The mist coming off the lake reminded me of a horror movie.  Runners would pass by and run into the fog never to be seen again.  Well, not until they had made a full loop.
It was an hour before the start when more crazy motivated runners showed up for the 6 & 12-hour race.  The promise of sunrise was soothing to my eyes.  Sunrises seem to be more captivating after you've been up all night.  I could only imagine how excited the runners were to see and feel its warmth.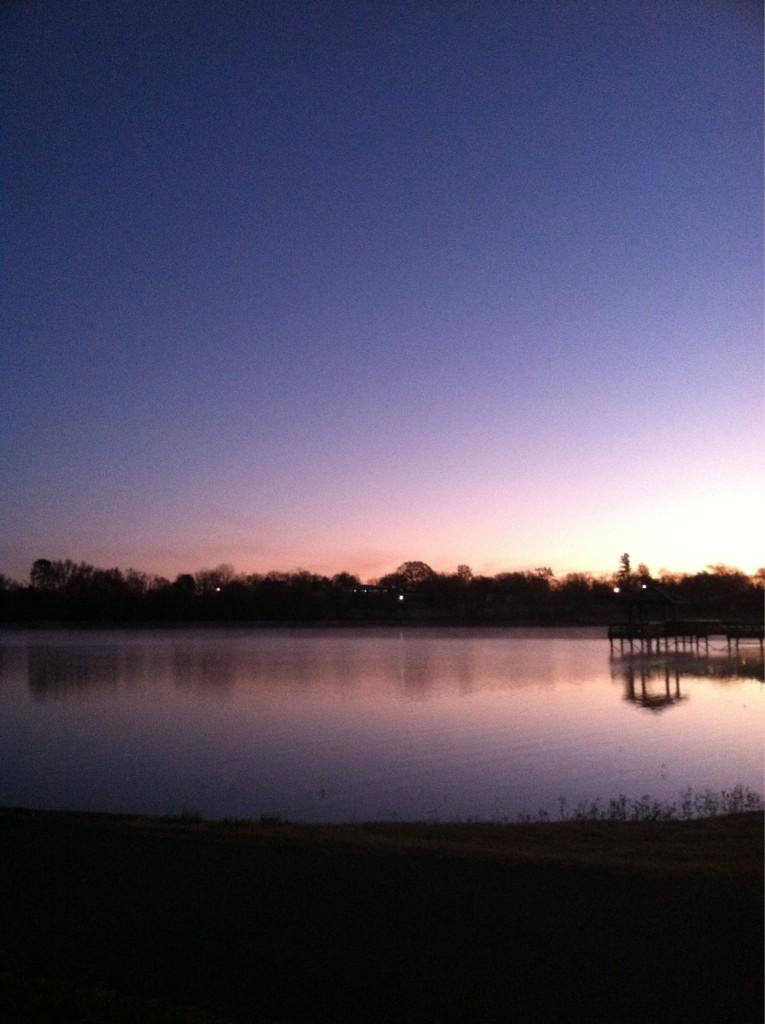 The addition of 40 runners made counting laps more challenging, but thankfully others came to help.  If there ever was a race where your only opponent was yourself, it seemed like this was it.  Around and around they went.
Start of the 6 and 12-Hour Run
Looking at the results is like looking at the box score for a sporting event.  There is more to it than the numbers.  The stories behind the accomplishments and achievements are what make it worthwhile.  Jayme Butts-Hall, Cody Jones, Fletcher "Skip to My Lou" Smith, and Jason Stracner became ultrarunners.  For Jayme, it was a birthday present to herself.  All of them ran at least a 50k.
Nicole Hobbs volunteered the night before, ran a half marathon, and spent more time volunteering.  Annette Blanton left it all on the course running a personal best in the marathon distance.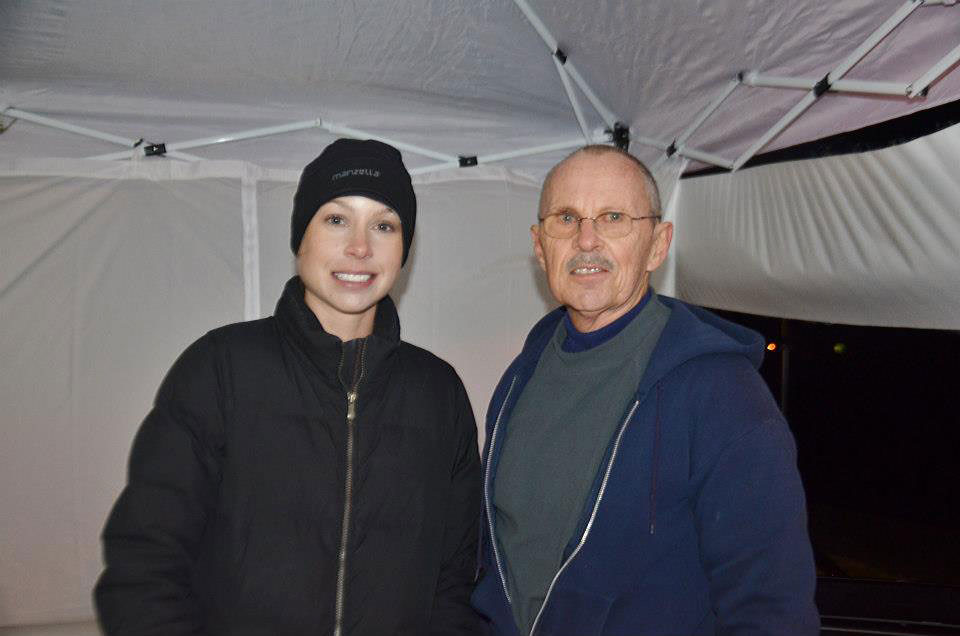 David Meroney and Jesse Garrett ran personal longs.  This is the same David that told me he didn't think he'd be running anything longer after grinding it out at the Full mOOn 50k in July.  It must have been the altitude at Pikes Peak Marathon that jumbled his thought process.  Either way, I was happy to see him out there hashing it out along with his wife, Christine, who exceeded her goal, too.  It is rumored that Jesse "Is Awesome" Garrett is training for the Arkansas Traveller in 2015.
Caleb "Pretty Boy Floyd" Ault not only ran his farthest distance to date, but he was the 6-hour overall winner with just over 41 miles.  Two weeks ago he ran and won his first 50k at Bona Dea.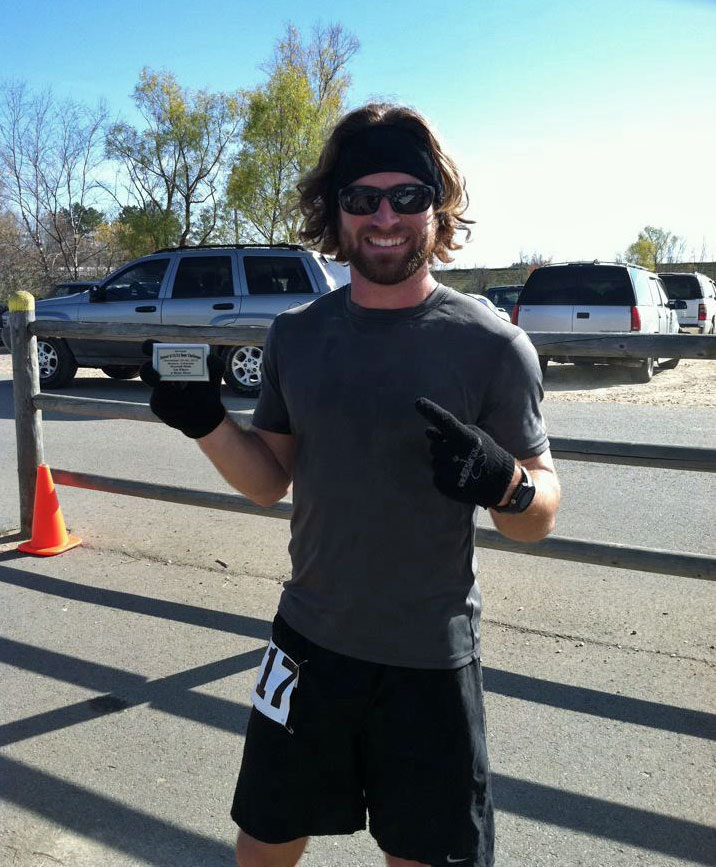 Lisa Gunnoe and Andi "Honey Badger" Stracner were craving for more mileage this year.  Continuing to push and not allow her mind to win, she completed her first 100k.  Andi surpassed her 100k mark from last year; at times holding hands with her husband, Jason, finishing with over 73 miles.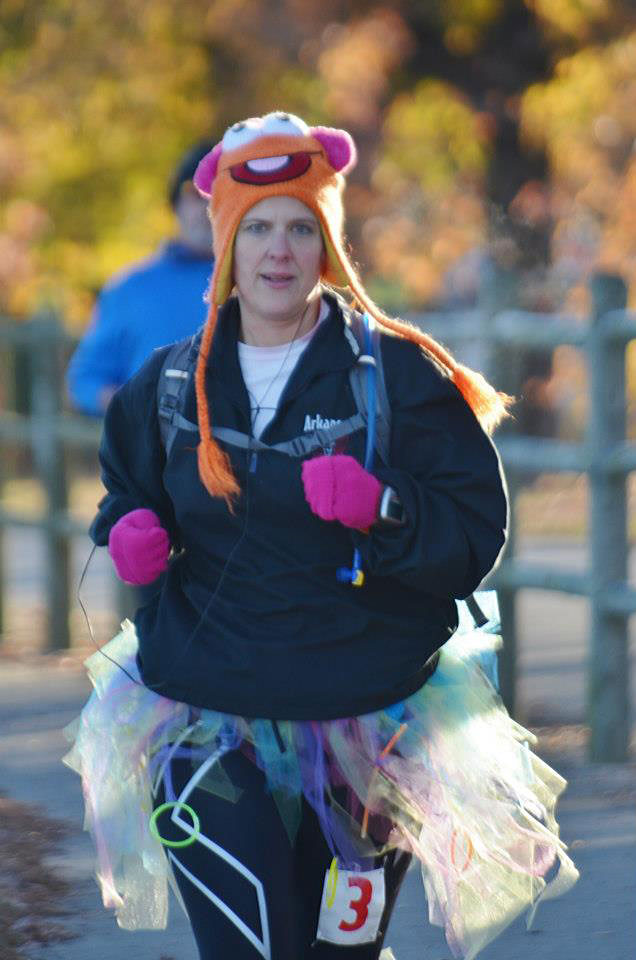 Karen Hayes had a goal of 59 miles and after she reached it, she confidently said, "I'm done."  Something tells me she could've done more, but she stuck to her plan.  Seventy-one year old Maurice Robinson did 71 laps.  Last year he did 70 laps.  There seems to be a pattern developing with him.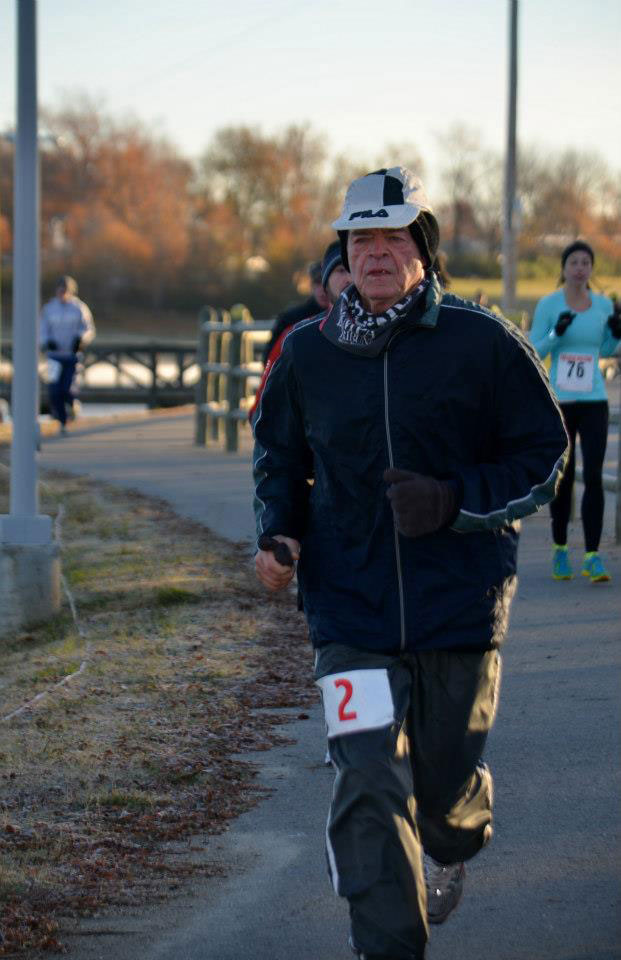 Two of the 24-Hour runners eclipsed 100 miles.  The temperature dropped as the night fell, but that would not deter them from their goal.  Tough Tim Norwood did 105.53 miles.  Tenacious Tammy Walther did 101.5 miles.  They pushed through pain and adversity as if it was normal.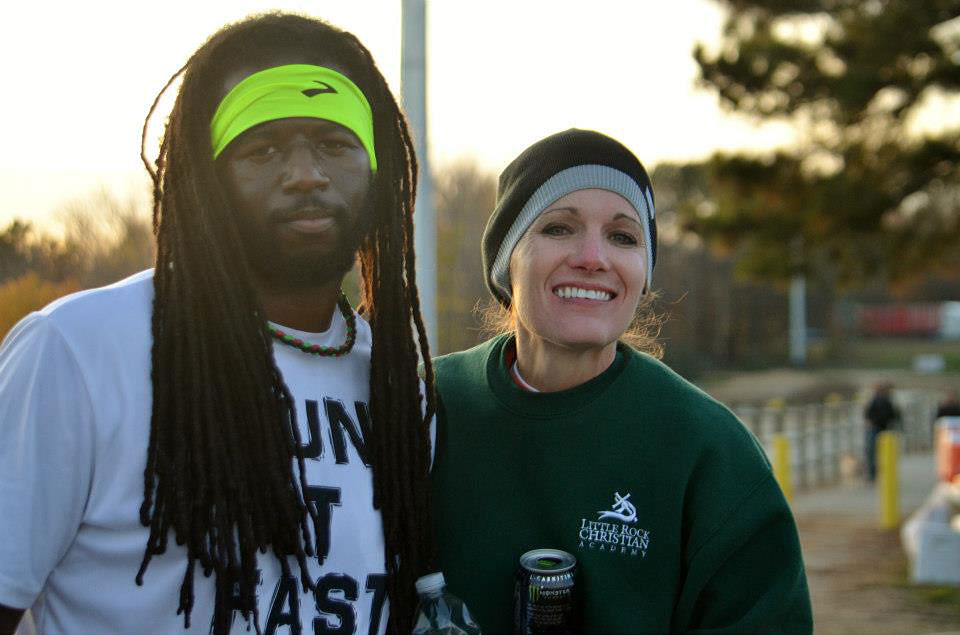 I had the pleasure of running a few laps with Tim and he was more concerned about being about to teach Sunday school the next day than anything else.  Tammy was looking forward to a refreshing bubble bath, but not the pain that ensued.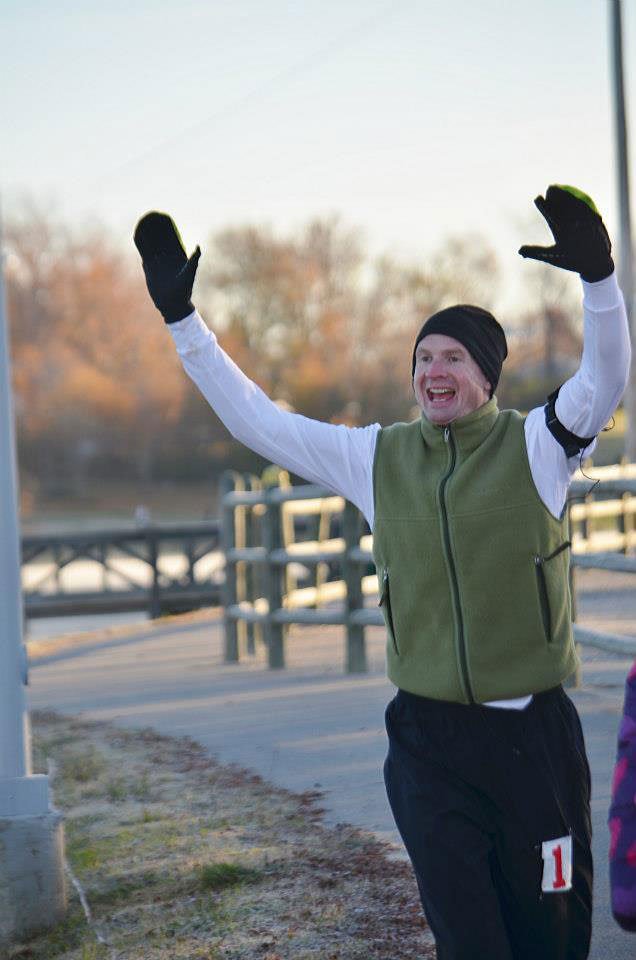 I could go on about the achievements that resulted from this race.  Pete "No Sleep" Ireland recorded a personal best of 38+ hours without sleep.   I, too, deprived myself of sleep, but never have I done it and then tested my body by running.  It is not recommend.  Your body will not be happy.
Congratulations to everyone!  Whether you ran one lap or 100 laps, you made it count!  The next race in the AURA Ultra Trail Series is the Lake Ouachita Vista Trail (LoVit) on Saturday, December 8, 2012.
When I'm not running, volunteering, or writing, you can usually find me lurking on Twitter @absolut_zer0 or reporting on races in the great state of Arkansas for Pace Per Mile.