Thanks to James Gaston (Power Ranger) for sharing a full race report on the Syllamo 125. James has helped us before wearing a helmet cam for us during the Spa City 6 Hour.
It was a really hard mountain bike race.  Did I mention, this was a really hard race?  Finishing 27th out of 30 made me very happy.  I was ready to quit at several points, but quitting would involve pedaling many more miles, which I had to do anyway unless I wanted to walk home go native and live evermore in the St. Francis National Forest.  This race was mentally challenging and exhausting.  At the start on Blanchard Road at the Blanchard Springs Caverns I had a great position, the 2 mile double track climb out of the campground went perfect…putting me about in the middle of the group of ~100 riders for the 125k/75 mile race.  At the top of the climb was an intersection, a turn to the right onto the yellow trail, and a turn on the left where eventually we would come out many hours later.  The small group of riders around me all dove into the yellow trail single track on the right with excitement and enthusiasm.  Less than 10 minutes later while coming down wash out I heard a rock clang between the rear frame section of my bike and the tire, then a terrible hissing sound.  A small rock had gotten wedged in between my frame and the tire and put a hole in the sidewall just below the rim.  Mountain bikers are always prepared and equipped for flats, so I quickly pulled over and retrieved my spare tube and pump and got to work.  It took about 5 minutes to put in the tube, and my race position went from middle of the pack to 5th…from last.  It was disheartening to watch 50+ riders go by while I worked on my rear tire.  But, my legs felt great, my strength and attitude were excellent and I had good rear tire pressure (still had 2 more tubes left) and put the pedals spinning thinking my first Syllamo 125k would be over in 7 or so hours.  At first I made great progress, passing riders at regular intervals and not getting passed myself.  I was warmed up and was hitting all my lines up steep sections, across rock gardens or granite slabs, even jumping off drops and making it through tight rocky switchbacks with deft that would of made Micah Patterson (an exceptional technical rider) proud.  I was feeling really cocky and confident.  Then about 15 miles later I started to sag…I began missing lines, dabbing (as Micah calls it), and finally resorting to occasionally walking difficult sections.  The effort to track my line and angles, balance the bike, go hard up short loose gravel hills as well as dodge tree roots and briars was mentally exhausting.  Yeah, don't be cocky at Syllamo unless you know better than to be cocky at Syllamo.
A low point on the race was arriving at aid station #1 after 2 hours…and realizing it was just the first out of five (5!).   While there I put a little more air in my rear tire and began to move up the next hill.  My momentum came back and I started making good time again.  Then, I hit a particularly nasty rock garden head on, one sharp pointed rock caught my rear tire with force and drove through the tire and tube…puffffff was the sound the air made as it escaped.  Syllamo is well known for being very tough on equipment.  Friends have had broken wheels, seat posts, rear derailures, chains, and of course had lots of flats.  You would think having 3 extra tire tubes for one event was enough, now less than 25 miles into the 75 mile race and I had 1 tube left which gave me concern.  Every piece of granite and flint in the trail began to look like it wanted to pop my tire and take my last remaining tube.  The trail began to look like an infinite line of tube hungry edges, points and sticks.  Carefully guiding the bike took extra effort and time, not to mention mental energy.  Steve, the race director, after the race said the first 37 miles are extremely difficult and combined with the heat (my Garmin said it reached 108 degrees) made the race mentally draining and exhausting.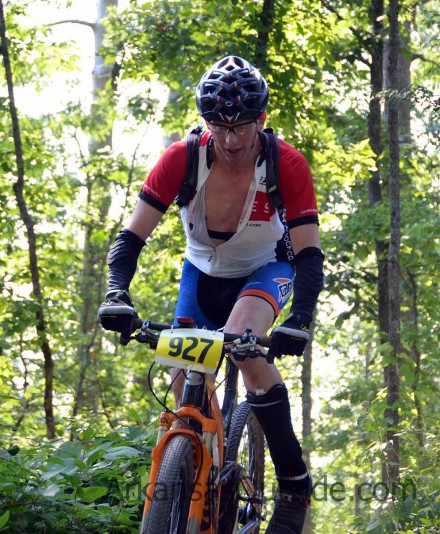 The 125k race repeats the yellow and red loops to get the extra miles over the 50 mile race.  So every 125k racer faced the decision point at the top of the lead out climb…turn right to the "Finish" and call it quits, or go across the road entering the yellow and eventually red loop again to complete "125k Lap 2".  I tricked myself by forgetting how hard the yellow trail was, faking myself out and saying it was the blue, orange, and green that were so hard…yeah…that's the ticket.  About an hour and a half into the second pass of the yellow trail, and not seeing a single other rider, I could of sworn I was lost.  It was hot, I was running low on fluids and what water remained was hot, I could of sworn I had missed a turn and I was having to do the entire 37 mile start section all over again.  Then I missed a line and hit my front wheel against a tree.  The bike and I stopped and did a track-stand… for a moment …then I fell to the right and did a sideways end-over-end (end-o), with my side hitting the ground, the bike coming over me and then down the hill to my right.  I ended up in a little hole in the rocks with the bike wedged below me between a tree trunk and another large rock.  It was a little scary to have a fall and the bike go flying while all alone out there in the woods, miles from anything or anyone.  Fortunately, no major injuries, just some scrapes.  I think the fall startled me because I got up really quick and pulled the bike up and out of the spot it was wedged below me, checked it over and felt lucky nothing was broken.  I was whooped mentally, hot, and tired. Moving on down the trail I had to take a few breaks to let my heart rate settle down and to cool off, slowly trudging ahead.  Finally, the long lost turn (blue right, yellow left) appeared.  I was so relieved, realizing it was only a few miles to aid station #4.  As I pumped the pedals slowly up the road I got to thinking…red trail is flow-ey and there are no technical sections or climbs on the red trail.  A glimmer of hope began to form in my head.  If I could rehydrate and cool down for a few minutes I think I might be able to finish this race, and I really wanted to finish. I was here, I was racing, I was not dead and only partly delirious, I wanted to finish the dam race and then give my bike away at the finish line and never ride a bike again!  That was the plan that stuck.
When I go the aid station #4 I saw Frank Weber, a pro Category 1 rider and friend.  He was standing in front of a mesmerized  crowd explaining the critical advantages of the new Orbea 29'er frame design looking cool and fresh in his spotless Orbea USA kit…then he said "tally-ho" and tore off to do the last 2 miles to the finish.  I had the red trail left and 14 more miles to go.  I gobbled up cool water, replenished Gu Brew and cliff bars, grabbed my last remaining tire tube out of my drop bag, and took that first scary brave pedal stroke out of the aid station into the heat of the red trail.
Something about the red trail is awesome.  Someone told me that it has less than 200′ elevation change over the whole distance which means no severe climbs and no technical sections (yes!).  So while Chuck Emmons told me he hates the red trail and has to mentally break it into 4 mile chunks, I loved it!  Finally, I was going fast again which helped me cool down, and I was passing people…admittedly they were participants at the back end of the 50 mile race, but I did not care.  Mentally it was a huge boost to be able to fly by other racers and I needed all the mental help I could get.
Coming into the last aid station, #5, I debated stopping because I wanted to play off the energy I received from the red trail and not get bogged down.  But, since all I had drunk in the last 1 ½ hours was some hot water I decided a quick stop was worth the time loss.  The aid station was almost deserted, a few folks stood around in dirty and torn biking kits laughing about their Syllamo adventures, moments later and I was on the trail out from Big Brushy rest stop for the last time.  It was such a delight to see the decision point appear ahead of me and know I could take the "to finish" turn.  I had a big smile racing down the start climb hill at 30 mph towards the finish.  Coming into the campground a small crowd cheered for all the arriving racers.  To all those that cheer for passing racers, please know your cheers and yells are heard and greatly appreciated.  Even at a long time of 9:55 any cheers are very well received.  I did not as predicted give me bike away at the finish as only the race organizers and 1 rider were left.  It was a day that I hope to remember for a while, for the pain as well as the accomplishment.  If I flinch when someone says NUE (National Ultra-Endurance Series, http://usmtb100.com/ ) you will know why.  Serious thought would have to go into participating in another NUE event, and all those athletes that do them on a regular basis are truly amazing.  My heart and admiration goes out to them.  (8:31 moving time, average speed 8:32, average power 178 W, 7057 vertical feet).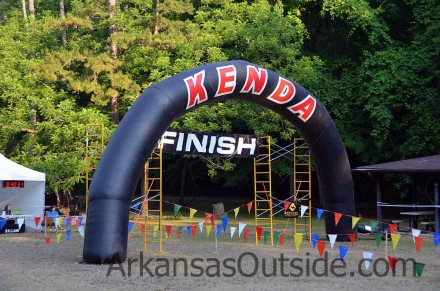 If you are a mountain biker and have not ridden at Syllamo, stop what you are doing and go up there and ride right now (before the vines and weeds grow back into the course)!  It is an excellent MTB course, probably the best in the State; I just don't recommend riding all of it at once.  The red trial is super easy.  Yellow is technical as is blue, with maybe green being the hardest.  Orange has some great down hills…which of course come with some uphill.  There are several starting locations (see map link below) and you can tailor a ride for your skill, time and speed.  A great place to camp, ride and see some beautiful vistas  as well as caves.
Race information
http://www.syllamosrevenge.com/Syllamo125k/syllamo125k.html
Syllamo Mountain bike trail information
http://www.fs.fed.us/outernet/oonf/ozark/recreation/syllamo_bike.html
For the nerds out there here is my Garmin data
http://www.trainingpeaks.com/sw/6ZOHRQURKKDZN4KCCDHH6UI5RI
Pre-race drank "Naked" shake, yogurt and fruit cups.  During race drank a lot of Gu Brew and water with the Gu Electrolyte tabs in it (I have no clue how much…just kept drinking). Ate about 6-7 Cliff Bars and a few orange slices.
Also, more on Syllamo's Revenge here and photos here.
Editor's note: James is a member of the Bike Nerds group (hence the Power Ranger nickname). Here is a little insight into the group from some raw video footage that James secretly shared with us. We have no further use for him and have decided to release the video.
Thanks James…