(One of the newest road bike teams in the state, SimplexQ, tested their mettle in Texas. Story by Charlie Roberts with photos by Jamie Fender, Charlie Roberts and Rob Smith.)
With myself and the 3 other Category 4 members of SimplexQ racing team currently on the hunt for points in an effort to move to Category 3 and join the remainder of the team, we set off to Wylie Texas for the Wylie Winter Crit race this past Saturday.
The temperature upon arrival was in the low 50's with a 7 mph wind and a light mist.  The course was 4/10ths of a mile rectangle in downtown Wylie with 4 corners going counter-clockwise, it was a NASCAR style crit race if there is such a thing. There were just over 30 riders for the start, it was a mild pack and didn't pose much of a problem for us to stay well sorted and in the top ten through the entire race. There were a few attacks and the designated work horses Nolan and myself did a good job of covering, quite often I ended up on the front of the pack after the attacker quickly pulled the plug and pulled off.  There were a few comments from within the pack that I would eventually wear out, but they were mistaken and with three laps to go it was one of those expired attacks that put me on the front again going down the front stretch.  I laid down on the bars trying to be efficient since there were still three laps to go. I hit turn one pretty hard and coming out of turn two Nolan gently says "we are all here" letting me know that as planned he, Keegen and Jim were on my wheel and were ready to be led out.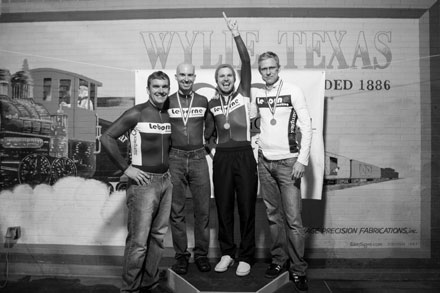 It was time, so I grabbed one more gear and dug deep, we strung it out and with one lap to go we dove hard and fast through corners one and two and I heard Keegen yell "one more straight Charlie" which is all it took to keep me pushing down the back stretch and into turn three. As planned I went wide out of turn three and Nolan took Keegen and Jim through turn four and down the front stretch setting up Keegen and Jim to sprint across for First and Second place just as we had dreamed.  What we hadn't dreamed or planned was to have decimated the rest of the field with the lead out to the point that Nolan rolled across the line for an uncontested 3rd with one lone rider slipping in before myself in 5th.
(It will be exciting to see how the SimplexQ team performs in the Burns Park Crits against other local teams this Spring. I recommend you come out to watch the action. – Joe)