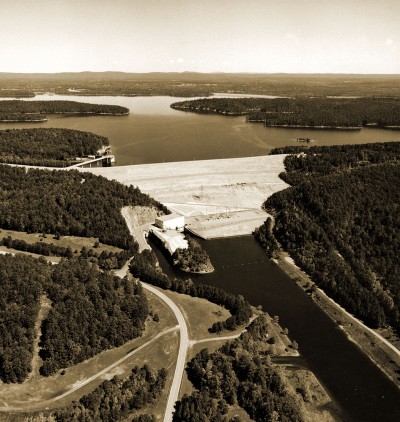 Excitement is building for That Dam Night Run to be held this Saturday, July 27 at 8PM on DeGray Lake, 6 miles north of Arkadelphia.  This year's race will rock an 80s theme in honor of the 25th anniversary of this fun race that always draws a good crowd.  This year will be no exception with over 500 runners and walkers already registered.  The race was originally organized by the Club Arkadelphia Runners back in the club's heyday in the 1980s.  Mike Prince of Arkadelphia has kept the race going for several years but he is passing the torch to a newly re-organized Club Arkadelphia Runners Club, led by Nicole McGough.  (Mike has kindly stayed on as an advisor for this year's race.)
The 2013 Dam Night Run will feature a chip start.  This point-to-point course is a USATF certified 5K and starts on top of Iron Mountain on Skyline Drive.  There will be water, port-a-potties, and a D.J. pumping 80s tunes at the start.  The course is downhill and fast.  In the last mile, you can enjoy the view of the moon rising over beautiful DeGray Lake and the Caddo River Valley as you cross the bridge.  At the finish line, cool off with a run through the water cannon!  After the race enjoy the sounds of live music from Sensory 2, cold watermelon and tailgating in the Spillway area.  The awards will be presented at approximately 9:30 at the Spillway.  Cash prizes will be awarded for overall course ($200) and age division ($100) records that are set.  The current overall male record is held by Wesley Brown at 14:22 and the current overall female record is held by Leah Thorvilson at 16:31.
Register online through Friday for $25 at www.macsrts.com.  Race day registration will be $30.  (Registration includes a t-shirt, while supplies last.)  Race day and packet pick-up will be at the Spillway area from 2PM to 6PM.  Everyone is encouraged to arrive early to catch a ride on the trucks that provide transportation up Iron Mountain to the starting line.  The truck start rolling at 6PM!  For more information contact Nicole McGough at 870-464-7415 or hdnicole@yahoo.com.
Directions from I-30:  Take Exit 78 and drive north on Highway 7 for almost 3 miles.  Turn left on Skyline Drive and continue until the Spillway parking area on the left.
This article is from the race news release. If you are a race organizer/director/volunteer please send us your event news release so we can share the excitement with our readers. (joe@arkansasoutside.com)