This race is one of my favorites. All of the rolling hills give you the illusion that you're running fast, even though your trail pace would be laughed at and shoved in a locker by your road pace.  The views of Lake Ouachita next to the trail also tempt you, as if you might be able to look up without tripping. The creek crossings are mostly dry and the mountainous climb (well, for Arkansas) before the turnaround is a gift. I say gift because any last bit of pride or determination to run the whole thing floats away and you can enjoy the view to your side and behind you while you try not to trip on the loose rocks and leaves up the mountain.
Honestly, if I were normal, I would have gone back to bed when I noticed it was pouring outside as I was leaving Little Rock. Everyone knows, however, that the crazier the conditions, the greater the accomplishment and bragging rights, right?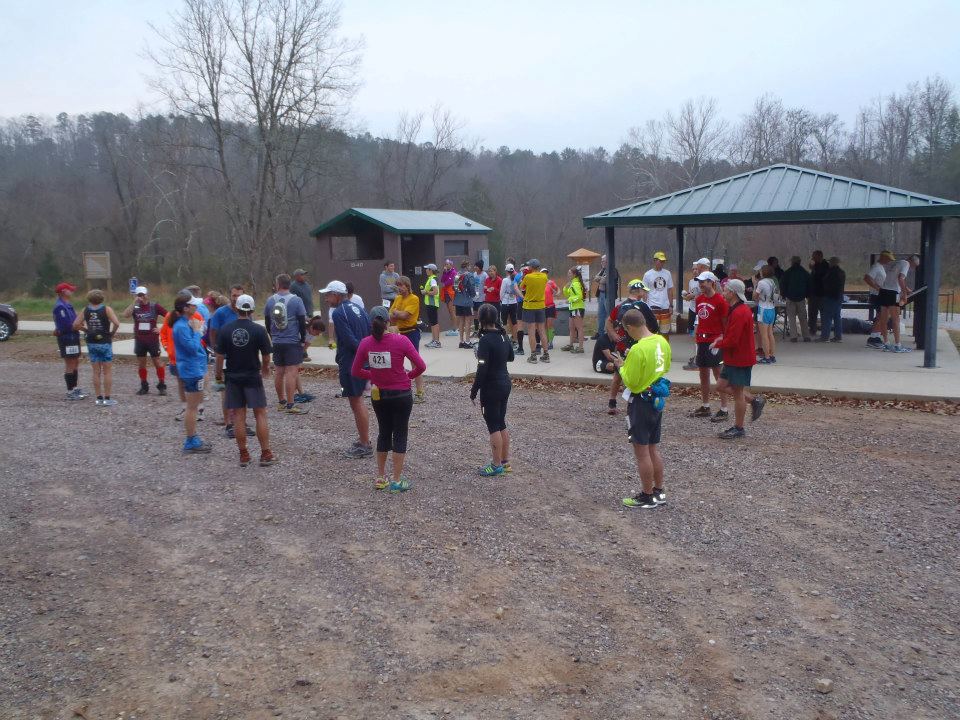 Everyone also knows you can never predict the weather here. Last year it was freezing and this year it was humid and in the low 60s. Even though it was raining in Little Rock, it was not at the race. The sun even came out by the afternoon making it quite warm.
After a road marathon last weekend, I was aching (and so were my legs) to get back onto the soft, cushiony trails again—to throw concern for times out of the window, and just enjoy the company of nature and the other masochistic trail runners.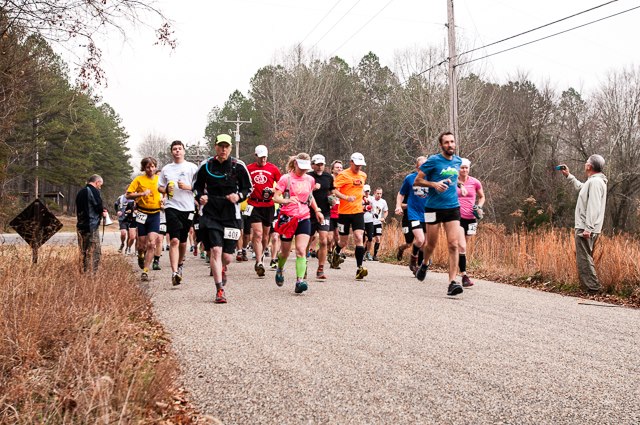 We started at the beginning of Shangri La Drive in Mt. Ida, near Hot Springs, and ran for less than a mile on a paved road before shifting to single track trail for essentially the rest of the race. There were also some minor short stretches on some gravel roads.
The race is very low-key: minimal aid, flour trail markings, no awards (that I'm aware of), and no entry fee, just a suggested donation to cover race support. First, you sign a waiver (which none of us read and, therefore, became the subject of many jokes along the way regarding what types of happenings the race director could be dismissed from). Next, you get your bib number and then you keep your own time. You record your time at the finish when you sign out to let the race director know you're back safe and sound.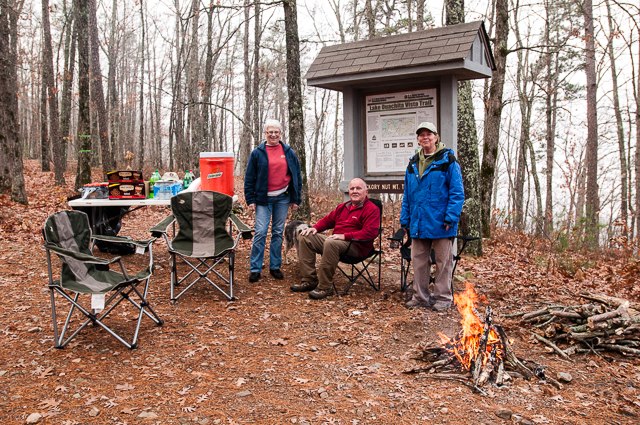 There were four aid stations along the marathon course. The first station is at around mile 5 or 6 (forgive my guestimations, my Garmin is broken) and it had water and Gatorade. There is no food at this station. The next station is at mile 10, right before the climb up the mountain, and it had light food (i.e., pretzels, animal crackers, and peanut butter crackers) in addition to fluids. The turn-around aid station is approximately at 14.1 and it has all the luxuries of the mile 10 aid station. The trip back is slightly shorter, but you mostly run the same route back to the start as you ran out.
This year the finishing section was not underwater, which meant we actually had to run it instead of getting to round up like we did last year (if you're a runner, you know exactly what I mean). This made for some expletives as we hit the final stretch of road thinking we only had a half-mile when we actually had over a mile to the finish.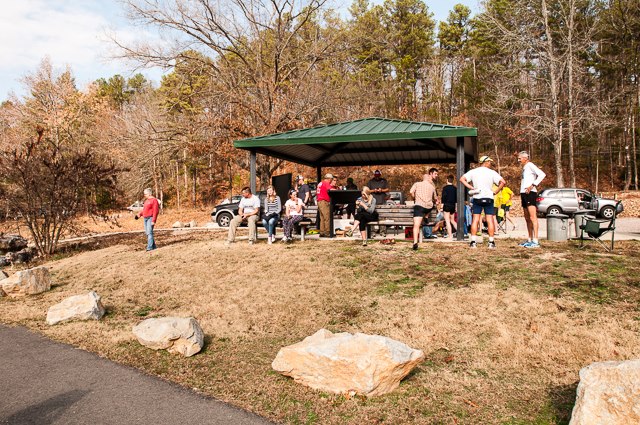 The finish line brought familiar faces, cheers, and minimal recovery food. Supposedly, there was pizza at one point, but either I was too slow to see (taste) any of it or they were hiding it from me, knowing I wouldn't share any of it like a good girl.
All I have to say is: if you don't LOViT, you're (in)sane. And, Lord knows none of us are that. See you out there next year!
(Thanks to the Lake Ouachita Vista Trail Dogs for the photos.)