…the beatings continued until morale improved.
On my quest to try almost all things cycling-related this year, I entered an Arkansas Marathon Series Mountain Bike Race, The Slobberknocker. The series is made up of four major races, already in the books the Spa City 6-Hour and the Ouachita Challenge. Several years ago I did race in the Ouachita Challenge but it wasn't part of a series back then and The Slobberknocker isn't the same kind of race at all. So I'll count it as new.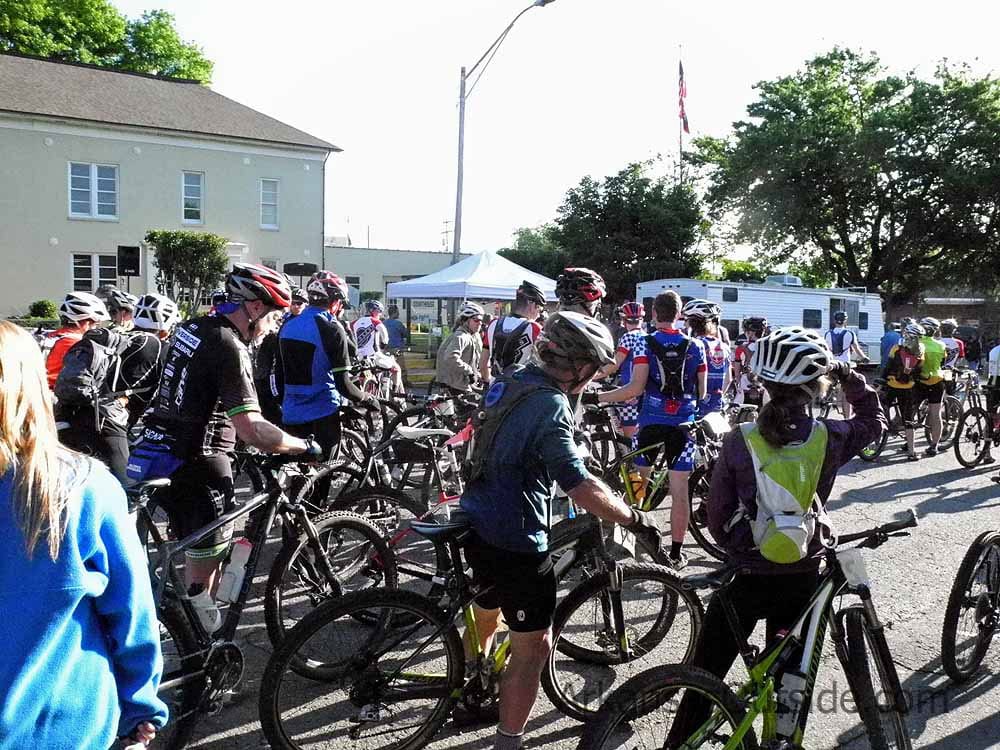 In its second year, the Slobberknocker has no singletrack trail riding, it's mainly wide forest roads with about 13 or 14 miles of pavement. This is not to say that it's not technical. You try bombing down a sunlight-dappled, USDA Forest Service "logging" road at about 30 mph on a bike with little suspension and tires at high pressure and find "the line". Well, it wasn't super technical but it did take some bike handling and even when you're in the line the rocks knock you around a good bit, for over 5 hours in my case. That brings me to the name of the race. I envision a slobberknocker as being one of those punches that come unexpectedly, visualized in slow motion in the movies. It lands on the side of your jaw knocking spit and teeth out the other side of your head. It's the hit that lands its receiver on his back. If you've ever seen a Rocky movie you've seen what I think a slobberknocker is. Just to make sure I looked it up in the Urban Dictionary:
Slobberknocker: a fierce and violent fight amongst two people, or a number of participants that eventually turns into a full-fledged donnybrook!
Okay, so I was wrong and don't ask me what a donnybrook is until they name a really tough mountain bike race after it and I'm dumb enough to try it.
The race started at the Perry County Courthouse and had a nice neutral rolling start out to Highway 9 south to Thornburg. It was great riding along with the gang, watching the single speeders spin their little hearts out (they would catch me soon enough). The climb to Thornburg comes up pretty quick and although it is part of the paved portion it's still a leg burner. I wondered what I would feel like when I had the opportunity to ride back down it. We then jumped onto a gravel road for several miles, nothing hard and mostly down eventually coming out on a mile or two of pavement before getting back into the dirt and gravel for most of the rest of the morning.
It's best just to give you the video highlights from my ride. A lot of this is from the downhills, nobody needs to see me ride up a gravel road at 3 miles per hour. This will give you a taste of the ride:
I'm familiar with much of the course, I've trained on a couple of sections out here for years, usually prepping for adventure races or just to work on long tough climbs.  Here are a few write-ups from previous trips in
2008
,
2009,
and
2011
. After a couple of early tough climbs, we headed south toward Lake Winona. The long downhill in the video is this portion. Then a fairly flat section that paralleled the north side of the lake and at mile 32.5 headed back up toward Lake Sylvia using Reform Road. The term road is a bit of a misnomer. Reform is more of a dry creek bed with deeply eroded washes and large boulders placed strategically to create the absence of a "line". This had to be tough for those riding cyclocross bikes (most of which got through this section long before I showed up). The climb is long gradual and unrelenting. At one point I thought I heard cowbells, it was disappointing when I realized I had become delusional. Eventually, I got to the start of a nice long downhill section of fairly smooth dirt that I'm very familiar with. This section usually signifies the end of my ride when I'm out here training. This time, reaching the bottom would signify a little over 15 miles to go. I smiled and waved at all the long-course riders heading back up the road getting a lot more mileage in…I was so happy that I didn't have to do that.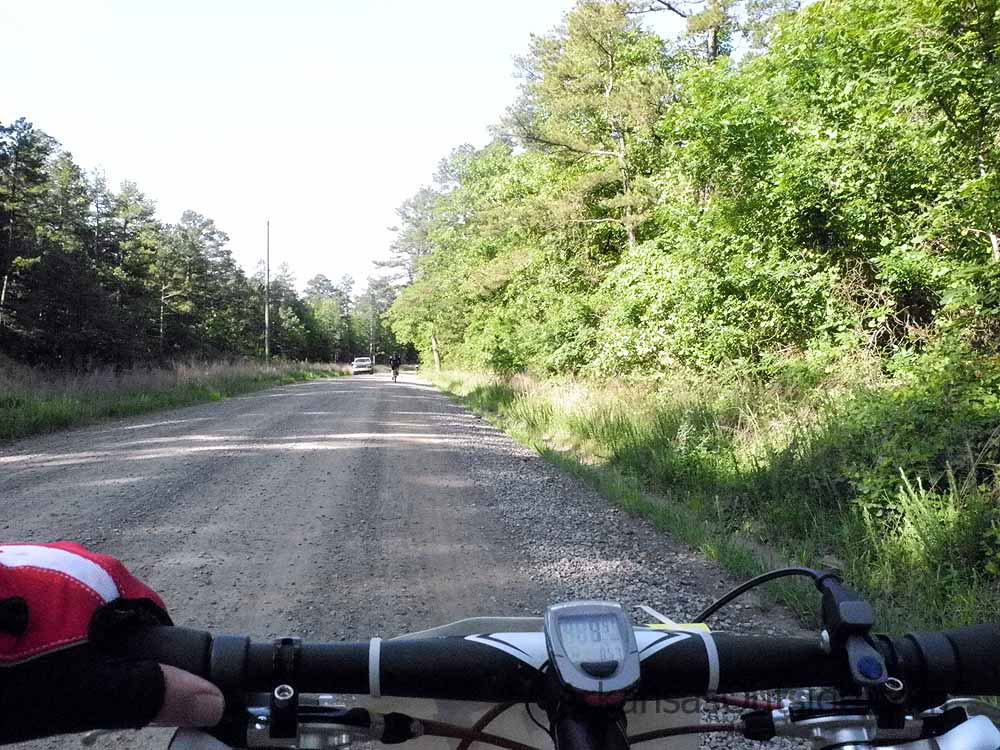 I stopped at the aid station because I had to. I had blown by the first one knowing that I still had plenty of food and water mainly because I wasn't eating or drinking enough. They make you stop at this one to check if you are heading out on the long course or heading home. By the time I got there, it wouldn't have mattered, I'd missed the long course check-off and would have been heading for the finish anyway. I wasn't doing the long course anyway but it would have been nice to make that cutoff. I headed out.
Soon riders from the long course were back on the same track I was and I started getting passed. This is never good for morale. After dragging myself back up the dirt road to Thornburg I was finally going to enjoy the downhill into Perryville and the finish. I did make a stop at the aid station before getting on the road. Friend and neighbor Jo Spencer was there offering words of encouragement. Just what I needed to finish this thing off. Down the hill, I went. For safety, the race organizers, DLTMultisport, put in a nice detour under a bridge to keep us out of traffic and I was able to finally finish at the courthouse. I wasn't dead last, I finished the whole thing and I got some video along the way, mission accomplished.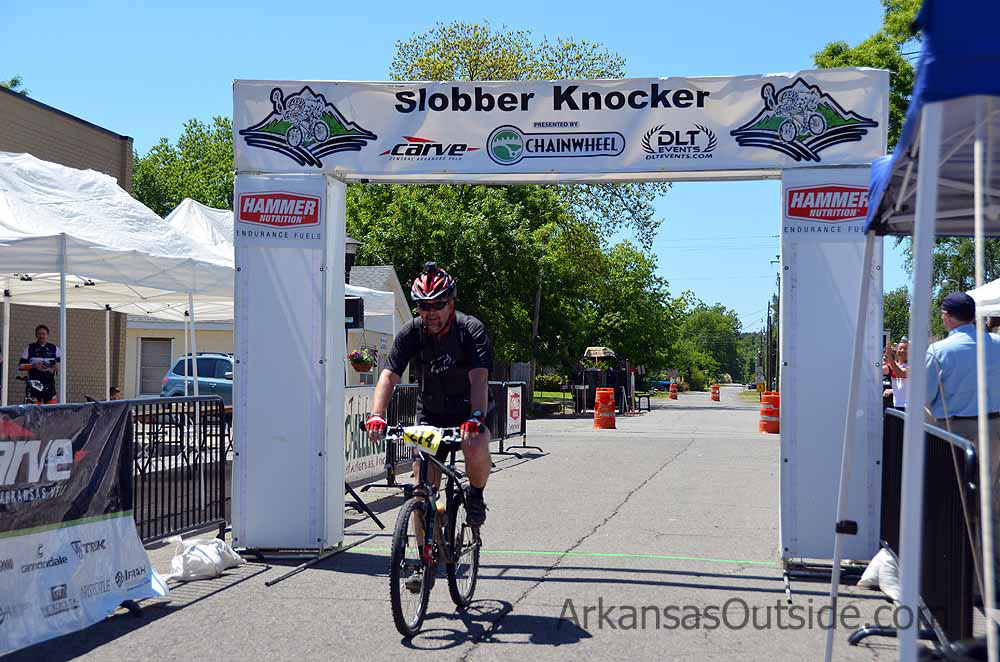 They had a fun awards ceremony where long course finishers were given belt buckles and winners were given sledgehammers and mallets. They even had some podium girls just like a big European event! They also had fun and creative category winner names:
Youngest finisher: Little Knocker
First place on a tandem: Double Knocker
First female: Queen Knocker
First place singlespeed: single knocker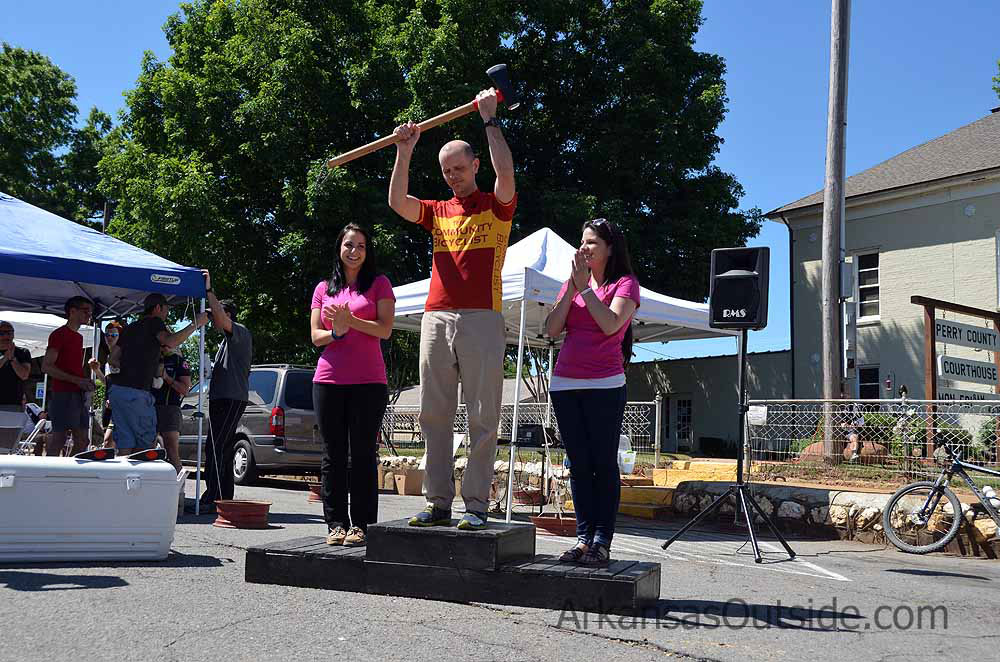 You get the idea. We then had a drawing from among the Bike Tech Contest entries (more on that in a later post) and then most everyone headed for food. It was a perfect day and a good hard test. Thanks to DLT Multisport, Team CARVE, all the volunteers, and the people of Perry County for making it all possible. A few more photos on our Flickr site. Since I was riding, I wasn't available to take more. We'll be out taking photos at Syllamo's Revenge though. See you there.
This race had just over 100 racers but some of the gang was out trying to qualify for the Leadville 100 in other races in the region. That's not bad for a second-year race where the first year was more like a bunch of local riders getting together and putting the hammer down. I feel the Slobberknocker should be a Leadville 100 qualifier. From my understanding, it's very similar, just with more oxygen.