Chances are, if you've run a 20k in Arkansas, it was the Arkansas 20k.  There are a few others, two being on trails (Hoof it for Heifer 20k and Day 3 of Three Days of Syllamo), but the Arkansas 20k has been around the longest.  To put it into perspective, the course record of 1:03:43, set by Mike Clark in 1984, has been around longer than many races in the state.  It should be no surprise that this race is one that runners frequent.  It could be because it's a nice race to use in preparation for fall races or because the Saline County Striders do such a good job, one can't wait to return. 
I told the race director, Pete Ireland, I'd be on hand to do whatever was needed.  I was glad I had a poncho because it was going to be a wet one.  It wasn't too long ago when Arkansans were praying for rain.  Has anyone started praying for it to stop yet?  The last three weekends, the rain has made its presence known on race day.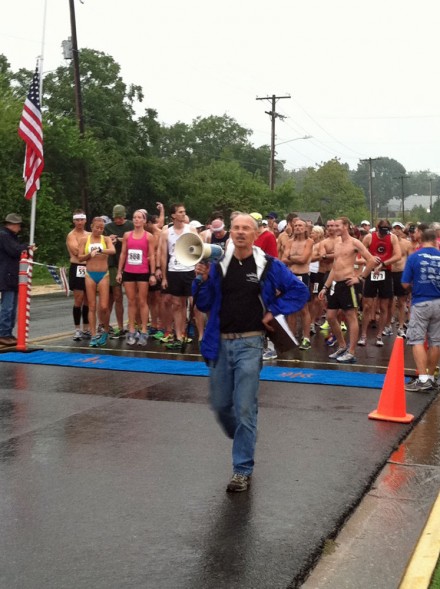 At the Arkansas 5k Classic, the rain caused it to be very humid.  Last weekend, it brought nice, cool temperatures yielding fast finishes at the Sara Low Memorial 5k.  This time, it actually rained during the race.  I didn't hear many runners complaining.  I bet they were thinking along the lines of, "I'd rather it be raining than hot."
The early starters began at 7 a.m.  Pete was sure to tell them to be careful on the course and to watch out for idiots that may not be too fond of runners.  I have encountered a few of them at times.  The official start took place 32 minutes later as scheduled.  Why not 7:30 a.m.?  Apparently, Saturday School for Benton High School students begins at that time.  Starting the race 2 minutes later prevents a conflict between the two.  Now, you know.
This was the fifteenth race in the Arkansas Grand Prix Series.  The Little Rock Roadrunners and Melonvine Striders have been battling it out in men's team competition.  The LRRC had an opportunity to clinch the series title at this race.  On the women's side, the Arkansas Ultra Running Association, also referred to as the Dirty Girls, trail the LRRC women.  Of the fifteen Grand Prix races, thirteen had been won by one of the women in this race.
The course starts in front of the Benton High School Cook Field House.  It plunges down Sevier Street taking you on a quick tour of the downtown area.  Running through the neighborhoods is pleasant and relaxing.  Unlike any race I've ever done, there is either a police officer or ROTC cadet at every intersection on the course.  Along with helping out at aid stations, volunteers also call out splits.  The course goes over the Saline River Bridge before eventually making it to the turnaround on the I-30 access road.  Then, everyone heads back the way they came.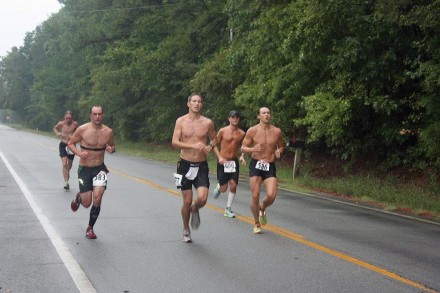 This year's overall winner, Greg Targosz (1:16:25), undoubtedly leaves it all on the course.  He crossed the finish line and I thought he was going to pass out.  It was the same scene I observed when he won 2 weeks ago at Arkansas 5k Classic.  The women's winner, Leah Thorvilson (1:17:50) has won the race every time she has toed the line.  This marked her fourth consecutive victory for the race and seventh in the Grand Prix.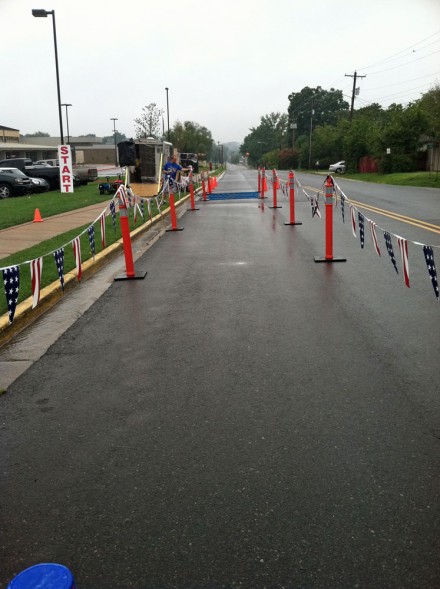 As I was chip-clipping, I had the pleasure of seeing everyone finish.  It's always great to witness the elation of capturing a PR, completing a goal, or finishing a distance for the first time.  Congratulations to all the finishers!
Grace Drake not only finished her first 20k, but it was the farthest she'd ever run.  Her dad, Josh Drake, proudly ran along side of her.  Michael "Harmondo" Harmon sped his way to a 9-minute PR.  Pat Riggs and Kristen Garrett both finished their first 20k.  Kristen recently found out she'll be running in the Nike Women's Half Marathon in San Francisco.  I know she's going to ROCK IT!
Complete Results by Mac's Race Timing
When I'm not running, volunteering, or writing, you can usually find me lurking on Twitter @absolut_zer0 or reporting on races in the great state of Arkansas for Pace Per Mile.