Last year we posted an article on the pros and cons of buying a bike from a big box store. Many of the comments we received had to do with a fear of intimidation. To quote one commenter, "Women, those with lower budgets, people who are overweight, many do not feel welcome in a shop that has a $5000 road bike lit up and enshrined on the wall…." It is unfortunate that this happens, but you can't really blame the store for showing off some of their higher end bikes. So I thought I'd talk to the employees at a couple of local bike stores who happen to be Arkansas Outside supporters about what they offer the beginner bicyclist. Local bikes shops have many bikes that are perfect for someone who wants to ride for health, travel. transportation, and fun. They have entry level cruisers, commuters, mountain bikes and road bikes. They can also help you get started by recommending places to ride and groups to ride with that are appropriate for your riding level. So don't worry about the really beautiful bike in the window with the spotlights and big price tag. Below are some recommendations from Spokes Little Rock and Arkansas Cycling and Fitness designed to get you on your way in the world of bicycling.
Cruiser Bikes –
Cruisers are great for casual riding in places like the Arkansas River Trail and the Razorback Regional Greenway. They can be ridden on the road and are often the kind of bikes you'll find at beach towns, state parks, bike shares, and rental shops. They are very simple and comfortable for short rides of just a few miles. They are typically single speed making them best for flat terrain. Some do have gearing that makes pedaling easier for hills or to get a little more speed. They are easy to maintain, have wider tires and larger seats. Many are designed with traditional male and female features such as a step through frame for the women specific models.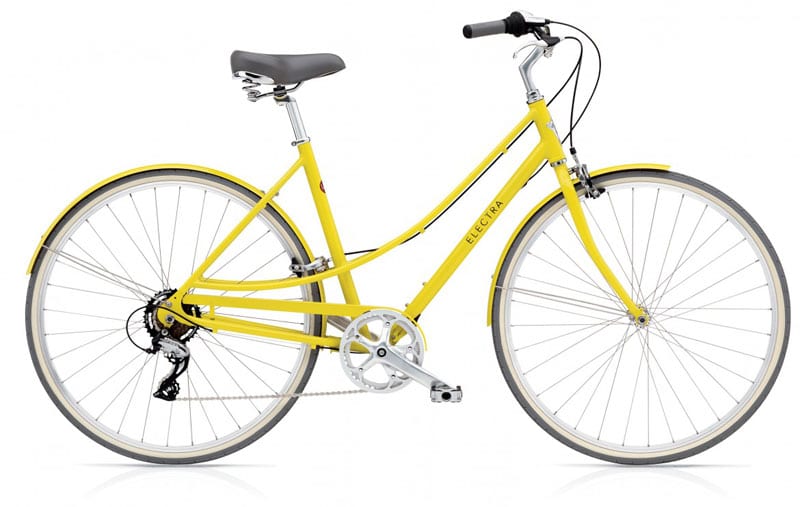 For riding around around Little Rock, the folks at Spokes Bike Shop recommend the Electra Loft 7D. This bike is available with 7 speeds making climbing the Big Dam Bridge and the short hills along the Arkansas River Trail easier. A quality component set from Shimano and beautiful design will cost just under $500 complete with being fitted and set up by the shop. The shop can show you how to shift and will be there whenever you have questions about riding the bike. This bike will be fun for short rides of 5 to 10 miles, riding around downtown on weekends to restaurants, shopping, galleries and of course our local brew pubs.
Commuter Bikes –
Commuter Bikes are designed for a little quicker ride than cruisers and often have gears for hills plus stop and go riding. The frames usually have eyelets that allow for adding racks and bags making it easier to carry laptops and more. The tires are usually a bit narrower than the cruiser bikes allowing for less drag to the road and quicker rolling. These also have a more upright sitting position like the cruiser to make them more comfortable for most riders.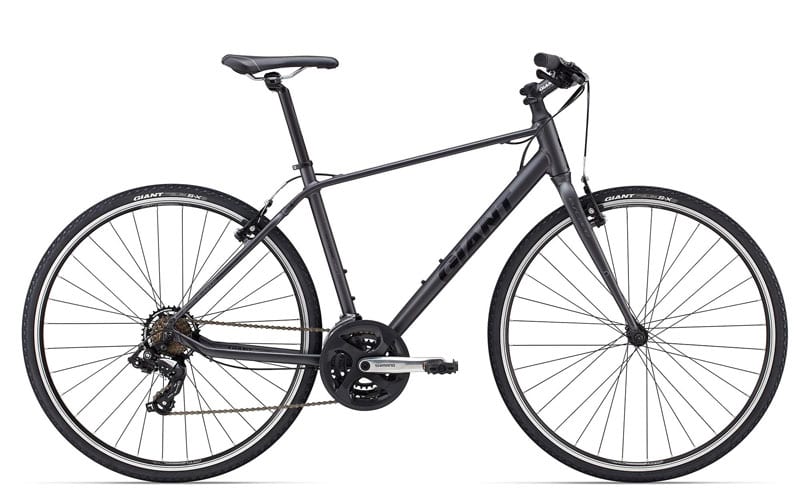 Arkansas Cycling and Fitness has a great entry level price of $360.00 for their Giant Escape. A fairly simple bike with rim brakes and 21 speeds. This bike can handle the hills of western Little Rock with no problem allowing those who live up to 20 miles away a quick comfortable ride to work or school.
Mountain Bikes –
Sometimes you want to feel like a kid again and get those tires in the dirt. Good mountain bikes are designed to be durable as they take a little more abuse than other bikes. Beginner bikes have a geometry that allows the rider to sit in an upright position similar to the cruiser and commuter bikes. The gearing tends to cover a wide range due to the constant elevation changes that accompany moderate to expert trails. Beginner mountain bikes usually have front suspension allowing the front wheel to more comfortably negotiate rocky and rooty trails. The tires are wider like the cruiser bike but are a bit more aggressive (knobby). Although these bikes do fine on the pavement they really come into their own when they get in the dirt.
Spokes Bike Shop recommends a Cannondale Catalyst 3 for a quality starter mountain bike. Utilizing the newer 27.5 inch wheels and giving you 24 speeds, this bike is ready to hit the trails. For $479.99, this bike offers a Shimano components and mechanical disc brakes for great stopping power. The bike is a hardtail meaning it has front suspension, but no rear suspension.
Road Bikes –
Road bikes are the sports cars of the bike world. Designed for long distance riding, these bikes are the faster bikes available and are easily capable of riding 100 or more miles in a day, that is if the owner is up for it. The style allows for an extended position for the rider allowing for better aerodynamics and the curved or drop handlebars allow for various hand positions for climbing, fast riding or casual riding. The smaller saddle is actually more comfortable for longer rides where the rider will be spending a lot of time pedaling while in a seated position.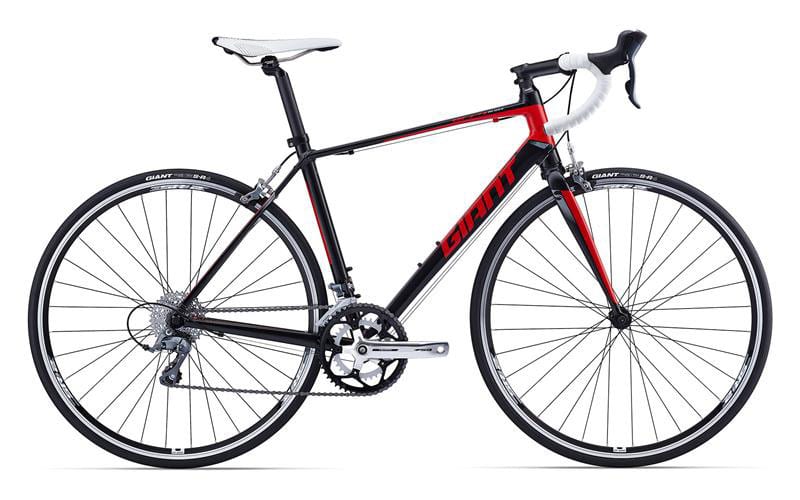 The Giant Defy 5 at Arkansas Cycling and Fitness is available at $660.00 and offers a 16 speed drive train. This bike is perfect for those long charity rides from 30 to 100 miles. It is a great after work and weekend workout bike and will be perfect if you want to learn how to ride in larger groups. It is very important for these bikes to be fitted properly to the rider, otherwise long rides could be less comfortable than a properly fitted bike.
Other Bikes –
This is obviously just a sample of what is available out there, but they are the most popular styles for the entry level rider. You'll find that there is a plethora of other models. Mountain biking alone has so many different disciplines and styles of riding that it can make your head spin. Other bikes you might see around the shop are fat bikes, cyclocross or gravel-grinder bikes, time trial or triathlon bikes, it all adds to the confusion factor on your first visit to a local bike shop. Getting around this is simple, tell them you are looking for an entry level bike and they will not be showing you those $5000 bikes in the window.
Another possibility this time of year is to ask about previous year models. When I visited both Spokes and Arkansas Cycling and Fitness recently, they had a lot of 2015 models on the floor that were priced to sell. The pricing for the models featured above are for 2016 bikes. You can also ask about used bikes. Some shops take trade-ins, particularly with kids and beginner bikes, as riders either physically grow or their skills increase.
Support after the Sale –
One of the reasons to buy your bike from a local bike shop is that they are invested in your ongoing enjoyment of bicycling. They want you to use the product and come back for repairs, parts, and upgrades. Once you've been riding the bike for a month or so, take it back to the shop so they can adjust cables that may have stretched with initial use and to check it over for safety and operation. This is also a good time ask questions about proper shifting techniques and fit issues.
One of the great things about cycling over other forms of transportation and exercise is that it can open the door to a whole new social group. Riding with friends with similar skills is one of the most enjoyable parts of any kind of cycling. Coffee rides, beer rides, workouts, distance rides, sightseeing rides, etc. are what keep people coming back to this activity since the 1800's. To ride with these folks you'll want to have a bike that works well; if it's not comfortable, if the shifting doesn't work properly or worse the brakes don't work properly, it will make for a less enjoyable ride. Do yourself a favor and spend the little bit extra to get not only a quality bike, but the support you'll need to enjoy bicycle riding for years to come.
Watch for an upcoming article on groups and free services that will help you enjoy your first rides on your new bike and meet some of the most supportive people I know. See you out on two wheels.