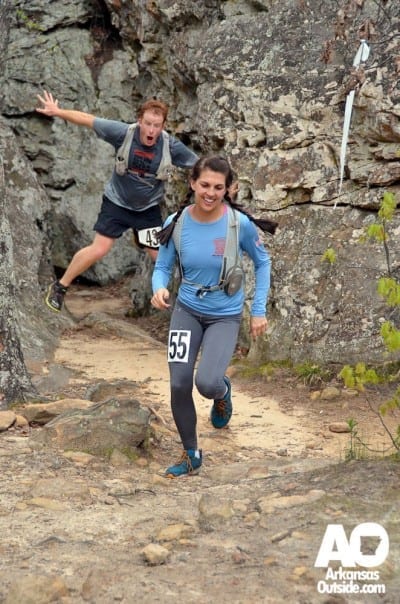 There is something special about the community that sprouts up during longer runs, especially trail runs where course markings are scarce and sometimes hidden. Rough terrain gives runners reason to work together, warn each other and to slow the pace just a bit, or sometimes a lot. This is the second year for the Hoof it for Heifer 20K trail run at Petit Jean State Park benefiting Heifer International.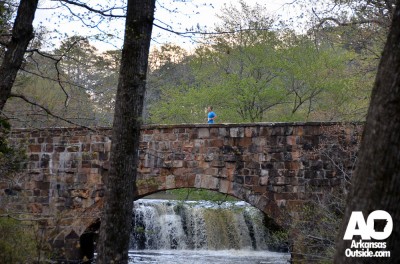 The race begins near the famous Davies Bridge, built during the years of CCC work in the park where Cedar Creek flows from Roosevelt Lake. The loop course takes runners on the Boy Scout Trail, Seven Hollows Trail, through the Bear Cave Area and on the Cedar Creek Trail including the Cedar Falls Overlook.
The abundant rock features in the park provide runners with steep steps and narrow trail lined with cliff faces on one side and the drop into Cedar Creek on the other or trail shadowed by rock overhangs dripping cool water on heads already damp with sweat. Running feet glide over the famous "turtle rocks" and through the slots of Bear Cave. Recent rains provided the creeks and waterfalls with plentiful water which proved to be a bit problematic for some runners at the Blue Hole crossing.
Aid stations manned with cheerleading volunteers at miles 4 and 8 were stocked with pb&j sandwiches, oranges,cookies, fig newtons, water, Gatorade and pickles. The last couple of miles of the course would bring runners to the Cedar Falls Overlook where our group took a moment to pause and appreciate the sight and sounds of the magnificent Cedar Falls before moving on. This last section of trail was by far my favorite, winding along the creek with more small waterfalls, incredible scenery, and the early leafing spring trees and wildflowers. In spite of a bit of pain and fatigue this was a section that earned smiles.
During the DLTEvents Arkansas Trail Run Series, I've been running with Jason since our pace is well matched. Those runs are relatively short so we came into this longer race together not knowing what might happen. Coming off a recent injury, my concern was not being able to finish or maybe being slowed to walking more than I wanted. During the first half of the race Jason and I were close together as usual and were with a few more runners in a loose group that leap frogged as we made our way through the first few obstacles of the race. This is where that community grows and on a race that could take 2-4 hours for most to complete, there is plenty of time to get to know your trail-mates.
At some point along the Seven Hollows portion we were in a group of 6 women, and Jason. Chivalry is not dead ladies, not even out on the trail. This section had a few steep jumps where Jason always made sure to lend a hand just in case. This was the norm for him the entire race, always a gentleman. By the last third of the race, our group had dwindled to four, some having moved ahead, some being left behind. Jason and I were joined by Casey and Noelle. We began to joke that our team name should be "We're Gettin' There". Jason's mantra became "no matter what,no matter how fast or slow, we're gettin' there". He has this great contagious attitude that encouraged us to slow down a few times to enjoy the view, to take in the incredible surroundings and to appreciate our experience together.
As we neared the finish and could see the Davies bridge come into view again, we heard cowbells. Casey's sister Courtney and several other friends and family were on the bridge screaming and jumping. Cheerleading squads are great. Even if they are complete strangers. If you ever want to volunteer at a race just to cheer, please do. There is nothing so wonderful as the sound of clapping or bells or cheering is at any point in a long race. Unless of course you have food too. Food is great. Cheerleaders who hand out pb&js like the volunteers at aid stations did, that's like double stuff goodness. Despite an ankle that was giving a bit of grief and a knee that was sympathizing with the tweaked ankle, I hobbled up the last hill after Casey and Jason with Noelle right behind me. Team Gettin There had got there. And I can't wait to get there again. The trails are beautiful, the volunteers were great and Heifer is a project worth supporting.
I always assumed, being a middle to back of the pack jogger, that this talkative, helpful community only happened among those not pushing for a win at the front of the pack. I learned that's not necessarily the case when our son shared his experience from the front of the pack.
Proceeds from the run go to support the good work of Heifer International:
Heifer International's mission is to work with communities to end hunger and poverty and care for the Earth.

By giving families a hand-up, not just a handout, we empower them to turn hunger and poverty into hope and prosperity, but our approach is more than that. By bringing communities together and linking them with markets in their area, we help bring sustainable agriculture and commerce to areas with a long history of poverty.

Our animals don't just provide project partners with a reliable source of food, but also a reliable source of income. Extra agricultural products, such as milk from cows or goats, honey from bees or eggs from chickens, can be both shared within the community and sold at market. ~Heifer International Website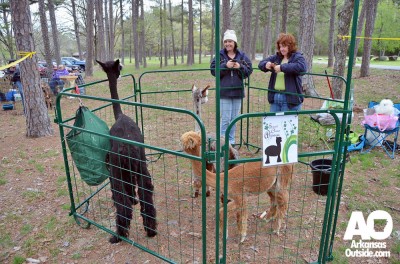 View hundreds of photos from the race on our Facebook Page, feel free to download, share, tag any that you like.