They are there at every race, the color coordinated teams with logos ablaze affront their shirts; the Cabot County Cruisers, Arkansas Running Klub, Saline County Striders, Women Run Arkansas, Rush Running, AURA-the Arkansas Ultra Running crew, Conway Running Club, Team Loco. They don't always wear matching shirts. In the case of Team Loco it might not even be a running shirt or team logo shirt, it could be a hypnotic psychedelic cat shirt.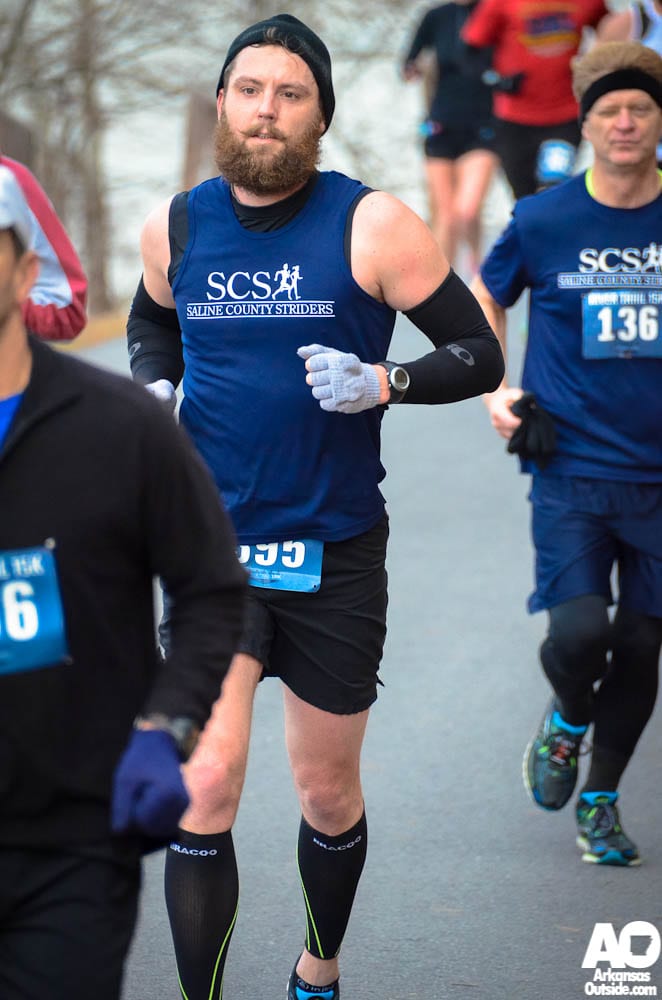 Last Saturday was the 17th running of the River Trail 15K, one of the Arkansas Road Runners Club of America Grand Prix Series races. As I was turning the corner at Tournament Drive and Soccer Drive with less than a mile to the finish, a flash of pink caught my eye. Jeffery Grove, having finished his run long before me and my running partner Skip, was cheering in runners at the corner. In short order I have Jeffrey, wearing hot pink running shorts with pink lined sunglasses and socks running along next to me. I think he had ditched the pink gloves by that point. "I really like the pink, Jeff" I said. "You can blame it on the Saline County Striders." he answered. Hang on, the SCS wear blue and yellow, how is hot pink their fault? It seems that a perk of being a member of a running club sometimes means discounts at certain running stores or online outlets. In this case, the allure of new shoes led to shorts, sunglasses and assorted accessories because it's hard to resist a discount code. This could be a cautionary tale of the dangers of joining a running club or the dangers of online shopping with a discount code at your disposal.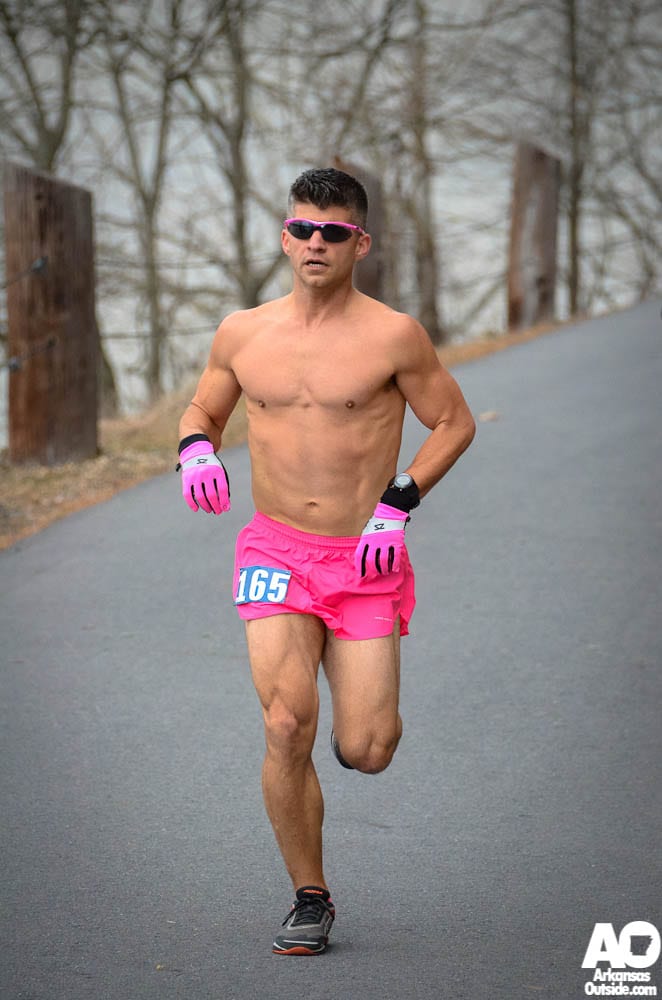 The River Trail 15K is the second of twenty races in the series. Ten of those are championship races, ten are non championship races and runners earn points for each series race they complete. Another danger of joining a running club is that you might be convinced to train, get faster, run longer, and compete in more races since the Grand Prix series awards team championships for clubs that earn the most series points. There is still time to sign up for the series and start earning points. The next Grand Prix race is the Valentines Day 15K. The calendar of races and more information about the series can be found on the Arkansas RRCA Grand Prix website. You can follow them on Facebook too. Over 500 more photos will be posted on our Facebook Page later today.