The Epic ride from Bentonville to Missouri is aptly named. Portions of the 35-mile loop present challenges to even the most experienced riders, while Mother Nature almost always does her part to give the ride more "personality."
Take, for example, the New Year's Day Epic ride this year. Riders braved freezing temperatures with a constant downpour of sleet and snow to finish the loop. Many of those same riders came back for another dose of Epic at the Spring ride hosted Saturday by FAST (Friends at Slaughter Pen Trail).
A parade of about 100 mountain bikers in full regalia made its way through downtown at about 10 a.m. Saturday to start the ride, stopping on the historic square for a group photo amid plenty of gawking non-cyclists. Participants snaked down the paved Crystal Bridges Trail and hopped on single-track at the All-American Trail.
The weather was initially friendly, with temperatures in the low-50s and cloudy skies holding back rain. Riders whizzed through the flowy single-track on Slaughter Pen and got a taste of the super-fast downhill trail.
A creek crossing left a few people with wet feet as they hit the paved Wishing Springs Trail, which also serves as a portion of the Razorback Greenway. A highlight of the ride was the chance to try out Progressive Trail Design's new work at Lake Bella Vista. The trails have some tricky, technical sections, short but steep climbs and lots of native stone features to ride over. Some sections hug tightly to overhanging cliffs dripping cool water onto riders. My favorite spot is a curvy wooden bridge that follows the outline of a rock face about 50 feet up in the air. I saw many riders take a detour from the green-marked Epic route to explore the new trails further.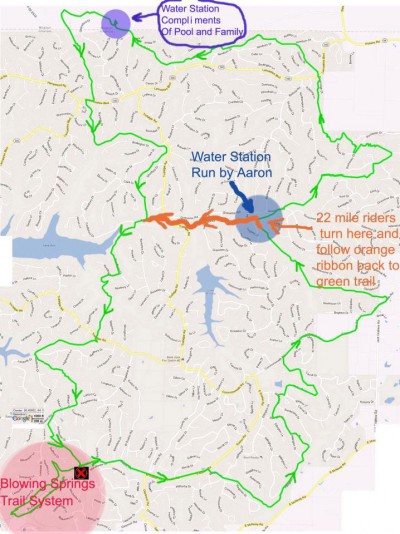 The ride is an adventure, not a race. Riders stop to explore, talk or break out that Powerbar. Few trail intersections were free from riders enjoying the cameradie and taking a breather. Riders who wanted a less challenging adventure had a shorter option at 22 miles, but plenty of joyriders made their own routes.
A few flowy miles through Blowing Springs Trail in Bella Vista and cyclists left the carefully groomed trails and entered the more "rustic" sections of the route. That's about the time the rain started falling. A warm but persistent rain fell for about an hour as riders made their way over slick roots and logs on the hand-cut trails. Over the next 10 miles, mountain bikers rode trails colorfully named Crater Hole, Luke's Corner, Funnel Cake and the Flume. They also passed by "Deliverance," a rather creepy looking cabin in the middle of absolutely nowhere on the way to Missouri.
The halfway point was at FAST member Greg Pool's land, where drinks, snacks and a spot to rest awaited riders. The clouds were replaced by sunny skies and nearly 70-degree temperatures by 1 p.m. Recovered cyclists set out for the last half of the loop on sweet hand-cut single-track lovingly crafted by Ozark Off-Road Cyclist Chuck Woods before facing a monster climb near Lake Ann in Bella Vista.
One thing FAST members know how to do as well as they ride is have a good time. A post-ride craw-fish boil with beverages and live music awaited cyclists at the old Arkansas Democrat Gazette building off the square.
The Epic ride has changed dramatically since its start five years ago. FAST president Gary Vernon said that in the days before Slaughter Pen was built, local cyclists would ride anything off-road that even resembled a trail. Much of that included creek beds and old jeep trails around Bella Vista. About 30 riders decided to turn those trails into a route from Missouri to the Bentonville square with the first Epic ride five years ago.
Here is a video from the ride…

The addition of Slaughter Pen and Blowing Springs fleshed out the route, but the "nasty stuff" as Vernon calls it is what makes the ride truly Epic.