(Colin Hall, Race Director for the Fighting Red 5K this past weekend sent us some information on just how the race went.)
On October 5, 2013 the Inaugural Fighting 5K was held at the Big Dam Bridge in North Little Rock. The weather was cool, cloudy, and misty but nothing seemed to have dampened the spirits of anyone that day.
Lisa Fisher of B98 kicked things off with a rundown of the race. All proceeds went to the UAMS Cord Blood Bank of Arkansas. This is a program by which mothers can donate umbilical cords so that stem cells can be harvested to treat and cure many blood cancers. Nearly $5000 was raised.
Attendees also had the ability to get "cheek swabbed" to see if they match someone in need of a stem cell transplant. Forty-nine people were swabbed. The swabs have been sent off to start matching with possible recipients. (kits may be ordered free from Delete Blood Cancer)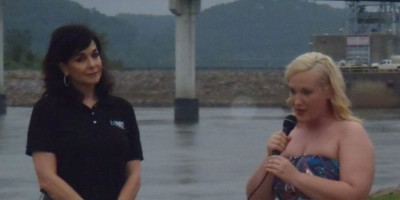 Kirk Grynnald age 42 of Crestwood, KY was the top male runner with a time of 20:11.
Amy Cole age 37 of Little Rock was the top female finisher with a time of 22:50.
Timing was done by local company Set the Pace and results can be found here.
Other door prizes given out included homemade quilts from Judith Jones, restaurant certificates from Ciao Baci, running shoes from Gearhead Outfitters and Certificates for Osborne Yoga studio and Crossfit of Little Rock.
Special thanks to Gearhead Outfitters for the bibs and packet pickup, Image1one for the sweet tech shirts, Cancer Friends of Pulaski Heights United Methodist church for the balloon release, UAMS and all our great sponsors, friends, family, runners, and cancer survivors who came out.
I hope to see you all next year to run, swab, and save more lives. Thanks from the bottom of my heart.
Colin Hall
-Race Director
Photos from the race are available on the Arkansas Outside Facebook Page.