We asked Alicia Snyder, Crew Chief for Kurt Searvogel in his attempt to set a new highest annual mileage record, a few questions about their life on the road after 10,000 miles in 50 days. Kurt is a well known local athlete from Sheridan, Arkansas. He's well on his way to owning this world record.
---
Imagine riding a double century every day and burning 12,000 calories a day for a year. Hard to imagine or comprehend, right?
It's been 50 days so far and Arkansan Kurt Searvogel, also known as Tarzan, has passed the 10,000 mile mark. Only 70,000 more miles to go to break and set a new world record. This challenge is called HAM'R – Highest Annual Mileage record. The long-standing record was set 75 years ago by Tommy Godwin of the UK and has been untouched since.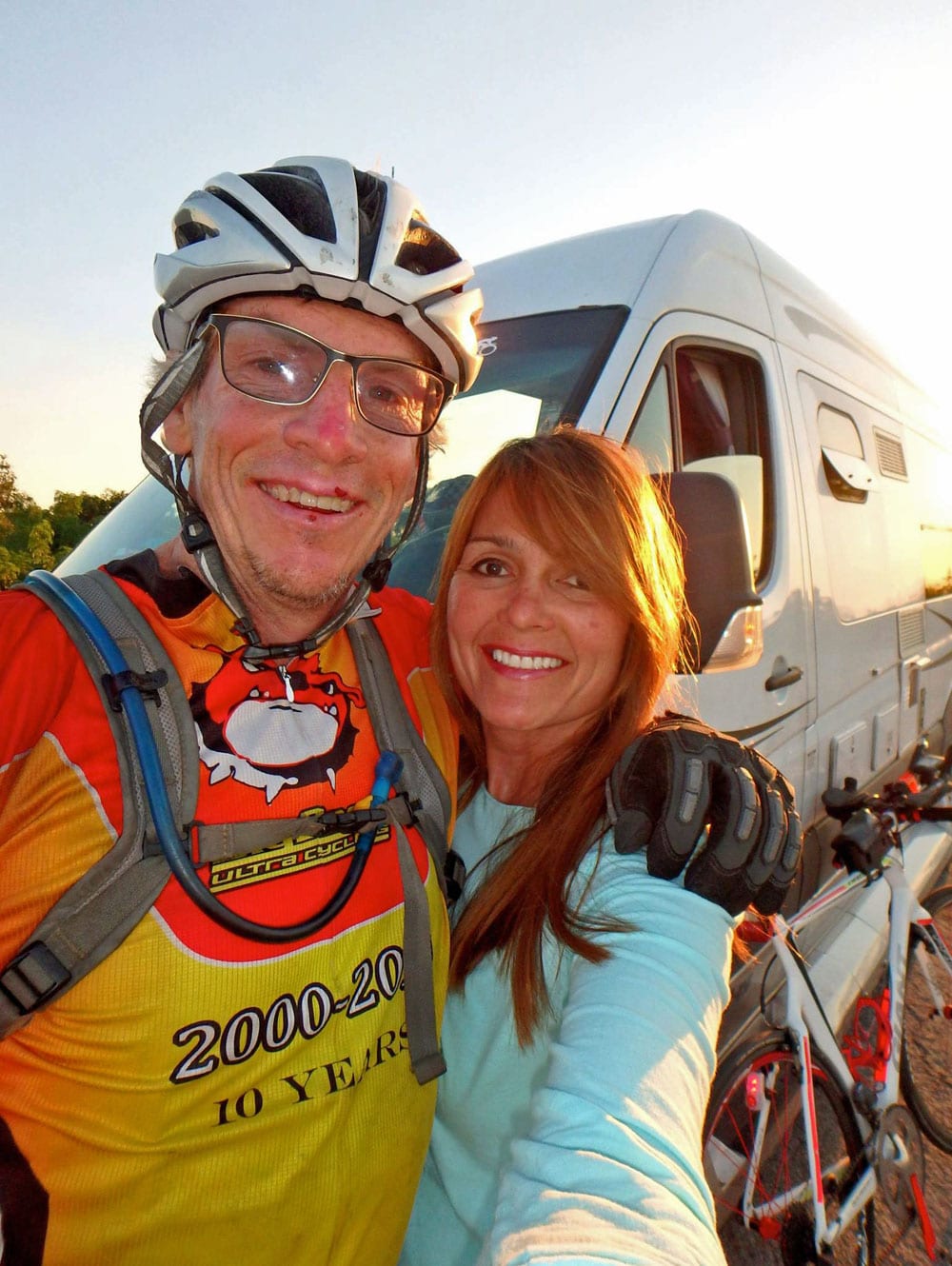 Why did Kurt decide to do this?
Kurt wanted to do a year-long cycling project and while trying to figure out what to do, the rules were finally put in place to go after the highest annual miles record, now known as the HAM'R. This was the obvious next step for him since he has been competing for years in ultra cycling, mountain biking, adventure racing, triathlons, duathlons, iron man, etc… he is motivated by the physical challenge and he thrives in competition, he loves to compete.
Why did he decide to start in Florida?
He is a bit of a Prima Donna. "I'm the hardest working lazy person you know." Kurt doesn't like to be too cold or too hot. He doesn't like headwind or hills. He likes it nice. So far, all of Kurt's pedaling has been in Florida. The weather is warmer, the roads are flat with long straightaways and he uses the wind to his advantage. In fact, he goes with the wind. For two hundred plus miles, Kurt keeps the wind at his back or at a cross wind. This means he rides all over the state. It's like a job for him. He just rides. He checks the wind every morning and makes a plan and the plan almost always changes, wherever the wind blows. Kurt is smart in his tactics and strategy. What makes the most sense and how can he enjoy what he is doing? It's about mileage. Why make it a suffer fest if it doesn't have to be, it's hard enough… don't you think?
What has been the hardest part so far?
The biggest issue so far has been equipment failure. He's already gone through two bikes. On one, the fork snapped as he was making a turn, and then on another the rear triangle cracked. He has a quiver of bikes and he does ride them pretty hard. Flat tires have also been a regular occurrence. He's gone through about ten tires and twenty tubes so far. Not to mention two sets of new cleats for his shoes. Traffic has also been a problem. He's been hit twice, without series injury.
What does Kurt think about with so many hours alone in the saddle?
I ask him all the time what he thinks about when he's riding and all he can say is "Lots of things". Kurt is very focused on getting the job done. This is like going to work for him. He just gets on his bike and rides — fast! I see it. Day after day he just goes for 10 – 12 hours straight. Very little time off the bike. Bathroom break, grab some food, new bottles, sunscreen and he's off again. He is always in "GO" mode except on race days, then it's "GAME ON".
What kinds of bikes is he using and how does he avoid saddle issues?
While most of his riding is done on a diamond frame (upright road bike), he does alternate between road bikes and a bent (recumbent). The UMCA – Ultra Marathon Cycling Association decided on the rules and recumbents were allowed (must have two wheels). Kurt wasn't really a recumbent rider before this event, although, he did ride a few times and he owned one for a short time. Being in the saddle for 200 plus miles a day causes all kinds of problems, besides golf ball size saddle sores. Nerve damage is common and may get to the point where it is irreversible. He likes being a man and as Kurt would put it, "I wanna keep my junk." He's actually having fun on the recumbent and it has had its own learning curve as far as using different muscles. He's seriously thinking of racing with the bent in an upcoming race… we'll see. The overall benefit to alternating between a diamond frame and the bent is saving his bottom.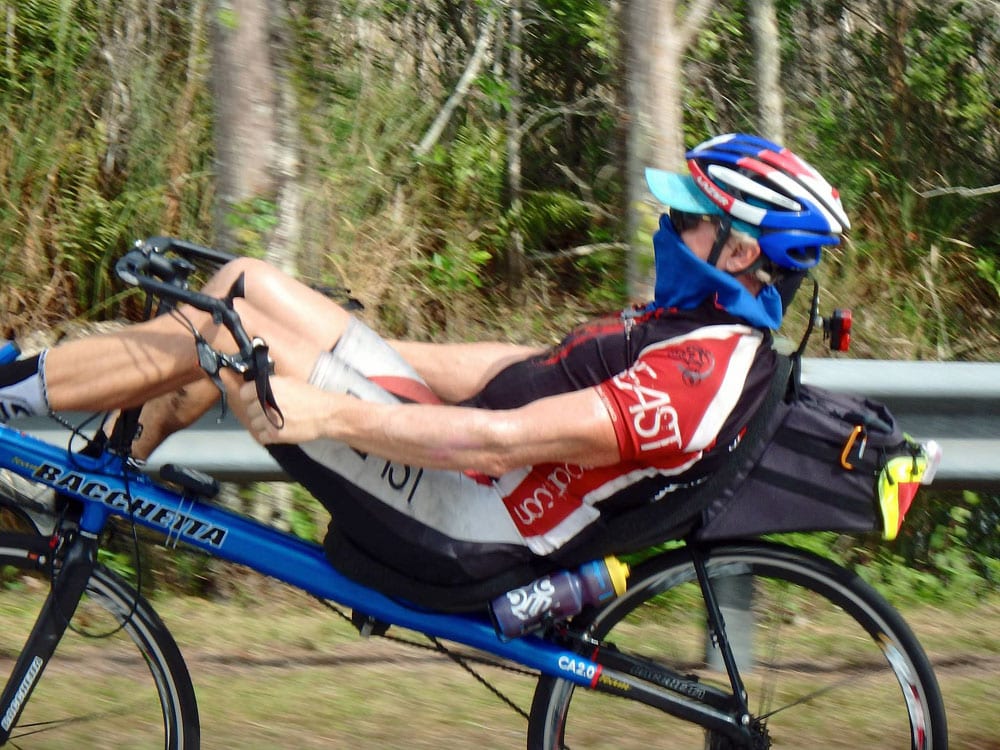 What are your days like?
It is just Kurt and I. I drive the Sprinter van all day tracking him down with SPOT tracker and a GPS. Driving 200 – 250 miles a day is mentally draining, not to mention all the food, meals, constant grocery shopping, bike repairs, flat tires, bike repair shops, van maintenance, laundry, searching for an RV park or hotel every night… always on the run. The first two weeks I thought I was going to die. But, humans are amazing, we can acclimate to anything! Constantly on the move and traveling, when there is a problem with a bike hunting down a bike shop to do the repairs becomes urgent and the most stressful. Luckily, we have found the best bike mechanics in Florida and they immediately bump Kurt's bikes to the front of the line. Then, it's back to the mad dash and frantically I rush back to find him again with his fixed bike. I still think on some days I'm going to die at this hectic pace, but I love it!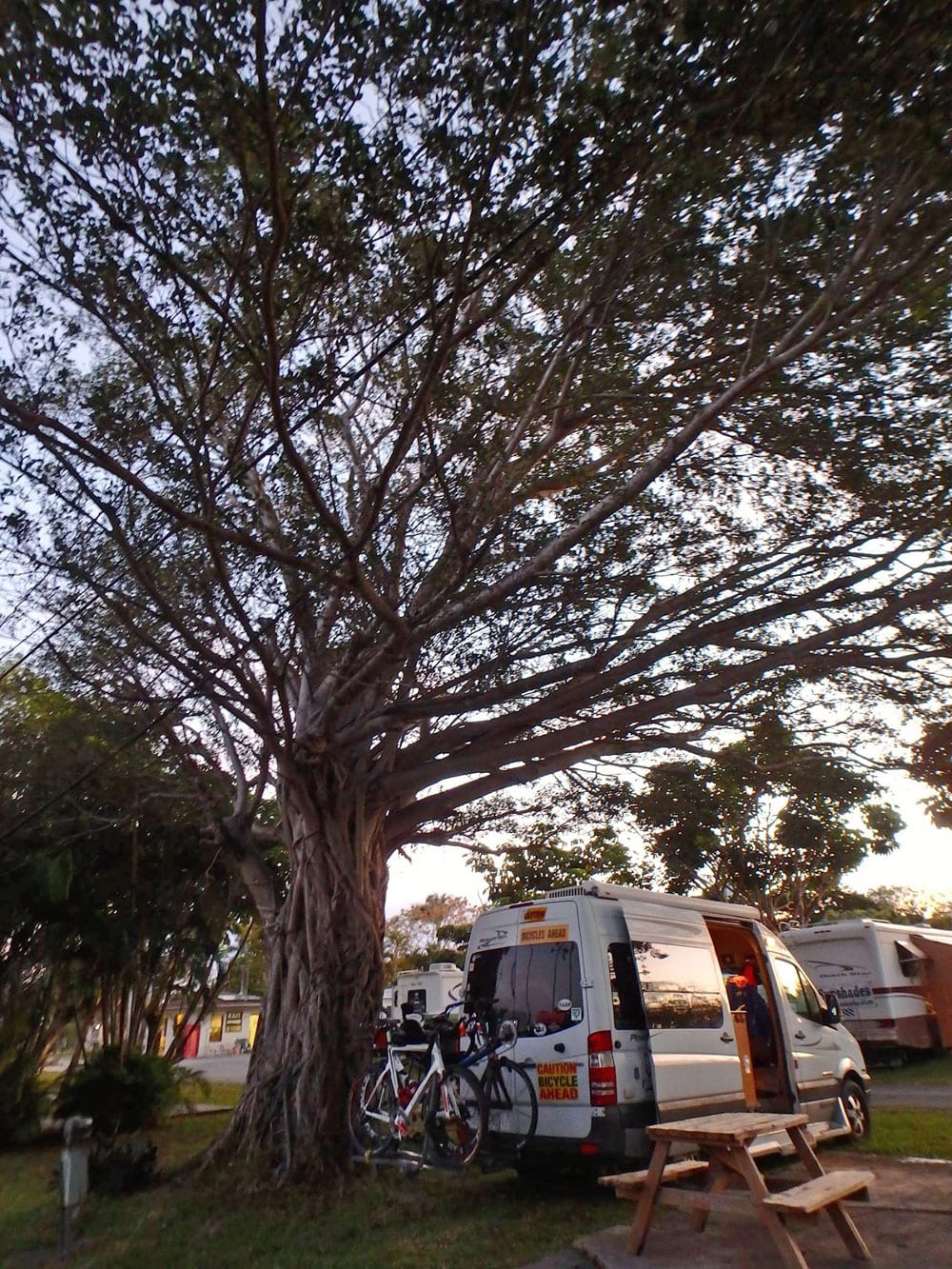 What does Kurt eat?
He eats everything and anything he wants, whatever he craves and he eats a lot! He has two breakfasts which consist of eggs and sausage for the first, and two egg McMuffins from McDonalds for the second. Then a snack would always be a package of Pop Tarts. Lunch is either two double cheeseburgers from McDonalds or a foot long sub sandwich. Another package of Pop Tarts as a snack or a Little Debbie Swiss Roll. His last meal is dinner and most often it's a large meat lovers pizza – the whole thing. He fuels all day with around six SPIZ energy drinks and at least two electrolyte drinks. Starbucks coffee in a can and Rock Star seem to be his favorite boost when he needs it. He gets plenty of calories and still has managed to lose at least 25 lbs. And, then there is beer. Alcohol was a controversy for a short time as far as the interpretation according to the UMCA, but was soon cleared up.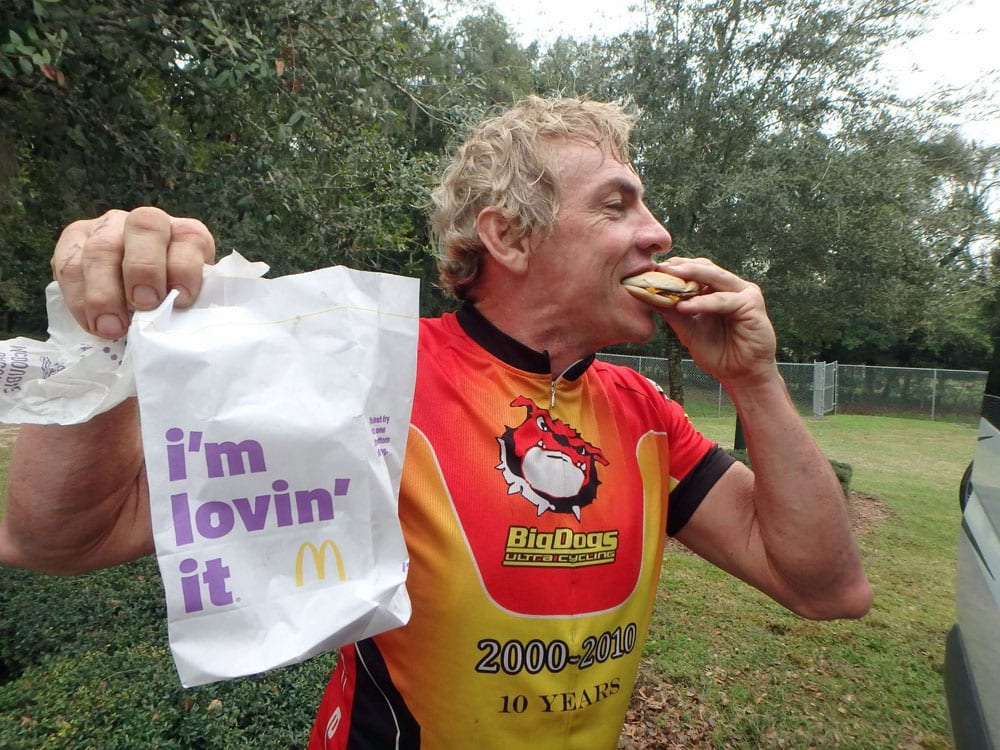 So in the evening, when he is all done I ask him "How many miles?". He tells me and I hand him a recovery drink and his reward for the day — an ice cold beer!
If you'd like to keep up with the daily mileage, check this link every few days. Photos courtesy of the Tarzan Rides the HAM'R Kurt Searvogel Facebook Page.