How many laps can you do on a 10 mile trail in 6.5 hours? That's the question to be answered in the Spa City 6-Hour Marathon Mountain Bike Race. This is the only race of its type in the Arkansas Mountain Bike Marathon Series.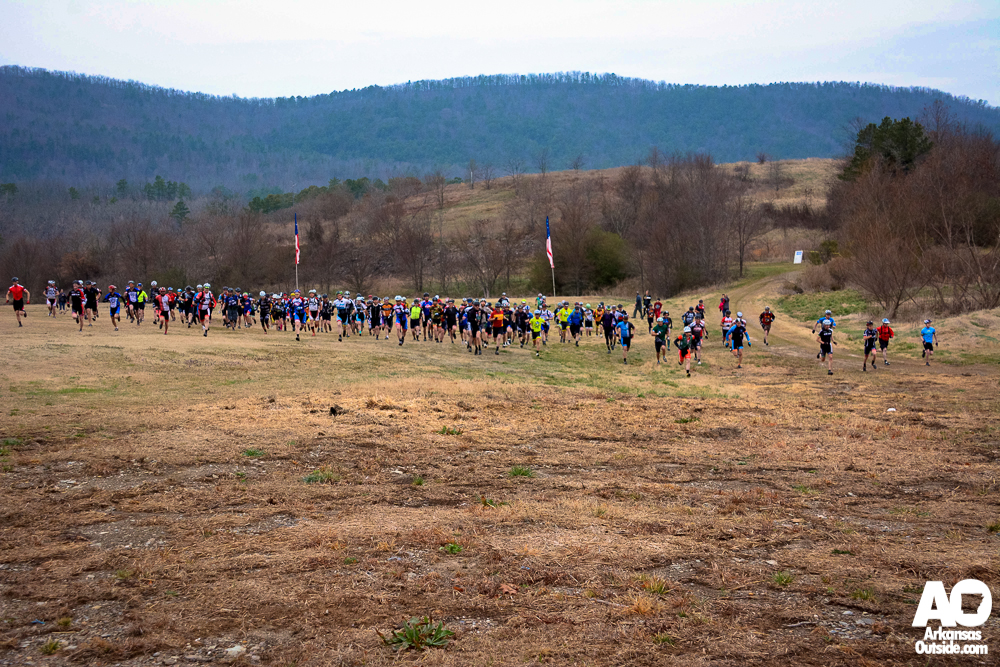 The race utilizes a Le Mans start, that is riders stand a good distance away from their bikes at a starting line between two flags at the bottom of a large, grassy hill. When the race starts, they run to the bike racks at the top of the hill to quickly grab their bike and start pedaling. To give the 200 participants even more time to claim their race position, they ride through a section that includes some pavement, gravel road and a climb up a wide swath before finally descending to the singletrack which makes up most of the course. For the next 6+ hours they are riding, lap after lap on the course.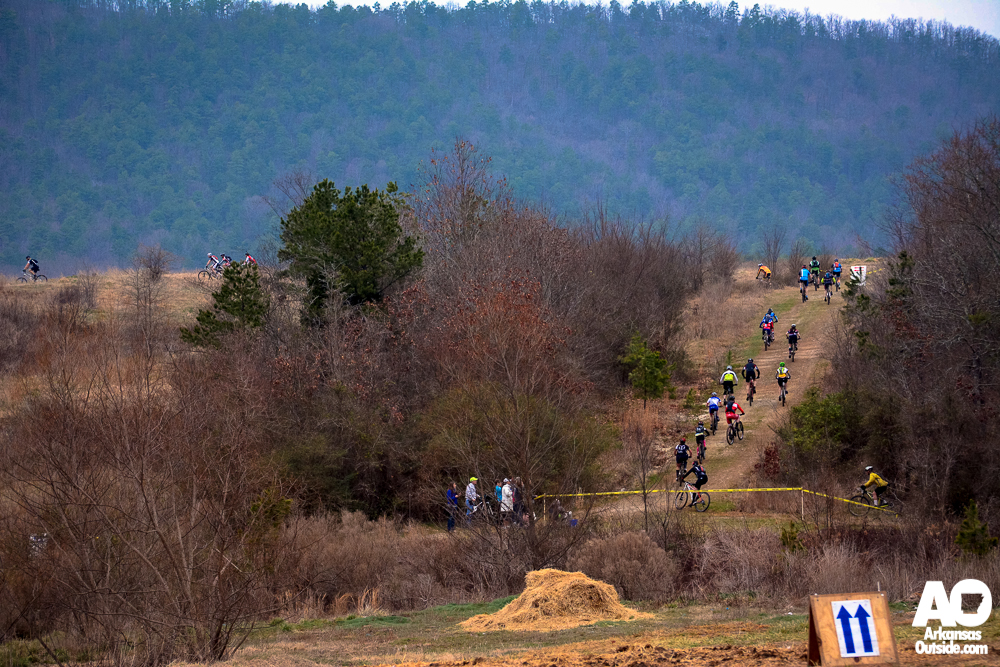 The race at Cedarglades Park near Hot Springs has been held for 8 years according to race director Fred Phillips of DLT Event Management. Over the years the trail has gone through many changes; reroutes have taken out a dangerous downhill section, recent logging operations have caused other reroutes yet it remains one of the top trails in the state. Weather for the race was perfect for the racers with overcast skies and temperatures in the 50's. Rain was in the forecast but luckily held off until later.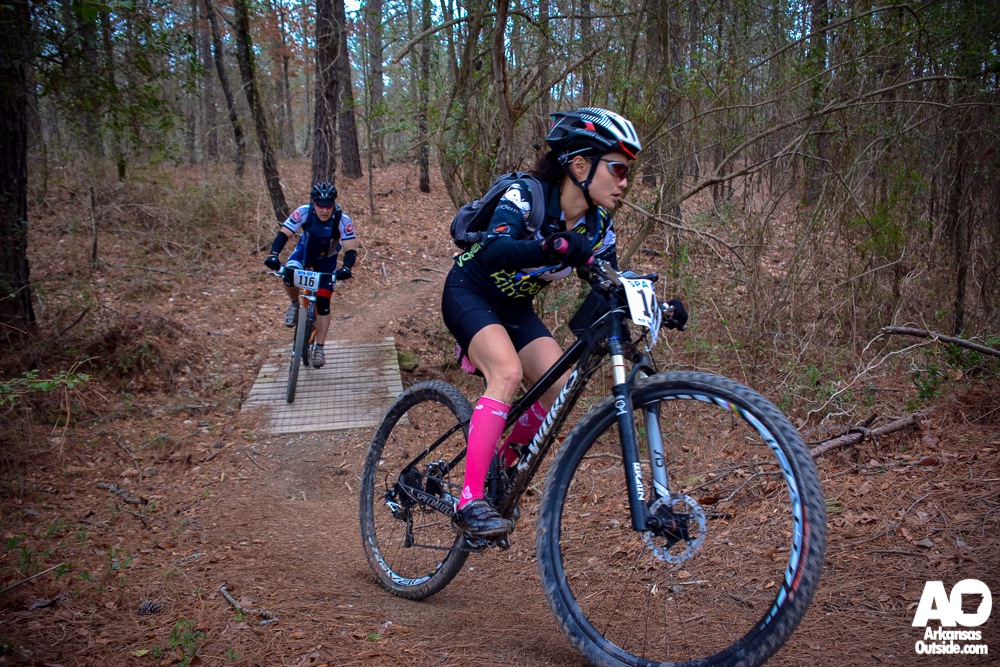 Don't think you have what it takes to ride for over 6 hours straight? Trick a friend into helping. Teams of two race in a separate division switching riders on each lap. It's a great way to get into endurance events with only half as much pain.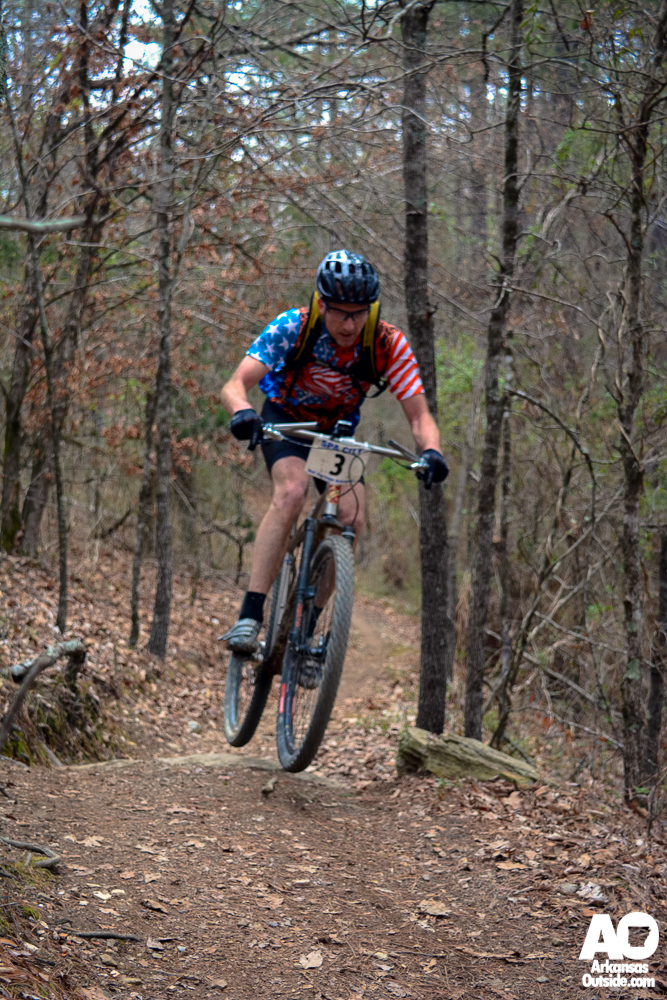 Many racers had support crew and a feed area was set up just ahead of the line where laps were counted. An official's table was set up just beyond the line and as cyclists pass they are required to touch the table and call out their race number before going on for the next lap. Racers with the greatest number of laps rank the highest and all the racers within that lap total are then ranked by time. To qualify for a finish, racers must be on the course for a minimum of 5 hours but they have to be through their final lap by 6.5 hours. Yes, this means math is involved. If a rider has finished all the laps they feel they can complete before the 5 hour mark, the strategy is to take time getting across the line so they come in after 5 hours. The racers need to have a very good idea of how long it takes them to complete a lap. For example, if they come in at 5.5 hours they need to know that they can complete a lap in less than one hour if they plan to take one more lap. If they don't make it back by the 6.5 hour mark, they are disqualified. It can be a tough call knowing that by then legs and lungs are tired and there is no time for a mechanical.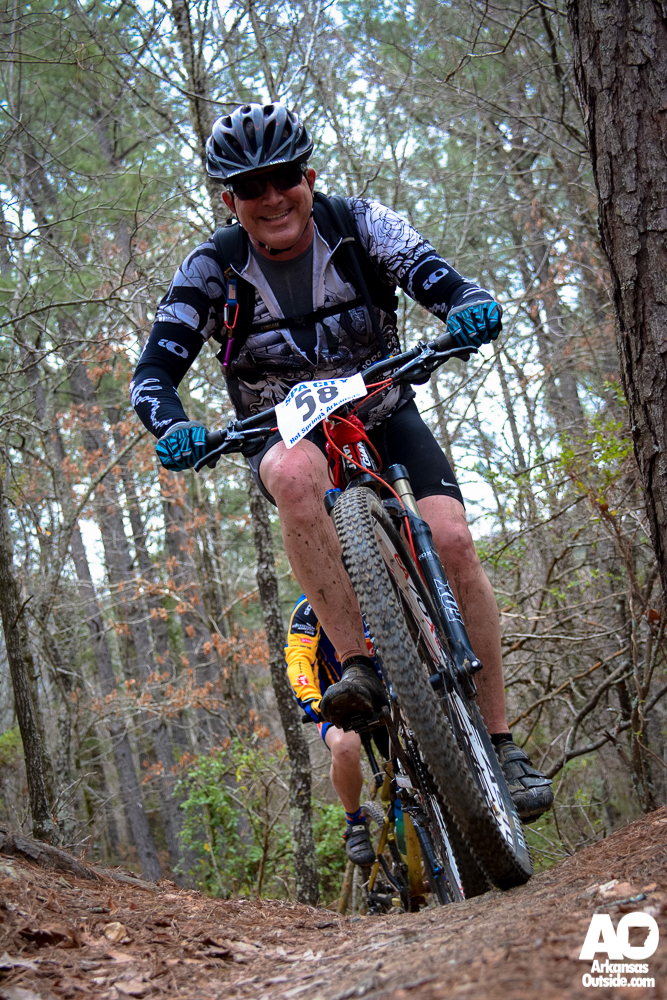 Announcements are made over the loud speaker on a regular basis letting racers and support teams know what time constraints they are under. Spectators try to help tired racers understand that they need to hang out in the feed zone until the 5 hour mark before "finishing" the race. Those who look strong are encouraged to go for another lap. For the highly competitive riders, taking that last lap could give them the podium or leave them disqualified.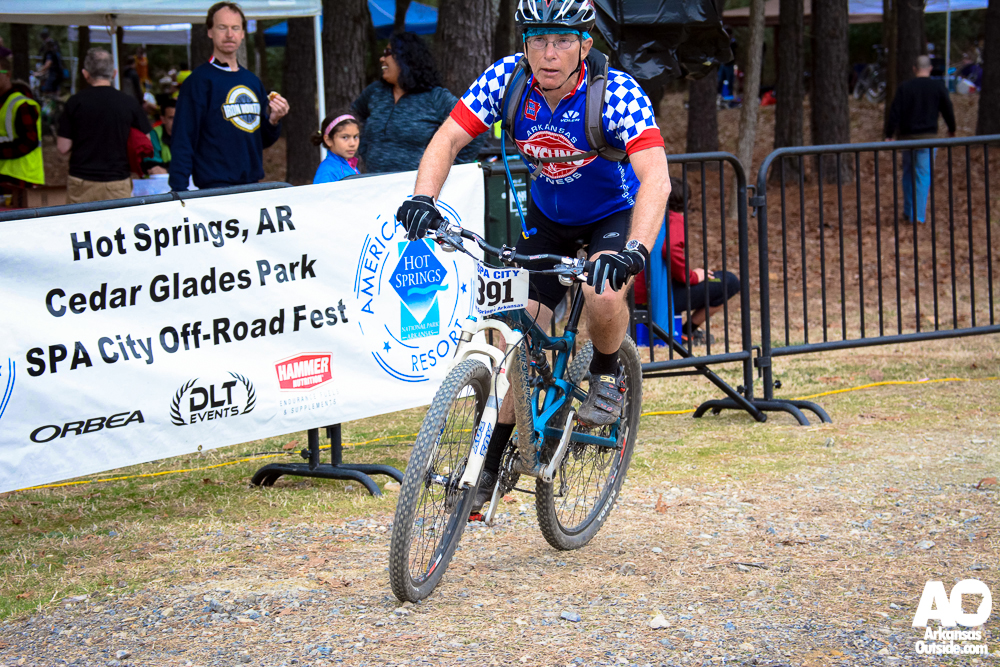 Throughout most of the afternoon, hot dogs, chili and baked potatoes were available to everyone at this year's race. Once the 6.5. hour time limit was passed, organizers spent about half an hour tallying results. By the time they were ready to present awards the skies opened up and the rain fell. Race Director Phillips invited all those waiting to join him on the covered stage and everyone had to get up close and friendly as the awards were presented. Another 6-Hour race, in the books. Stay tuned for the Ouachita Challenge, next up in the Arkansas Marathon Mountain Bike Series.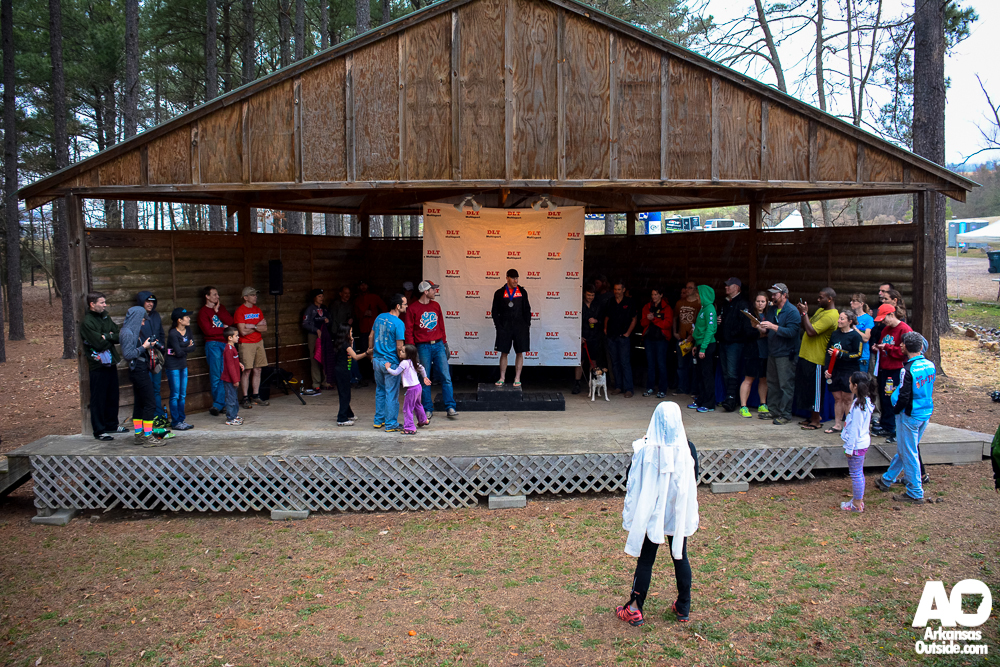 Over 1000 photos from the race are now posted on our Facebook Page in two albums: Part 1 and Part 2