I really wish there was a way I could figure out how much money has been raised for good, worthy causes through events hosted along the Arkansas River Trail. The Big Dam Bridge opened in 2006, but much of the rest of the trail had already been in place for years. Runs and rides have been hosted on the trail and the connecting bridges for well over a decade, almost every weekend. It would be great to have an estimate of the charitable impact of the Arkansas River Trail and its various connections and recreational facilities through its almost 100 mile length.
This past weekend Lisa and I took part in one of these local charity rides, a very special one. The MS 150 supports research working towards finding a cure for Multiple Sclerosis and to address the challenges of everyone affected by MS, a chronic, unpredictable disease of the central nervous system. The story of the MS 150 is over 30 years old, starting in Minnesota and expanding to all 50 states. During that time, riders in events across the county have raised over $1 billion. While great strides have been made to help people living with MS and their caregivers, it's not enough so cyclists keep riding.
Besides being a great cause, the Central Arkansas MS 150, the Rock 'n' Hot Ride, takes cyclists through the beautiful foothills of the Ouachita Mountains. Saturday morning we lined up with almost 200 other cyclists at the offices of Garver Engineering in North Little Rock to take on the two day ride. Our challenge would be almost 70 miles for each of the next two days. We, of course, had not trained.
Day One
Mingling with follow cyclists from all over including some very nice ladies from Texas, we got our overnight bags loaded in one of the support trucks. On this trip we would only need a couple of water bottles and a little emergency food. Breakfast was served courtesy of Sonic; breakfast burritos and coffee would be our initial fuel for the day. The temperature was in the cool lower 60's and the forecast was for beautiful, fall-like weather for the entire weekend. We got our numbers pinned on, applied some sunscreen and after some last minute instructions and the National Anthem we were off.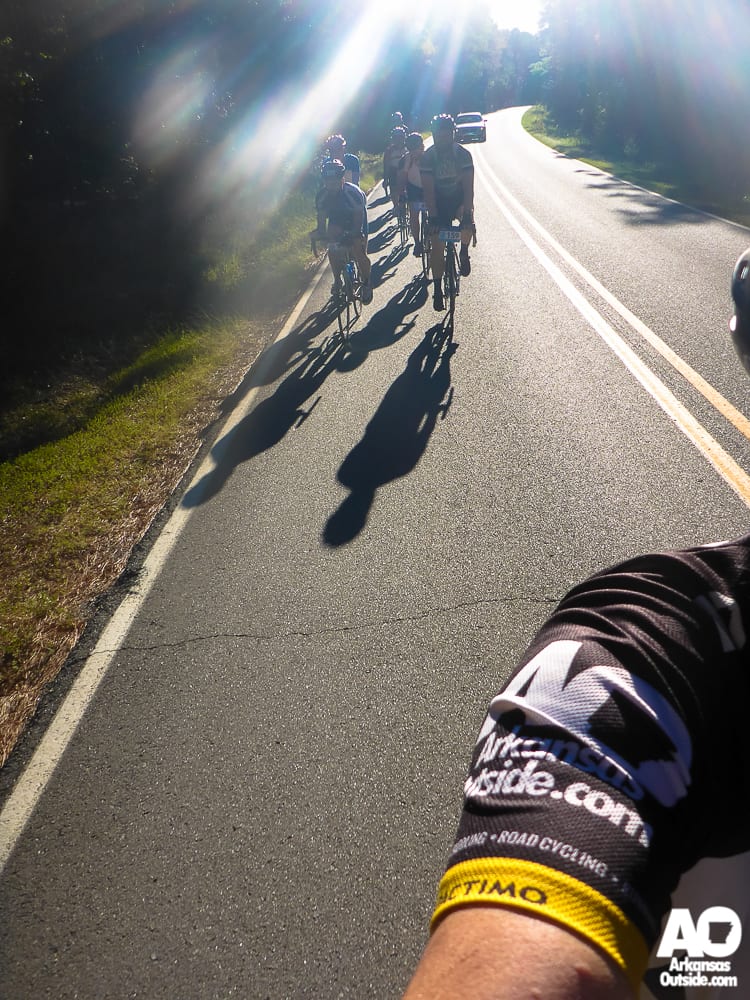 The route started with the wide empty roads of Northshore Park before dropping us on the Arkansas River Trail. We soon found ourselves crossing the Big Dam Bridge to the Little Rock side and heading for Two Rivers Park. The beautiful morning brought a lot of other riders, runners and walkers to the trail and we carefully negotiated our way around them. Once out of Two Rivers we made our way down Pinnacle Valley Road to the Arboretum parking lot at Pinnacle Mountain State Park for the first of several aid stations. We were only 12 miles into the ride and we felt good. The aid station was well stocked with helpful volunteers and plenty of food and drink including delicious no-bake oatmeal cookies, one of Lisa's favorites.
Back on the road the route took us through the park to highway 300 then down to Barrett Road. Casual riding was the game for the day and we enjoyed the empty roads and beautiful countryside. Crossing highway 10 we hit Garrison Road getting a little climbing in before arriving at Kanis Road and another aid station. Here, volunteers were anxious to hold our bikes for us while we perused the various food offerings including wonderful little chocolate/peanut butter balls, good energy food. We were at about 24 miles.
The ride to Paron passed by several small farms; winding through this countryside is a favorite route among local cyclists and the light traffic made for a very pleasant trip. At Paron we picked up the next aid station, complete with indoor plumbing at the local school. Besides the normal fair of bananas, cookies and pickle juice, they also had peanut butter and jelly sandwiches and turkey and cheese sandwiches. It was early for lunch but I wasn't going to pass up the opportunity for a PB&J. Paron was the halfway point for the day.
The ride down highway 9 was quick as we played leapfrog with other groups. Care should be taken on these rides as some of these groups came together for the cause and may not be experienced at riding with each other or in a pace line. We were soon at the next aid station where bike racks were available and plenty more food and drink. We had a short section of highway 5 left before we would enter Hot Springs Village. Things were going smoothly with about 20 miles left to go.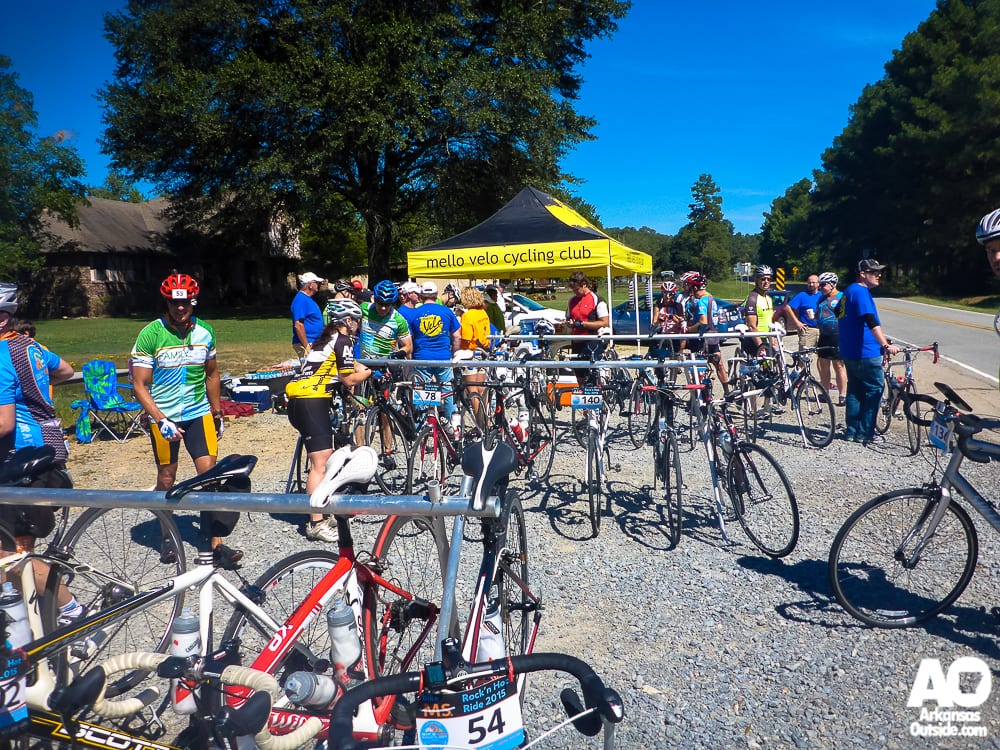 Turning into Hot Springs Village off the highway is nice; bike lanes appear, traffic slows and before long we were at another aid station. The Raymax Realty group in Hot Springs village opened their office bathrooms for the riders, a welcome luxury on a long ride. I thought this would be the last one, but was informed there would be another one about 6 miles from the finish. I was thinking that was a little aid station overkill when we got back on the road. I was wrong.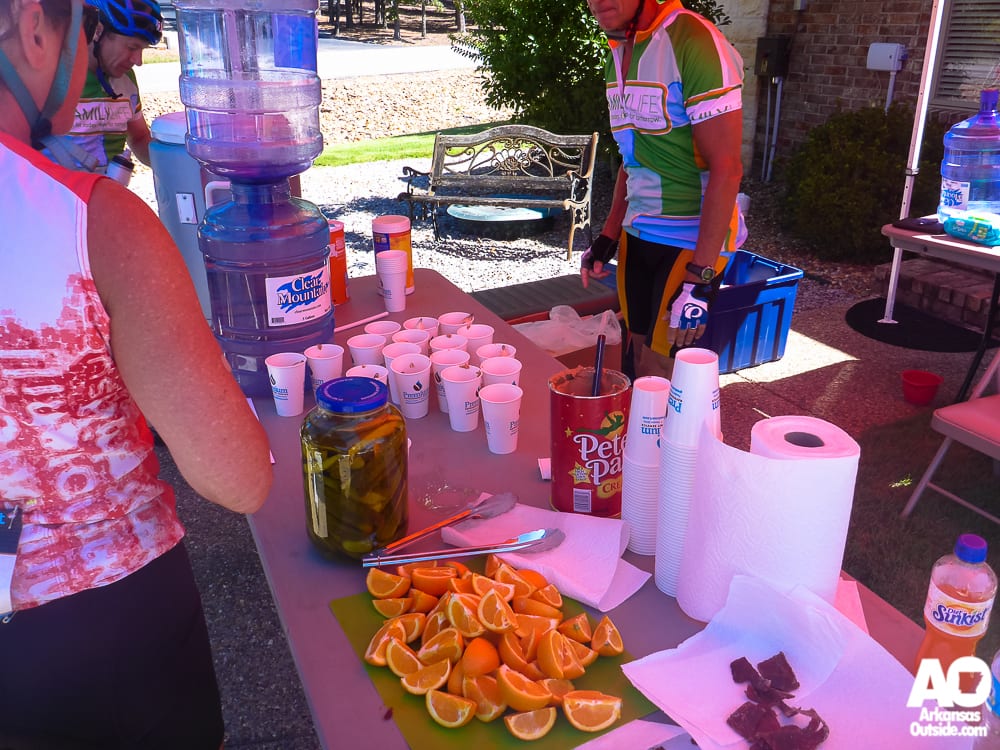 Hot Springs Village is nestled right into the serious part of the Ouachita foothills. The easy rollers of the past 58 miles turned into torturous, short, punchy climbs and longer gradual climbs that sucked what was left of our energy. We came to that final aid station wanting to just pass it by, to get on to the finish, but kids standing at the side offering leis to go around our necks beckoned us and we stopped only long enough to be adorned with these Hawaiian custom of friendship and greeting before heading to the finish.
The signposts through the village gave a mile by mile countdown to the finish. We pushed on looking for that next post, living for that next post until eventually we were at the end. We entered the finish area with a group of other cyclist to cheers from the crowd of faster riders, volunteers and locals that was gathered. For a little while, we chatted with other riders, meeting a couple of guys who happened to be in Colorado about the same time we were last month. We traded stories and looked at photos while snacking on chips and salsa and enjoying a beer. Lisa debated whether or not to take advantage of the massages being offered and decided to skip it. An hour later she would swear that no offer of a post ride massage should ever be skipped again.
We were checked into the Village Inn Hotel right next to the finish line and quickly showered, changed clothes and went back to the finish line party, complete with food, water and beer. The beer guy was even handing out cigars. This is the way to finish a ride. After cheering a few other riders in and hanging out with friends new and old, we decided a nap would be a good idea before evening festivities.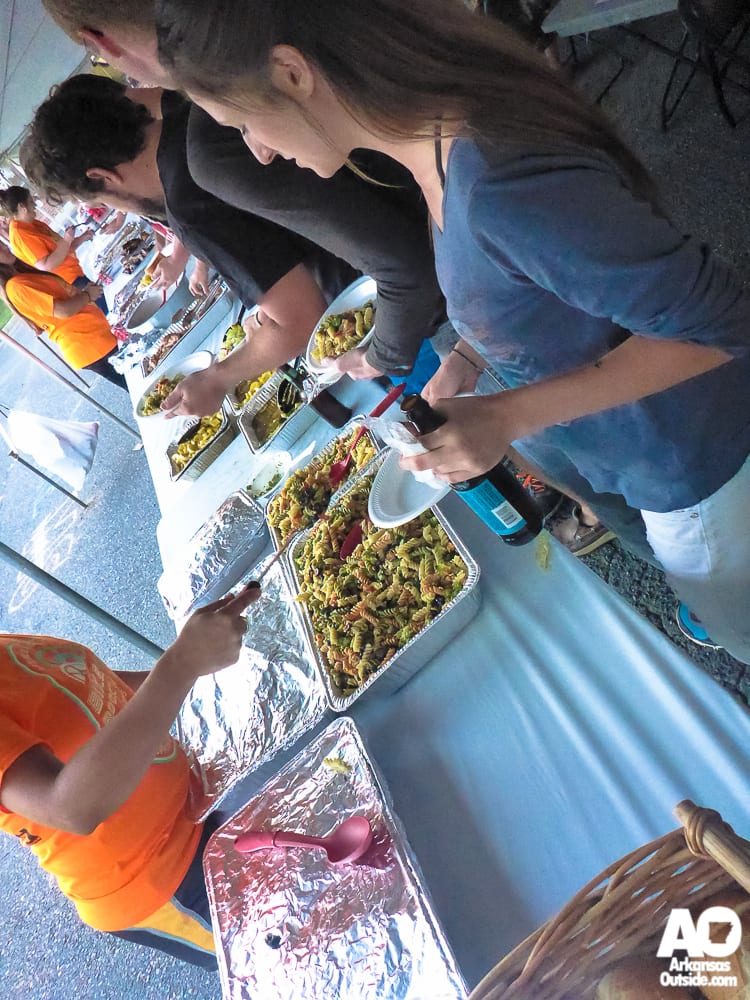 Organizers erected a large tent with tables and chairs, a DJ played music and dinner was soon served. Pasta salad, grilled sausages, chicken, salmon, they seem to have everything covered, even a large selection of desserts. There was a ceremony recognizing several of the MS society employees and volunteers who work hard year after year to support this ride. The staff and volunteers who make this event happen deserve recognition and applause as do the riders who work each year to raise money and awareness.  It was a wonderful evening but by 8 pm it was winding down as riders left to get more rest before the next day's ride.
Day Two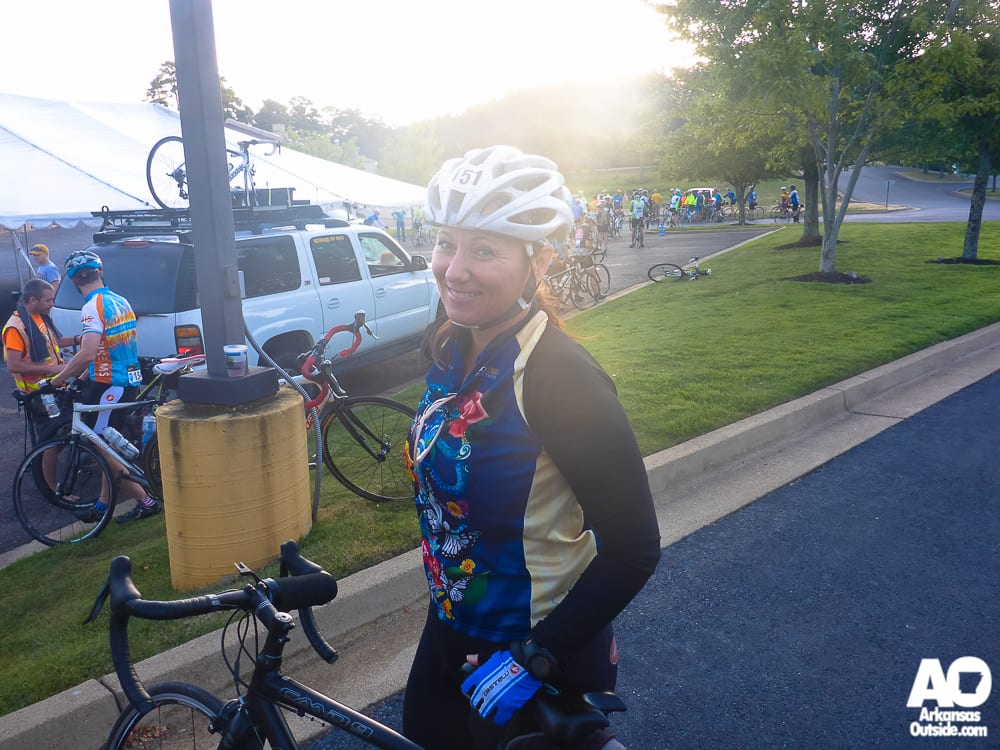 The next morning came early and we enjoyed another breakfast courtesy of Sonic before taking off. Being able to stay close to the finish/start line is a bonus. Just steps away, there was little stress getting the day started. Even those that stayed in places down the road had shuttles at their disposal which seemed to work very well. I have to say that the return trip seemed totally different than the day before. Because the last few miles of our arrival seemed so difficult, Lisa decided that she needed to get through the village as fast as possible and put those hills behind us and she led out at a fast pace. It seemed like no time at all before we blasted our way through there. All the hills that seemed so daunting in the fatigue of the day before were handled with relative ease. The reverse route through the countryside was just as beautiful as the day before. Although our muscles seemed fine, the lack of time in the saddle recently left our backside a little sore, but we made our way back to North Little Rock, stopping for a few minutes at each of the aid stations again.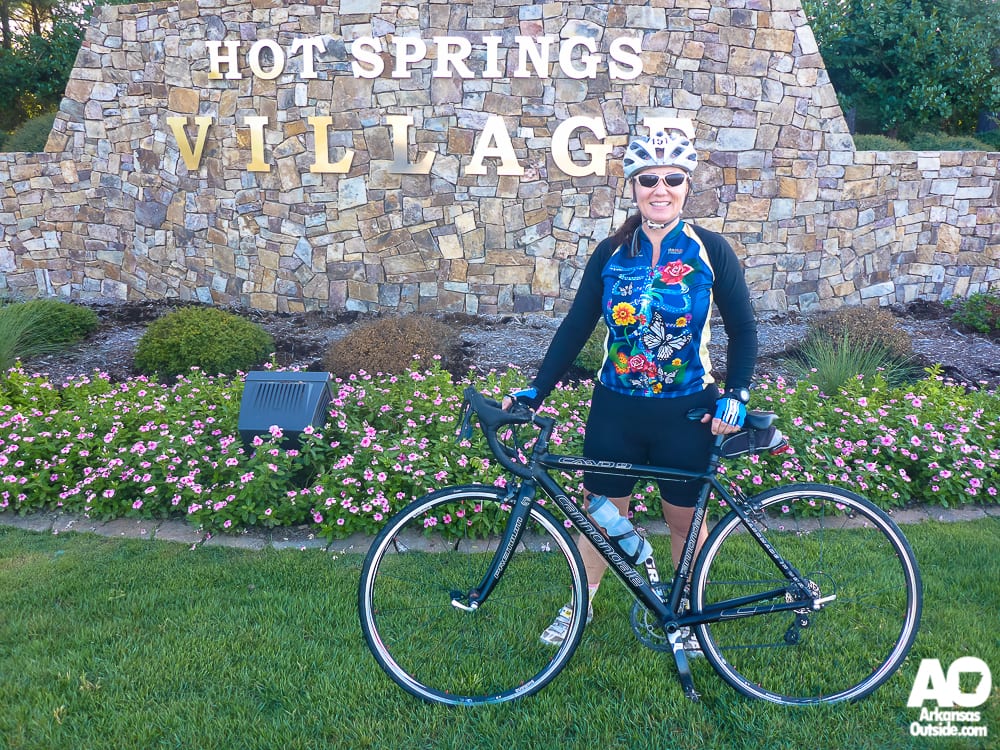 The ride back was about half an hour shorter than the ride out was for us, and it felt even faster. Coming under the arch at the finish we were greeted again by cheers. Lisa immediately took advantage of the massage while I was quick to find more free beer. They had a BBQ spread, music and more camaraderie with finishing riders and volunteers, happy I'm sure that another successful MS 150 was nearing an end. Finisher's medals were handed out, plans were made for future rides with friends, bikes were loaded and we were headed home to rest up for the next adventure.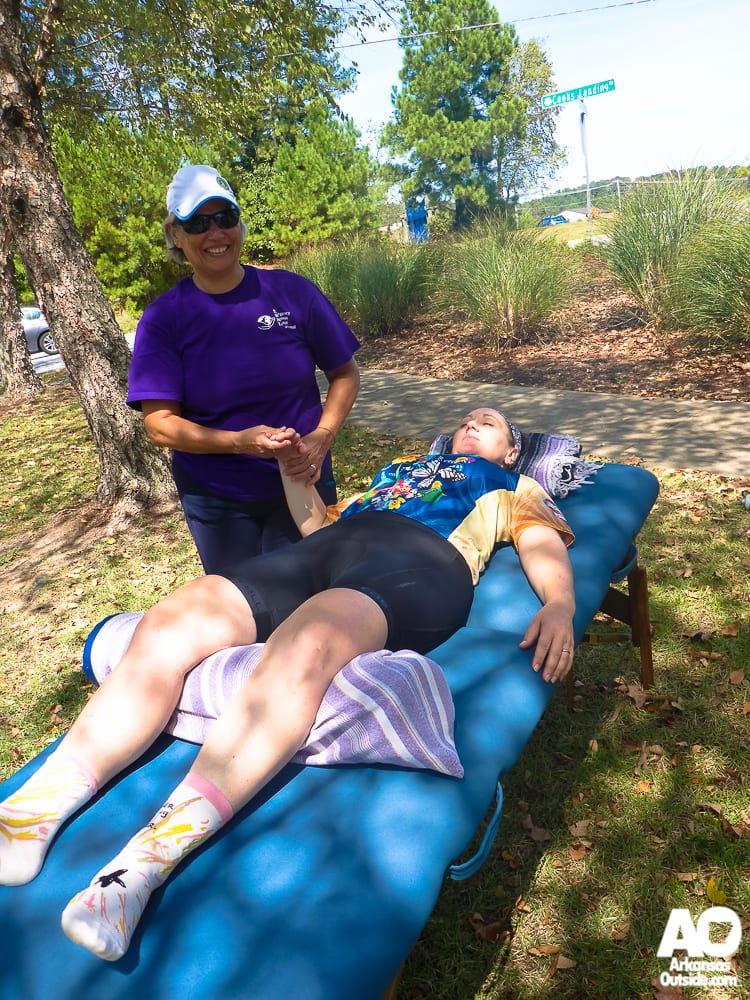 The ride might be over, but the mission is not. Donations are still being accepted. Check out the Bike MS Rock'n Hot Ride and click the Donate button at the top of the page. There you can donate to an individual rider, a team or make a general donation. Donate this year and make plans to raise funds and ride next year. Another way that riders can support the MS150 is to purchase their photo from RunBikeSwimPhotos.com where the proceeds are being given to the event. Also, a HUGE shout out to all the volunteers who made this happen by staffing aid stations, providing food, running sag, the Ham radio folks for helping to keep us safe and the local communities we rode through for sharing their part of the state with us.