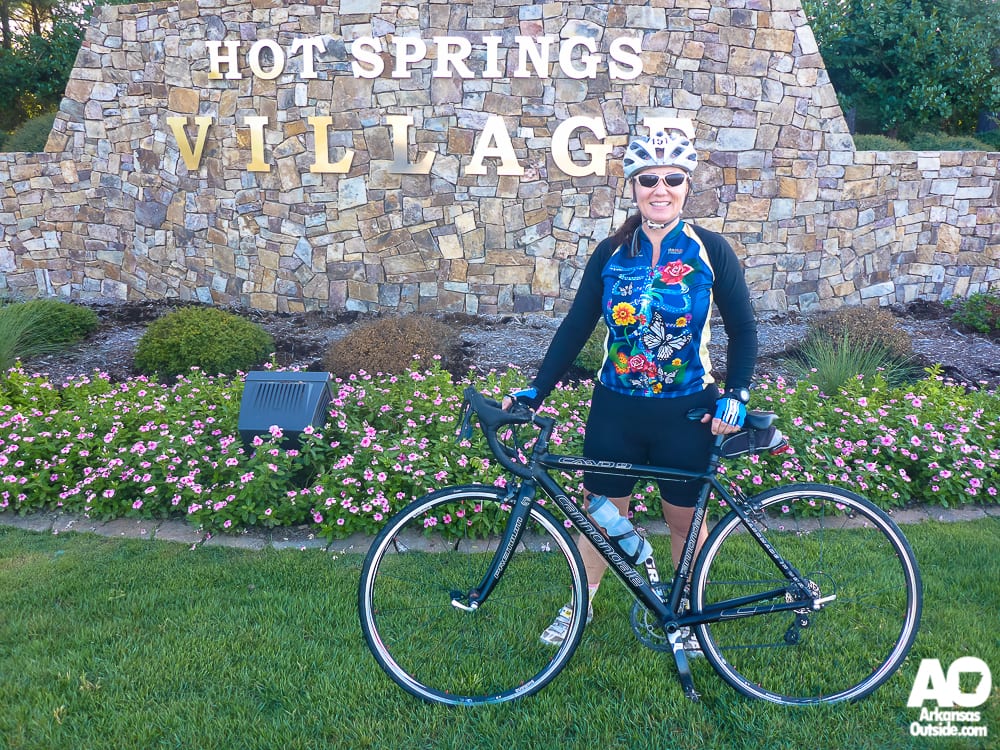 Our dear friend Sarah, who was my first mountain biking partner other than my husband, our frequent cycling companion, and singer of bad TV theme songs is also the Development Director for Special Events  for the Arkansas Chapter of the National Multiple Sclerosis Society. Last year she asked us to be involved in the MS150 ride. We owe her a debt of gratitude for introducing us to this incredible fundraiser disguised as a really fun party of a ride.
MS is an immune-mediated disease affecting the central nervous system. Common symptoms can include debilitating fatigue, muscle weakness, difficulty walking, numbness and tingling, vision problems and chronic pain. While each patient is different and might exhibit a variety of symptoms on a scale of severity, MS is a complex incurable disease requiring complex treatment. Money raised by events like Walk MS and Bike MS help provide funding for continuing the ever advancing research into the causes and treatment of MS. You don't have to know how interferon therapy works or how to pronounce peginterferon beta-1a to help. All you have to do is ride a bike and ask friends, family or co-workers to donate money while you ride.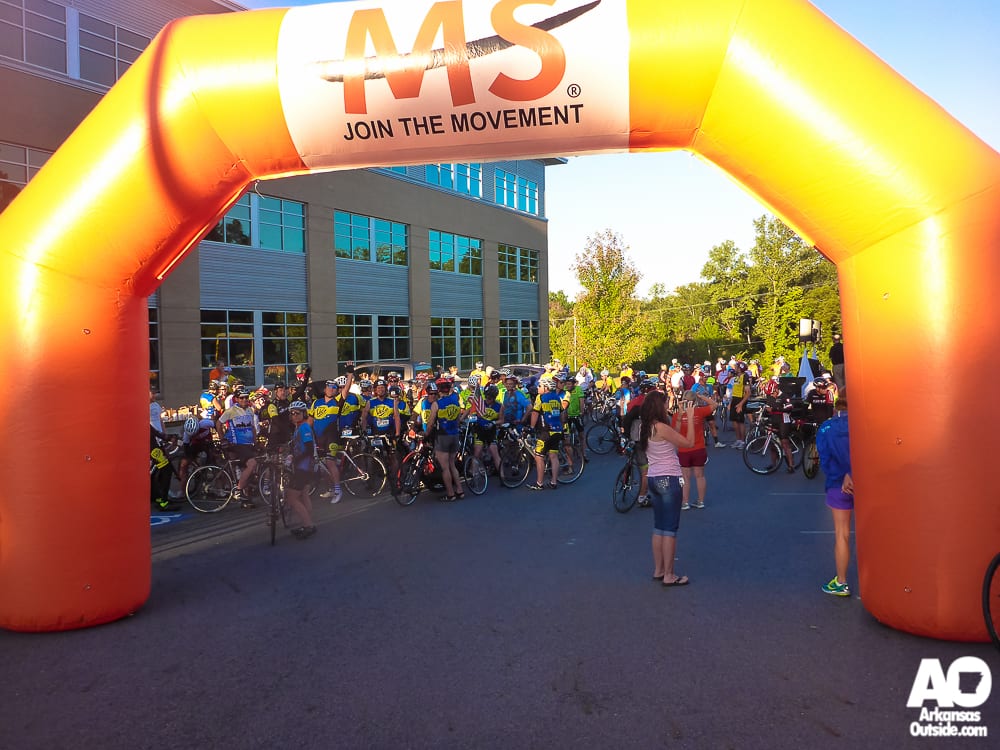 The MS150 Rock'n Hot Ride 2016 is going to be a party on 2 wheels. The route is not quite 150 miles, more like 138. Ride from NLR on Saturday morning Sept 10, starting with a hot breakfast from Chick-fil-A in the Garver parking lot while your overnight bags are packed up for transport to the finish line in Hot Springs Village. Fully stocked aid stations every 10-12 miles means you might be able to eat donuts, cookies (often homemade goodness), bananas, pickles, and lots of other leg fueling goodies all along the route. At the halfway point in Paron, sit down for lunch catered by a local chef, a new treat for this year's ride. There is a new finish line in Hot Springs Village meaning those last few tough hills are no longer part of the course. I know, I can imagine some of you are sighing, "oh no, they didn't take out the hills did they?". Just a couple of them, there are plenty of hills left on the course. We'll be arriving at Woodlands Performing Arts Center to collect a gourmet food box and enjoy the much needed refreshment of air conditioning, Diamond Bear beer and free massages.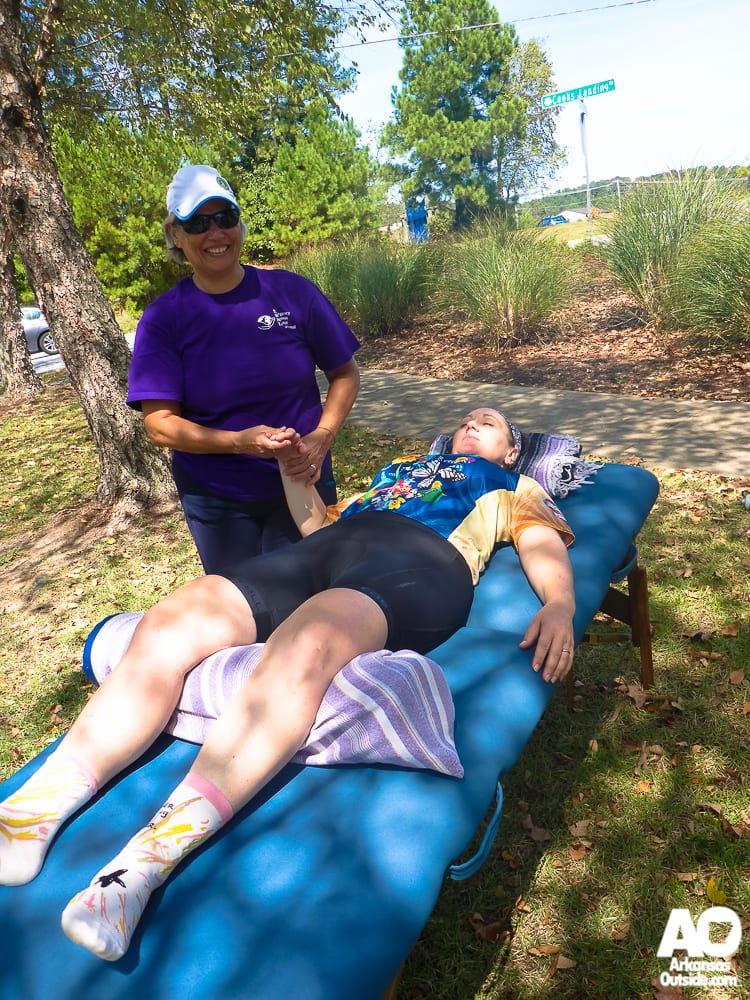 Bikes will be locked up in the bike compound and shuttles will run continuously to get you and your bags to your hotel or vacation rental to clean up before the steak dinner and the Hogs game on the big screen later in the evening. After a relaxing evening and a good nights rest, we start again in the morning with a breakfast provided by the Hot Springs Village POA. The aid stations will return for day 2, including another great lunch stop at Paron. Welcome to the finish line of day 2 with another massage for those tired bodies, BBQ, beer from Rebel Kettle and the chest swell of accomplishment.
Sounds like a great party right? It is. You should have a great time. Have a great time raising money and awareness for MS. Support the MS riders who might make it the entire 69 miles each day, or may only be able to ride 20. Ride because your body works like it's suppose to; ride because your pain will probably disappear in a day or two; ride because you can. And while you're at it, raise a little money to make the lives of those with MS and their loved ones a little more robust.
Arkansas Outside has participate in a number of rides, runs, paddles and hikes over the years that benefit various charities. This year we're riding the MS150 again for our cycling friend who is living with MS. She's going to be riding on our team. If you would like to join our team and help us raise money for MS, come join the party. If you'd just like to donate, you can donate directly to the team or to any of our individual riders. If you need more incentive, teams can participate in a "team village" with their own tent at the finish line and compete for perks, like beer stocked ice chests and bike blenders for making those magnificent post ride margaritas. Joining our team can help us – and you – get some of those perks. Register now for just $35 and a $300 fundraising commitment. Do it today.