Coming away from the 60 mile Ouachita Challenge clean, meaning no flats or mechanicals is pretty rare. Racers this year continued to find tire biting rocks particularly in the first sections of the race. This years race went clockwise starting at the school in Oden, AR. The school continues to be a great venue for the race start and finish. From Oden, riders headed north on forest roads to the Ouachita Trail which they follow east to the Big Brushy Recreation Area where they meet up with support teams for the first time in the race. This part of the trail has several rocky sections that took their toll on many racers. We took a lot of photo in this section as they made their way down the mountain to the recreation area. One guy went by walking his bike, he'd already flatted three times. A little later another guy came by riding his rear rim, he told me he'd had four flats in the first hour of riding. Ouch.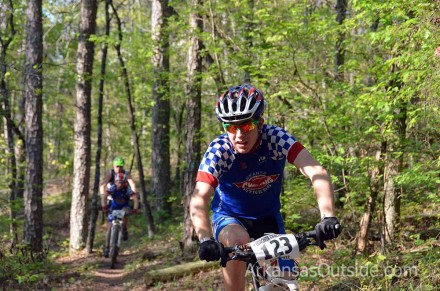 After picking up supplies like food, drink, new wheels and air cartridges the race continued up Blowout Mountain. A leg cramping climb that goes straight up and after some scrambling near the top, a quick trip down the mountain. Not much rest and then it's back up and around Chalybeate Mountain and finally into Sims, AR. When I watched the front runners come through the Sims, where many had support crews waiting, they didn't even stop. Grabbing some water bottles on the way they had just cleared the toughest portions of the course and they were still moving quickly. The race at the front was still pretty tight with about 7 or 8 riders within 5 minutes of each other. It was still anyone's race after about 30 miles of hardcore riding.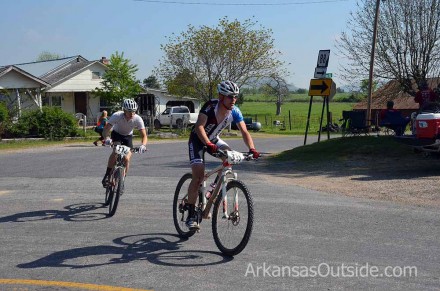 The race follows paved road from Sims to Highway 298. Just before reaching 298 the racers head back into the woods and utilize some forest roads before finally getting on the Womble Trail. This is a section of the race that many look forward to. An International Mountain Bike Association "Epic" trail, the Womble is fast and flowy, mostly hard pack and not too technical. It's a fun ride, usually, on worn out legs and a hotter than normal day, not so much. Riders appeared to be happy to be back on the trail. We got a lot of really fun shots in this area as many riders cut it up some for the camera.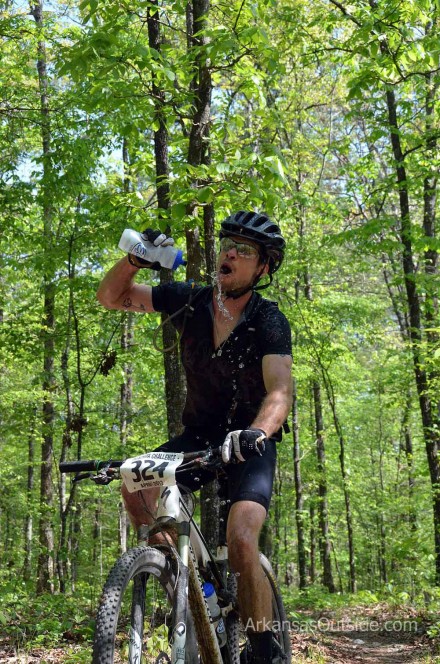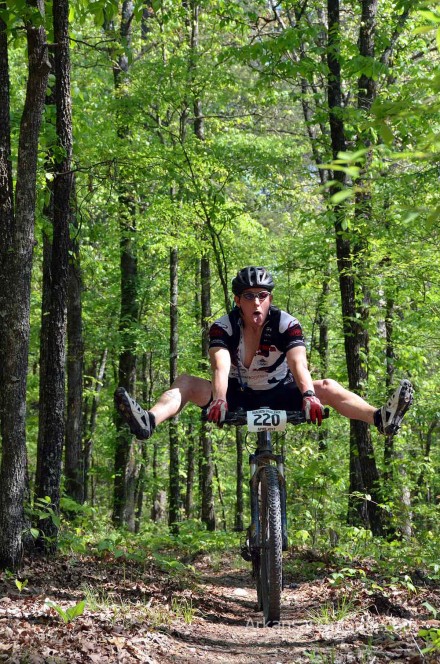 The final section of the race is a dirt/paved road that leads into Oden from the south. Riders are greeted with cheers and one last hill as they come up to the finish line. Fred Phillips of DLTMultisport was calling out names at the top as riders came in. It was a real party atmosphere as everyone told stories of their experiences, ate pizza, pickles and bananas and rested their legs. You'll see a lot of smiles in the finish line photos.
Special thanks to the sponsors and volunteers that make this race happen. Two more races left in the Arkansas Marathon Series, The Slobberknocker and Syllamo's Revenge. It's looking like a great season of racing. Congratulations to all the racers.
We have almost 2000 photos from the race on our Flickr Page. Feel free to download, share, use as your profile photo etc. We'll try to have some video for you within a couple of days. Official Results. Also, to catch up with the series, check out Spa City 6-Hour, Part 1 and Part 2.