After 10 years of talking, planning and plotting, the inaugural Fort Smith Marathon was held Sunday. The response exceeded expectations.
Race organizers had set a goal of having 750 runners in the full marathon, half marathon and four-person relay race. More than 1,000 runners descended on downtown Fort Smith with even more people lining the hilly course to cheer for their family members, friends and complete strangers.
"For the first year, 1,023 entrants from 23 states coming into Fort Smith in Year 1 is just amazing," Fort Smith Mayor Sandy Sanders said. "The planning (race director) Patrick Pendleton has done is outstanding. They've got hundreds of volunteers. Last night, Garrison Avenue was jam-packed with people. It's a great weekend for the city."
A week before the race, Pendleton told the Times Record newspaper 800 runners had registered. A Chamber of Commerce weather forecast of sun and temperatures in the upper 60s, however, pushed a late surge in registrations.
The runners were thankful for the nice weather, because the course was not kind to them. With a profile that looked like an EKG readout, the full marathon featured more than 1,200 feet of climbing. Around mile 14, it tilted up to a 16-percent grade for a tenth of a mile.
Women's champion Katie Ochoa of Tulsa was running her 76th marathon. She called the course the toughest she's ever run.
"It's probably the hardest marathon I've ever run, thanks to the hills," Ochoa said. "There were a lot of hills and I walked more than I've ever done in a marathon before."
Ochoa finished in 3:32:29.9 for her 17th career win at 26.2 miles.
Randy Johnson of Fayetteville won the men's overall title in 3:10:33.4.
"I couldn't have picked a better day, I'm glad it wasn't cold," Johnson said. "I do a lot of hill training so I was prepared for that."
A lifelong runner, Johnson ran the Hogeye Marathon in 2014 in 3:11. He said he probably could have bettered that except for a wrong turn near the end of the race.
"I was following the guys on the bikes and they made a wrong turn," Johnson said. "We … well … we got lost. It was a good run, it was a good day."
Despite the wrong turn, Johnson held off Cody Skarupa of Lake Charles, La., by 16.9 seconds.
"(Johnson) passed me back in the hills, like mile 13 or 14, then I passed him back at mile 18 and he passed me back at mile 20," Skarupa said. "I hit the wall at 20 miles and he didn't. I was gaining on him at the end, I kind of ran out of real estate at the end."
Skarupa was a sprinter at McNeese State, specializing in the 400-meter hurdles. The Fort Smith Marathon was his first long-distance race since ending his college career.
"Three days before I came up here, I had a sinus infection. I went to a urgent care and got a shot, I wasn't going to let all that work and dedication go to waste," Skarupa said. "But I'm really pleased with my first effort, nothing to be ashamed of at all."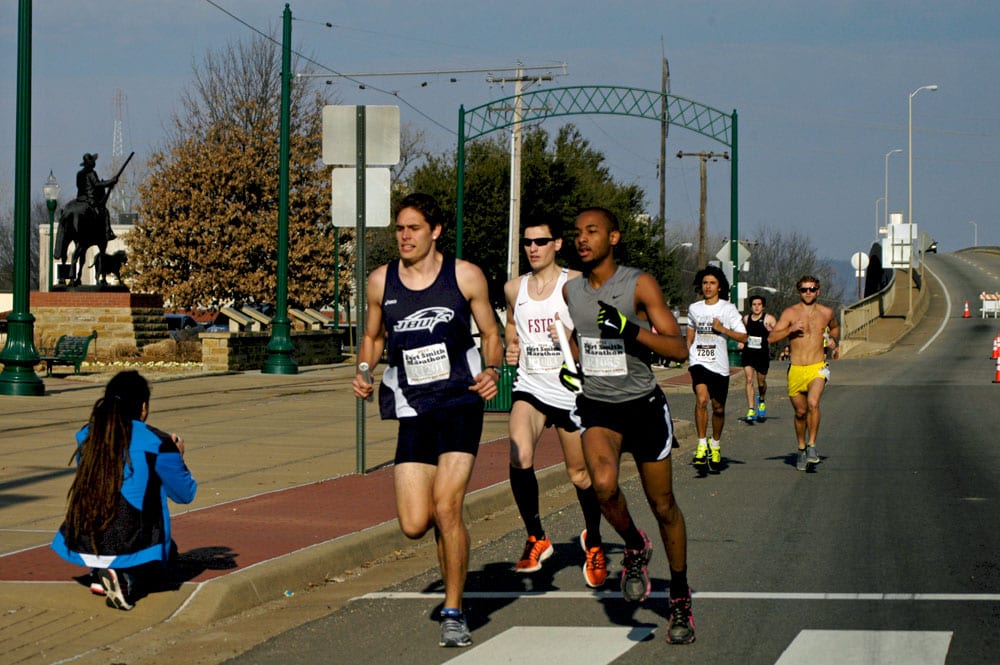 Jeremy Provence was the men's overall winner in the half marathon in 1:23:01.3. Jennifer McConnell took the women's title in 1:30:02.9.
For full results, visit FortSmithMarathon.com.