The real glory is being knocked to your knees and then coming back. That's real glory. That's the essence of it.
~ Vince Lombardi
I've said it before, "epic" is an overused word. It should be saved for those special moments when in the pursuit of glory you are forced to dig deep, those times when you don't think it can't get any worse, and then it starts raining. Your legs ache and your lungs scream. The mind joins forces with your body as the enemy of your spirit, and your spirit, the last friend you have, almost breaks, but you turn that crank one more time, and again and again. That is the epic moment. That is where you find glory.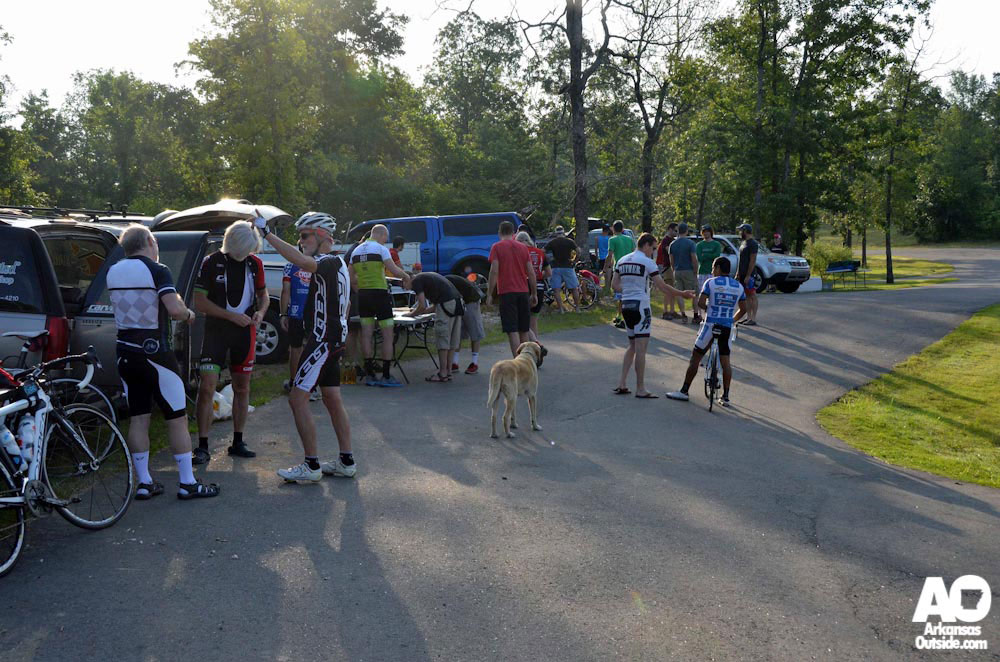 The Tri County Shakedown, a "gentleman's race", has many epic moments experienced by the racers, climbing the hot asphalt to the next ridge, standing in the weeds fixing yet another flat, holding on for dear life as you descend the loose gravel road only to lose all momentum before climbing the next one. All the racers found glimpses of glory in the Shakedown.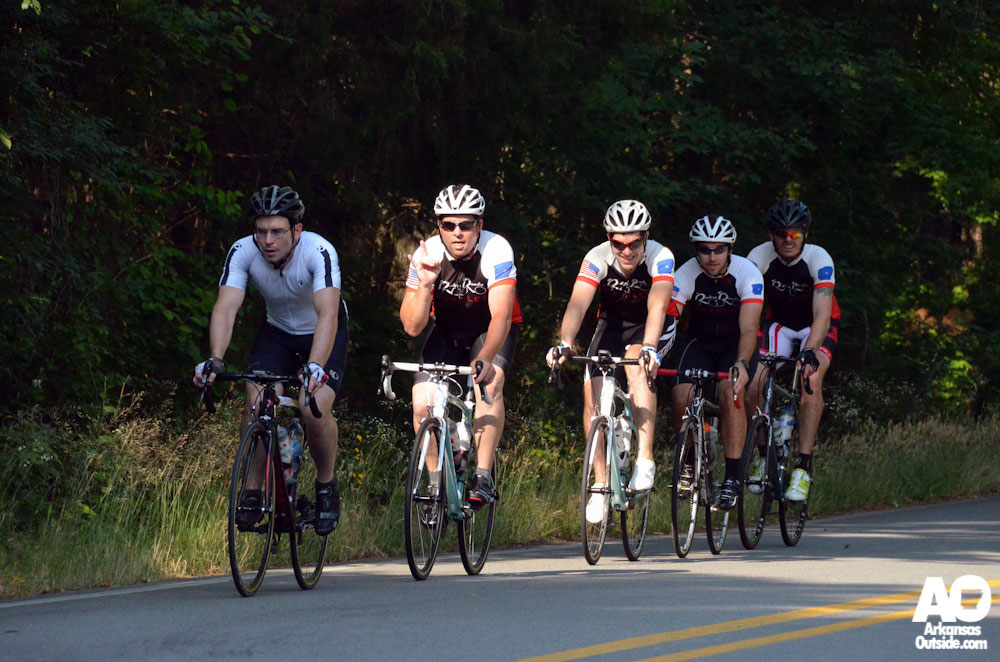 The Tri County Shakedown, held last Sunday, is a followup to the Scott-Tucker Classic earlier this year. Built on the same premise of time trial style, 5 -person unsupported teams that are given a map of the route which includes gravel roads and no route markings on the course. The race is unsanctioned. A low cost of entry, no medals, no t-shirts nothing but glory (and a few bucks for the top finishing teams). The two races turned out to be different in every way, except for the rules.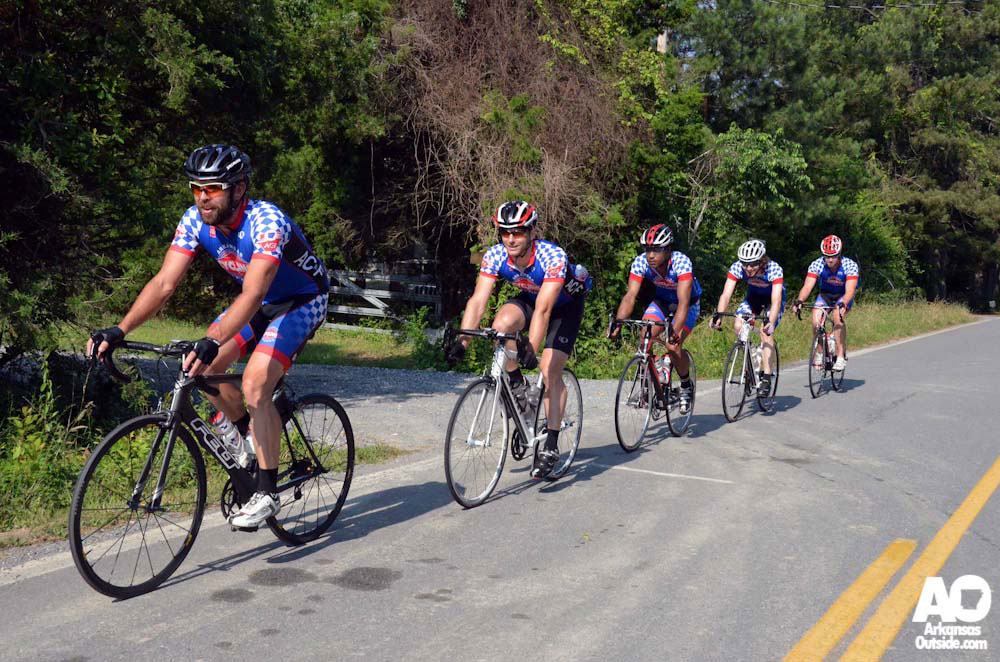 Instead of a flat, cold, windy course like the Scott-Tucker Classic, the Tri County Shakedown was full of leg burning hills, hot weather, some rain and more gravel. The course traveled through Pulaski, Perry and Saline counties. Starting at local cycling legend Donnie Van Patter's (Donnie's Foreign Car Service) house, the race took riders through the Ferndale area west of Little Rock to Barrett Road, Hwy 300 to Wye Mountain and the first gravel to Thornburg. The course then went south on Hwy 9 through Williams Junction, past Paron and then east on Kirk Road. Nearing the end, Race Director, Justin Slarks of Chainwheel (the sponsor of the event) handed out the final bit of torture. Having ridden over 70 miles at this point, the teams negotiated more gravel including steep descents and climbs before a final dash and a short, painful hill back to the Van Patter home.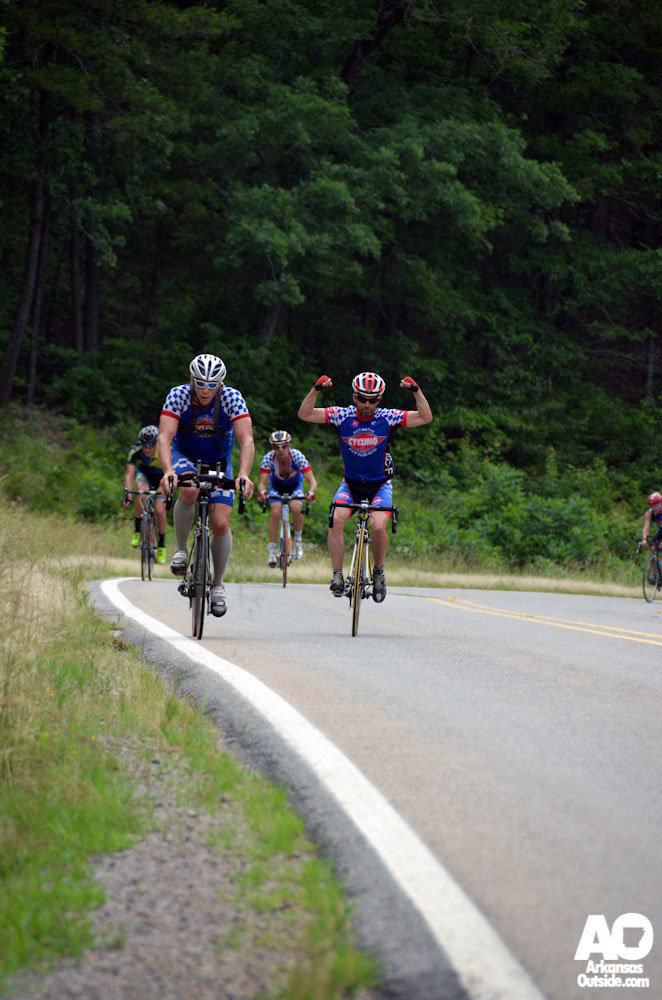 Another unique aspect of this type of racing is that each team starts alone, seeded by the race organizer by perceived speed and abilities. Teams with highly experienced riders go last. It's a team time trial format. This worked out well as they all started within an hour and only about an hour separated the finishers,  though there were several position changes out on the course. Here is a list of teams and the planned starting times:
TEAM GEEZER 8:00
TEAM TRI DISS 8:10
WYE-NAUTS 8:15
ROYALE WITH CHEESE 8:20
PONY! PONI! PONE! 8:25
TANGO CHARLIE BRAVO 8:30
ARKANSAS CYCLING & FITNESS 8:35
WRJHFTBBQ 8:40
HAS BEENS AND THE WANNABES 8:45
LUNG ON A STICK 8:50
LITTLE ROCK MENSA 8:55
901 RACING 9:00
I'm not going to go into which team was which based on the photos, that's up to you to figure out. Also a last minute change was made. 901 Racing showed up with only 2 riders. Since they had come the farthest distance to race, accommodations were made and the two riders started out at 8:35. Some smack talk has been heard on social media as to validity of their first place tie with team Lungs on a Stick but hey, this is a gentleman's race so some good natured ribbing is in order. Besides, two guys from the flatlands against 5 person teams coming from the middle of the pack to finish up front, that was some pretty strong riding there.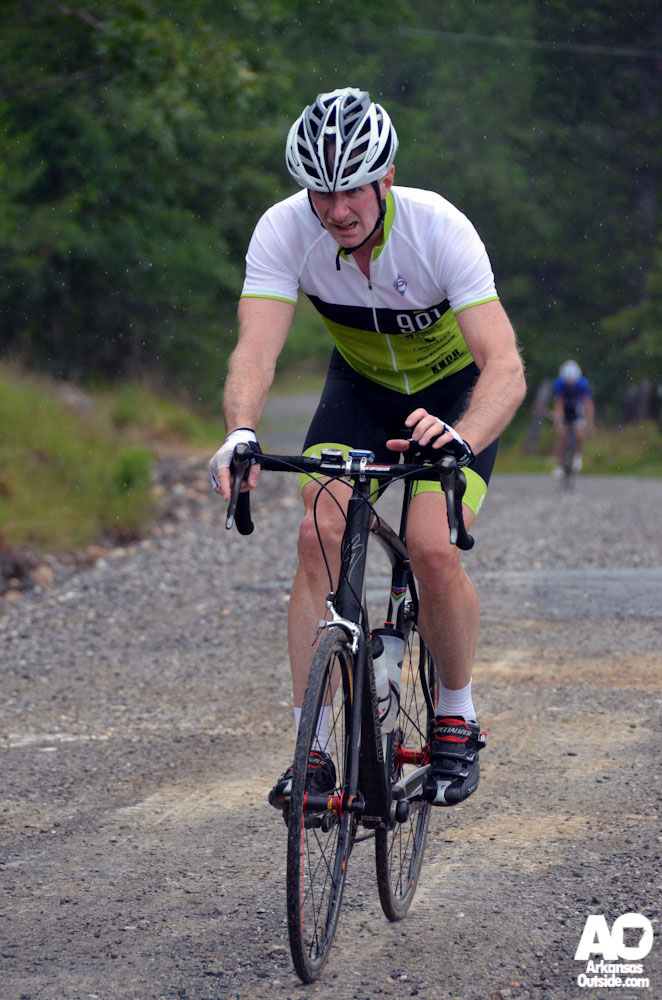 If an award was given to the team that stayed together the most it would have to go to the TCB team. Those folks stuck together like glue. Lisa overheard one of them shout out as they were spreading apart a bit, "Team It Up." Well done TCB, well done.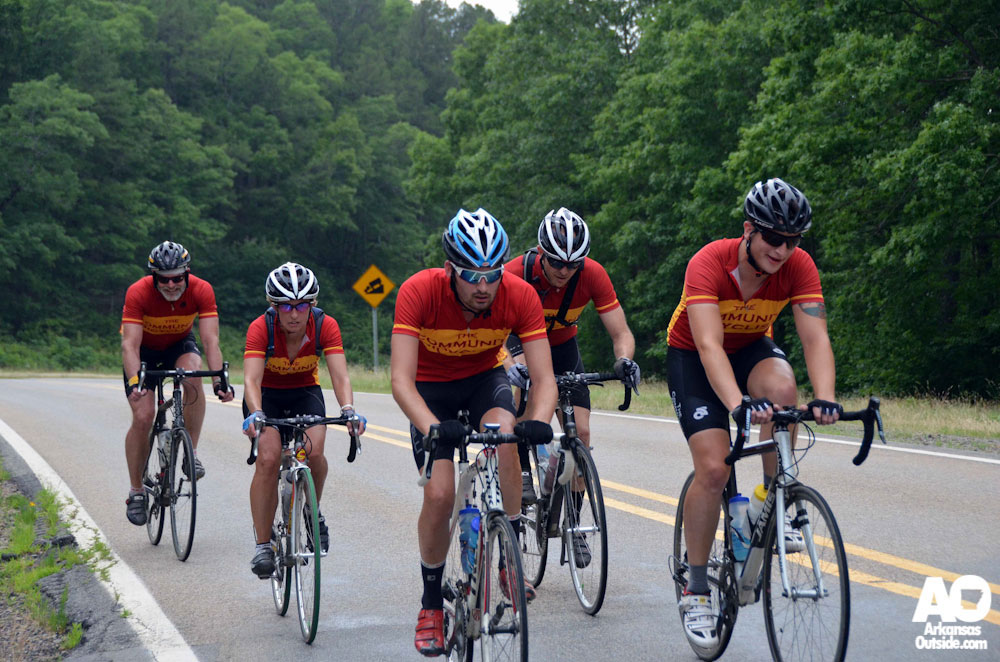 Whole Hog Cafe had BBQ on hand as well as just about any type of recovery drink the racers wanted. Many of the rider's families were waiting at the finish for their return and the whole event turned into a great Arkansas picnic. Riders from teams and bikes shops all over Central Arkansas were represented, plus the guys from Memphis who showed up to challenge themselves.
The next one of these events is not yet scheduled but if you would like to participate, put together a team with alternates just in case someone can't make the date. Come up with a better team name the ones listed above 😉 , watch ArkansasOutside.com for an announcement and sign up quick. These are very limited events and I have a feeling the next one will fill up quickly. There seems to be no shortage of people looking to experience a little glory.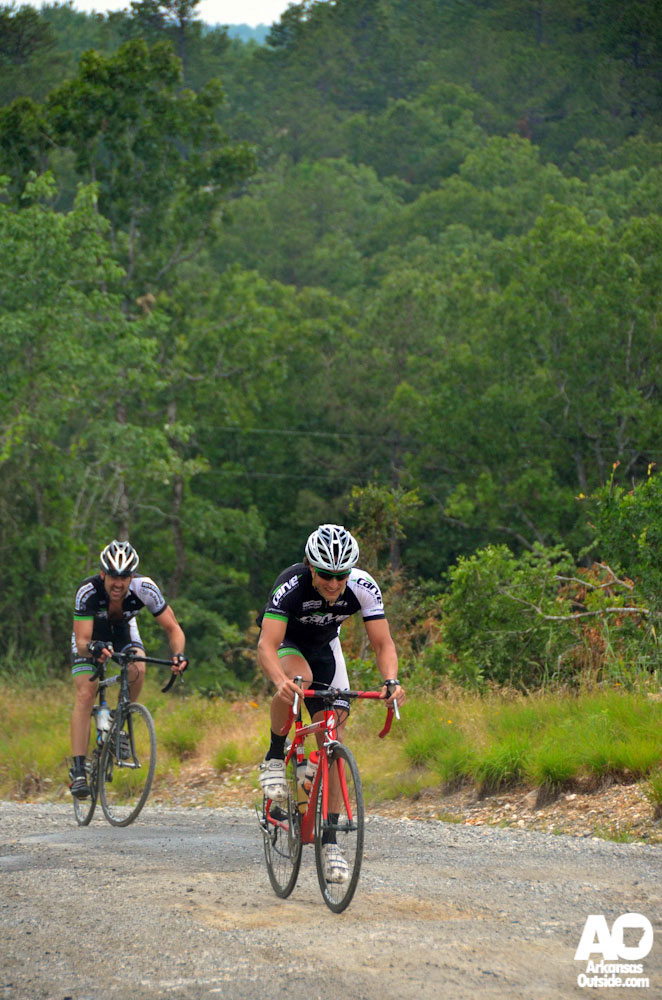 Get a feel for the Glory in the video from the race.
Check out our Facebook Page for more glory.