Update: As most are aware, the Meteor has left Little Rock for Northwest Arkansas. The bike shop is gone too. So what do you think should be in this iconic Little Rock building? It's certainly a place with character.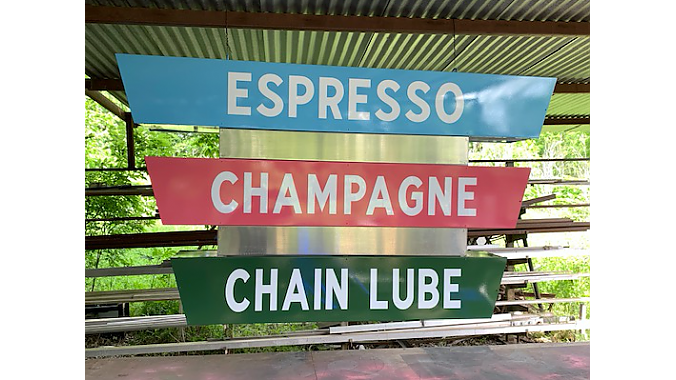 Way back, over ten years ago, the iconic wallpaper and paint shop at the corner of Kavanaugh and Markham finally closed up and was replaced by a quaint little grocery store. They didn't use the entire building. There was a small shop that housed an Orbea Bikes outlet store. The Spanish bike company had it's North American distribution center across the river in what is now the Diamond Bear Brewery (that's the story of a different building), and they had some return and rebuilt bikes that they would sell out of this location.
Unfortunately, for local grocery shoppers, the grocery store didn't last long and Orbea shifted their focus. Next up came a new kind of local bike shop and Spokes was born. (I haven't changed the article linked because I find the end of it kind of funny when you find out what happened to Spokes.) Spokes was a very bright store and had a new idea, a coffee shop. The Spokes crew injected new energy into the local cycling scene. Being almost downtown, it was near some major ride routes. It was also a good after work stop to pick up some necessary parts or accessories. More than once I ran in there to grab a tail light or a CO2 cartridge and ended up sitting at the coffee bar talking about bikes and trails with other local riders. They expanded to a second location when Orbea moved to Main Street where they sold accessories, Orbea bikes, and coffee. (Spain on Main) A few years later, Orbea decided to move back across the river to a large facility in North Little Rock, Spokes downtown closed up and soon they closed up the shop in the old wallpaper and paint store. It was at this point that the owners of Spokes moved out west to try a Giant Bike store. They have recently changed the name to Spokes Giant, this makes me happy. (You'll understand if you read the article on the opening of the original Spokes.)
All that brings us to this news release on The Meteor. A trendy bike/coffee shop that has hosted several Central Arkansas Trail Alliance socials, and recently a send-off party for Rebecca Rusch on her record-setting ride around Arkansas. My experience in their bike shop is that they are a bit more focused on road/gravel bikes and don't stock much in the higher end mountain bikes that I like to see leaving Cannondale a little under-represented in the area.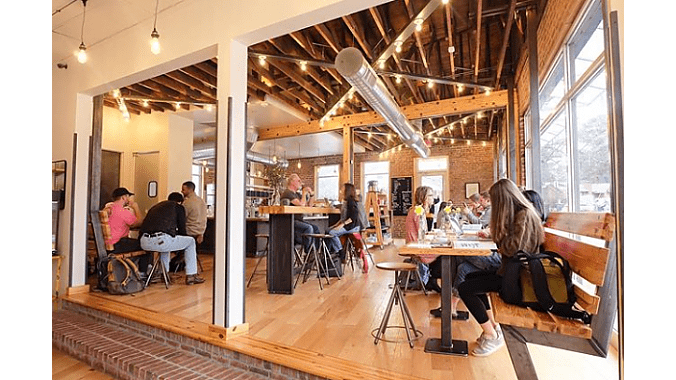 Below is The Meteor's latest news release:
Coffee and cycling go together as famously as peas and carrots. Doug Zell and Chris St. Peter decided to take it one fancy step farther.

With breakfast, lunch and "all-day" menus and also serving beer, wine and of course Intelligentsia Coffee, The Meteor toes the line between business lunch spot and full-service bike retailer. Carrying Cannondale, Orbea, Felt, Electra and custom options from Allied Cycle Works, it welcomes the cyclist and non-cyclist.

"We realize that if you're not careful, cycling and coffee are two cultures that can come off as exclusive and snotty," St. Peter said. "So we very intentionally trend the other way to make sure everyone feels welcome."

Zell's Intelligentsia Coffee has been a successful venture with 17 locations after starting in 1995, and while St. Peter wouldn't divulge financials, he said success comes down to sweating the details.

"You can't have 17 locations without nailing the details on every level," he said.

The Meteor is expanding this year with two more locations: Austin, Texas, in August and Bentonville, Arkansas, soon afterward.

The Little Rock location, with 20 employees across the bike shop and cafe, opened two years ago in an 1897 refurbished building. "Open, bright, airy and fun," St. Peter said.

The Bentonville location will share space with Allied's corporate headquarters and offer a full cafe transitioning into a bike service and sales area and also opening into Allied's showroom floor, St. Peter said.

"We have some great momentum at our Little Rock location, and we're extremely grateful to our loyal customers who've made that happen," he said.

In the same way, Intelligentsia changed coffee, Zell and St. Peter hope The Meteor changes the bike retailer business.

"The Meteor is just getting started, but we hope it has a similar long-term impact," he said.

Co-sponsors of the Meteor X Giordana team, Zell and St. Peter had another reason to toast their "Espresso, Champagne and Chain Lube" lifestyle when one of their riders, Colin Strickland, won the Dirty Kanza 200 gravel race Saturday.

"What a ride! The publicity and marketing benefit is huge," said St. Peter, who added The Meteor sponsors local clubs, teams, races, and an elite women's gravel team, The Meteor // Intelligentsia.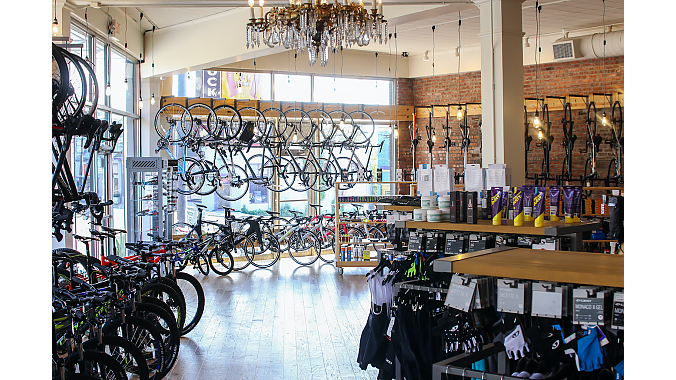 So Little Rock is exporting its bike culture to Austin, TX, and Bentonville, AR. It may seem surprising but until about 5 or 6 years ago, central Arkansas was the base of Arkansas bike culture.