On July 24, 1988, Devil's Den State Park Superintendent Wally Scherrey, drafted a letter to Don Ross, Regional Park Manager, requesting that he and Tim Scott, Devil's Den Park Interpreter, be authorized for out-of-state travel. They got lucky and so did we. At the time the parks were severely underfunded and travel was kept to a bare minimum, going to another state was pretty much out of the question. Their proposed destination was Crested Butte, Colorado from September 12th through the 16th. Jon Brown, current Parks Operations Manager was a superintendent at another park at the time and remembers a little jealousy in the field when Wally and Tim were granted permission to go.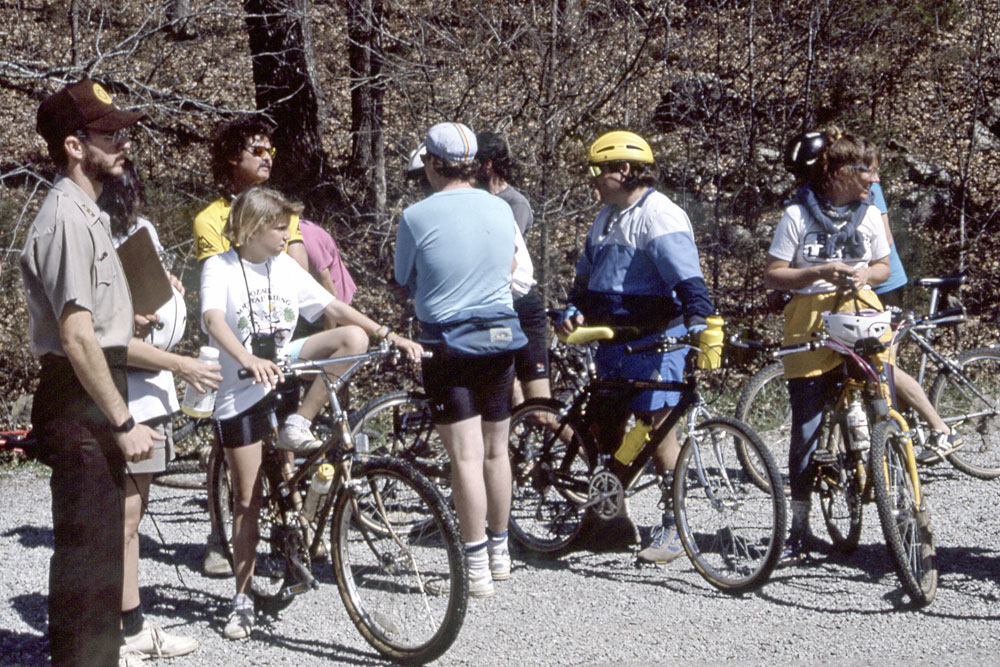 Mountain biking was a relatively new outdoor sport and it was gaining momentum out west. Tim Scott told me that he had been in discussions with park managers from surrounding states around that time about how mountain biking might affect trail use in the parks. Most were separated into two camps on the issue: either they weren't really seeing much mountain biking and didn't expect to, or they had already banned mountain bikes from park trails. At the time, a fear of pedal powered bikes damaging trails caused groups like the Sierra Club and the National Park Service to lump them in with gas powered off-road vehicles like dirt bikes and ATVs. In turn, land managers were skeptical of allowing them on trails that they were responsible for maintaining. Luckily for Arkansas, Tim and Wally wanted more information.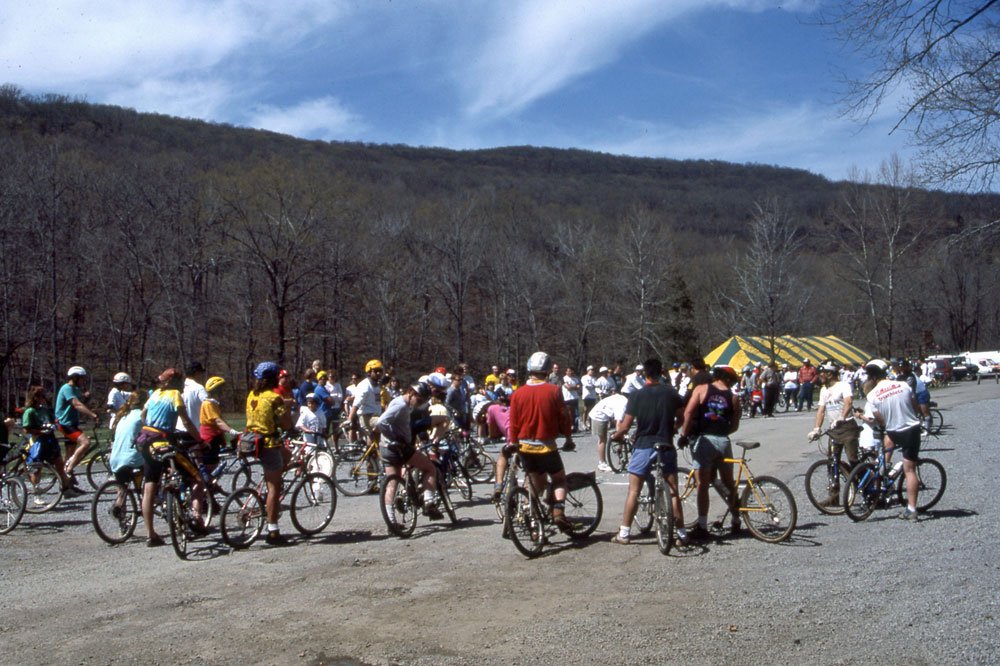 The Fat Tire Bike Week in Crested Butte was the oldest and one of the largest mountain bike festivals in the country. What better place to find out what this whole mountain biking thing was about and how to deal with it at Devil's Den State Park? They requested $40 each for registration to the event and use of a park vehicle along with the gas. The plan was to camp and pay for their own meals. They took the bikes they had. Wally told me that they camped on a hill above the town and rode their bikes  to the festival so they wouldn't have to deal with any parking charges. He said, "I'd never gone that fast on a bicycle as that ride into town." I'm guessing the ride back to camp was not as quick.
Once they were back in Arkansas they had to decide what to do about mountain bikers. A few had already started showing up on some of the trails in the park. Should they ban them, encourage them or wait for this fad to go away?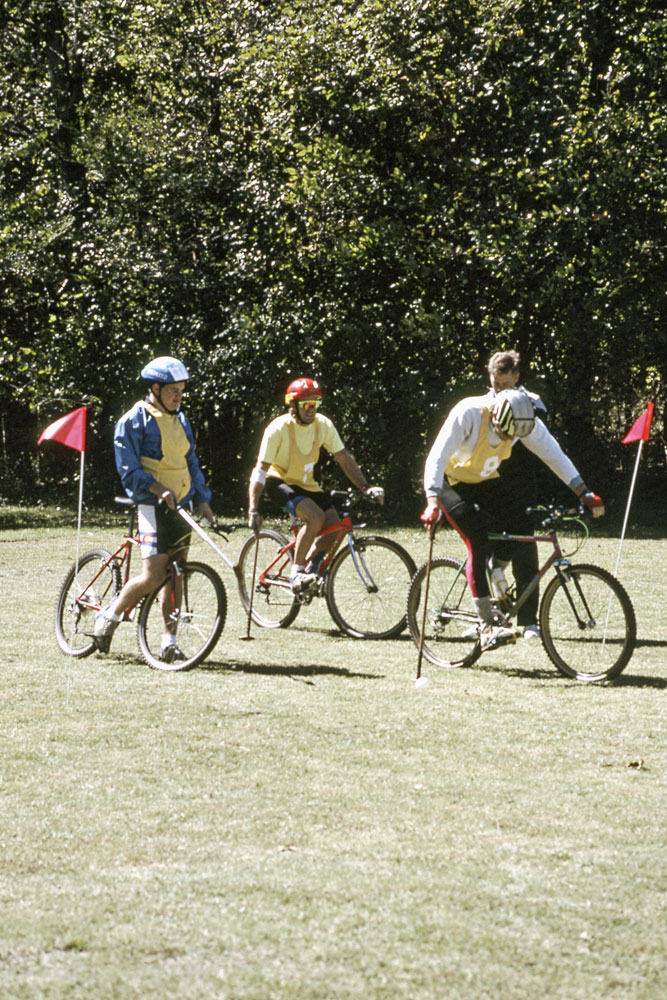 Arkansas State Parks has always been tasked with balancing recreational use of the parks with protecting the resources and the budgetary constraints of maintaining trails and other facilities. Working with others in the park system, Wally and Tim opted for managing this new park user by embracing mountain biking in the park, setting rules to follow, making some trails off-limits and teaching them how best to interact with other trail users. To kick this off they decided to have their own mountain bike festival.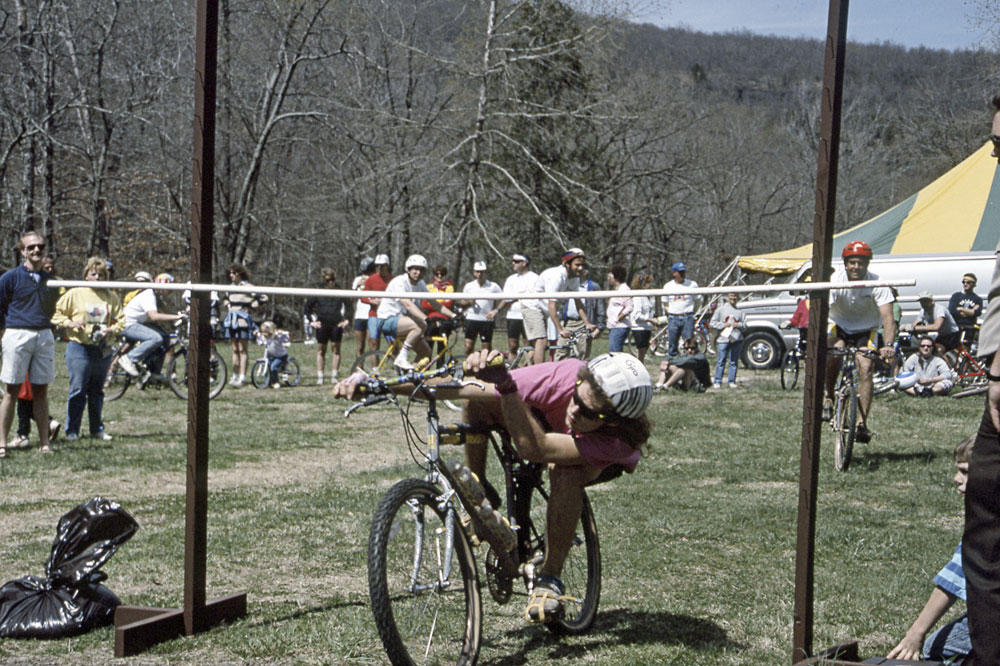 The first Ozark Mountain Bike Festival was held on April 1st and 2nd, 1989 at Devil's Den State Park just south of Fayetteville, Arkansas. It was sponsored by Arkansas State Parks and Paul's Bike Shop. In an article from the Arkansas Democrat on March 31st, Vickie Smith of Paul's Bike Shop said, "In other states, the parks departments are opposed to the sport and try to stop it." Wally Scherrey was quoted as saying, " In the past two years, we've seen more and more people asking where the best places are to ride in the park, so we decided to get involved in a positive way."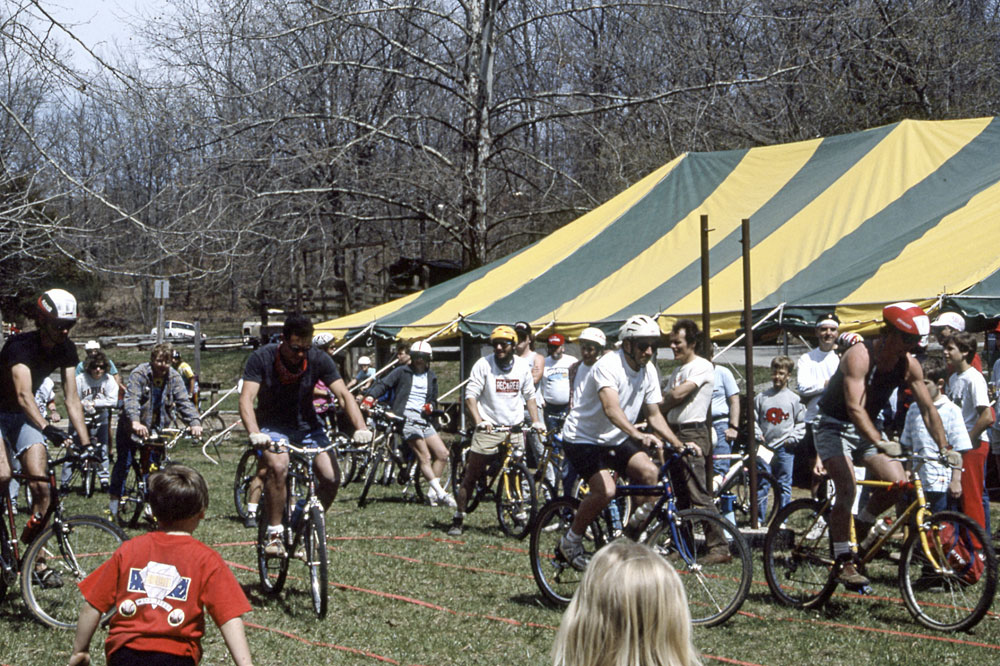 On Saturday, April 1st, guided bike tours, bike polo, limbo, a slow race, trials riding and other social events were scheduled. On Sunday they planned for races in the morning. (It rained on Sunday of course, those who've raced at Devil's Den in the past know that races there often draw rain.)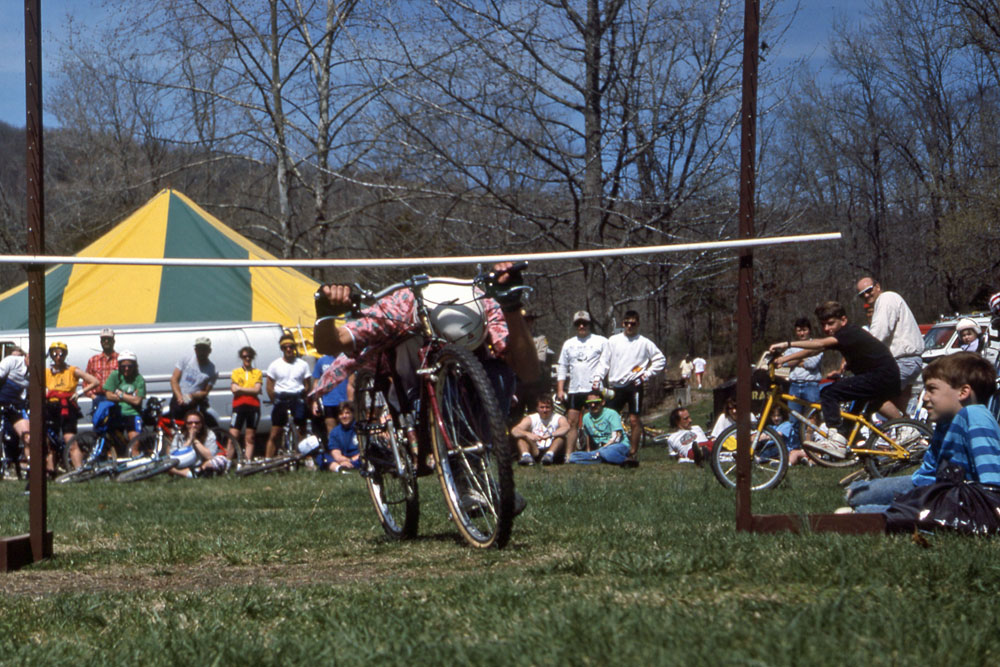 Besides Vickie, Tim, and Wally, they also enlisted the help of a well known bike racing official, Steve Shepherd. Most cyclists who've raced road or mountain bikes know Steve. There were already mountain bike races in Arkansas at this point and Steve, along with Pat Barron (owner of Chainwheel in Little Rock) had helped at races in Boyle and Allsop Parks. Races were not yet sanctioned and no officiating was really needed but it helped to have someone around who knew how to organize these things. Steve told me, "I had developed a computer program for scoring stage races to use at the Fayetteville Spring Classic (now the Joe Martin Memorial Stage Race).  So I was asked to help administer/officiate the first Devil's Den Race and bring my computer program along." Steve also helped lead some of the rides.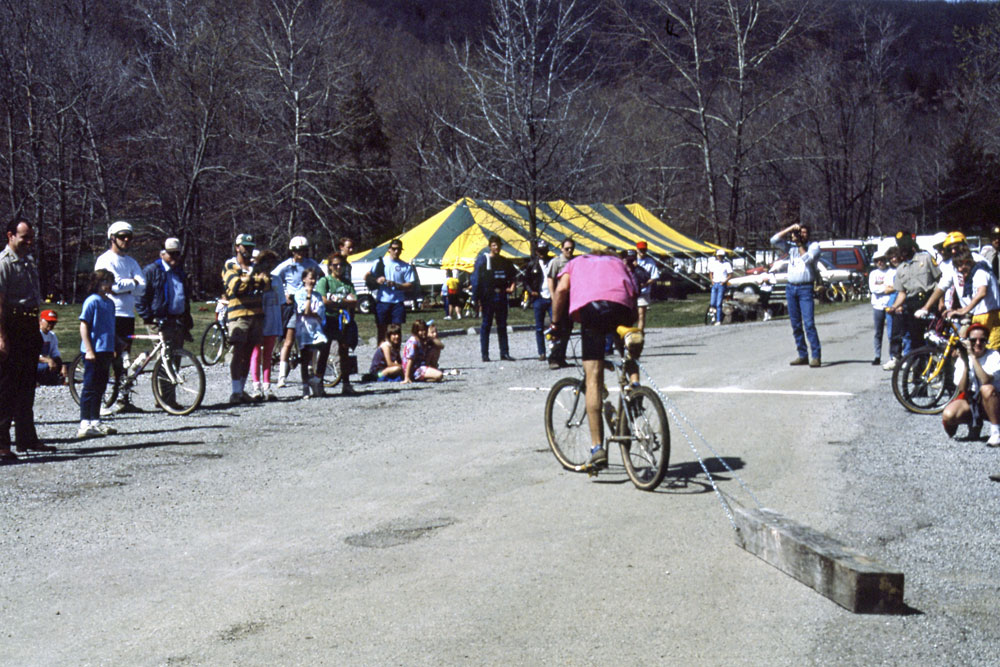 The whole thing was a success and now, 25 years later the event is still going strong. A few years after the first festival, the racing and trials portion was moved to the fall and eventually became part of the Arkansas Mountain Bike Championship Series. The Ozark Mountain Bike Festival is still a great place to take the family, let the kids get their tires dirty and just have a great time enjoying this historic park from behind the handlebars.
The Arkansas State Park system has grown to embrace mountain biking and currently maintains mountain bike trails in 10 state parks with more in the planning stages. Three of the ten races in the Arkansas Mountain Bike Championship Series are hosted in state parks including the Northwest Arkansas Mountain Bike Championship at Devil's Den. Tim Scott is now the Assistant Park Superintendent at Devil's Den State Park and can still be found on a mountain bike or working with local mountain biking clubs to promote the sport. Wally Scherrey became Park Superintendent at Petit Jean State Park, he left Devil's Den shortly after the Colorado trip but came back for the festival and led one of the bike tours. He is still at Petit Jean and recently helped get a new bike path developed and built in that park from the campground to Mather Lodge.
A final paragraph at the bottom of the Second Annual Ozark Mountain Bike Festival program (1990) reminds us of our responsibility as mountain bikers to the trails and others:
BE A CREDIT TO OUR SPORT. Trail riding, the essence of mountain biking, is a privilege. To keep it, we must strive for minimal impact on the land and our fellow trail users. Off the bike, we should maintain bike organizations, and work with land managers to ensure safe, enjoyable, and environmentally sound passages for everyone. Responsible, considerate, and involved mountain bikers are the key to the sport's future. Please do your part. Thanks!
The Silver Anniversary of the event is April 5-7. Make your plans to be a part of this great Arkansas event. Tim and staff have guided rides, kids games (adults often take part) and even a poker ride (best hand wins) planned. If you prefer the faster kind of mountain biking, the Northwest Arkansas Mountain Bike Championship will be held on September 14, 2013.
Special thanks to Tim Scott, Wally Scherrey and Steve Shepherd for information on the festival history. All photos from the Inaugural Ozark Mountain Bike Festival courtesy of Tim Scott and the Arkansas Department of Park and Tourism. If you have stories, photos or video from the festival please feel free to share with us on our Contact Us page. We'd love to do a follow-up article and share your memories with the park staff.