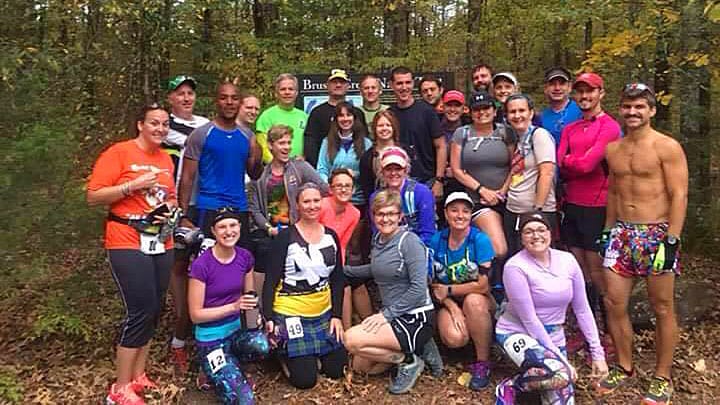 The planning began during the heat of a summer afternoon while looking forward to the cool mornings of autumn. A group of runner friends, anticipating the arrival of fall trail runs, planned a weekend long trip to run the half marathon at Cossatot River State Park and Natural Area in southwest Arkansas. Cabins were rented, menus were planned, carpools were formed, and on the Friday before the race cars were filled with luggage, ice chests, and happy runners headed out from Little Rock for the drive.
Sporadic arrivals at the cul-de -sac of cabins that housed 12 runners and 2 dogs meant a continuous round of unloading of luggage well into the evening. Long before sunrise, coffee pots turned on and the three bathrooms we all shared needed revolving doors as we tried to get on our way by 6 a.m. We made our way to the park vistor center with time to spare so we took advantage of the coloring table to reduce stress. Adult coloring is on trend and our happy mudbug probably helped us calm our pre race nerves or at least gave us a few moments of levity before the running began.
There is no doubt that a huge part of the draw for this race is the scenery. The one-way race requires runners to park at the visitor's center to be shuttled up to the north end of the trail at Brushy Creek near Vandervoort, meaning the only way to get home is to run back. The Cossatot River Corridor Trail in the Ouachita Mountains winds through both Howard and Polk counties connecting river access points along the 14 miles of mostly singletrack trail. The race starts in the parking lot, forcing runners to jockey for position before hitting a couple of bridges that carry them down to the trail below. One of these narrow bridges is where I first met Mike Harmon and Josh Drake three years ago as they almost knocked me over in their playful jostling.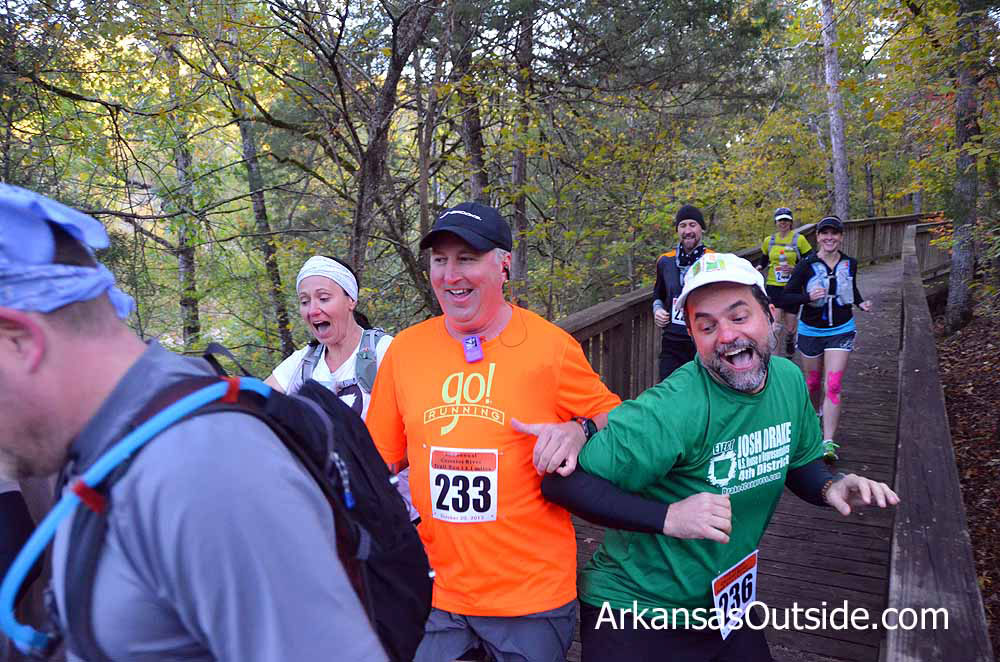 Luckily they both ended running a lot of that race with me, perhaps as an apology, and friendships continue. Mike ran part of the race with me again this year. Obviously we both learned to love this trail enough to come back for more.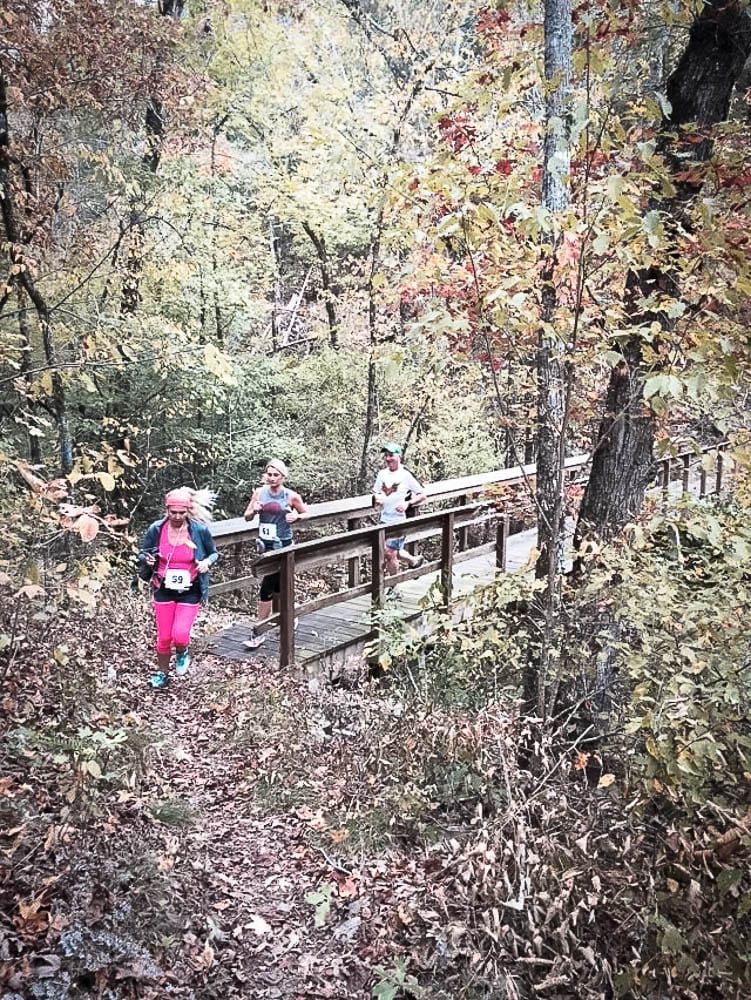 The trail is technical and rated as strenuous; advice for hikers and backpackers is to allow 20 hours for the 14 miles. Consider that Carson Miller's winning time for this race was 1:31:11, besting his own previous time by about 9 minutes. This young man must have barely made contact with the ground as he flew up and down those hills. He's also polite. I'm sure his mother will be proud to know that he kindly offered me a seat beside him on the shuttle as it started to fill up.
It's a shame that running this trail makes it more difficult to look up from the three feet directly in front of your toes to enjoy the beauty. I did stop to take a few photos, but I never feel like I capture the truth when I do that, it's too rushed even when I try not to hurry. The trail cuts in and out, up and down through a forest of white oak, red oak, red cedar and shortleaf pine. Sometimes the rush and roar of the river can be heard long before it can be viewed, especially when the foliage is still thick in the summer and early fall. There are 36 bridges on the trail, some being small wooden bridges over drainages, larger wooden bridges and a couple of concrete low water bridges on the river.
Sighting of another bridge could bring on a little mental as well as physical challenge as one racer pointed out a punchy 90 degree switchback climb at the end of a bridge is almost a guarantee. The trail connects river access points and campgrounds making it a perfect weekend backpacking trip. Camping is allowed at Cossatot Falls, the Sandbar, the Ed Bank low water bridge area, or at Hwy 278.
With less than 3 miles to the finish I ran up behind Jay, a runner from Shreveport who had been just in front of me since the start. We spent a mile or so chatting about other races in Arkansas obviously not running hard or fast enough to keep us from talking. It's always nice to have out of state guests and to hear how much they love visiting our beautiful state.
With three manned and stocked aid stations, no one lacked for fuel or hydration. At the end of the race, Pilgrim's Pride donated chicken quarters that were grilled by volunteers and served along with potato salad, rolls and dessert while waiting for the awards ceremony.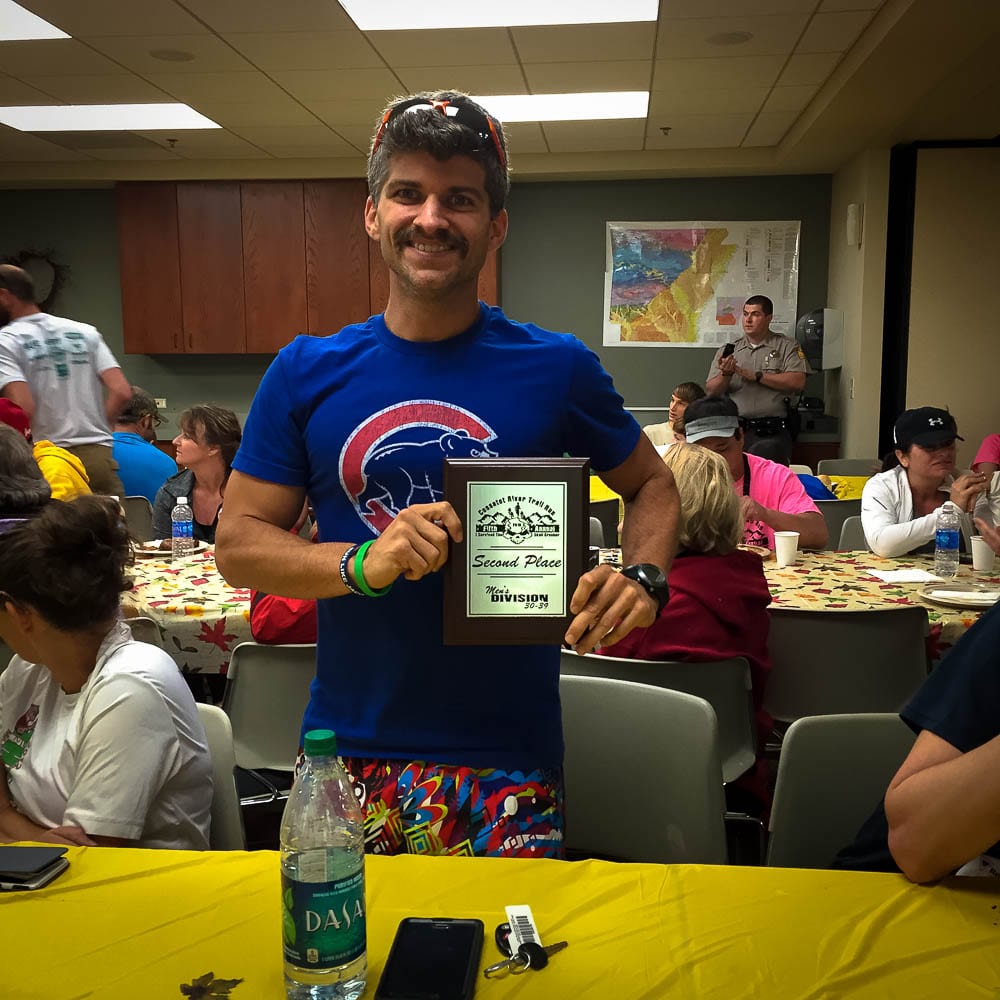 This is the 5th year for the race that is now managed by park staff and volunteers. Their hard work is evident along the course and we hope the staff continues to hold this event for many more years.