Several years ago my wife and I started a tradition of getting away from all the craziness on Christmas morning and going for a hike. For a couple of years in a row we hiked at Pinnacle Mountain State Park. During those hikes we saw, deer, eagles and even a coyote. We usually had most of the trail to ourselves on those cold December days.
Last year we decided to change it up and did a wonderful hike at Lake Catherine State Park. It was a cold but beautiful day and we enjoyed a couple of trails only an hour from the house.
This year we really wanted to get away. We rented one of the new cabins at Lake Ouachita State Park just north of Hot Springs, Arkansas for Christmas Eve and Christmas Day. We shared the cabin with my parents who seemed to appreciate the slower pace of the holidays in a remote park. The cabin was beautiful with all the latest amenities, satellite TV, full kitchen including dishwasher (it's nicer than the kitchen at home), a separate bathroom for each of the two bedrooms that included spa tubs. Of course it had nice fireplaces and beautiful furniture but probably the best thing about it was the deck overlooking the lake. When we arrived we could see a falcon on a pine branch just outside the back window. Nice.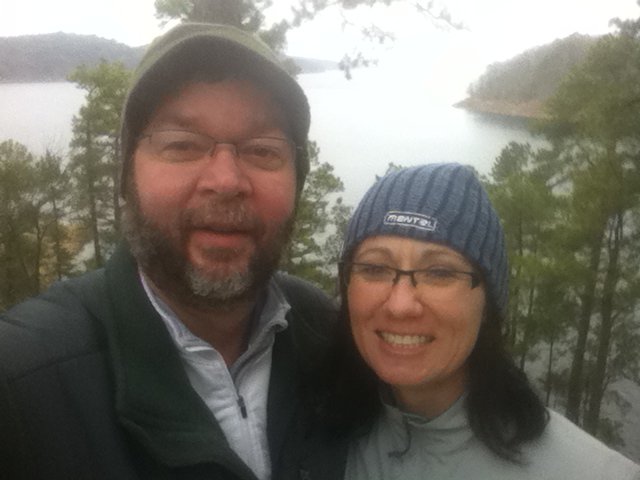 When Christmas morning came around my wife and I headed for the 4 mile Caddo Bend Trail. We hiked this trail last year with a couple of the kids but hadn't prepared with the appropriate amounts of liquid and food so we cut it short. This time would be different. The wife and I are what you might call, fast hikers. We didn't run but we move along pretty well and in very little time made it to Point 50 which is around the halfway point. It was cold enough that we were getting some snow flurries. An added Christmas present! We continued our hike across some beautiful bridges (those photos are in the wife's phone). We didn't see much wildlife on the trail but enjoyed making fun of some of the comments we had seen in the cabin memory book. People had been complaining about too many leaves on the trail. Ummm…yeah, too many leaves on what is described as a strenuous, 4 mile trail through the Ouachita woods.  We did see a deer and fawn on the way back to the cabin. Momma was watching us very closely but they didn't run.
After the hike we were able to relax for a few hours, read, munch on junk food and enjoy each others company. Early in the afternoon the wife started putting together one of her signature, awesome Christmas dinners. In-laws showed up with our youngest in tow and we all sat down for a wonderful holiday meal.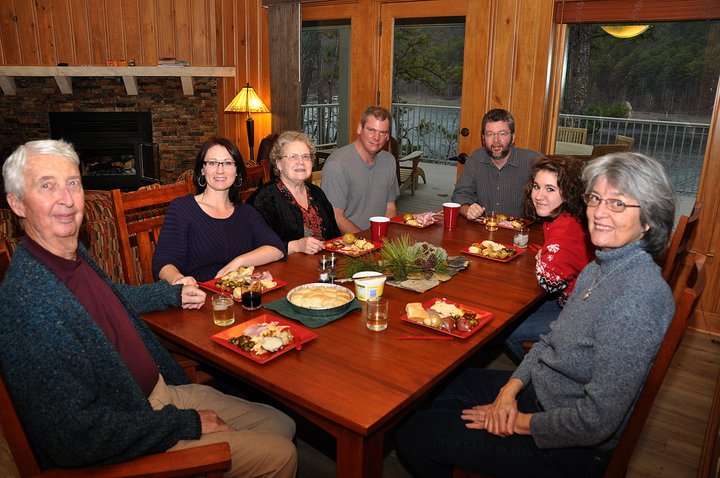 The In-laws left shortly after dinner but the young one remained to enjoy a night in the cabin. The next morning we packed up leisurely and made a stop by the park visitor center to thank the staff and drop a little coin to help the park. Then it was time to go home. The rest of the family would be showing up that night for the obligatory Christmas spectacular of gift-giving (and receiving).  Another successful holiday and we've already gotten the question from young and old. Which park next year?