Initially, I met Wolf Grulkey and his crew from Skydive Sky Ranch at Byrd's Adventure Center at their event "Borat's Skydivers' Boogie".  I was excited to learn that there would be a Skydiving event at Byrd's this year. Skydiving was on my bucket list, and I love flying, so I was naturally curious. I've flown in commercial jet planes, Cessna's and helicopters….with the doors or windows off if possible for aerial photos.  Now, the opportunity to jump from a plane and fly through the sky…yes, please.
I arrived at the Siloam Springs airport on a Sunday afternoon.  First, I needed training before the jump with my tandem instructor, Brandon Cawood.  I had been looking forward to this part because I'm a "gear junkie".  He showed me our parachutes and my harness.  I asked a lot of questions and took a lot of pictures while he described how we would work together to accomplish my skydive safely.  After I inspected the gear and practiced the motions for the free fall we got to watch a few skydivers land.
Now that I "knew everything", it was time to practice stepping out of the plane.  This first step out of the plane was one I was becoming more and more concerned about as time passed.  Put your right foot out, grab your harness, runner's stance…and then Brandon will use his momentum to get us going!
We grabbed our parachutes, harnesses, and gear.  Brandon turned on the GoPro and began to interview me, "are you ready?"  When I found out we were jumping from the beautiful "89er" and that Wolf was going to be the pilot; I was even more excited.  I was the first to climb in the plane followed by Brandon, and the other jumpers.  The flight up was fun, the view and the "entertainment" was equally appreciated. By entertainment I mean, the tandem instructors are trained to keep the mood fun, laid back and comfortable.  Brandon and tandem instructor, Tyler Hinkle, kept me relaxed yet focused on our task.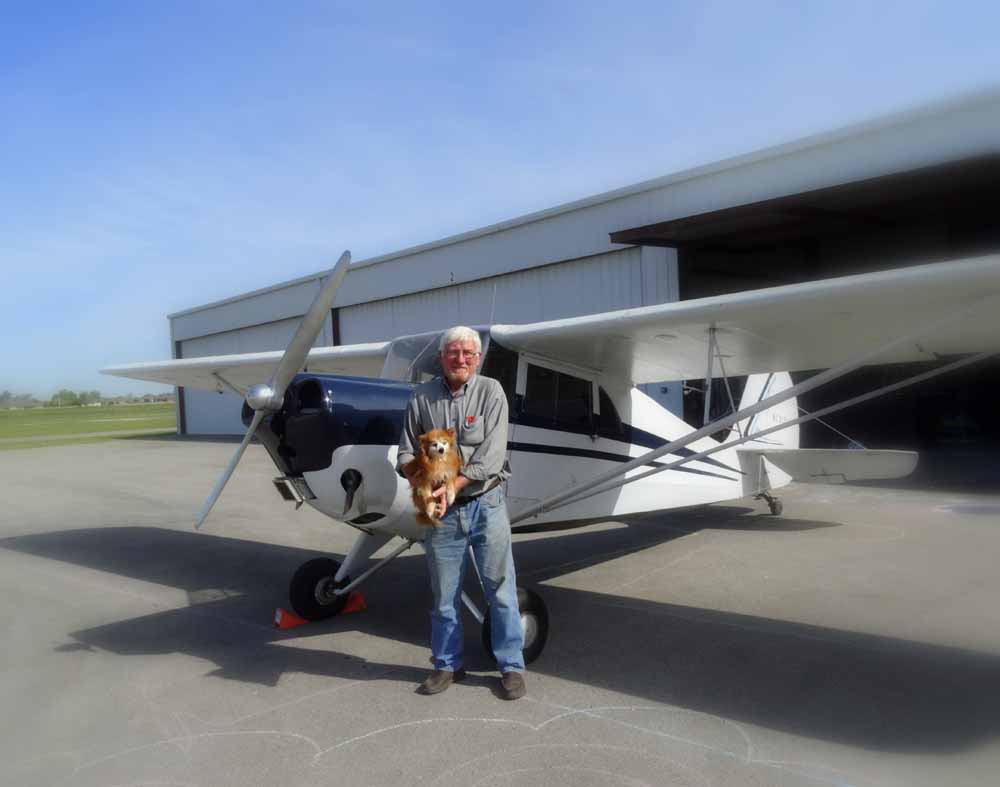 Finally, we reached an altitude near 10,000 feet and they opened the door.  The first two divers were out on the wing and jumping when Brandon instructed me to start moving forward toward the door.  I could feel and hear the wind rushing toward me and realized this was my moment to decide….I kept inching forward.  I reached the door and Brandon said, "now put your foot next to mine and grab your harness".  Much easier said than done! I didn't waste any time I stuck my foot out of the plane and realized it wasn't as easy as they made it look.  I physically had to use strength to place my foot on the step against the wind.  This was a step I will always remember as the step that literally changed my life.  Once I was in place, Brandon used his momentum to roll us out of the plane.
Reality began to set in, I have jumped from an airplane.  Everything from this point forward must go smoothly!  At this point, I have not reached back to pull the parachute; I'm just falling at a very high rate of speed with a man strapped on my back. I felt a tap on my shoulder which was my cue to let go of my harness and put my hands out to the side, arch my back and put my feet between his and fly like Superwoman!  I was trying to enjoy the view without freaking out. There are no words that I can find that accurately describe what it is like to freefall from such a distance. Yes, it's scary, nuts, and an adrenaline rush, but you have to "see what it's like yourself" before you will truly understand why it's also amazing.
A few seconds later I felt another tap on my shoulder, this was my cue to reach back behind me and pull the parachute!  Once I pulled the parachute above my head and I quit falling and started flying, I finally took a breath and was able to relax and enjoy flying rather than falling!
Brandon brought the toggles down within my reach and told me I could fly the parachute.  I grabbed the toggles and practiced making a few turns, but mostly enjoyed the view.  It wasn't long before it was time to prepare for the landing.  Brandon asked me to practice bringing my feet up.  He started the box style flight pattern down to the landing, swooping and swirling us around like a roller coaster.  I enjoyed the turns and tricks that he showed me with the parachute.  It was when he took control of flying that I realized just how much experience he has skydiving.  We landed smoothly and I remember feeling equally happy with flying and standing on solid ground again.
From there we went to the office to get the footage from the GoPros.  We had two cameras, one to film the video and the other to take still photos for this article.  Funny fact about technology and skydiving; technical difficulties are a common occurrence.  The camera that was taking still photos, quit working as we left the plane.  It seemed like a bad thing at first, until I realized I was going to get to jump again.  That's right, I jumped again so that I could get some quality photos for this article.  What a demanding job!
I'm really happy that it turned out that I got to jump again.  This time I was much less nervous and able to enjoy myself more. The first time I was nervous about taking the step out of the plane, but the second time I agreed to do a front flip off the step!
During my time at Skydive Skyranch, I had the opportunity to meet the crew and even interview Wolf, Brandon, Tyler, Hoyt and a few others about their experiences.  What I observed is that they are friends and coworkers but they have also become a family.  Skydiving is an endeavor where communication, planning, and execution are crucial. The way that Wolf refers to members of his crew and has taught them to work together as a team is inspirational.
Did I love it? Yes! Would I do it again? Yes! Do I want to learn to skydive by myself? Yes! When faced with the decision to skydive, I was often asked, Why? Why do I want to jump out of a perfectly good aircraft?  My answer to that, before I jumped, was "it looks like fun, I love to fly, the people I've seen jump come away with a huge smile on their face and it's something on my bucket list."  Now that I've jumped twice my answer has changed, "I love flying and there's nothing I've ever done that compares to the overall experience of Skydiving from 10,000 feet high".
Wolf and his crew are a genuine group of people who will happily explain and guide you through the process, working with you at your own pace.  If you are interested in Skydiving they are available most weekends and are very accommodating.  It's a laid back environment with a very friendly staff who will make you feel comfortable.  If you're really lucky, they might get out the guitar and banjo to pick and sing a few songs for you.