It was a busy year for outdoor recreation in Arkansas. Big announcements, big events, big new laws, it's all here. These are the top ten articles we posted in 2019. Click on the title, image, or "more" button to read the entire article. If you want a good preview of what is going on in 2020, check out the Calendar of Events. You'll find us here or on a trail next year. Have a safe New Year's celebration and don't forget to start the new year with a hike. The Arkansas State Parks have organized #FirstDayHikes all around the state.

The Union Cycliste Internationale (UCI) announced that the 2022 Cyclo-cross World Championships will be held in Fayetteville, Arkansas Jan. 29-30, 2022. This marks only the second time the championships have been held in the United States. The announcement came today in Bogense, Denmark, site of the 2019 Cyclo-cross World Championships, after ratification by the UCI Management Committee.
BikeNWA, a Northwest Arkansas-based nonprofit that fosters a thriving cycling culture in the Northwest Arkansas region, will lead a coalition of community partners in organizing the World Championships. Thanks to a grant provided to BikeNWA by the Walton Family under the support and guidance of Steuart Walton and Tom Walton, this event will be the culmination of a four-year plan to bring world-class cyclo-cross racing to the region…(more)
It's been 10 years since:
Barack Obama became President,
Circuit City Stores shut down (important because I spent 7 years there as a manager wearing the red jacket),
Michael Jackson died,
The Unemployment Rate hits 9.5% for the first time since August 1983,
and, the first cycling guide produced by Arkansas Tourism since the 1970s hits the stands.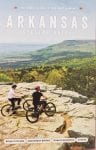 That's right, it's been 10 years since cycling was recognized as an important part of the tourism product in Arkansas. Of course, cycling had been bringing visitors to The Natural State for many years before that. Back in 1978, a group known as the Arkansas Bikeways Commission along with the Arkansas Highway Commission, Arkansas Parks & Tourism Commission, and the Arkansas chapter of the League of American Wheelmen printed the Arkansas State Bike Tours Map. We'll be covering that some more starting next Thursday as part of a #ThrowBackThursday…(more)
It's no secret that mountain bikers will travel far to ride great trails. We've covered this thoroughly. Towns build trails, mountain bikers travel to towns, ride trails, buy lots of beer and pizza after the ride, businesses make money, and the story goes on. This isn't exactly a sustainable way of living for most of us though, and the majority of a mountain biker's riding takes place close to where they live. In fact, this is IMBA's next big push. If mountain biking can crown destinations that stand tall and proud, then what can it do for our own cities?
IMBA's reasoning for the push on hometown trails? Statistics spell it out on their webpage. About 63% of recreationists travel 10 miles or less to play, 80% of Americans live in urban areas, and close to 90% of rides happen on what mountain bikers consider "local" trails, (which IMBA cites from Singletracks). IMBA also says that more trails mean…(more)
Fun Fact: Crossing Arkansas takes about 16 pages of the Gazetteer.
Embarking on a self-supported gravel and backcountry bike packing trip across @arkansas this month. We'll spend the first 4 days ascending over 20,000 feet traversing the Ozarks before hitting the valley of the Mississippi River. Over 450 miles in 7 adventure-filled days lands us on Beale Street in Downtown Memphis.
Loaded down for a full week of self-supported bike packing across the Natural State. Look for daily updates of the groups' antics starting this Sunday.
Day One – April 14
Our bike packing of Arkansas began with a cold and rainy morning that eventually gave way to clearing skies as we traveled canopy-covered gravel roads lined with blooming redbuds…(more)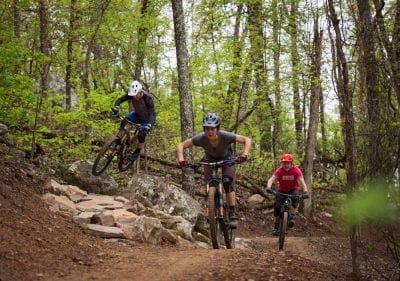 Last month Arkansas State Parks and the Arkansas Parks & Recreation Foundation announced the opening of the first Monument Trail at Hobbs State Park-Conservation Area in Rogers, Arkansas. That trail is completely open with the only improvements to come will be opening up some bike-in campsites, added parking, and some other features not related to the trail design. It's a beautiful ride and, from what we've heard in social media, a big favorite among local riders.
This Saturday, July 27, the first phase of a new series of Monument Trails is set to open at Mount Nebo State Park in Dardanelle, Arkansas. Due to totally different terrain including much more elevation and rock, this trail is very different than the new trails at Hobbs State Park. And that's a really cool thing. One thing we love in Arkansas is our diversity. Please read the news release below, enjoy the photos and watch the video and…(more)
Monument Trails, a collection of destination mountain biking trails merging world-class riding with architecture, art, and nature, are set to open in several Arkansas State Parks starting in June 2019.
Monument Trails take an adventure-minded approach to trails while ensuring accessibility for riders and hikers of every skill level. Through extraordinary and varied mountain bike riding, innovative build techniques by some of the nation's best trail builders, and the unique terrain and topography of the Arkansas State Parks, Monument Trails will be truly special.
The trails are being designed and built for opportunities to engage with nature by way of biking, camping, fishing, and hiking as well as establishing purpose-built stopping points and installations highlighting the state parks' natural beauty…(more)
A new law takes effect in Arkansas July 24, giving cyclists more options on the road with no change in the right-of-way for any road users.
In April, Governor Asa Hutchinson signed Arkansas Act 650 of 2019 making Arkansas the second state to make it legal for people traveling by bicycle to treat stop signs as yields and red lights as stop signs. The Governor's Advisory Council on Cycling, a group representing local businesses, bicycle advocates, and various government agencies, recommended the law. The law does not change any right of way for vehicles using the roads and all other traffic laws still apply…(more)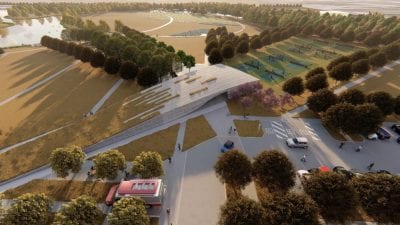 Foundation-Supported Osage Park Will Offer Adventure-Based Recreational Opportunities –
BENTONVILLE, Ark., Oct. 16, 2019 – The Walton Family Foundation today unveiled plans for Osage Park – an adventure-based outdoor destination in Bentonville that will engage and excite visitors of all ages, interests, and abilities. Once complete, the urban park will offer opportunities to fish, explore the wetlands and enjoy local music. The park will help meet the demand for recreational green spaces south of Walton Boulevard, where 58% of residents currently live according to the City of Bentonville…(more)
(Race information is from last year's race)
The Race will begin at daybreak on June 8 at the Clinton Presidential Park Bridge in Little Rock.
"This is a solo, self-supported race," states Chuck Campbell, the race director. This means that riders must carry all the gear and supplies they will need or else buy what they need along the way. According to Campbell, "Racers are not allowed to have a support crew. They have to be ready to take care of themselves."
The new route will officially be released by the Adventure Cycling Association in May. The Arkansas Parks and Recreation Foundation provided a $100,000 grant to aid in the project. Riders will be able to purchase waterproof maps and/or digital versions for phones and GPS units. Both versions will detail locations of stores, restaurants, campgrounds, bike shops and much more. Go to https://www.adventurecycling.org to learn about Adventure Cycling…(more)
(Be ready for an update on this list in 2020)
Wow, that title is a heck of a thing. It's only fair that we tell you how we came up with such a list. To start, let's tell you what this list is not.
It's not scientific.
It's not based on the number of people riding the trail.
It's not our favorites list.
It's not a list of all the trails in the state.
It's not broken out by trail types (cross country, enduro, flow, downhill, etc.)
Our Methods:
We posted a list of mountain bike trails in the state using a Survey Monkey form. The list included 19 different trail systems and a box for write-ins for all the ones we didn't think about before posting the survey. 185 people took the survey and it was shared on bicycle social media throughout the state. Due to ties, there's a BONUS, there are actually 11 trails listed in the top 10. Let's get started. We'll have more explanation at the end and along the way. We've included links to both MTB Projects and Trailforks pages for trails for more information. Trails marked with a red asterisk (*) are part of the OZ Trails…(more)