…seems to be my motto.
In the inspired words of Brittney Spears, "Oops, I did it again." You may have read my article from last week on the grand mudfest formally known as the 2014 Attila the Hun Mountain Bike Race. I had made certain promises to myself, and more importantly most of my friends in the cycling community, that I would participate in Attila having no idea that it would become a giant mud wrestling match bringing an to end the 2014 Arkansas Mountain Biking Championship Series.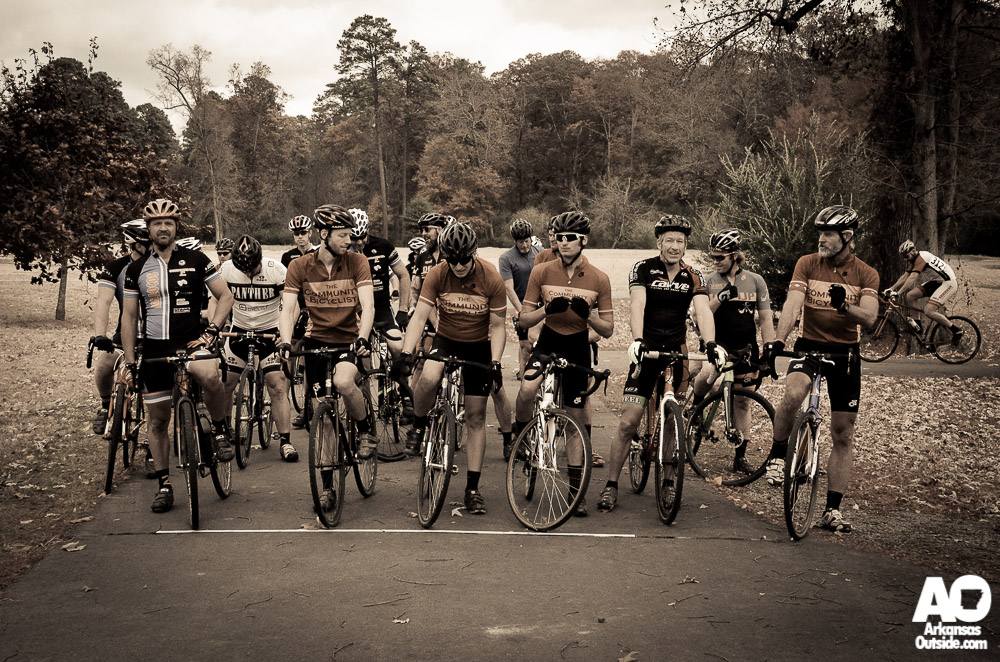 It seems that I was on a proverbial promise-making-roll and the following week I found myself lost in the pain cave of my first cyclocross race without so much as a match to light my way.
How do these things happen?
I've been covering cyclocross events across Arkansas for the past three years. It has become one of my favorite cycling events to watch. Strategies, techniques, skills and suffering…it's all there and easily observable within a smaller field of battle than most cycling events we cover. Heckling, cowbells, and beer hand-ups all impart the feeling that even the spectators are participating. I. Love. It. But, in all this time, I had not actually saddled up and immersed myself in the torturous side of the dance. I had not raced.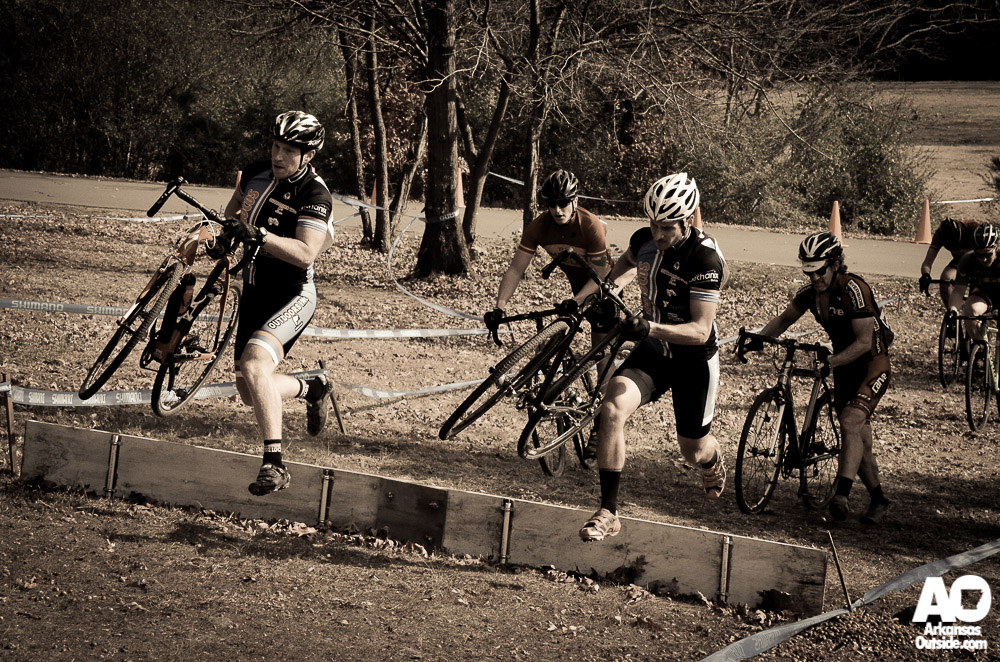 Early in the cyclocross season I decided that this would be the year I would try one. I wanted to pick a race that really meant something to me. One of the first cyclocross events I ever experienced was at Allsopp Park in Little Rock, the same place where many years previously I first rode a modern mountain bike. It would have been the perfect spot to introduce myself as a true participant. Unfortunately, the park folks decided to not allow the races there anymore. Maybe one day they'll be back but not this year. What would be my second choice?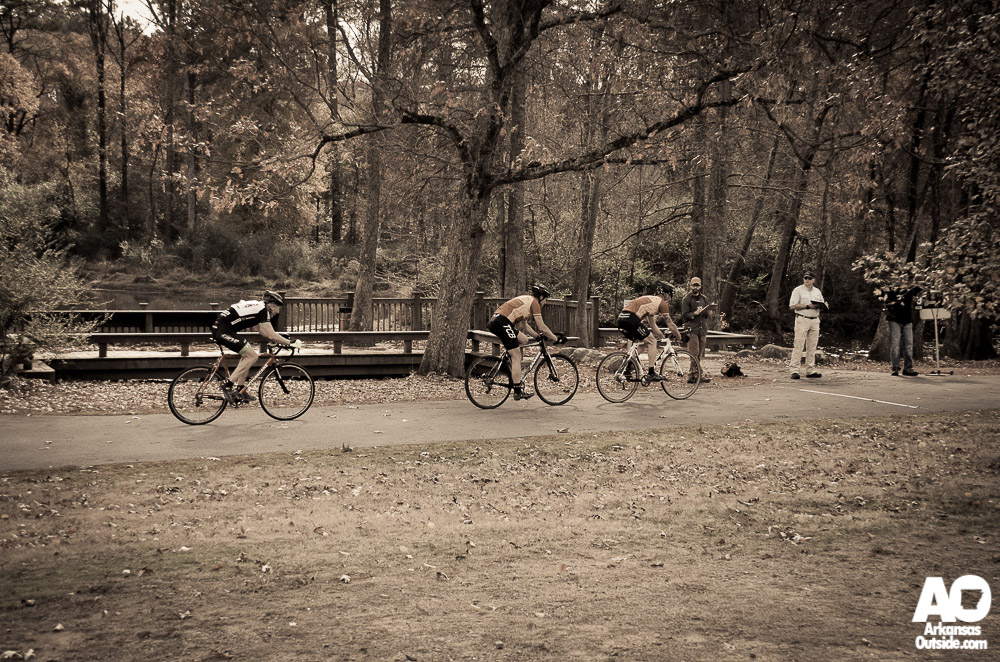 A couple of years ago, I covered one of the most dreadfully wet, cold races I've ever seen. The Turkey Burn at Boyle Park in Little Rock is a race designed to help shed some Thanksgiving calories. During the race that year, a lake formed engulfing the barriers in the middle of it. Racers rode down dirt trails through the woods and climbed grassy hills with more barriers all with temperatures in the mid-40's and in a pouring rain. I WANT TO DO THAT RACE! (I'm stupid and often go looking for suffering, one of my Bell & Company teammates recently wrote a blog about the suffering if you want to try to understand this.) So to ensure that I wouldn't back out, I made this promise public.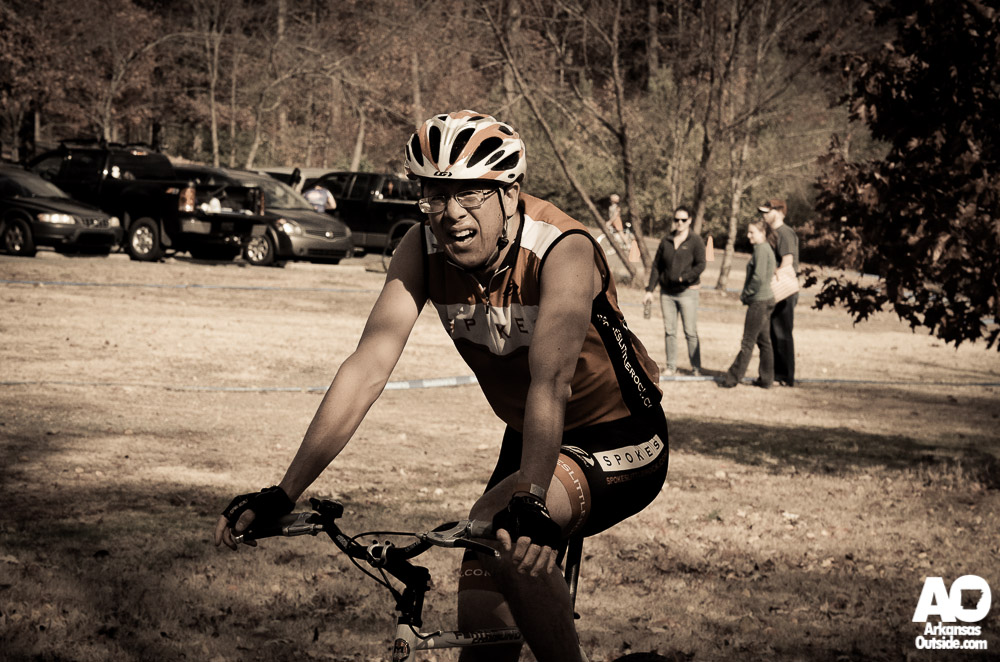 I would ride what I have, the mountain bike would have to do. One small problem, I kind of didn't get the bike cleaned up well after the previous weekend's mud bath so I showed up at the park resigned to ride with one or two speeds. I was going to be in pain anyway, would I notice a little more? The day was beautiful and nothing at all like the previous one I will always remember. There would be no water hazards, the ground was bone dry. The temperatures were going to reach into the upper 60's by the time I would race (this was not really good) and the only real weather concern was high winds.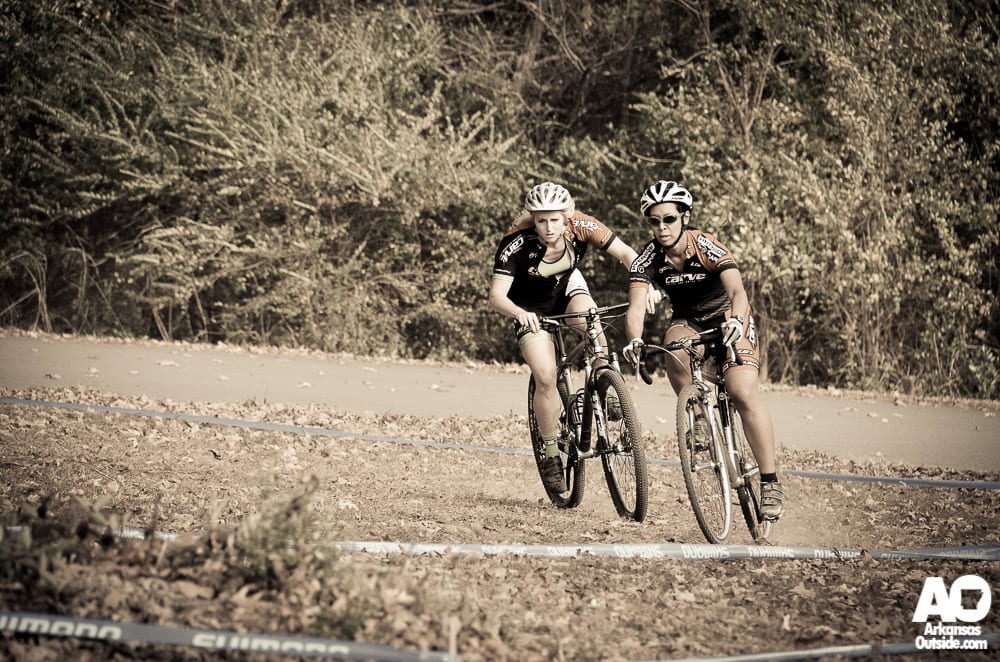 After shooting photos during the first race, I suited up and started riding around to warm up for my race. I explained my problem to a friend who suggested that I let Ryan Johnson of Motive Bike Service take a quick look. Next thing you know, 15 minutes before race start my bike was on a rack in the Motive mobile bike shop van having the entire rear derailleur cabling swapped out. I continued to warm up on Ryan's bike while he worked quickly. It seemed like no time before he handed me my bike and said, "See if everything is working." I jumped on the bike as I heard my name called at the starting line. This would be a hell of a test.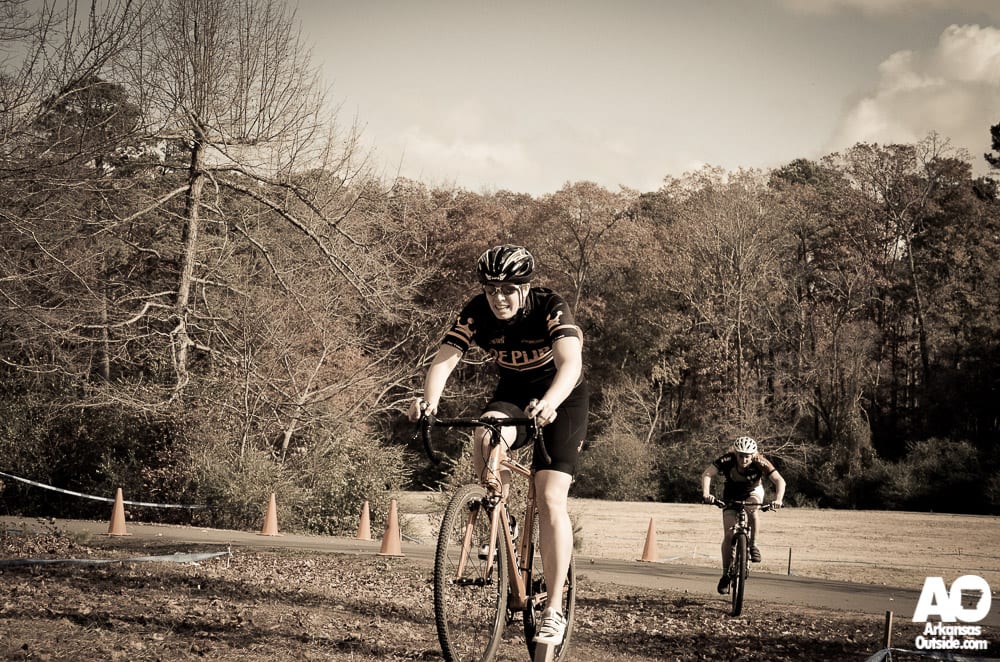 I entered the Category 5 race which would also be racing with women's Cat 4. It was a good size group for the 30 minute race. Now I know you're thinking, 30 minutes, how tough can that be? I know, I thought the same thing, so we are both wrong. As we started I suddenly remembered a quote from one of the racers in a previous event- "Half the distance, Twice the pain."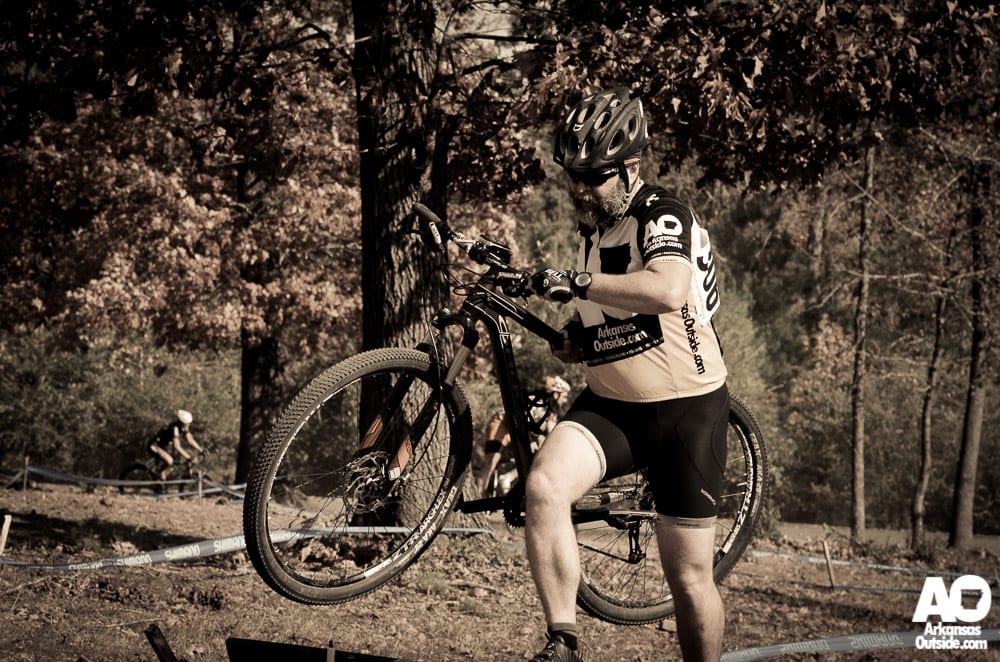 We started off on a short, paved section that quickly dropped into the grassy dirt along with some sharp turns around large pine trees and some straight sections that felt like they were either all uphill or directly into the wind. I found a position that I thought I could hold around mid pack. I felt like I was doing pretty well on the turns and the looser areas due to the larger mountain bike tires, but soon enough we came to the first set of barriers. Jumping off a perfectly good bike, picking it up and running over a couple of wooden barriers and then quickly jumping back on is not a skill series I have really spent a lot of time on. Something that was obvious to all spectators. But I didn't fall.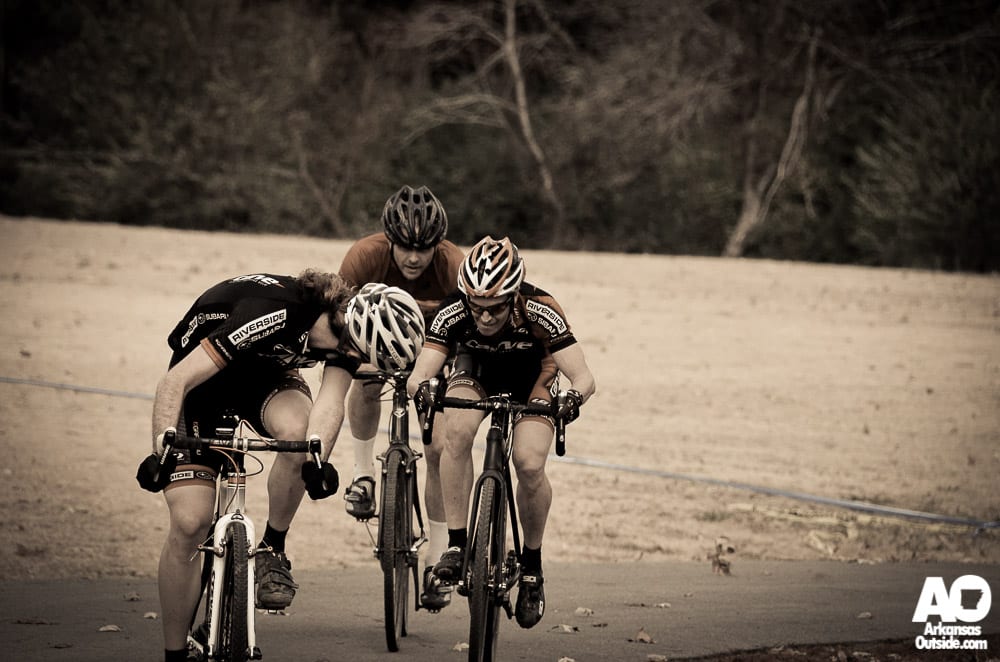 A couple of turns and a sprint section before a gravelly turn and climb to the second set of barriers. This was an uphill section broken up by three wooden barriers. I struggled again through all that dismount, carry, run, remount stuff and was glad to be back on the bike and in a section that felt a bit more like mountain biking with sharp off camber turns, YEA! The course ran across a field that seemed to be set up for wind tunnel experiments and a straightaway that took us back through the start/finish line. And this is where the real fun starts, lap two.
I found myself holding my own or at least holding my place through most of the course except around the barriers where various women, who had been participating in cyclocross training that Lisa has written about before, would drop me. So it seems there may indeed be a way to prepare for this.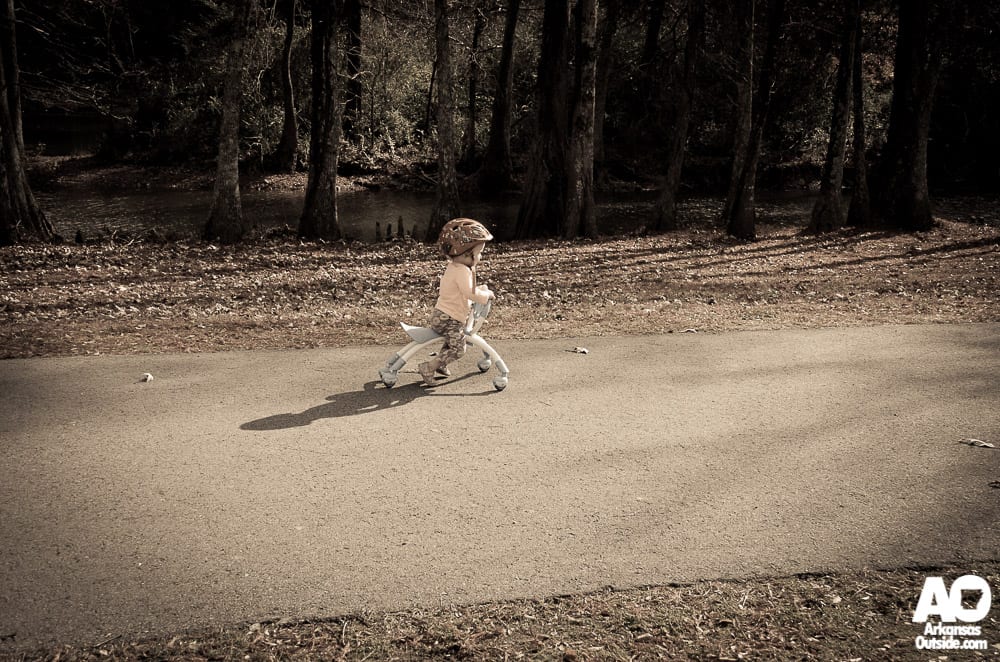 I got passed once by the leaders in the race and finished in 9th place out of 12 with a total of 5 laps. It was hard and I won't do it again soon, mainly because I have a nagging injury that I need to fix first, but also because I should prepare next time.
We'll post a lot more photos on Facebook this afternoon.