The War Eagle Tail Twister Race has become an annual rite of summer for our Little Rock running group: The Team Honey Badger Running Irregulars. We make no excuses for being rowdy and one of our friends from the Hashers has taken to calling us the "other drinking group with a running problem". It was in that spirit that our motley band saddled up and made the caravan trek to Northwest Arkansas on yet another Deadhead quest for the perfect trail.
We arrived at Rush Running Company in Bentonville to pick up our race packets in the late afternoon on Friday. As with any race, you see friends you've made from all over the state and even out of state. The Western Arkansas Runners were well represented of whom several have dual citizenship as Badgers, Saline County Striders and masses of Conway Running Club folks with their rowdy affiliate: The Locos. It's these friendships made over the years that make trail runs so special and which gives it that communal hippy vibe where it's all good.
For the second year in a row, race morning was punctuated by thunderstorms and rain showers. We huddled inside the Hobbs Visitor's center to shelter from the rain that we knew would inevitably soak us. I took the opportunity to gather the Badger family together for our obligatory pre-race, pre-smell portrait capturing our freshness and gleaming race gear before the dirt, blood and sweat took over.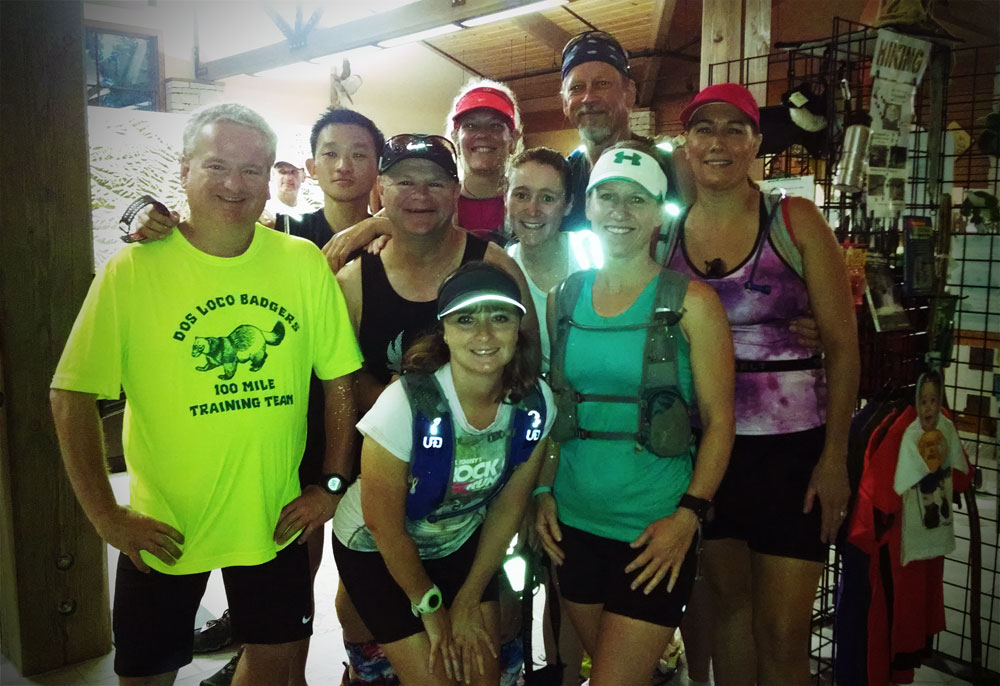 Luckily the rain had passed by the time of the race start and after a boisterous trail briefing by Mike Rush and Race Director, Jeff Genova, we were off. This year, I stayed to the rear of the pack in order to avoid being nearly trampled as I was last year. Well the drawback here is that it gets really slow with a lot of runners crowding the single track trail. The inevitable spread takes somewhat longer on the trail than it does in your street marathon, but happen it did and that's when what we in the Badgers call the "Stacey Switch" flipped. Game time! Like an alert hunting dog, I pointed and tore down the first "down hills" of the race.
The recent rains and overcast skies imbue the Hobbs trails with an otherworldly aura. I always say time and again that Arkansas trails take you back to Middle Earth or Avalon although it's the bears you have to watch for rather than the orcs. The tune that evokes this trail for me is Led Zeppelin's Stairway to Heaven where one can't help hearing that bustle in the hedgerow. It could be a spring clean for the May Queen or merely a squirrel looking for acorns. All in all, you're truly where you want to be on the trails or maybe just to be a rock and not to roll.
From a running standpoint, the trails in Hobbs while single track are soft and lack the rocky and root laden challenges presented by the Ouachita Trail outside of Little Rock. The trails are also somewhat hilly and you will get your glute and quad building repeats in to pay for the roller coaster ride of running downhill.
I made several friends along the trail including two ladies from a Tulsa group called the Badgers. We ran and walked for a time and compared running stories as invariably happens when you find a group of runners your pace matches. I also caught up with Belinda Jared, one of my friends from the Conway Locos and herself a member of Team Honey Badger. Belinda as befitting her Australian birth and heritage is as tough as a trail runner gets. She finished strong at the Arkansas Traveler 100 last year, and was unfazed by the rolling terrain we were traversing on this Saturday morning.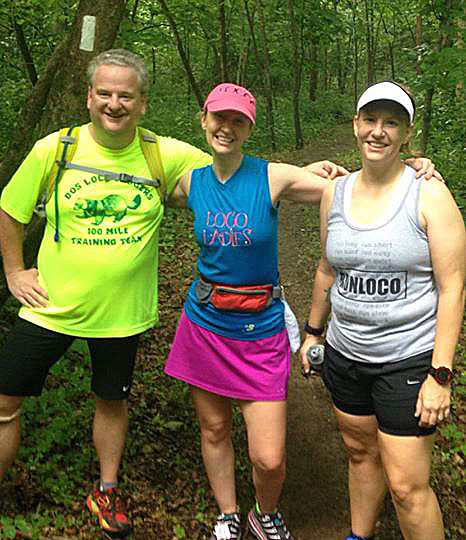 The 4:05 it took me to finish the 25k seemed to zip by. Of course many of my friends made it back before I did. James McManners lived up to his Badger handle of "X-Train" and finished strong at 3:00 followed by Skip Smith who stuck to "The Man" in Hippy style by finishing at 3:26 capping off a long road to recovery from injury. As trail runners, we have a code much like the military's "leave no man behind" which translates in our world to "never leave until the last runner finishes". Our friends Stacey Shaver and Alex Wan were still on the course running the 50k. It also means an excuse to open a few cold ones and hang out. The PBR flowed free as well some fine New Belgium and Goose Island varieties. Stories were told and Badger names were earned. On this day it was Diana Chambers who became "Trail Momma" as she made sure those of us who finished had a beer, a shot of bourbon and were comfortable. Stacey was the first to cross the line at 5:57 with her ever present smile and Alex crossed at 6:55 to our poor vocalization of the song Secret Agent Man.
Of course with us, the fun doesn't end with the conclusion of the race, it merely leads to yet another adventure. On our way back to the hotel, we spotted a beach with locals enjoying a day out in the now brightly shining sun. It was an access point to Beaver Lake. We made a split second decision prompting Lisa Luyet to make an expert U-Turn worthy of Starsky and Hutch. We stopped, unloaded our coolers and hit the water in our uniquely spontaneous Badger style. Jen Freilino hit the water first probably besting her top pace on the run from the car. The rest of us followed suit, jumping in with running gear now doubling as swim wear. It was a great cap to a great day and another weekend to go into that fond place of memory.