There are road trips and then there are Epic road trips.  In my 48 years on Earth, I've never experienced an Epic road trip until the past weekend.  Months in planning, a group of six Team Honey Badger Irregulars set out in a wagon train of two to the great plains of the Texas Panhandle. Destination: Palo Duro Canyon State Park.  The reason: run trails.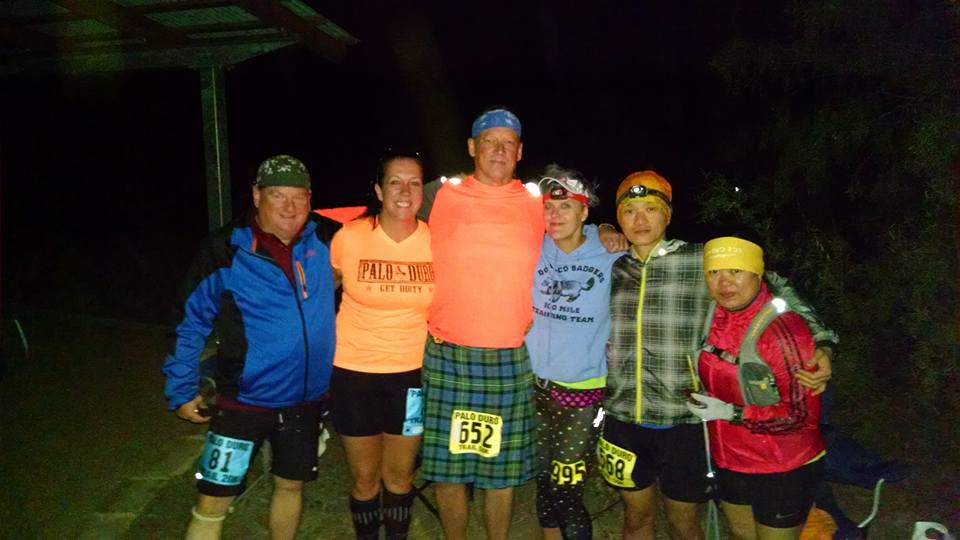 The trip started out smoothly enough driving along I-40 into Oklahoma and Texas. The only things to see for miles were acres and acres of wind farms, pastures and plains.  Our crew consisted of long time Badgers Robyn, our fearless driver, Skip, Andi, Alex, his wife Stella, and an adorable dog named Guinness.  The long car trip was interrupted by the Beavis and Butthead chortling of Andi and myself as we competitively used Facebook Messenger to generate laughter from the others.   You can rest assured, the texts and pictures were of a certain humor as befits this crew.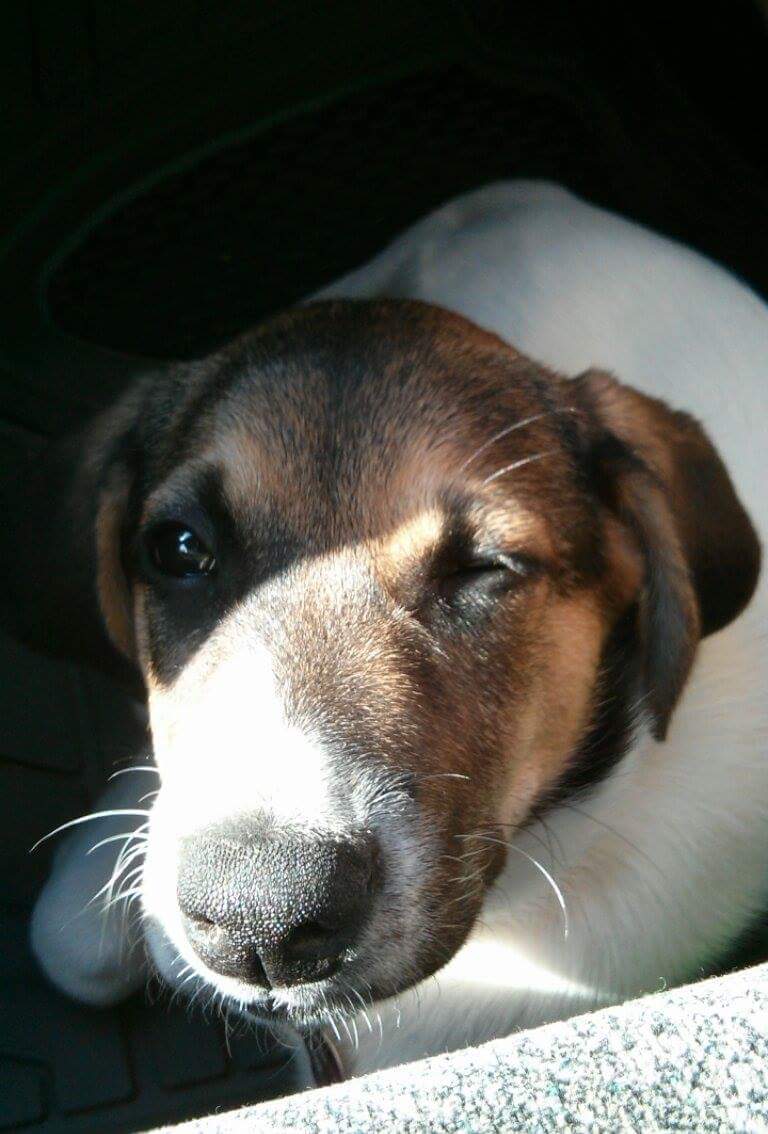 Suddenly, there was a strange whine on the right side of the vehicle and then a lurch as we realized a tire had blown out.  Robyn deftly used her driving skills to maneuver us safely into the right lane to finally stop on the shoulder.  The right front tire had blown out.   Checking our navigation apps, we determined that we were three miles outside of McClean, Texas along the famous Route 66 which ran parallel to I-40.  Shaken, but philosophical and calm, we all exited the vehicle to assist with unloading gear to obtain the various tools needed to change a tire.  Now there was a catch, between two vehicles we had neither jack nor tire iron to get the job done.   A couple of us popped open beers and punctuated by Andi's gallows humor which always seemed to contain the phrase "now that we're not dead," we relaxed and worked on a plan to get some help.  It must have been a sight with six people and a dog milling about in the grass along the Interstate.  We were in Texas, so an image of King of the Hill came to mind.  Not sure who Boomhauer would be in our bunch.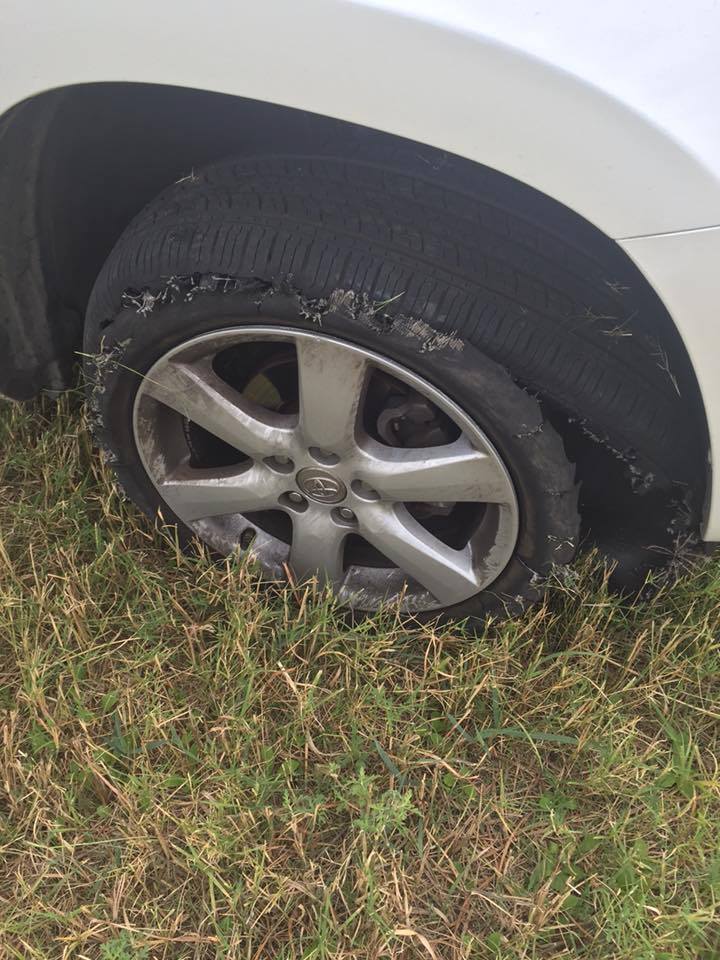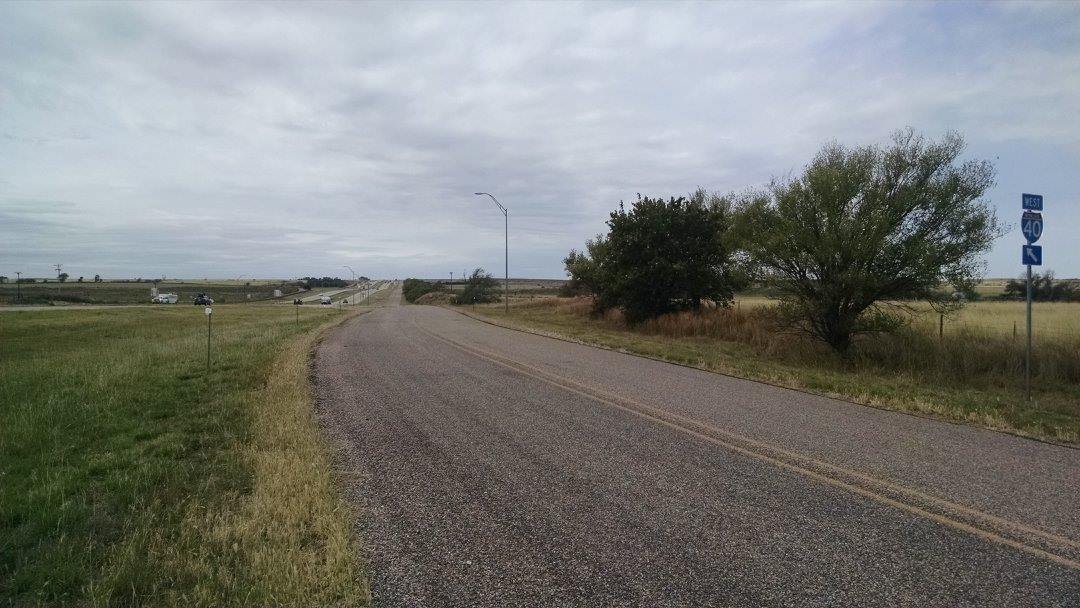 Robyn Googled the surrounding area and found the Country Corner Route 66, one of many stops serving wayfarers along the freeway.   The person on duty was friendly and gave us the number for the local automotive shop owned by Frank.  Frank returned our call and sent out one if his guys whom we dubbed "Franks Friend." The girls joked about "tarting" up in hopes that Frank's Friend would give them an eye along with a discount.   He fixed the tire quickly, and was on his way, greenbacks in hand, and unfazed by all the attention he got from "them crazy Arkansas girls."  After getting our kicks on Route 66, we continued on the final leg of our journey to Canyon, Texas.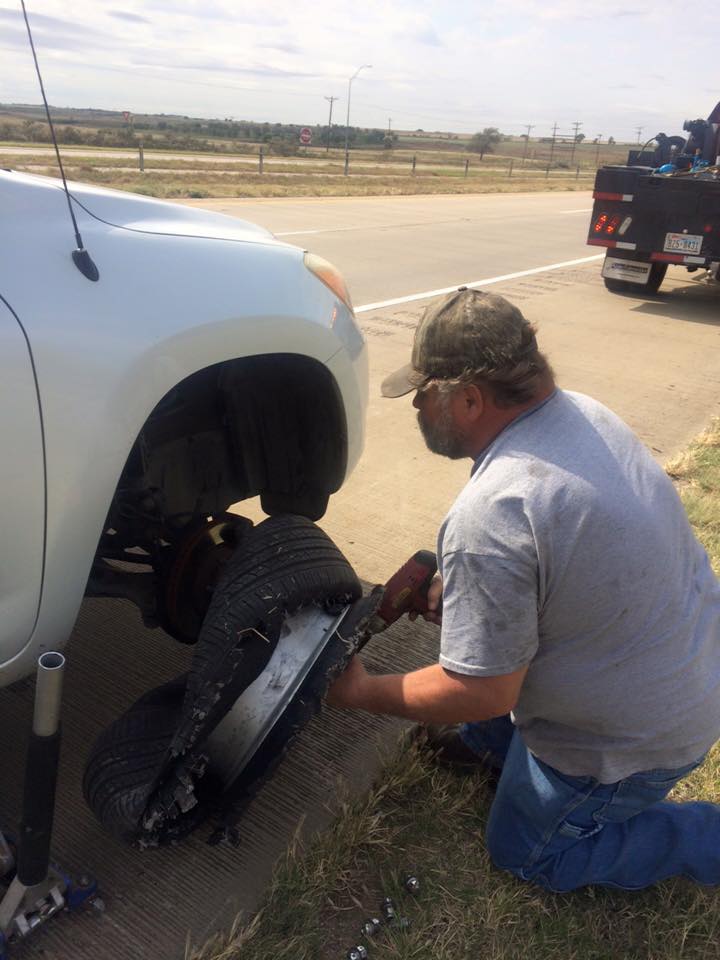 From Wikipedia: "Palo Duro is the second-largest canyon in the United States, it is roughly 70 mi long and has an average width of 6 mi, but reaches a width of 20 mi at places.  It has been named "The Grand Canyon of Texas" both for its size and for its dramatic geological features, including the multicolored layers of rock and steep mesa walls similar to those in the Grand Canyon."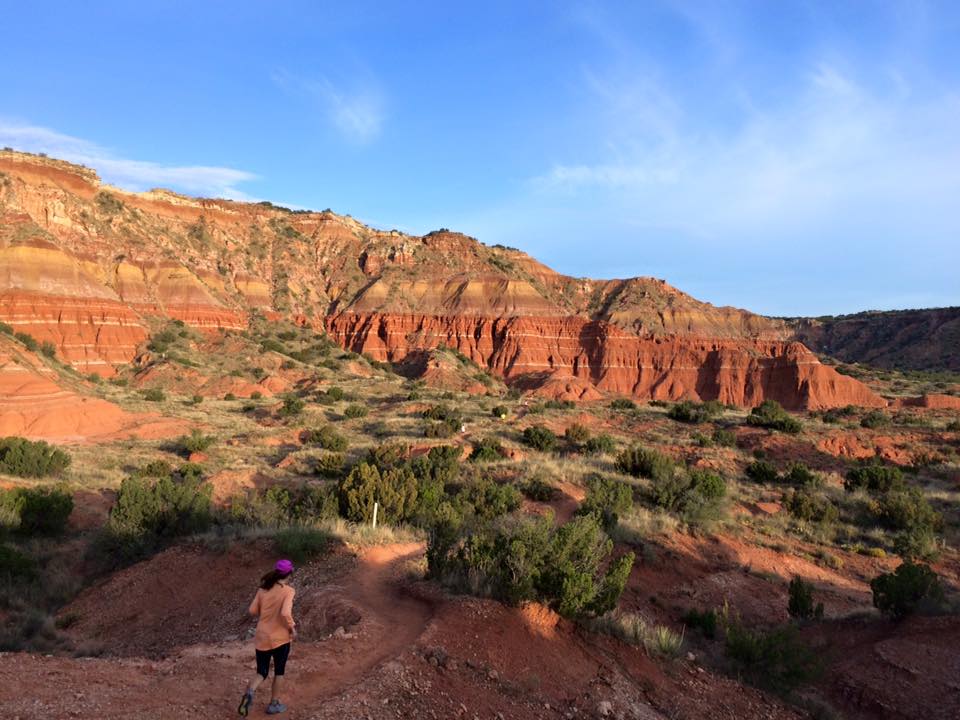 Our first sight of the canyon had everyone amazed and gobsmacked at the variety of color in the Rock formations.   We were fortunate enough to rent cabins on the canyon's edge and were treated to the full panorama of where we would be running the next morning.   The cabins themselves had a history as they were built during the Great Depression by the Civilian Conservation Corps which also built the great lodges of Yellowstone and Yosemite.  They were built of native stone so as to be perceived as yet another rock formation on the canyon.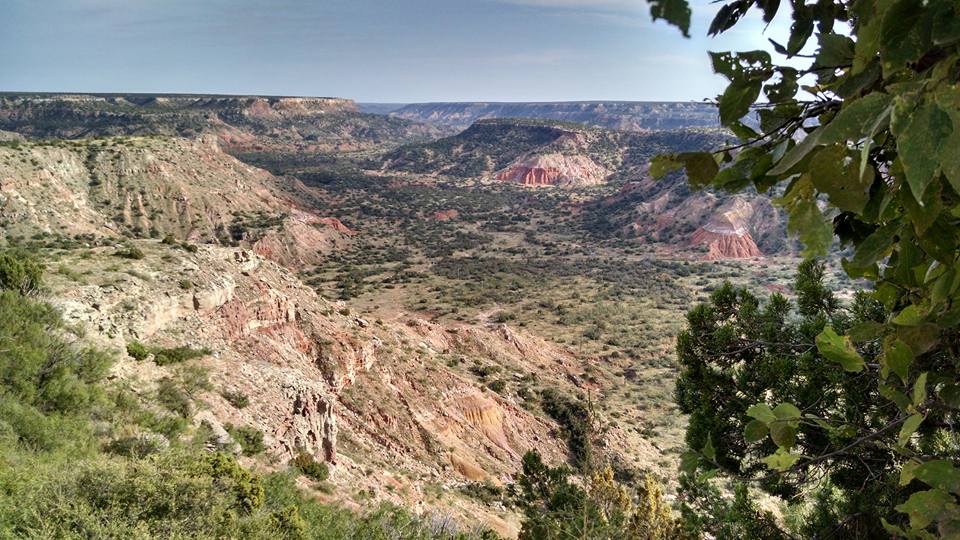 The Palo Duro Trail Race consists of a 20k, 50k and 50 miler centered on a single loop on the canyon floor.   Robyn, Stella and myself were Team 20k, meaning we got to run one loop and then back early for the beer.  Alex, Skip and Andi were signed up for the 50k.  In Andi's case, this was her first race since setting a PR at the Arkansas Traveler 100 just two weeks before.   Saturday morning was a chilly 46 degrees requiring runners to have at least a long sleeve jersey, but not necessary for full winter gear.  At 7:00 am the 50k and 50 mile runners were led to the start by a bagpiper.  It's a wonderful race tradition evoking Braveheart.   At 7:20 am the 20k runners were off.
It was still somewhat gloomy starting out, but the sky began to slowly lighten.  The canyon floor was a soft red dust which made it easy to run in either trail shoe or road shoe.  I was wearing the latter.    The path was lined with the hardscrabble plant life of the Texas desert including cacti, tumbleweeds and various thorny shrubs.   About a mile in, I noticed that my water bottle was orange instead of fluorescent yellow.  Inside the bottle basket was a car key which I Immediately determined to be Robyn's.  Somehow, we had gotten the other's bottle of the same brand and shape in the morning gloom.  It was a small hiccup, but one which I needed to put out of mind if were to enjoy the ever brightening scenery of the trail.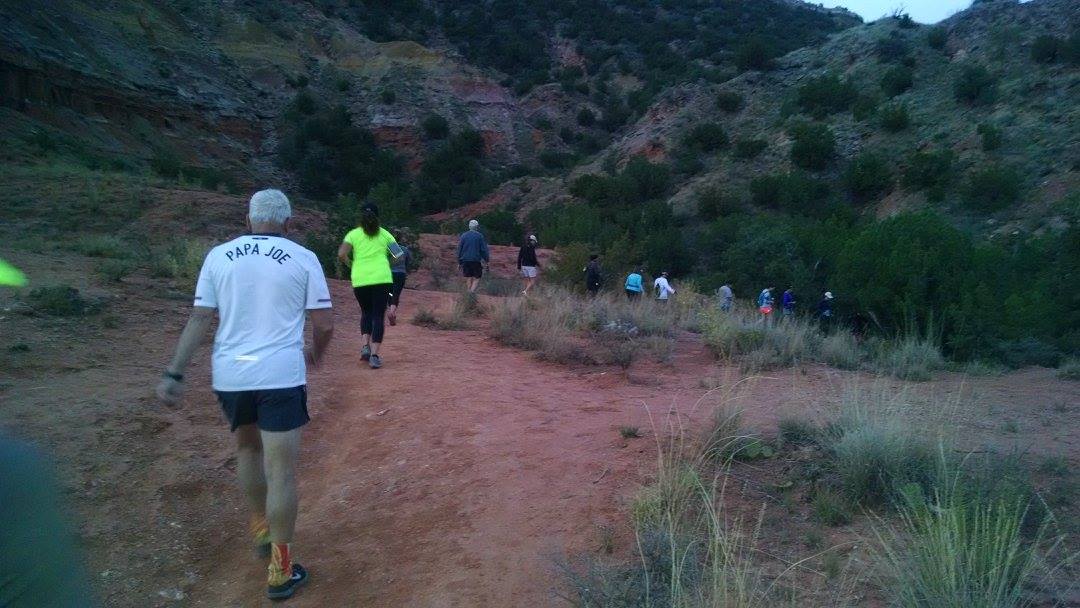 At two miles, I was on a portion of the trail facing the rising sun.  Sunrise at Palo Duro is a spiritual and existential experience which requires the runner to pause and put all burdens aside.  I found an outcropping to get a better view and stopped first to take a picture and then to just be in the moment.   It was glorious creation awakening to a new day.
At some point, I realized that I needed to keep moving.  As the miles went by quickly, I was treated to multicolored rock formations. There was a lighthouse, mesas which resembled pictures taken by the Mars rovers and finally an Indian temple.  The aid stations were always well stocked and very lively.  My favorite was the "The Pie Station" featuring homemade pecan pie and date bars from a local Amarillo bakery.   It was a nice trail breakfast.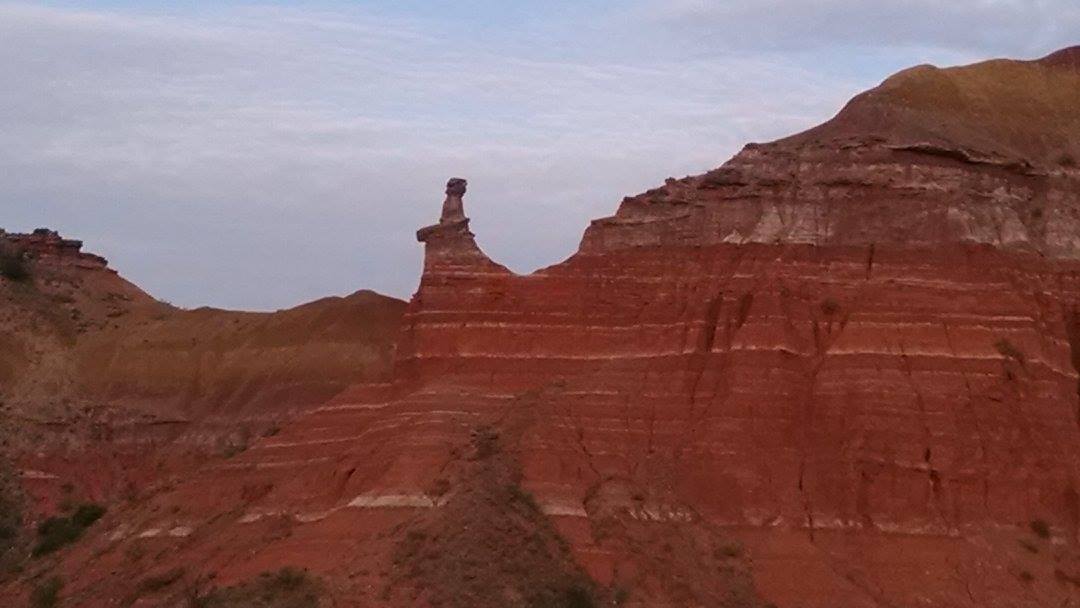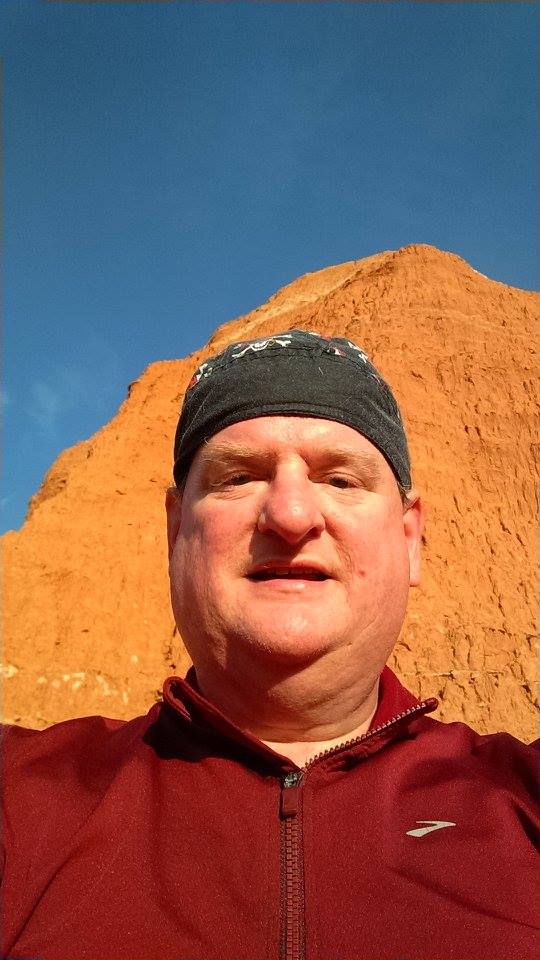 The last segment of the trail was greener and reminded me in places of the Pfeifer Loop Trail back home.  Two game birds scurried away in front of me to find refuge in what looked like wetlands.  This trail segment was popular as I encountered several local runners and mountain bikers.  There was a secret unofficial aid station which served up shots of Fireball, beer and margaritas.  It was not a Hasher aid station, but they were members of a local mountain biking group.  Great folks who provided me with a PBR and water as I had accidentally filled my bottle with retch inducing Heed at the previous aid station.
The hours had gone by very quickly and the finish line loomed in front of me.  Like a kid on a carnival ride I wanted to go longer, but the smell of grilling burgers and jalapenos at the finish party beckoned.  I rolled across the line at 3:52.   As for my other friends, Robyn sealed her pedigree as a trail runner by ripping through the course at 2:32 with the added bonus of being 3rd in her age group.  Alex set a PR by finishing the 50k at 5:52.  Stella finished at 3:49.  Skip while not finishing pulled out a valiant 30k distance and Andi, still recovering from her victory at AT 100, finished a 20k distance.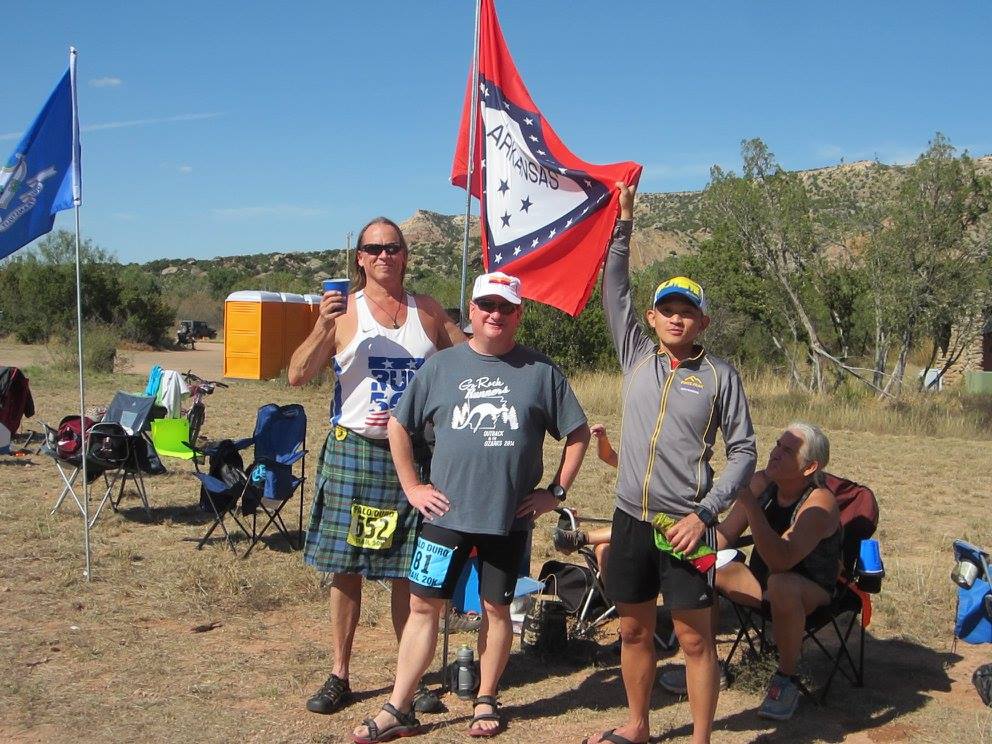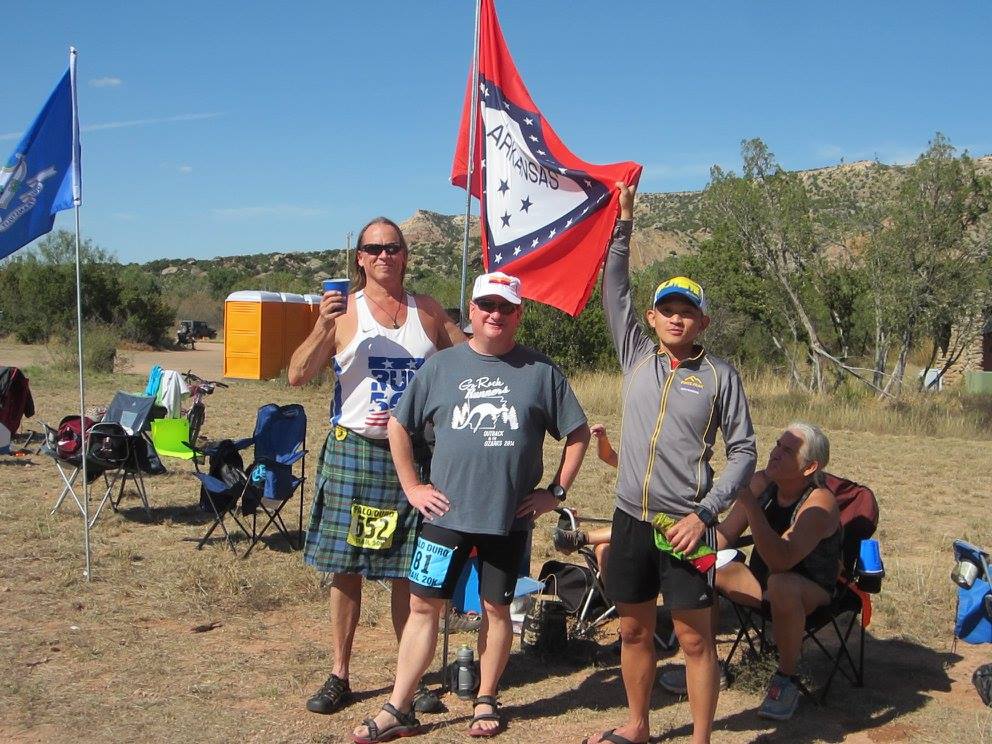 For all of us, the time went by very quickly.  It was a weekend filled with a lot of laughter and good times.  Even the ride home took on that sense of fun. Much of the credit can be given to Andi's Spotify playlist which included the musical stylings of the Reverend Horton Heat, Dick Twain and Mojo Nixon.    Notable songs included "My Old Blue Car," "Kill Don Henley," "Burn Down the Mall," and "Trailer Park Whore."  If you're training for an AT 100 finish, you'd best get these songs on your playlist.
So you see, it was truly Epic this trip filled with memories and good times with these friends of mine.  So, if you're so inclined, sign up and join us next year.  I promise it won't be dull.  Adios Palo Duro! I hope to see you next year!